Streeter Lecka/Getty Images
I hit a possum on the way to the Cardinals-Panthers game.
I mention this for several reasons: (1) I was driving a Mini Cooper at the time, which is like hitting a 1,000-pound bull moose in a regular-sized vehicle; (2) I'm still wondering why, as he waddled aimlessly out onto the road, some part of me believed if I talked to him out loud -- "No, no, don't do it, don't DO IT! Duuuude!" -- he'd somehow be able to both hear and understand me and turn around and slither to safety with a knowing, grateful wink of his little beady red eye; and (3) All the way up until kickoff I was sure this "incident" was going to be a perfect metaphor for my assignment: watching the Panthers turn the 10-point-underdog Arizona Cardinals (0-5 on the East Coast with two playoff wins in the past half-century) into NFL roadkill.
Instead, it was the Cardinals who were -- wait for it -- playing possum.
Like everyone else, I just didn't see this coming. Earlier in the week I had visited the Panthers, and quarterback Jake Delhomme and Carolina came across just like you'd expect from a No. 2 seed with a week off and a home playoff game on the horizon: relaxed, confident, cool.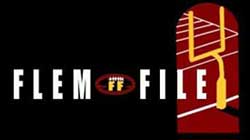 There are few more likable big-time quarterbacks in the NFL than Delhomme. And one of the important topics Jake and I covered during our chat was his time spent as Kurt Warner's backup QB for the Amsterdam Admirals. Jake was all of 22 at the time, making $1,600 a week, living outside the U.S. for the first time, near the city's notorious red-light district where -- and this is pure Jake -- he kept a safe distance but described the prostitutes peddling their wares from little store-front "lockers."
It was prophetic, I thought, given his nightmarish performance three days later, that we also debated the most pressurized positions in all of sports. I argued for NHL goaltenders. Jake had his mind made up before I even finished my question. "Without a doubt it's QB," he said, laughing. "I mean, it's not even close. How can you even consider someone for this other than a QB? Goaltender? Relief pitcher? Well, my question is: Can you hit a goaltender while he's trying to make his save? A relief pitcher does his job all by himself. A golfer? Come on. They force people to be quiet and still so they can do their jobs. Why can't you make noise on a golf course? It would be so nice if we could drop back and do our job and no one was allowed to hit us or make any noise. Quarterbacks are one of 32 jobs in the whole world. You're not one of three wideouts. It's just you. Alone. That's pressure."
I'll say. After that, things got downright creepy when Jake started talking about the new nickname of the Panthers' running-back combo of DeAngelo Williams and Jonathan Stewart. "Double Trouble?" said the Panthers' QB. "I guess that beats the alternative: 'Awful and Terrible.' Or a QB combo called 'Incomplete and Interception'."
As you now know, Jake played both of those caped crusaders in the divisional playoffs, throwing 17 incompletes and five interceptions in one of the worst superhero performances since George Clooney posed as Batman or Chad Pennington pretended to be Dan Marino. Incomplete and Interception, as well as Double Trouble, are no longer alive in the playoffs. As it turns out, Tennessee's Smash and Dash also crashed. And New York's Earth, Wind and Fire morphed into Kool & the Gang (Google it, kids).
Thankfully, a new superhero combo emerged in the desert just in time for this week's NFC Championship Game: Cardinals wideout Larry Fitzgerald, who has the silky smooth strength of a young, uncoverable Randy Moss, and Zona's in-the-zone second-year coach Ken Whisenhunt.
Let's call 'em "Fitz and Whiz."
Early on in the divisional playoff game in Charlotte, the Cardinals' white pants were covered in green stains from the emerald spray paint applied to the turf inside BOA Stadium. See, this is what I love about this time of year in the NFL. After seven months of hype, folly, subterfuge and 'tude, all the camo is washed away and, finally, each team's true colors are exposed. The Panthers, I'm afraid, were a lot like that turf: a mirage that, with just a little bit of pressure, ran like cheap mascara. And the Cardinals? They reminded me of that inert desert cactus sitting in sand on the windowsill of your office; you know, the kind that never dies no matter how much the owner ignores it, that still manages to flower once every 60 years.
Fitz and Whiz would have blossomed on their own. Even with all the Panthers' attention focused on him with Anquan Boldin out, Fitz still snagged six catches for 151 yards … in the first half. Meanwhile, after the Panthers tore through the Cards' soft-serve run defense on the first drive of the game, Whiz went to the bench and implored his guys to do something no modern-day Cardinals team has ever pulled off: show some poise, some fortitude and respond to adversity instead of being defined by it. And after wandering in the desert like stunned possums for god knows how many seasons, the team finally responded.
In the first two rounds of the playoffs the Cardinals' once-anemic run defense has stuffed two of the game's top three rushing attacks. The Colts experienced the same postseason transformation when they won the Super Bowl a few years back in Miami. And I credit the same thing for the improvement. This is why we love football. You can't make that kind of change with money, schemes or personnel. It takes will. And that comes from the coach. "Well, we're playing our best football at the right time of year," says the Whiz. "And that's what it's all about. So we just keep working hard to earn respect."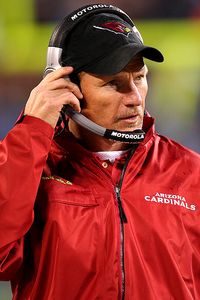 Paul Spinelli/Getty Images
"I'm sorry Commissioner Gordon, I'm busy right now ... can't you call Spider-Man?"
The other problem with this combo is that, at first glance, Fitz and Whiz don't exactly come across like cohorts. After the game Fitz looked like he had just come from a board meeting, not a football game. He had the square frames, the dreads pulled back, a perfectly fitted charcoal suit and a Cardinal-red breast pocket square. Meanwhile, Whiz was sporting a thinning dome of blonde hair, a suit that needed more work than Delhomme's throwing motion and a red tie he must have picked up at an airport gift shop.
But together … oh, together Fitz and Whiz were magical … no, unstoppable.
See, Fitz usually operates out of the same spots in the Arizona offense, and almost always from a stationary position. And to spectacular results, I might add: 96 catches, 1,431 yards and 12 TDs in 2008 alone. But Whiz knew that to free him up in the hyper-competitive postseason in which the Panthers had 15 days to prepare, they'd have to add wrinkles, give some different looks. As I've said many times before in this space, today's NFL is all about customizing your team and your scheme from week to week. So Fitz lined up on the left. Then on the right. He hit the slot. He even went in motion. And the Panthers reacted a lot like that poor possum, and with much the same results. They stubbornly stayed in zone coverage while Fitz flattened 'em like road pizza.
Like all great combos, though, Fitz and Whiz work better in tandem. Fitz ended with eight catches for 166 yards and a TD, and most of those balls came on deep crossing routes that exploited pockets in coverage, as well as the "handoffs" between defenders as he ran through, over and across several coverage zones. In other words, those routes needed a long time to develop downfield. And that's where Whiz came in. Because they never would have worked unless quarterback Kurt Warner had lots of time and protection in the pocket.
Whiz made that happen for Fitz by neutralizing Carolina DE Julius Peppers with a dizzying array of looks. They chipped him with a back. Then a tight end. They released him upfield, then threw the ball underneath. They shifted blockers to form double-teams. Then they singled him up and threw a quick ball. And Peppers responded the same way John Fox, Carolina defensive coordinator Mike Trgovac, the Panthers' DBs, Double Trouble, Jake Delhomme and the entire home crowd did: by doing nothing.
"All I can say is it's one of those perfect scripts that no one could have predicted," Warner said. "At this stage, at my age, it's awesome. Just awesome."
A few moments later, outside in the stadium parking lot, Fitz and Whiz worked the crowd of Cardinals supporters who had gathered to send the team off. The rest of the team was loaded up on three giant white buses waiting to leave for the airport and begin preparations for the Eagles and one of the most unlikely phrases ever in football: "this week's NFC Championship Game in Arizona." But even as the rain started to fall, Fitz and Whiz continued to give out hugs and handshakes while posing for pictures with friends and fans.
Just then someone inside the team's bus hit the horn to try to jolt the Cardinals Combo away from their adoring fans; threatening, I suppose, to leave town without the NFL's hottest duo.
The idea was so absurd it made me laugh out loud.
Trust me, the Cardinals aren't done yet.
And they're not going anywhere without Fitz and Whiz.
---
CARDS CURSE
During the two-minute warning near the end of the Cardinals' blowout win in Carolina, Arizona coach Ken Whisenhunt tucked his laminated play card into the back of his pants (the universal sign of a blowout) and made his way back toward the bench to greet team owner Bill Bidwill. The bearded and bow-tied Bidwill seemed rather unsure just how to react. No wonder: With just one playoff win between 1947 and 2008, he hasn't had much reason to celebrate with the Cards during the past, oh, six decades.
Bidwill caught on quickly, though, donning a new NFC Championship Game cap, and he managed a slight, almost embarrassed flat smile after Whisenhunt moved away. And for a moment, after a career spent as the punch line to an assortment of NFL jokes, he rightfully basked in the Cards' success. Behind him, fans dressed in throwback Cardinals jerseys held up signs that read "RESPECT" and "Not Your Same Old Cardinals!".
Buy the book
Click here to purchase "Breaker Boys: The NFL's Greatest Team and the Stolen 1925 Championship" by David Fleming.
The joy lasted almost 45 seconds. I counted.
Then the heavens opened up and it began to pour down rain, soaking Bidwill and washing away the joy of the moment.
Ah yes, I thought, the Pottsville Maroons and the Cardinals Curse strikes again.
By now most of you are aware of the curse on the Cardinals -- and especially the Bidwill family -- for their role in stealing, and then keeping, the 1925 NFL championship from the Pottsville Maroons.
Still, even I was shocked at how quickly Eagles fans jumped on this story, and after waiting, oh, 83 years decided to take up the Maroons' cause. By Monday morning my inbox was full of e-mails regarding the Cardinals Curse, which was mentioned in my book on the Maroons, "Breaker Boys," and was also the focus of a story in The Magazine and a long piece on HBO's "Inside the NFL." Now, The Morning Call in Allentown is working on an updated Curse story, and Schuylkill Valley Sports, a sporting-goods chain in Eastern Pennsylvania, is putting out Cardinals Curse T-shirts this week for Eagles fans just in time for the NFC title game.
Besides the support from President Bush, Red Grange, George Halas, Dan Rooney and Paul Tagliabue, during an April debate with an NFL historian it was proved that the so-called "Territory Rule" used to punish the pioneers in Pottsville never actually existed. The Maroons helped put the once-fledgling NFL on the map, and the league repaid them by ruining the team and the great little coal-mining town that made it all possible. And despite clear proof that the 1925 NFL title belongs to Pottsville, the Cardinals and the Bidwill family have refused to give up, or even share, the championship.
As a result, the Cardinals have suffered through six decades of losing, one ill-timed thunderstorm and -- unless they do something quickly -- the wrath of Donovan McNabb and all of Iggles Nation.
---
WHYLO
Back by popular demand this week is the Flem File's WHYLO Award. WHYLO stands for "Who Helped You Log On?" and I used to give it out every week to the numbskulls who clogged up my inbox. But like the McRib, something this tasty and awful can't stay away forever.
First up is Holden from Seattle, who writes: "It would be great to have you to our fifth annual Dip A Palooza. Dip A Palooza takes place on Super Bowl. Twenty or thirty of my friends get together and hold a competition for the best dip. It's always a lot of fun and it would be great if you could make it."
Hmmm. Parties. Celebrities. Bruce Springsteen. A great seat for the Super Bowl. Or a 5,000-mile round-trip to eat my weight in sour cream? That's a tough one.
The next WHYLO nominee is Andres, who didn't like me making fun of Nickelback, which is to rock music what the Lions are to the NFL. "Way to go Flem, ur jab at Nickelback would have been better if u and ur editors didnt snooze … and just look at nickelbacks over the years that right there is musical success … ignoramus."
Finally, we come to Johnny from West Palm Beach, who writes: "In your 'Can anyone stop the Ravens?' article, you asked where did Harbaugh go to school? Miami University?? Folks down here call it the University of Miami. Hey, you know who's playing in the BCS championship game? Oklahoma University vs. Florida University."
Yeah, uh, Johnny, I was referring to my alma mater, The Miami University in Oxford, Ohio, which was a college before Florida was even a state.
Look, it's OK to be clueless -- just check out my NFL playoff picks, for cryin' out loud -- but you're not allowed to be clueless and have an attitude.
So, Johnny in West Palm, I have to ask you: Who Helped You Log On?
THIS COLUMN WRITTEN WHILE LISTENING TO: The Asteroids Galaxy Tour and the Ting Tings.
David Fleming is a senior writer for ESPN The Magazine and the author of the memoir "Noah's Rainbow" and "Breaker Boys: The NFL's Greatest Team and the Stolen 1925 Championship," which has been optioned as a movie. The Flem File will run each Wednesday during the NFL season.
2008 NFL Playoffs

The road to Tampa for Super Bowl XLIII on Feb. 1, 2009, began Jan. 3 with the wild-card playoff round. Will the Steelers or Cardinals replace the Giants as champs?

Championship Game results: NFC | AFC


COLUMNS/FEATURES
•
Wojciechowski: May the bitter team win
•
Chadiha: McNabb lets good times roll
•
Football Outsiders: Numbers Crunching
•
Sunday Countdown: Predictions and more
•
Clayton: First and Goal
•
Garber: This Philly Story seeks proper ending
•
Clayton: Peaking Steelers should advance
•
Chadiha: Eagles will soar in desert
•
Wojciechowski: Book Eagles for Tampa
•
Football Outsiders: Any Given Sunday
•
Football Outsiders: Quick Reads
CHAMPIONSHIP GAMES (Jan. 18)
Steelers 23, Ravens 14
•
Polamalu's INT return secures win
•
Playoff page
|
AFC North blog
Cardinals 32, Eagles 25
•
Fitzgerald leads Cardinals to first Super Bowl
•
Playoff page
|
NFC West blog
...
East
DIVISIONAL ROUND (Jan. 10-11)
Steelers 35, Chargers 24
•
Walker: The Bus sparks Parker
•
Williamson: Bolts need season-long urgency
•
Recap: Steelers knock out Chargers
•
More
|
AFC West blog
...
AFC North
Ravens 13, Titans 10
•
Graham: Battered Ravens pass physical
•
Kuharsky: Titans failed to answer critics
•
Recap: Turnovers doom Titans
•
Zoom Gallery
•
Fleming: Can anyone stop the Ravens?
•
More
|
AFC North blog
...
AFC South
Cardinals 33, Panthers 13
•
Sando: Desert bloom for Arizona's faithful
•
Sando: No denying Cards' makeover
•
Yasinskas: Carolina's big plans fall apart
•
Recap: Delhomme's 5 INTs doom Panthers
•
Zoom Gallery
•
More
|
NFC West blog
...
NFC South
Eagles 23, Giants 11
•
Wojciechowski: Book Eagles for Tampa
•
Mosley: Giants lost to better team
•
Recap: Defense smothers Giants
•
Zoom gallery
•
Chadiha: Eagles' defense hitting stride
•
More
|
NFC East blog
WILD-CARD ROUND (Jan. 3-4)
Ravens 27, Dolphins 9
•&nbsp
Wojciechowski: Scary Ravens' D
•
Recap: Ravens' defense overpowers Dolphins
•
More
|
AFC North blog
...
AFC East
Eagles 26, Vikings 14
•
Mosley: Eagles' run continues
•
Recap: Westbrook, big plays carry Eagles
•
More
|
NFC East blog
...
NFC North
Cardinals 30, Falcons 24
•
Sando: Cards' winning identity
•
Recap: Strong second half powers Cards
•
More
|
NFC South blog
...
NFC West
Chargers 23, Colts 17
•
Williamson: 5-6 Sproles comes up big
•
Recap: Chargers shock Manning, Colts in OT
•
More
|
AFC South blog
...
AFC West
ESPN Top Headlines