In the 14 postseasons from the 1995-96 postseason through this one, the Pittsburgh Steelers have played in 24 playoff games, including seven AFC Championship Games and (counting Sunday) three Super Bowls. During the sad freak show that is Super Bowl media day, to keep my brain from melting, I tried to come up with the common link in this impressive postseason run. Was it defense? Maybe. The Rooney family? Perhaps. Coaching? Scouting? Hmm. And then, somewhere between the salsa dancing, the dude in the dress and all the in-depth hair care analysis, it hit me.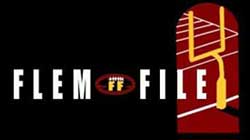 Me. It's me. By some odd twist of fate, I've been around for almost all of the Steelers' recent playoff run -- the heartbreaks and triumphs, the challenges and setbacks. It's me. I'm the connection. The common thread. Honest. Like some odd football version of that awful, schmaltzy dog book -- only this one is called, I don't know, "Rooney & Me," or something.
JANUARY 1995: By the time I found him down on the concrete turf of Three Rivers Stadium, after the Chargers had upset the Steelers in the AFC Championship Game, San Diego quarterback Stan Humphries was lying flat on his back, staring into the snowy gray sky above and screaming, at the top of his lungs in celebration. Across the field and on the opposite side of the spectrum, a limp-legged and dangerously distraught Steelers defensive back, Tim McKyer, who had given up the game-winning 43-yard TD pass to Tony Martin, had to be dragged off the field by teammates. During the Steelers' improbable run, it was the only time I saw McKyer with his mouth shut. See, the Steelers were in command, 13-3, late in the third quarter, and after a 15-year drought, this quirky, ragtag, loveable collection of players thought they were about to return Pittsburgh to the NFL mountaintop. Then Humphries went to work, scoring two long TD passes, and in the final two minutes the Chargers' defense somehow managed to turn the Steelers away with a remarkable goal-line stand. This one hurt -- bad. You could tell. It was as close to actual heartbreak for a team and a town as I've ever seen.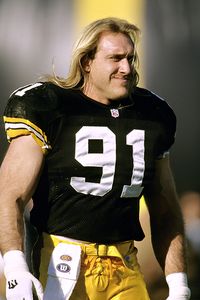 Joseph Patronite/NFL
For Flem's safety we're going to say this is the photo of Mr. Greene to which he is referring.
JUNE 1995: During the offseason I spent a few days with Steelers All-Pro linebacker Kevin Greene at his modest home in Alabama, and what I remember the most was (1) the homemade chicken casserole we had for dinner and (2) the family portrait of Greene hanging in the basement that made him look like a member of the Brady Bunch -- only not quite as cool. Greene, with that Thor-like blond hair hanging out the back of his helmet, would go on to become one of the larger-than-life characters of the resurgent Blitzburgh defense, as well as the third-leading sack master of all time (with 160 "baggies," as he called them). A semifinalist for the Hall of Fame the last couple of years, he was just named the linebackers coach of the Green Bay Packers. And even though he threatened to hunt me down and twist me into a pretzel if I ever told anyone about that photo, I figure the statute of limitations has run out by now. I hope.
JANUARY 1996: The Colts were trailing 20-16 with the ball on their own 16 and little time left in the AFC Championship Game, so I figured it was safe to leave the Three Rivers press box and head down to the field to watch the postgame festivities. But, of course, by the time I worked my way down under the stadium and out to the sidelines, Indy QB Jim Harbaugh (whom I once interviewed in the Kansas City locker room while he sported an expensive business suit and wingtips with one white and one black sock) had the Cardiac Colts down to the Pittsburgh 29 with less than 10 seconds to play.
For the second year in a row, the Steelers' trip to the Super Bowl would come down to the final drive. Like Forrest Gump, I somehow positioned myself behind the photographers lined up on the right side of the southeast end zone. And sure enough, Harbaugh launched a high spiral to Aaron Bailey that was batted away by Randy Fuller at the last second but not before time seemed to stand still as the ball almost came down to rest in the lap of another Colts receiver who had been shoved down to the turf. I was literally 15 feet away as the Colts' receivers fumbled for the ball in a kind of dreamlike state before it bounced in and out of their hands and rolled to the ground. Game over.
Have you ever shut your car door, and just as you release the handle you spot the keys still in the ignition, and even though all the alarms are blaring inside your head -- STOP! No, STOP! -- the wheels of fate have already been set in motion and you're helpless to stop the door? That's what the Colts' receivers looked like as they lunged for that ball.
The Steelers were back in the Super Bowl -- barely.
No wonder, by the time I caught up with defensive coordinator Dick LeBeau in his office, there was already a half-eaten roll of TUMS sitting on his desk.
JANUARY 1996: Four things stand out for me from Super Bowl XXX in Phoenix: (1) The Flem File was born there, not long after I watched a radio station promotion in which fans gleefully jumped into a giant, steaming hot pile of horse manure for a chance at Super Bowl tickets; (2) One of my friends in the biz nearly came to blows with a gray-haired photog in the stadium's ridiculously cramped tunnels; (3) Even though one or both of his costly interceptions were not his fault, after the game none of quarterback Neil O'Donnell's teammates came to his defense; (4) Say what you want about Jerry Jones' team-building skills today, but back then he had built a squad that was so good it won a Super Bowl without an actual coach.
OCTOBER 1997: Even on his best days, linebacker Greg Lloyd wasn't much of a talker. After the Steelers' exceptional scouting staff found him in the sixth round of the 1987 draft out of something called Fort Valley State, Lloyd, who would go on to become one of the greatest draft steals (ever), took to wearing a T-shirt that said: I wasn't hired for my disposition. And by the time I caught up to Lloyd in the dark, crowded, crumbling locker room of Memorial Stadium in Baltimore, the once-dominant linebacker who gave Blitzburgh its nasty swagger had been struggling with a bum knee for more than a year and reporters, PR guys, even teammates warned me to give him a wide berth.
Earlier that year, in fact, at an American Bowl game in Dublin, Lloyd had called Irish people rude. He had flipped off a reporter, told another one to "eat s--- and die," threatened to place-kick another and had actually shoved a Russian television journalist working for a Pittsburgh station.
At that point in my life, however, I had already been cursed out by the best. I mean, you could teach an entire linguistics class based on the white-hot, rancid lava stream of explicative terms Reggie Jackson once filled my face with. So I stepped right up to him, introduced myself and asked Lloyd (did I mention he was a black belt, too) how he was doing.
And you know what he spat back at me?
"I'm doing fine, man," he said.
Actually, he wasn't. The Ravens had pushed him around all day with one blocker and Lloyd would play only one more season before that knee and an infection got the best of him. That day he was frustrated. Beaten. But in his heyday, yikes, Lloyd was the original Ray Lewis. In 1994 he had 70 tackles, 10 sacks, one pick and five forced fumbles. He was everywhere, including the Pro Bowl and the All-Pro first team. I remember watching him in pregame warm-ups, the way he used to skip all the stretching and drills and just pace, back and forth, back and forth, like a caged animal waiting to pounce. Opponents used to call him Lloyd's of London because when you played him, you had better take out extra insurance.
Yeah, by the time I had caught up to him, he was a shell of his former self, jumping offside all the time to try to get an edge on the pass rush. And, I know, he's had some trouble off the field since his playing days, as well. But as you watch the game this Sunday and hear everyone talking about where this Steelers defense might rank in history, don't forget Greg Lloyd, the guy who put the bite back in Blitzburgh and paved the way for players like James Harrison, James Farrior and LaMarr Woodley.
JANUARY 1998: Weather and work conspired to keep me in Pittsburgh for 11 straight days between the Steelers' 7-6 win over the Pats in the divisional playoffs and Pittsburgh's subsequent 24-21 loss to Denver in the AFC title game. I'll admit that there were more than a few times when it felt like I was living inside the outtakes from "The Shining." But for the most part it was every bit the dream-come-true scenario: I gorged myself on room service, pay-per-view movies, Steelers practice, film study and the outstanding food, bars and live music on the South Side of the city. I also discovered that Pittsburgh is home to Mister Rogers and Andy Warhol (as well as Rusted Root). And by the eighth day, I was 20 pounds heavier and completely out of clean clothes. So I did what any trained survivalist would do in a similar situation: I rang the bellhop and dumped everything at the dry cleaners who, in return, starched a full-length mega crease in my jeans that made me look like a robot.
JUNE 1998: I was living in New York at the time, but to give you an idea of what legendary Steelers center Dermontti Dawson is like, when I flew to Kentucky to interview him, he insisted on picking me up at the airport because he was worried I might get lost. Between 1988 and 2000 Dawson quietly ruled the NFL while elevating his position to another stratosphere, doing things with his rare combo of size, speed and smarts that most centers can still only dream of. To me, he is the epitome of what a Hall of Fame player should be: an ambassador of the game who absolutely dominated his position during the course of his career. He may have to wait his turn because of the odd, antiquated Hall of Fame voting system, but if Cardinals QB Kurt Warner is Canton-bound after, essentially, four good seasons, Dermontti Dawson is as close to a lock for Canton as I've ever seen.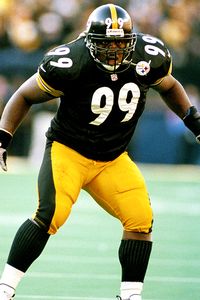 Greg Crisp/Getty Images
Sure, it's a game ... but more than anything, the NFL is a business. Just ask Levon Kirkland.
I'm not sure I've ever met a more dominant but down-to-earth player. If I were a professional athlete, you'd have to drag me from the game kicking and screaming, but as soon as Dermontti felt age and injuries diminished his performance, he walked away with no fanfare and zero regret. Looking for an interesting anecdote or something even remotely scandalous, at the end of our interview I insisted on meeting his pet Rottweiler who was chained up in the garage with the kind of thick, steel cable you use to tow railroad cars. On cue, this massive, muscular mess of saliva, teeth and paws ran over, knocked me down, stood over me for a second and then licked my face until I needed a bath towel to dry off.
Yeah, that was Dermontti's dog, alright.
MARCH 2001: One of the Steelers' trademarks, at least from a front office standpoint, has been their ability to make the tough personnel decisions, even when it comes to beloved players. Pittsburgh simply does not overpay for marquee free agents, but more importantly, I think, the Steelers don't allow emotional attachments to sway roster and salary-cap decisions. It's a lot tougher than it sounds. This is an emotional game, and to get players to lay it on the line for you, to sacrifice for the greater good, they first have to feel like the franchise has their back. But at the same time, you have to balance that with a cold hard businesslike approach to the salary cap.
A perfect example of this is linebacker Levon Kirkland. A second-round pick out of Clemson in 1992, during nine seasons in Pittsburgh Kirk had become the heart and soul of the Steelers' defense. He made a couple of Pro Bowls and I still say, to this day, that he was the best player on the field in Super Bowl XXX -- and if the Steelers had beaten the Cowboys, he would have been the game's MVP. But when his cap hit outweighed his performance, the Steelers didn't hesitate, cutting him loose.
Before the Seahawks picked him up, I met with Kirk at a Gold's Gym near Charlotte at a time when the pain and shock of his release was still fresh. Kirk is built like a washing machine, a very intimidating 6-foot-1 and 275 pounds, but he was remarkably open and candid about the human side of the Steelers' rather cold, cut-and-dry approach to aging, expensive players.
He got the news while driving on the highway and had to just pull over to the shoulder to let it all sink in. When I pushed him to describe what it felt like, he recalled the creepy scene from "Fatal Attraction" when Michael Douglas breaks it off with Glenn Close and she's just sitting on the floor of her apartment, seething and staring off into space while flicking a lamp switch back and forth from burning light to cold stark darkness.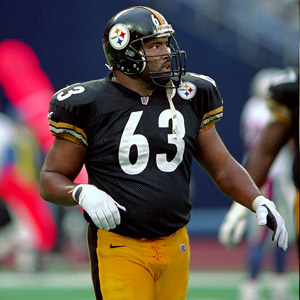 George Gojkovich/Getty Images
Dawson's bite was definitely worse than his non-existent bark.
Kirk later signed with the Seahawks and played one more season with the Eagles. I've seen him a few times around Charlotte since his playing career ended. The last time we bumped into each other he didn't say anything, but just re-enacted the scene from "Fatal Attraction": face twisted in mock pain, a far-away stare in his eyes, mindlessly tugging that imaginary lamp cord -- on and off, on and off -- until we both cracked up.
But, to this day, I've never seen or heard a better description of what it's like to get tossed aside so cruelly by a team, a city and a franchise you gave your blood, sweat and tears to for a decade.
JANUARY 2002: One of the most gutsy performances I've seen in Pittsburgh was actually turned in by New England QB Drew Bledsoe. Remember, Tom Brady got his chance when Bledsoe suffered a horrendous chest injury in 2001 while playing against the Jets. But when Brady was banged up in the AFC Championship Game, Bledsoe came off the bench and led the Pats to the Super Bowl. Right after taking over in this game, Bledsoe scrambled toward the sidelines, but instead of sliding or stepping out of bounds he put his head down and collided, chest first, with half the Steelers' defense. It was a vicious hit delivered right to the QBs surgically repaired innards, but Bledsoe bounced right up, triumphantly spiking the ball for good measure. Inspired, the Pats went 40 yards in four plays, capped by a TD pass from Bledsoe to David Patten to make it 14-3 at the half. And New England never looked back.
FEBRUARY 2002: At the NFL combine in Indianapolis, I sat down for a long talk with Steelers director of football operations Kevin Colbert, who gave me a rare look inside the team's tried-and-true method of roster building. In the era of parity, when draft order, schedule strength, free agency and the salary cap all conspire to prevent dynasties, the Steelers seem to return to the playoffs every season. They do this with a personnel blueprint nearly every franchise has tried to duplicate: by getting as many as 10 pairs of eyes on every draft prospect, they are able to pick exceptionally well, with few big mistakes, and restock their roster each fall with young, talented and cost-efficient players who perfectly fit their schemes.
AUGUST 2003: Ever wonder what it would be like to win the lottery and hire a band like Pearl Jam to play your annual backyard barbecue? That's about the only way I can describe one of the must-see events of NFL training camp: the Steelers' night practice held at a high school field in Latrobe, Pa.
You park in a gravel lot. The Steelers file out of yellow school buses. The smell of grass, hot dogs and Iron City in the air. Fans on rooftops and hanging from every inch of wood and metal bleachers. Gun-metal dusk skies. The crackle of the PA speakers and the crunch of shoulder pads and helmets. I know this has nothing to do with the playoffs, but the Steelers' night practice in Latrobe is truly one of the last places on earth where big-time sports mingles so easily and openly with small-town America.
NOVEMBER 2004: A select few names evoke some of the greatest streaks in sports. DiMaggio, Favre, Ripken ... Gardocki? No, seriously. At the time, when I interviewed Steelers punter Chris Gardocki, he had booted an NFL-record 1,009 punts without having a single one blocked. Honest. Go ahead and laugh, but in many ways, though, Gardocki was the classic Steeler: a guy who did his job better than anyone else in the game and without fanfare.
DECEMBER 2004: Thanks to Matt Ryan and Joe Flacco, we tend to forget that before Ben Roethlisberger's rookie season, the accepted wisdom in the NFL was that young QBs needed three, maybe even four years, to get up to speed in the pros. Roethlisberger has always been preternaturally poised in the pocket, and on a trip in 2004 I discovered how those traits could be traced back to his roots in Findlay, Ohio.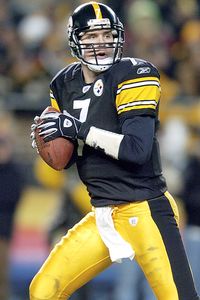 Kirby Lee/NFL/Getty Images
Big Ben has been cool, calm and collected from birth.
Here's what I wrote: Findlay is a classic Midwestern town 45 miles south of Toledo, where you can still see old Mail Pouch tobacco ads on the sides of the town's brick buildings. It's quaint. Hardworking. Proud. And if you want to know where Roethlisberger's poised, humble, down-to-earth style comes from -- the kind that has changed the long-held notion that you can't win in the NFL with a kid under center -- well, it's all right here.
Look around the Roethlisbergers' modest ranch home south of town. There's a chocolate Lab scratching at the back door. A scented candle burns in the living room. A pie hutch. A stand-up piano and tons of holiday knickknacks. Before dreaming of the NFL, Ben wanted to be an FBI agent. He once set up a zip line from a tree to the front porch. It didn't hold. "That one hurt," he says with a laugh. "I think my success does have a lot to do with where I grew up, my family and how I was raised," says Ben. "I mean, if I could be half the man my dad [Ken] is, I'd be extremely happy. He's taught me so much about football, about life, religion, family, love, everything. He's a leader in the real world. He's the coolest, calmest, most collected guy I know. Whatever I am, I hope it's a tribute to him."
Ken was a quarterback at Georgia Tech who switched to baseball after a knee injury. Ben did him one better: He was a three-sport star at Findlay and the Trojans' all-time leading scorer in basketball. Just like Donovan McNabb and Doug Flutie before him, Ben's time as a point guard -- the footwork, reading defenses, distributing the ball, feeling where his players were going -- served him well later as a quarterback.
As a sophomore point guard at Findlay High, Ben used to engage the refs in conversation before the start of the third quarter. He'd ask about some obscure rule, hoping that in the ensuing confusion the refs would just hand him the ball out of bounds without first checking the possession arrow. Every once in a while, it actually worked. "Even when he was 15, Ben had a quiet command about him," said Findlay's athletic director. "One of the reasons Ben seems so calm is that he's always been a step ahead of everyone, always looking for an edge, even with the refs."
JANUARY 2006: Even with the Super Bowl in my hometown of Detroit, the one thing I will never forget about this particular postseason run by the Steelers is just how infinitesimally close Jerome Bettis came to becoming the Bill Buckner of Pittsburgh. Right? Bettis capped his stellar career with a Lombardi Trophy for the Steelers and favorite-son status for himself in Pittsburgh. But three weeks earlier, while Pittsburgh was clinging to a 21-18 lead in the divisional playoff in Indy, Bettis coughed up the ball at the 2-yard line with 2:31 to play, and the Colts' Nick Harper picked it up and was on his way to the opposite end zone when a diving, flailing Roethlisberger tackled him by the socks at the 42-yard line.
I still have nightmares in which I wake up thinking I need four math credits to graduate from college. And I wonder how many times Bettis still wakes up in the middle of the night in a cold sweat and out of breath reliving what might have been in Indy that day.
JANUARY 2008: Maybe one of the lamest postseason play calls I've ever seen. Holding a 29-28 lead late against the Jags in a wild-card game, the Steelers faced a third-and-6 on their own 26. Coach Mike Tomlin didn't throw. He didn't run the ball, either. In the play-calling equivalent of taking a knee, Roethlisberger inexplicably ran a timid, halfhearted bootleg. It fooled no one. Jacksonville stuffed it for little gain, got the ball back and proceeded to march down the field for the winning field goal. At the time, the worst part of the whole thing was how Tomlin stubbornly insisted that he'd make the same call again if given the chance. But in the end, I think it ended up being an important learning experience for a young coach -- even if he won't admit it.
NOVEMBER 2008: Here's what I wrote for a recent cover story on the Steelers' top-ranked defense.
Walk inside the Steelers' training facility and you will find five Lombardi Trophies shimmering in a glass case outside the team's executive offices. But if you continue deeper into the building, and the heart of the franchise, you'll come across a lesser-known relic that's even more significant to this year's defense. It's a floor-to-ceiling black-and-white photo of the first points ever scored by Pittsburgh in the Super Bowl -- a safety by the Steel Curtain in a 16-6 win over Minnesota on Jan. 12, 1975. At the bottom of the picture, Hall of Fame linebacker Jack Lambert growls into the face mask of a prostrate and clearly frightened Fran Tarkenton, the Vikes' elusive quarterback who was supposed to be unstoppable.
The picture is a reminder to all that when it comes to offense in the NFL, nothing can ever be considered invulnerable or innovative until it's survived the ultimate test -- the Pittsburgh D.
JANUARY 2009:Thirty-four years later, as the Steelers aim to become the first NFL team to win six Super Bowls, it's interesting to note how precisely the Steel Curtain litmus test applies to the game in Tampa on Sunday. There's no doubt that the Cardinals are on an epic roll. They have a hot coach, a possible Hall of Fame quarterback and the game's most dominant, scary-good unstoppable wideout. They are everyone's favorite underdog. But the truth is, they haven't faced the Steelers' defense yet. A defense that is poised to take its place among the pantheon of Pittsburgh greats.
And if my front-row seat for the Steelers' remarkable run during the past 14 years has taught me anything, it's this: The bigger the football game, the more likely finesse yields to the physical.
David Fleming is a senior writer for ESPN The Magazine and the author of the memoir "Noah's Rainbow" and "Breaker Boys: The NFL's Greatest Team and the Stolen 1925 Championship," which has been optioned as a movie. The Flem File will run each Wednesday during the NFL season.
SUPER BOWL XLIII
In one of the best Super Bowls ever, the Steelers blew a 13-point lead before they delivered their own comeback to beat Arizona, 27-23. Super Central
Super Bowl results | MVPs
Photos: Game action | Halftime show


GAME COVERAGE
SB WEEK COLUMNS/FEATURES
CARDINALS SB WEEK COVERAGE
STEELERS SB WEEK COVERAGE
ESPN Top Headlines