Commentary
Time for the panic button?
Originally Published:
September 16, 2009
By
David Fleming
| Page 2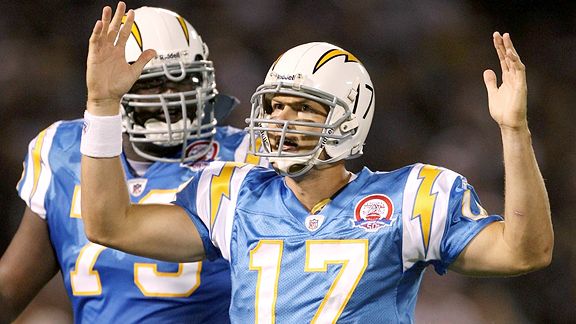 Ezra Shaw/Getty ImagesDon't get excited San Diego, you shouldn't have even needed a game-winning drive.
Just a few minutes ago I heard back from my top-secret research department, which has been crunching numbers and stats on a bank of Tandy computers and abacuses in my garage since late Monday evening. What they have discovered is shocking, to say the least. Are you sitting down? Okay. I can now announce, with total confidence, that there are only 15 games left in the entire regular season.
Let's face it, panicking after Week 1 of the season has become something of an NFL tradition. After all, this is the only week of the season when every team in the league is either undefeated or winless. This year is no different. The Vikings and their fans are already working on their tans and booking South Beach reservations for February. Drew Brees is on pace to throw for 96 touchdowns. Jake Delhomme will be flipping burgers by Halloween. And if they stay healthy the Rams have a real shot at the Grey Cup.
The truth of the matter is, after only one week, no team is as good as we think -- or as bad. But where's the fun in being rational and calm?
So get those panic buttons ready, people, and the Flem File will let you know if you need to IGNORE it, READY it, HIT it or JUMP UP AND DOWN on it.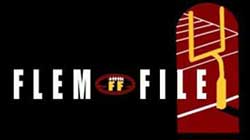 DETROIT
I put the Lions first because coach Jim Schwartz has a great philosophy about panic that he shared with me this summer.
"I'm not a patient person by nature," he said. "At the amusement park, I want to get on every ride right now -- I'm that guy. But I've also seen what happens in this league if you don't build the foundation the right way before you build the house. It's a disaster waiting to happen. I grew up in Maryland, and at camp when we would go canoeing my Boy Scout instructors would always tell us not to do the West Virginia weave. You paddle too hard on one side and then -- oh no! -- then you paddle too much on the other side and you go back and forth, snaking down the river, from side to side, using all your energy but not getting anywhere. So many things I've seen in this league over the years have been the West Virginia weave: overreacting to a situation and overcorrecting to it. You correct, then go back. You correct, then go the other way. And you end up going nowhere. Jeff Fisher. Bill Belichick. They have a very set belief system and they stick to it. They don't weave."
With this attitude, and games against the Redskins and the Rams in the first half of the season, the Lions shouldn't get anywhere close to the 1976-1977 Tampa Bay Bucs record of 26 losses in a row. You heard the coach. There will be no weaving or panic in Motown. So, for the time being, Detroit fans need only READY the PANIC BUTTON.
BUFFALO
The Bills have now lost their past three MNF games by a combined four points. But this one had to be the worst. After the fumbled kickoff we all shouted the same thing at the TV: It's over. You could feel the win slipping out of the Bills' hands like cupped water. Just too many chances for the Pats, who ran 29 more plays on offense. This is the kind of loss that would haunt a stable team, let alone one with last-second coaching changes, two injured starters on defense (linebacker Paul Posluszny and end Chris Kelsay) and Mount T.O. about to erupt. Last season the Cowboys threw to him nearly nine times a game. Monday night? Three. It's never a matter of "if" T.O. is going to be a distraction; it's only a matter of "when." Monday night moved that timetable up by about a month, I'd say. Did you see those old cave-drawing buffalo logos on the Bills helmets? If you looked closely you could tell the bison were actually JUMPING UP AND DOWN on the PANIC BUTTON.
TENNESSEE
Drops, turnovers, bad kicks, nagging injuries. These all are little things. Until they happen two weeks in a row. Which they never do on a Jeff Fisher team. So IGNORE the PANIC BUTTON.
DENVER
The most unintentionally funny stat line from Week 1 was flashed up on the TV screen just before that fateful play at the end of the Bengals game. Kyle Orton's career game-winning drives: 3. Now he has four, I guess. The PANIC BUTTON doesn't believe in karma and the Broncos are still a bit of a mess, so go ahead and HIT that thing. No, wait. I mean, TIP it.
MINNESOTA
I know the No. 1 highlight from Week 1 was Adrian Peterson's 64-yard touchdown run in which he broke, by my count, five tackles. But if you're a football junkie and you were watching carefully, early in that play you saw something even cooler: guard Steve Hutchinson's life-altering, sun-eclipsing, crater-inducing pancake block on some poor Browns tackler (honestly I could not make out the guy's name or number), who may still be stuck in the turf for all I know. Everything is going Minny's way right now, from the supposed rule breakers (The Williams Wall) to the schedule makers (Hello, Detroit!) and even the old snap takers (Brett Favre, a game manager?). Enjoy it while it lasts.
IGNORE the PANIC BUTTON for now, but I still think, before it's all said and done, Brad Childress will have to bench Favre to save the Vikings' shot at the Super Bowl.
ARIZONA
Was that a Super Bowl hangover or the H1N1 virus? I'd ask Kurt Warner to HIT the PANIC BUTTON, but if there's a decent pass rush in his face I'm afraid he'll overthrow it or his wide receivers will get hurt trying to catch it.
ST. LOUIS
Shutout for the first time in 11 years? Eleven straight losses? Twelve men on the field? Late plays? Wrong personnel? Stupid penalties? JUMP UP AND DOWN on that PANIC BUTTON.
CINCINNATI
Marvin Lewis described the last-second loss to Denver, on a tipped 87-yard TD to Brandon Stokley, as like getting kicked in the nards. Drink this in, Bengals fans: It was the longest game-winning play from scrimmage in the final 60 seconds of play in NFL history. These are the Bengals, though. So you kinda expect to see stuff like a fluke TD, a botched field goal attempt and a gimpy Carson Palmer. What I didn't expect was an improved defense. So I'm telling Who Dey Nation just to READY the PANIC BUTTON.
NEW ENGLAND
Be warned: I'm going to totally contradict myself on this one. Tom Brady looked like everyone does coming back from major knee surgery (physically he's fine, but mentally he's still unsure); the running game was anemic (2.9 yards per carry); and the defense, gutted, smartly, of all its slow, old dudes, lacked pop and personality. Something that will get much worse if the guy they want to build around, 2008 DROY Jerod Mayo, is out with a mangled knee. And yet, does anyone out there think Bill Belichick won't get this figured out -- pronto? Remind me again, what does Belichick do better than anyone else in the NFL? Oh yeah, mess with rookie quarterbacks. So go right ahead and IGNORE the PANIC BUTTON. Unless your name is Mark Sanchez.
HOUSTON
A rookie quarterback had his way with the Texans defense. The Jets outgained Houston by 279 yards. Andre Johnson had 35 yards receiving. Steve Slaton had 17 yards rushing. And, apparently, Matt Schaub either can't -- or won't -- throw the ball downfield. "There's nobody that can feel anything good coming out of this football game," said head coach Gary Kubiak. But what has to really disturb folks in Houston is what looked like an utter lack of fight or urgency on a team that's been stringing fans along since 2002. I've got a new line dance for y'all in Houston: Jump forward, now to the side, slide back, hands on hips, now STOMP on the PANIC BUTTON.
CAROLINA
The day after the Panthers turned the ball over seven times in a 38-10 whitewash by the Eagles -- a game most locals think was the worst opener in franchise history -- Julius Peppers, of all people, stepped forward and promised, "We're not going to panic." The team signed A.J. Feeley, a 32-year-old backup QB with only 15 career starts and 29 picks to 27 touchdowns. At times, the offensive line looked worse than Jake Delhomme. And someone needs to shake coach John Fox out of his Bill Cowher, this-is-what-we-do-and-we're-not-changing-no-matter-what coaching style before it's too late. But, for some reason, Peppers' acting as the voice of leadership and reason in Carolina only makes me think fans there should JUMP UP AND DOWN on the PANIC BUTTON.
CHICAGO
The Bears are pretty deep at linebacker and -- even though this is sacrilege in Chicago -- they'll move on OK without Brian Urlacher. It was Jay Cutler's team long before Urlacher got hurt. Cutler looked like, well, he looked like a Bears quarterback in the opener. But when you ask folks at Vanderbilt about Cutler's resilience they talk about the time he shook off a bloody chin to lead a TD drive against Arkansas or the time he threw three picks -- and followed that up with five touchdowns. In the same game. He might have issues, but fighting through adversity isn't one of them. So even with the Steelers coming into town I still think the Bears can IGNORE the PANIC BUTTON.
SAN FRANCISCO
San Fran's offensive numbers: four sacks, 11 tackles for loss, 29 plays that did not gain positive yards and three-and-out series on five of six second-half possessions. This might be the only team in the league that won and still needs to HIT the PANIC BUTTON.
SEATTLE
There just wasn't room in the Flem File budget for the SNOOZE option on our PANIC BUTTONS, or else, that's what I'd give the Seahawks, who started fast against a vastly inferior opponent and now have a banged-up linebacking corps and three tough games in a row.
CLEVELAND
After giving up 535 yards, the biggest hit I saw anyone put on the Vikings was when Brett Favre tackled Percy Harvin after a touchdown catch. After all that "who is starting?" drama, Brady Quinn gets sacked five times and throws for barely 200 yards. This would be more alarming if the Browns (1-10 in their past 11 openers) didn't always lose in Week 1. The Browns might have HIT that PANIC BUTTON -- I'm not sure. Eric Mangini is keeping his decision a secret until kickoff.
WASHINGTON
The Redskins play the Rams, Lions, Bucs, Panthers and Chiefs next. Who made the schedule, President Obama? So, for now, I'd IGNORE the PANIC BUTTON, because this team could still be 5-1 by the time it loses to another team from the NFC East.
NEW YORK GIANTS
I like video games and the spread offense as much as the next nut, but sometimes you forget just how invigorating it can be to watch a team physically dominate an opponent. I know they struggled a bit on short yardage in Week 1 and they need a No. 1 receiver to step up, but the Giants control the line of scrimmage and seem to revel in the dirty work of the trenches, in a way that is slowly going extinct in the speed-kills NFL. Until that changes, Giants fans can happily IGNORE the PANIC BUTTON.
NEW ORLEANS
Focus on Drew Brees and all those gaudy passing numbers if you want, but the biggest change in New Orleans is defensive coordinator Gregg Williams and a defense that will be bringing pressure and creating turnovers and morphing on almost every set of downs. On Sunday the Saints showed some 3-4 and even ran some Elephant, with a roaming stand-up end, to confuse Matt Stafford. (That's how it's done, Houston.) But what I especially liked was the cold-blooded way Brees picked apart Lions corner Eric King who was a last-second fill in for Detroit. That's a killer instinct the entire team seems to be feeding off. So, yeah, IGNORE that PANIC BUTTON. No, wait. The Saints are so good you can TAKE the PANIC BUTTON to Bourbon Street.
SAN DIEGO
Textbook execution of the two-minute drill. Philip Rivers was 6-for-7 for 79 yards on a game-winning 89-yard drive that Darren Sproles iced with a 5-yard gut buster up the middle. My question? Why? Why does one of the best teams in the league need last-second heroics to knock off a pathetic pack of pirates? Because they come out flat and they play down to their competition, that's why. Now, it looks like center Nick Hardwick is hurting. Something that makes me want to READY the PANIC BUTTON.
PITTSBURGH
I've followed the Steelers closely for a long time and I've never seen the kind of calm, confident swagger they're sporting right now. Troy Polamalu is a beast. I saw a recent injury report that has him listed four separate times -- which seems about right. But the week they lose Polamalu, the Steelers will likely get linebacker Lawrence Timmons back. And here comes the running game. The Steelers can IGNORE the PANIC BUTTON, or lend it to the Pirates.
BALTIMORE
A record 501 total yards and the emergence of back Ray Rice? With such a tough schedule (at San Diego, at New England, at Minny, at Green Bay) the Ravens need to conserve their energy and IGNORE the PANIC BUTTON.
MIAMI
Since 1990 only 22 of the 160 teams that started the season 0-2 went on to make the playoffs. The Dolphins, who play the Colts, will not be team No. 23. Time to READY the PANIC BUTTON.
NEW YORK JETS
Is this team for real? We'll find out this week. I'd tell Mark Sanchez and Rex Ryan to READY the PANIC BUTTON. But you know what? They look like they're having too much damn fun to even bother -- and there isn't enough of that in the NFL these days.
INDIANAPOLIS
Is it possible that the Colts defense got bigger and faster in the offseason? Peyton Manning ties Johnny Unitas by going 5-for-5 throwing on third down. Sometimes I think the Colts, their defense and Manning are like living next to the mountains or the ocean: They are awe-inspiring, at first, but then after walking past them every day for several years you almost start to take them for granted. Just like the PANIC BUTTON they should IGNORE in Indy.
JACKSONVILLE
Last year it was the offensive line. Now it's the defensive line. Rob Meier is out with a bad shoulder, team captain Reggie Hayward broke his left leg Sunday and DE Derrick Harvey's performance was called somewhere "between ineffective and invisible." Time to un-tarp that PANIC BUTTON and HIT it.
KANSAS CITY
When it's Tuesday of Week 2 and you still have no idea who the quarterback is (Matt Cassel has a bum wheel while Brodie Croyle and Tyler Thigpen are a combined 1-19 as starters) and whom said mystery man might actually throw the ball to, it's time to JUMP UP AND DOWN on the PANIC BUTTON. Unless, that is, the Chiefs have already traded, cut or demoted it.
OAKLAND
Even a project as big as the Raiders' turnaround -- 73 losses in the past six years, which is two more than the Lions during the same span (and 11 straight in prime time, Yeowch) -- has to start with effort, heart and talent. And the Raiders showed all three on Monday night. So, I can't believe I'm saying this, but Al Davis should IGNORE the PANIC BUTTON. Yep, just 'tuck it' away somewhere. (That was mean, sorry.)
DALLAS
I'm glad the Cowboys beat the Bucs in the season opener. Now, Dallas can IGNORE the PANIC BUTTON, for a week, at least. Good thing, too. I mean, if Jerry's id (I mean TV) is 180 feet long, imagine how big his PANIC BUTTON is?
PHILLY
I learned two things from Andy Reid on Sunday. First, it turns out black is not as slimming as you might expect. And, two, that swarming, smart, speedy defense in Philly is the reason, even with a cracked McRibb, the Eagles can IGNORE the PANIC BUTTON.
GREEN BAY
Why'd the Packers ever let Brett Favre go? We got our answer Sunday night. I don't know what was more impressive, Aaron Rodgers' picture-perfect bombs downfield, his late-game composure or Dom Capers' uncanny ability to break down, teach and implement very complicated defensive schemes. IGNORE the PANIC BUTTON.
ATLANTA
John Abraham and Mike Peterson look like the baddest, old-school one-two punch in the league right now. To top it off, they'll be wearing throwback unis from 1966 on Sunday. Makes sense, the PANIC BUTTON wasn't even INVENTED in 1966, so IGNORE it.
TAMPA
After giving up 462 yards of offense to the Cowboys, the PANIC BUTTON might be the only thing the Bucs secondary HIT all week.
David Fleming is a senior writer for ESPN The Magazine and the author of the memoir "Noah's Rainbow" and "Breaker Boys: The NFL's Greatest Team and the Stolen 1925 Championship." And his work will be featured in the 2009 Best American Sports Writing anthology. The Flem File appears every Wednesday during the NFL season with updates on Mondays and Fridays.
ESPN Senior Writer
Senior writer for ESPN The Magazine and FlemFile columnist for ESPN.com.
Has written more than 30 cover stories for SI and ESPN.
Author of "Noah's Rainbow" (a father's memoir) and "Breaker Boys" (stolen 1925 NFL title).