Commentary
Brett Favre isn't as clutch as you think
Originally Published:
September 30, 2009
By
David Fleming
| Page 2
Pushing 40, with a sore right foot, a gimpy knee, two bad shoulders and a stiff neck, Brett Favre bounced from the pocket and ripped a 32-yard game-winning laser to a blanketed Greg Lewis streaking across the back of the 49ers' end zone. And when the tiny rubber FieldTurf pellets gave off their telltale rooster tail, indicating that, yes, Lewis had gotten his right toe down in bounds, the entire football world seemed to celebrate the fact that Favre had worked his gritty kind of magic one more time.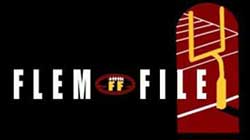 "The legend continues to grow," said Vikes kicker Ryan Longwell.
That's what I thought, too.
See, the past few years, I've been particularly hard on Favre and especially the cult of personality that, despite his horrible play and his mind-blowing egocentricity, has continued to idolize him and protect him like some kind of Norman Rockwell-type national treasure.
After he expertly moved the Vikes 80 yards in 1:29 with no timeouts against a swarming 49ers defense remade in the image of head coach Mike Singletary, word came that this was Favre's 43rd come-from-behind game-winning drive. And when I heard that, well, I wanted to join in with the rest of the world and celebrate all of Brett's wonderful, Wrangler-wrapped, oh I don't know, super Favre-i-ness. Forty-three game-winning drives? Are you kidding me? Jay Cutler hasn't even started 41 games. John Elway, the comeback kid himself, finished with 47. Geez, I thought, maybe I have been too hard on Favre these past few years.
As a tribute, and an apology of sorts, I set out to chronicle each of Favre's previous 42 courageous comebacks leading up to Sunday's Metrodome Miracle. "It was incredible," said Vikings corner Cedric Griffin. "I was on the sideline thinking, 'Brett Favre is known for his comebacks. Brett Favre is known for his comebacks.' And look what we got!"
That's the way this was being tallied, repackaged and sold to football fans, right? That if you thought the winning throw against the 49ers was something, heck, that was actually the 43rd time that scruffy, lovable No. 4 had put a team on his back and, against all odds (and, I think, a fire-breathing dragon or two) carried an entire franchise to glory.
You know, like Favre did during Comeback No. 1, all the way back on Sept. 20, 1992 when, according to The List, he hit Kitrick Taylor for a 35-yard TD pass with 13 seconds left to beat Cincinnati 24-23.
And, just like Favre did during Comeback No. 2 against the Eagles on Nov. 15, 1992, when The List says his magical arm and Zeus-like pocket presence guided the Packers on a two-play drive that covered zero yards before Chris Jacke kicked a 41-yard field goal with no time remaining to beat Philly 27-24.
OH YEAH, ALL HAIL BRETT FAVRE!!!
Wait.
What?
A two-play drive covering zero yards counts as a game-winning, come from behind, fourth-quarter drive? That's the stuff of cardiac quarterbacking? That's the stuff of living legends and the kind of pure grit that evokes images of playing sandlot football at dusk in the street out in front of my childhood home?
I mean, from all the coverage after the game I was led to believe that Favre has delivered the same kind of heroic, Goliath-sized gut punch a total of 42 other times. Boy was I wrong. Really wrong. Like, Nickelback is a good band, wrong. In fact, you want to know, before Sunday, how many times in those supposed 42 game-winning come from behind kids-gather-round-and-listen-to-your-grampa-Flem-tell-a-football-story drives that Favre threw a touchdown pass in the final 10 seconds of the game?
None.
As much as I wanted, just this once, to be a purveyor (or is it pusher?) of the Favre legend, the truth is only nine of those drives were the result of No. 4's throwing a touchdown in the final two minutes of a game. Nine. "It's hard to even recall all of them," Favre said Sunday when asked about his game-winning drives. "This one was pretty special."
It was. And don't get me wrong, Favre has had some amazingly clutch and gutsy finishes when he did put the team on his back. Like Comeback No. 7, a road playoff game on Jan. 9, 1994, when he hit Sterling Sharpe on a 40-yard TD pass with 55 seconds left to beat the Lions 28-24.
He just hasn't done it anywhere close to 43 times.
Or 33 times. Or even 23 times.
I live near a town with one sports radio station. Ratings-wise this place is usually battling neck and neck with the Spanish-language Christian church broadcasts, but that doesn't stop them from using that guy from the monster truck commercials to declare them to be the unquestioned, ass-kicking, No. 1 sports radio station in the city, city, city, city citycitycity.
It's all statistical gobbledygook. A manipulation of data. And you know how much I love that kind of stuff.
Obviously, though, this statistical myth isn't Brett's fault. He's got nothing to do with it. My guess is he couldn't care less about this kind of stuff. He's not standing over some poor NFL statistician every Monday morning making sure his numbers are correct, like I always imagined Dan Marino would do. And it's not like Favre needs his image or his accomplishments to be exaggerated, either. The guy's a great player. A credit to the game. A first-ballot Hall of Famer.
Quarterback is the most important position in our most popular sport, and in our stats-obsessed culture it drives us a little batty, I think, when we can't easily quantify stuff like leadership, guts, poise and grit. Then someone figures out that clutch play late in games can actually be researched and tallied using fourth-quarter scoring, and the next thing you know some PR intern in Packers PJs formulates a definition of a comeback so broad and vague that, I believe, it's now possible to actually credit Favre for Santonio Holmes' TD catch in Super Bowl XLIII.
I went back through the list, giving Favre credit for game-winning drives in the final 4:00 of the fourth quarter that ended in field goals, TD runs or passes. And that still got him to only 22. Several times, I discovered, Favre has been given credit for "coming back" from a tie score, which, I believe, is mathematically impossible. Even the pure "comebacks" like the one from Sunday are deceiving, since a lot of the credit should go to the Vikings defense for forcing two three-and-outs in the final 5:30 to get the ball back to Favre.
Trust me, though, the statistical spoon-bending on this comeback list only gets worse.
I mean, Comeback No. 37 on Sept. 9, 2007 was a classic: a four-play, 6-yard drive that led to a last-second 42-yard field goal to beat Philly, 16-13.
Comeback No. 39? Oct. 29, 2007, an 82-yard pass to Greg Jennings that gave the Packers a 19-13 win over the Broncos in OT. I understand that this was an amazing, life-altering play for many of you Favre fans. (Yes, I read my emails.) But that doesn't change the fact that it was in overtime with the score tied at 13. It's a hallmark play, no question, one of the all-time great game-winning throws in Packer lore, but it's still not a comeback and, sadly, doesn't belong on The List.
Comeback No. 12 on Nov. 1, 1998, was a game-tying 45-yard field goal by Ryan Longwell with 13:14 to go in a game that ended 36-22. Likewise, Comeback No. 29 on Dec. 14, 2003, was a 40-yard pass to Robert Ferguson with 11:18 to play against the Chargers in a game that ended up 38-21. So Favre is credited with orchestrating a nail-biting comeback win even though the Packers scored three unanswered touchdowns in the fourth quarter.
I could go on -- and on -- but the point is these are not exactly John Elway's leading the Broncos 98 yards down the field inside Cleveland Stadium in the AFC Championship Game comebacks -- are they? On Sunday Brett Favre threw his first ever game-winning touchdown pass in the final 10 seconds of play. Not his 43rd.
He now has ten game-winning touchdown passes thrown in the final two minutes of play. Not 43.
He has orchestrated 22 drives that helped win games. Not 43.
1.
10.
22.
If those "real" comeback numbers aren't impressive enough, it's not Brett Favre who needs help.
It's us.
David Fleming is a senior writer for ESPN The Magazine and the author of the memoir "Noah's Rainbow" and "Breaker Boys: The NFL's Greatest Team and the Stolen 1925 Championship." And his work will be featured in the 2009 Best American Sports Writing anthology. The Flem File appears every Wednesday during the NFL season with updates on Mondays and Fridays.
ESPN Senior Writer
Senior writer for ESPN The Magazine and FlemFile columnist for ESPN.com.
Has written more than 30 cover stories for SI and ESPN.
Author of "Noah's Rainbow" (a father's memoir) and "Breaker Boys" (stolen 1925 NFL title).
NFL WEEK 4 COVERAGE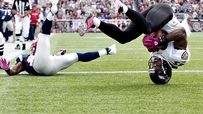 MONDAY NIGHT FOOTBALL
COMMENTARY/BLOGS