Commentary
Flem File's Monday observations
Here are the Flem File Observations from Week 8:
• Injury attrition always seems to kick in around Week 8, a fact of life in the NFL that creates new, instant stars and highlights the importance of great personnel departments. Which is why big games by LeSean McCoy in Philly, Ryan Moats in Houston and Lardarius Webb in Baltimore shouldn't really surprise anyone.
• Until his TD pass against the 49ers, I had forgotten that Colts RB Joseph Addai had been an All-American quarterback in high school. Can you say WILDCOLT, anyone?
• In two games the Vikings sacked Packers QB Aaron Rodgers NINE times in shotgun formation -- a deeper, faster snap that is supposed to help quarterbacks by eliminating the footwork and extra time used up in a pass drop. If the Packers are having this much trouble with pass protection why not use your long snapper and back Rodgers up five more yards into a punting formation and let him throw from way back there with, at least, another full second to throw?
• While researching a story on the Saints' offense in this week's ESPN The Magazine, I discovered that heading into this week's games the Saints were averaging 6.4 yards per play while an afterthought like the Jags gained 5.7 yards per play. That means the difference, per play, in perhaps the greatest offense in NFL history and the third-place team in the AFC South is, like, 23 inches per play. The idea that the NFL is a game of inches isn't a cliché -- it's an understatement.
• Miles Austin is the first NFL player to do the George Costanza version of the crossbar dunk TD celebration.
• While we're all focused on JaMarcus Russell's self evaluation each week, the Raiders continue to give up, on average, 100 more yards rushing PER GAME than the Steelers.
• When they're on, the Ravens' relentless pursuit of the quarterback -- and the effort of guys like Jarret Johnson -- is far more fun to watch than any spectacular TD play on offense.
• I don't want to downplay the developmental importance of Vince Young's mistake-free game. His 83.3 percent completion percentage is a team record, after all. But Derek Anderson would look sharp and smooth against a defense focused entirely on trying to stop Chris Johnson from getting 300 yards on the ground. In the NFL, running the ball fixes everything.
• The biggest difference between Sunday in Arizona and the last time the Panthers and Cardinals met in the playoffs? This time the Panthers' defense decided to actually cover Larry Fitzgerald.
• Cleveland ownership gave Eric Mangini a Vote of Confidence this week. Don't worry, Browns fans, that VOC is a kiss of death in the NFL. I can think of at least a dozen or so other coaches who were canned right after getting a VOC.
• How do you watch that Rams-Lions game, in front of a well-below-capacity crowd, and not think parity is dead in the NFL?
• Remember how I said that three key injuries can ruin a season? The Bills have six starters injured on defense.
• Dumb announcer quote of the week: "I still think the Broncos are a good football team."
• This is hardly scientific or anything, but if the Giants' secondary got outrun by a fullback it's safe to say they have some issues with speed, right?
• I hate-hate-hate-hate, those stupid deep, delayed handoffs -- especially in short yardage -- that telegraph where the ball is going and make sure at least nine tacklers have plenty of time to get to the hole before the ball carrier.
TOP 10 SUGGESTED SIGNS FOR FEDEX FIELD FROM LAST WEEK'S COLUMN
10.What do the Redskins and Bingo have in common? B-10
9.Campbell: mmm ... mmm ... baaaad
8. At least we're more popular than Congress
7. Lions 19, Redskins 14
6. Can DAN
5. Gone with the Skins
4. Make Vinny an offer he can't refuse
3. I'm a Cowboys fan: I love Dan and Vinny
2. At least we're not Cleveland
1. If You can read this, I'm about to get Tased!
These notes written while listening to: the new Death Cab single, "Meet Me On The Equinox."
David Fleming is a senior writer for ESPN The Magazine and the author of the memoir "Noah's Rainbow" and "Breaker Boys: The NFL's Greatest Team and the Stolen 1925 Championship." And his work will be featured in the 2009 Best American Sports Writing anthology. The Flem File appears every Wednesday during the NFL season with updates on Mondays and Fridays.
ESPN Senior Writer
Senior writer for ESPN The Magazine and FlemFile columnist for ESPN.com.
Has written more than 30 cover stories for SI and ESPN.
Author of "Noah's Rainbow" (a father's memoir) and "Breaker Boys" (stolen 1925 NFL title).
NFL WEEK 8 COVERAGE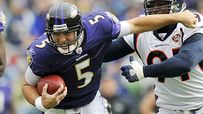 MNF: Saints 35, Falcons 27
COMMENTARY/BLOGS