Commentary
Indianapolis to Houston road trip
Originally Published:
November 11, 2009
By
David Fleming
| Page 2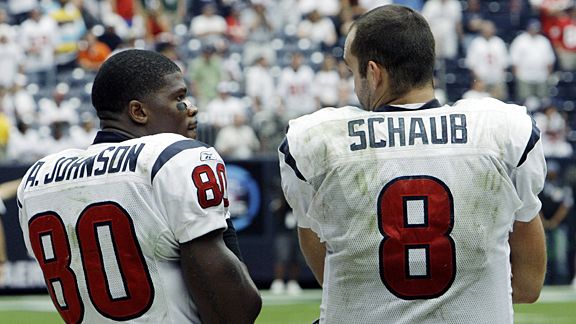 Bob Levey/Getty ImagesAndre Johnson may be the quietest superstar the NFL has ever seen.
It was a beautiful fall day in Indianapolis when I approached the will call window of Lucas Oil Stadium, the final stop on a five-day road trip reporting for an upcoming story in The Magazine.
As I got closer to the window I noticed that the woman behind the glass was multitasking, Indiana-style: clipping grocery coupons from the Sunday paper while handing out media credentials.
She smiled and handed me my press pass and directed me toward the person running the elevator, who then stated that finding my way to the press box would be, and I quote, "easypeasy."
"Man, I love the Midwest," I said. The Texans? Not so much.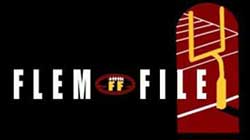 Here are a few more observations from my week in Houston and Indy.
HOUSTON/INDIANAPOLIS OBSERVATION No. 1: As you approach the massive Lucas Oil Stadium, an architectural wonder that's a cross between "Hee Haw" and the Death Star, you are greeted by a two-story mural of Peyton Manning in action calling out an audible at the line of scrimmage and, I swear, he appears to be pointing toward the parking lot, yelling, "Check. Check. Red 80. Red 80 ... KILL-KILL-KILL ... Hey mister, yeah, you driving the Dodge Intrepid, yeah, you left your lights on ... downset ... HIKE."
HION2: I'm not sure what's better, Houston wideout David Anderson's rendition of the Backstreet Boys' "I want it that way," his Ron Jaworski impersonation or how he kept jumping back up after taking a beating over the middle on Sunday.
HION3: They honored members of the 1975 Colts team Sunday. When Manning came over to offer his best wishes, in less than three seconds a crowd of more than 50 cell phone cameras spontaneously formed in front of him.
HION4: I have family in Indianapolis and they were kind enough to meet me for breakfast downtown before the game. What a lovely walk, by the way, through one of the most vibrant downtowns I've seen, north on Illinois. The highlight of my meal (besides something called Gooey Buns, and the fact that the kids refer to me as Uncle Dude) was when my niece Abby said her favorite Colts player was Wedgie Wayne.
HION5: At one point the Colts held a 110-5 advantage in passing yards and a 15-0 advantage in first downs. Not sure, but I think Manning is on pace for 187 completions.
HION6: Very cool the way the sunlight coming in from above the stadium causes the Colts logo on the field to leak through the translucent American flag they unfurl on the field for the national anthem.
HION7: Why do I think Bill Belichick already knows this, but if his Pats were playing here during the day they would want to defend the east end zone because it sits in blinding sunlight for most of the game.
HION8: It would be impossible to gauge the level of frustration and disappointment inside the Texans locker room after the game. "It never even should have been that close," said Andre Johnson. "This hurts. It hurts like hell." Houston is now 1-14 against the Colts after losing the past three games by less than a touchdown each time. Part of me thinks the Texans are lucky to have a bye week (their first substantial time off since mid-July, by the way), because it's gonna take them some time to get over this one.
HION9: All week in Houston the Texans had their locker room TV turned to news channels for updates on the attack at nearby Fort Hood.
HION10: Caught up with Texans guard Eric Winston, who, I think, thoroughly enjoyed our Hug A Lineman Day column.
HION11: The Texans are still looking for their first winning season and foray into the playoffs, but I got a glimpse of how primed Houston is for a taste of pro football success when Andre Johnson got up to leave his courtside seats at the Rockets game Friday night. Kids in Olajuwon jerseys dropped everything and chased him down the concourse for autographs.
HION12: I know he has a reputation for being quiet, but I found Johnson to be thoughtful, funny; chatty even. Want to see him open up? Just ask him about his charity event where each Christmas he gives underprivileged kids 80 seconds to grab anything they want at a local toy store. Most of the kids, Johnson says, end up spending all their time looking for stuff for the other people in their family.
HION13: They get 80 seconds because that's his jersey number. Weird that I have to remind people the jersey number of possibly the best player in our most popular sport.
HION14: If the Texans do make the playoffs, and I think they will, it just doesn't seem fair that guard Chester Pitts, who had started every game in franchise history before his knee injury, won't be on the field to experience it.
HION15: Larry Johnson to the Texans? No way. They had to do their due diligence on the guy, but Houston has one of the most chill, collegial locker rooms in football and I just can't see disrupting that with the likes of a guy who is all tongue and no run. Although, now that I say that, after their lackluster performance, maybe a little more nastiness might not be a bad thing for the Texans.
HION16: At dinner last week Andre Johnson got a lot of grief from teammates for being the last one to arrive and the first one to get served his food.
HION17: It's bizarre to think that Matt Schaub has thrown for 300 yards 10 times in his career and the Texans are only 5-5 in those games.
HION18: This is your last call for submitting tales from your annual Turkey Bowl family football games. And don't forget pictures from the emergency room, either.
HION19: Former Colts coach Tony Dungy used to seek out Johnson before games to half-apologize for the myriad things Dungy was about to throw at him in order to contain the Texans wideout, who has the most receiving yards per game in the NFL since 2006. Dungy might be gone but the same plan was in place: There was always a deep safety shadowing Johnson and a linebacker helping out on the inside. And yet, even in that kind of coverage, he still grabbed 10 balls for 103 yards.
HION20: If the Texans still need a tight end they should look up the former Flem File mascot Zeron Flemister.
HION21: Maybe it's a coincidence but I'd say 85 percent of the time I've spent in Indianapolis during my life the city has been hosting some kind of gigantic, national peewee cheerleading global convention or another. Honestly, I walked across a downtown park at noon Sunday and had to zigzag between groups of screeching, tumbling cheerleaders covered in glitter and scrunchies. It was like being in the latest cheer flick "Bring It On and On and On and On and On."
HION22: At the Rockets game Friday my credential had me listed as working for Sports Illustrated. I left SI in 2000 but the weird thing is, one of the covers I wrote there was an NBA feature. It was on the Utah Jazz, who were hosting the Lakers in the playoffs while the national Boy Scout convention was in town. I seem to recall a bad line about the Mailman needing to go postal. For that piece Shaq also demonstrated on me all the ways he gets hacked during games. My ribs still hurt, in fact. The other great thing about that assignment? I scalped a ticket to the U2 Pop Mart show at the Utah football stadium. Bono wore a robe and a buzz cut and shadow-boxed his way to the stage to "Pop Musik."
HION23: Sorry, but I'm instituting a social networking ban on anyone with the habit of breathlessly telling me what they are about to eat, plan to eat, hope to eat, might eat, are currently consuming or just completed digesting. I have the same annoying habit -- see also "Gooey Buns" -- something that always reminds me of how George Costanza liked to eat an apple while talking on the phone with women because he thought it gave him the illusion of relaxation and intimacy. Only now, what used to be a harmless little quirk has mutated into some kind of grotesque social tic that combines the worst of our deepest social insecurities and foodie obsessions.
HION24: When the official injury report came out, I can tell you the Texans were downright giddy in the locker room Friday reading about how banged up the Colts secondary was. The economics of the game and the violence of football have made the ability to protect injury-riddled parts of a team's depth chart with creative schemes the No. 1 priority of coaching staffs after Halloween.
HION25: The Texans have been on national television twice since 2005. By comparison, by my count, the University of Cincinnati Bearcats have played in front of a national TV audience 14 times during that same span.
HION26: Texans back Ryan Moats had what looked like a massive and painful fat lip after the game. No way that hurt as bad as his overturned non-fumble near the goal line, the one that cost the Texans a crucial TD and was out of bounds by half a foot.
HION27: Kicker Kris Brown stood tall in front of his locker and answered every last question about his missed 42-yard kick as time expired. (After the way he crushed a 56-yarder to end the first half, I thought this one was a gimme.) You can make fun of kickers all you like (I certainly have), but I haven't met one who, after missing a kick, didn't stand up like a man and face the media. And, ya know what? I can't say the same thing about quarterbacks, receivers or coaches.
HION28: It took him a long time to lift himself off the Texans bench after the game, but when he did, Johnson found Peyton Manning at midfield and gave him a quick hug. He looked back a few times as he walked away and I bet a part of him had to be thinking: "That guy just threw 51 passes and completed 14 throws to Dallas Clark ... Dallas Clark! ... man, what if."
HION29: Why does it always seem like bad road trips always end with forgetting your phone or your charger or both? A fate Andre Johnson just barely avoided Sunday, remembering at the last second that his phones were plugged into an outlet in the locker room.
HION30: I picked the Giants in Super Bowl XLII because I had seen the Patriots in the playoffs and even though they were undefeated they had clearly peaked in late November. I got the same feeling about the Colts on Sunday. Yes, I agree that great teams win even when they don't play well. But it wouldn't surprise me one bit if the Texans win by 10 the next time they play.
HION31: Blue, the Colts mascot (no, not the best character from Old School or, consequently, the coolest name you could ever give a dog or a goaltender) rides around on a gold cart that has some serious rims. Really?
HION32: I just realized the tag line for all these items reads, "high on." Uncle Dude, indeed.
HION33: By the time I left the stadium, vendors were already on the street corners selling "Tom Brady Sucks" T-shirts in anticipation of the undefeated Colts' taking on 6-2 New England in an epic battle they like to call Patriots Week in these parts.
HION34: Speaking of Patriots Week, can there be a better/bigger game in recent Colts history than their 38-34 win over New England in the '06 AFC Championship Game?
HION35: Marveling at the spontaneous capitalism of the T-shirt vendors (like guys selling umbrellas the minute it starts raining in New York), I walked right past the wide-open and welcoming doors of a beautiful church less than a block from Lucas Oil Stadium. One step away from salvation, I wasn't paying attention where I was headed and stepped right in a pile of horse manure.
HION36: And, for a moment, I knew exactly how the Texans must have been feeling.
David Fleming is a senior writer for ESPN The Magazine and the author of the memoir "Noah's Rainbow" and "Breaker Boys: The NFL's Greatest Team and the Stolen 1925 Championship." And his work will be featured in The Best American Sports Writing 2009 anthology. The Flem File appears every Wednesday during the NFL season with updates on Mondays and Fridays.
ESPN Senior Writer
Senior writer for ESPN The Magazine and FlemFile columnist for ESPN.com.
Has written more than 30 cover stories for SI and ESPN.
Author of "Noah's Rainbow" (a father's memoir) and "Breaker Boys" (stolen 1925 NFL title).
NFL WEEK 10 PREVIEW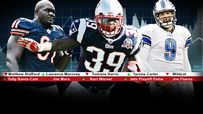 FINAL WORD
PICKS
POWER RANKINGS
PATRIOTS VS. COLTS
HOT READ: Dallas Clark
MIDSEASON REPORT
MNF: Ravens at Browns (8:30 ET)
COLUMNS/BLOG POSTS
FANTASY
SCOUTS INC.
PAGE 2