Commentary
Happy birthday, Flem File
The Flem File was born at the Super Bowl all the way back in 1996.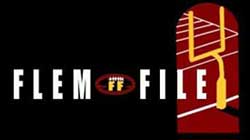 It was 3:45 in the morning in Phoenix, several hours after the Cowboys had beaten the Steelers, and I was tapping away madly on a laptop roughly the size of a small piece of luggage, collecting my thoughts from the perfectly named Super Bowl Triple-X, when a buddy who was crashing in my room woke up, saw me still working by the silvery glow of my computer screen and screeched, "What the f--- are you doing?"
Trust me, many times during the past 14 Super Bowls, I have asked myself the exact same question. Like, say, when I saw a fan in Phoenix dive face first into a steaming hot pile of horse dung during a contest to win Super Bowl ducats. But the truth is, the Flem File and the Super Bowl, well, they were made for each other.
I knew it all the way back in 1996, the minute I heard a verbose and very serious reporter ask then-Steelers lineman Justin Strzelczyk whether his beard was a symbol of how the physical, rugged, old-school Steelers differed from the flashy, fast Cowboys. Strzelczyk replied, in a perfect deadpan: "Naw, it's pretty much just a symbol of how I don't like to shave."
As I remember, the Super Bowl that gave birth to the Flem File (I was with Sports Illustrated at the time) was also a tribute to the once-grand team-building acumen of one Jerry Jones, who forged a club so strong it could win a championship despite having Barry Switzer on the sidelines. And while everyone always said it was the Cowboys who had all the characters that year, the Steelers held their own in the wacko department: Rod Woodson (who rushed back from knee surgery), Strzelczyk, running back Bam Morris (who later would serve time for driving around with a trunk full of weed) and linebacker Kevin Greene (who showed off his collection of military-style weapons during our interview at his home).
I've said this before, but the real shame of that game was that had the Steelers not misfired so often, linebacker Levon Kirkland likely would have been the MVP. Kirk was a class act and a phenomenal, ferocious linebacker with great feet and a huge heart. But instead of receiving immortality, a few years later he was unceremoniously cut by the Steelers. Kirk told me that when he found out, he reacted like Glenn Close in "Fatal Attraction," sitting on the floor of his home in the dark, clicking a lamp on and off.
From a Super Bowl god to a shell of a man slumped under an end table. I think that's why the Super Bowl is so special: It's like being able to read the future. You know a memory -- good or bad -- is going to be made this week in Miami; it's just that right now, we all have no idea whom it will involve, when it will happen or why.
We just know it will.
Anyway, after that auspicious start in 1996, I'm happy to report that the Internet, the Flem File, the Super Bowl and that dude sleeping in my room in Phoenix -- you know him as Chad Millman, author of the Behind the Bets franchise -- all have managed to survive the past 13 NFL championships.
So with the Flem File's 14th birthday just a few days away, I thought I'd offer an updated collection of my favorite highlights from the now long, happy, weird marriage of the Flem File and the Super Bowl.
SB XXXI: Green Bay 35, New England 21 in New Orleans
After the game, I rode in a limo with MVP Desmond Howard from the Superdome to the Packers' team party. Howard was practically in shock. His 99-yard kick return in the third quarter had sealed the deal for Brett Favre. And as we rode through the streets of New Orleans, Howard fidgeted with a victory cigar still in its plastic wrapper while taking advice from his agent Leigh Steinberg, who was hammering home to him the strategy of steering all conversations away from his special teams performance and toward his overall play -- so as to better position himself for impending free agency. They also discussed logistics for his trip to Disney and the victory celebration in Green Bay.
But the whole time, Howard seemed concerned only about getting his new SUV back home after the season. Finally, Steinberg leaned forward in the limo, put his hand on Howard's knee and calmly said, "You're the Most Valuable Player of the Super Bowl ... I think we can get someone to take care of your car." The light finally went on, and this wide grin and sense of calm overtook Howard's face as he realized what he had done and how his life was changing by the second.
At the end of the ride, we all went racing in some back entrance and straight to the service elevators as if Howard were the president. The doors opened, and the rest of the entourage leapt into the elevator. I stayed behind, needing to dart back to my hotel to begin writing. And as the doors closed, Howard had a look on his face like Alice had on her way down the rabbit hole.
SB XXXII: Denver 31, Green Bay 24 in San Diego
A friend of mine and one of the all-time Page 2 greats, Brian Murphy, almost got me killed at this Super Bowl. We were at a Denny's. It was 3-something in the morning. (And we all know the golden rule: Nothing good happens at a Denny's after, like, 1:45 a.m.) But we were starving. So when a plate of hot fries went past our table, at my urging Murph reached up and helped himself to a few tasty taters. Bad move. You can almost guess the rest, right? The food we "borrowed" actually was headed to a table full of, like, Hells Angels or something, who then of course wanted to kill us. No, wait. That's wrong. They wanted to gut us, do wheelies through our entrails and then kill us. The fries were that good, I guess.
Needless to say, we didn't stick around for our Grand Slams. In fact, I think we sprinted all the way back to the media hotel, taking only a few short breaks to pause and laugh ourselves silly. Knife fights, hash browns and motorcycle gangs. Good times, I tell ya. Good times.
The next day, KISS performed before the game to a crowd of preteens all made up in KISS Army makeup. It was over the top, creepy, funny, nuts, stupid, expensive and quite entertaining (except the fire balls on stage that nearly singed off my eyebrows) -- the epitome of everything the Super Bowl halftime show used to be before the league got smart and handed over the biggest stage in the world to the biggest stars on the planet. (And yes, I mean Prince and Bono in that order. Show some respect.)
At the end of this game, I sat in the Broncos' locker room for what seemed like forever, waiting for John Elway to get cleaned up. But it was worth it. Sometimes when you've been expected to do something your whole life and you finally do it, there's a huge letdown when the reality doesn't live up to the dream. (I think Tony Stewart of NASCAR is like this.) But not with Elway. As he slowly got his battered and bruised body dressed, there was a look of pride and accomplishment and childlike wonder on his face that I will never forget.
It's the kind of look and feeling no one can give you and no one can take away.
And I didn't see that look again for another nine years, until Peyton Manning won his first Super Bowl in Miami.
SB XXXIII: Denver 34, Atlanta 18 in Miami
At this Super Bowl, I learned something about being a fan.
I had been given an extra ticket to the game, so I invited my dad -- a lifelong, die-hard, psycho Browns fan -- to join me in Miami. As it turned out, there was an opportunity for Pops to meet Elway at some function. But having suffered through "The Fumble" and "The Drive" with his fellow Dawgs, my dad, when I asked him whether he wanted to meet the most famous athlete on the planet (which I thought was pretty cool), responded with something like, "You keep that son of a b---- away from me."
All week in Miami, my dad kept asking me how this town and this game compared to all the other Super Bowls. And all week, I just kept saying, "Something's missing, but I just can't put my finger on it." And then we woke up and heard the news buzzing through the lobby of our hotel that Eugene Robinson, who had just won an award for high moral character, had been arrested for soliciting an undercover police officer.
Now, I told my dad.
Now it's officially a Super Bowl.
SB XXXIV: St. Louis 23, Tennessee 16 in Atlanta
I have a lot to answer for when I move on from this life, but No. 1 on the list will be my behavior at the Atlanta Super Bowl. You see, the week of the game, an ice storm hit the town, so we were mostly trapped in our hotel rooms, where I passed the time drinking free beer from Budweiser that had been delivered anonymously to my hotel room (God, I love this game) while laughing at people down below on the street as one after the other wiped out on a hidden sheet of ice that sent them chin over shin, sliding, like, 50 feet on their keisters. One portly fellow who was unable to regain his footing simply rolled the remaining 15 feet -- over and over and over again -- until he reached the door of the bus he was trying to catch.
Funniest thing I have ever seen, and the hardest I have ever laughed in my life.
I don't care about the karmic consequences. I would do it all over again. Two things from the actual game stick out: the story quarterback Steve McNair told me about going into the shower room at the Georgia Dome to take a nap before the game. He said the biggest factor in the game is the way the hype and pregame buildup exhaust most players before the end of the first half. And, after the gut-wrenching loss (which ended with linebacker Mike Jones, another insta-Supa legend, stopping wideout Kevin Dyson at the 1-yard line), I watched as trainers had to help injured Titans defensive back Blaine Bishop gently take his jersey off over his damaged neck as Georgia Dome workers yanked down the Super Bowl bunting hanging around his locker.
SB XXXV: Baltimore 34, New York Giants 7 in Tampa
What stood out the most from this game was the courageous performance of Ravens kick returner Jermaine Lewis, who brought a kick back 84 yards for a TD, somehow finding the strength and courage to honor his son, Geronimo, who had been stillborn a month earlier. (We don't have to get too far into it, as I imagine most people are sick of my bringing it up, but I was going through the same thing at the time, and Lewis' example of strength was truly an inspiration for me and, I'm sure, thousands of other dads in the same situation.)
Anyway, I also remember watching Ray Lewis spring, "Crouching Tiger"-style, from sideline to sideline. Periodically during the game, I just looked at the reporters sitting next to me, who also were shaking their heads in amazement, knowing that we were watching another Super Bowl performance for the ages.
Styx performed before the game, accompanied by hundreds of dancers in white unitards that had giant sails sewn into the backs, which they flapped in unison during the chorus of "Come Sail Away." It was the saddest musical thing I had ever seen at a Super Bowl until the game in Houston, when Eddie Money performed before kickoff next door to the actual stadium.
SB XXXVI: New England 20, St. Louis 17 in New Orleans
I know everyone focuses on Adam Vinatieri's 48-yard game-winning field goal. As they should. The guy is the greatest clutch kicker in the history of the game. (Although the kick against Oakland was on a smaller stage, it was by far his most impressive kick.) But what I remember are the two passes Tom Brady made to get the Pats in position to pull the upset. Remember, back then, "The Greatest Show on Turf" was considered unstoppable.
Again, this is why the Super Bowl is so special. Brady went from sixth-round fluke to legend in one drive. Remember? Three short passes to start. Thirty-three seconds left. Then an incompletion. Then two unbelievably clutch throws for 23 and 16 yards to Troy Brown and Jermaine Wiggins. Ball on the 30. Seven seconds left. The rest is history.
Censored -- that's what else I remember from this Super Bowl. I went to the French Quarter at 5 a.m. to do a column about what the world's biggest party looked like the morning after, and ugh, I gotta tell ya, it was horrific. It was like a frat house basement on 'roids and 'shrooms. It freaked me out. It was the top moment of the many moments while doing this column when I stopped in the middle of an assignment and tried to figure out whether I could still get into grad school (I'd say covering the nudist colony at the Atlanta Olympics was a close second).
At one point during my investigation, I nearly slipped and fell face first into a giant pool of chunky, orange vomit on the sidewalk of Bourbon Street. Naturally, I thought it would be hilarious to run this as a photo in my Flem File, so I spent a good deal of time chatting up a local "dancer" gal while I captured this yak in hi-def with my digital camera.
The photo, sadly, never made the column. Higher-ups yanked it from the Web.
But I'm told the original editor of the Flem File still uses it as his screen saver, and that's good enough for me.
SB XXXVII: Tampa Bay 48, Oakland 21 in San Diego
Bucs future Hall of Fame linebacker Derrick Brooks put it best when he told me that Tony Dungy was like the Tampa team's Moses. "He led us right up to the promised land," Brooks said, "he just didn't get to go in with us." Of course, that all changed a few years later. It's hard not to root for Dungy -- a man who has changed the game without it ever changing him. A man who has proved you can lead football players without head games, bullying and an ego twice that of Donald Trump's.
The game ended up being a total blowout. A rarity during my 14-year streak. During the past nine years, at least, six of the Super Bowls have been decided by a TD or less, and five of those have come down to the final play. One of the reasons we put up with the endless hype of the Super Bowl is that NFL parity has created the impossible: a championship game that often is the most competitive and entertaining game of the year.
Visiting for the week from L.A., my older brother Greg set what I'm told is the world record for charges to a hotel room during a seven-day period at the Super Bowl. Seven years later, I have only 14 more payments, and the bill will be all paid off.
SB XXXVIII: New England 32, Carolina 29 in Houston
I spent a few hours with wideout Steve Smith at the team hotel in Houston, where he had Super Bowl freebies, including a new video game console, piled up in the corner of his room like a mound of dirty laundry. While signing a stack of photos for a merchandise creep, Smith got a call from his shoe rep, who had gotten word that he had been seen an hour earlier for a split second in public wearing Nikes instead of Reeboks.
What rules the Super Bowl? The game? The players? The parties? Dollar bills, ya'll.
You know what no one remembers from this game? The fact that Carolina's normally steadfast and reliable kicker, John Kasay, blew this game for the Panthers. Kickers can be the reason you win the Super Bowl, but they never should be the reason you lose. After a 12-yard pass from Jake Delhomme to Ricky Proehl tied the game at 29 with 1:08 to go, Kasay inexplicably kicked the ball out of bounds, which stopped the clock and gave Brady the ball at the 40. Five plays later, Brady hit Deion Branch for 17 yards on a third-and-3 (of course), and Vinatieri did the rest.
As great as the game was, I usually sum up the Houston Super Bowl with two words: Mars. Rover. The morning after my first Playboy party, I found these two words scribbled in my reporter's notebook. It took me a long time to figure out the message I was trying to leave for myself, but I think this is it: I had always known that a whole other world existed on Mars, but until the Rover landed on the red planet, I didn't know it for a fact. Well, I had always known that a whole other Playboy universe existed, but until my first PJ party with the bunnies, I didn't know it for a fact.
At one point during the party, I was sitting between two would-be Playmates, balancing an ice cream sundae in my lap (from the all you-could-eat buffet), a video game controller in one hand and an ice-cold beer in the other, while playing "Madden." This, my friends, is what heaven looks like.
At the time, I thought nothing could possibly make that story better. And then the next morning, I learned my buddy from SB XXX (you know, Chad, the screamer) was out the same night in Houston, and in an emergency, he was forced to pay a $20 cover just to use a portable outhouse.
SB XXXIX: New England 24, Philadelphia 21 in Jacksonville
This game changed my definition of character.
It's been buried under an avalanche of bad press and stupid, childish, churlish behavior, but Terrell Owens' nine catches for 122 yards in this game while playing on a leg bone he splintered late in the regular season is simply one of the most amazing -- and yes, courageous -- things I have ever witnessed. If a player from a losing team ever deserved to be the MVP of the game, it was T.O. It's easy -- and right -- to bash this guy for his behavior since this game, but if true character in sports is how you react to adversity on the field and in the heat of battle, then on some level, T.O. showed more character that day than perhaps any other player I have known. But instead of T.O. getting to enjoy and celebrate this performance, his infantile behavior and long string of obvious cries for help have overshadowed what he did in the Super Bowl. And rightfully so, I suppose.
SB XL: Pittsburgh 21, Seattle 10 in Detroit
Very cool to have the game played in my hometown, where I used to watch Tigers games from the bleachers and run around inside the Red Wings' abandoned Olympia Stadium before it was torn down. Even cooler was that the city of Detroit was able to pull it off in such grand fashion, setting the bar for all cold-weather Super Bowl sites. However, one of the lasting images I have is seeing all the boarded-up buildings on my way home after the game.
The game didn't have the impact or the economic effect the people of Detroit were hoping for; some parts of the city have been abandoned so long they are now, in 2010, returning to nature.
It wasn't until the following summer, while traveling in Switzerland with Steelers QB (and fellow Miami University product) Ben Roethlisberger, that I got a good gauge on what the game means to the players. We were on a nearly vertical tram heading up to the top of the Swiss Alps when Roethlisberger confided to me that the main advice he got from older players in the league was to pick a specific moment of the Super Bowl and pause for just a split second and lock it into his brain for safe keeping. They told him to do this because the whole event is so huge and bizarre that when you're on the inside, it can go by in a blink without your noticing.
So as the ball was kicked off and Ford Field sparkled with flashbulbs, Roethlisberger closed his eyes and took a moment to soak it all in. And that day in the Alps (now there's a beginning of a sentence you don't see too often), Roethlisberger closed his eyes and said he could still see, in his mind's eye, the kaleidoscope of flashing lights from the start of his Super Bowl.
SB XLI: Indianapolis 29, Chicago 17 in Miami
This Super Bowl really left a mark on me.
Just below my right scapula, to be exact.
That is where I got hit by a corner of the Lombardi Trophy as the Colts' offensive linemen passed the (surprisingly hefty and, well, rather pointy) Tiffany trophy back and forth for a series of silvery smooches and camera phone pose-offs inside the steamy, cramped, postgame locker room.
The visiting digs at Dolphin Stadium are about the size of a college dorm suite. And by the time I got there after the game, it actually looked just like one, filled with dudes, and littered with dirty socks and balls of used athletic tape, and smelling of sweat and grass stains, while oozing the kind of palpable, pure joy you almost never see anymore in professional sports.
The game was a wet, wild, wonderful mess, and the postgame scene under the stadium was exactly the same. It was an amazing sight: the buttoned-down, billion-dollar NFL forced to let the wild party continue unabated. It was as if Roger Goodell threw up his hands and said, "Aw, forget it, we'll clean up in the morning before my parents get home." I never realized how much fun the normally uptight Super Bowl can be if you just add water. The slipping and sliding. The fumbles and loose balls. The rapid change of possessions. If the game is lame this year, they should wet down the field at halftime.
There were TV crews dashing one way, golf carts and stadium security zigzagging the other way. Banshee wails echoed off the concrete walls. Every last inch of ground was soaked. Little rectangular pieces of confetti were stuck to everything like the tabs of toilet paper you blot on your face after shaving. So many cables were snaking everywhere the ground looked like it was moving. Metal crowd barriers jutted out in odd angles at every entrance, manned by overzealous security staff who were pretty much ignored by the crowd of players, families, staff, media and league officials constantly rushing by.
Colts badass safety Bob Sanders dashed by holding the trophy, yelling, "Careful now, I don't want to drop this thing." A few seconds later, Vinatieri waltzed past in the other direction. Jim Irsay's eyes were already bloodshot from crying. Wait. Was that Bill Polian? And was he ... was he ... smiling? And then, right on cue, as if unfolding inside a dream, Biff from "Late Show With David Letterman" waddled by, stopping only long enough to ask people to kiss him on the forehead.
The whole week in Miami had a dream-like quality to it.
There were the 250-pound men dressed in skintight and wildly colorful parakeet bodysuits lined up in the end zone before the Cirque du So-lame pregame show. There was Jesse Jackson giving a thoughtful interview on the South Beach boardwalk 100 feet away from a guy dancing around in nothing more than a Boston Red Sox thong.
And there was Prince blowing the doors off his impromptu news conference. You know, watching Prince, I realized the reason the halftime show usually stinks is because it requires a unique, powerful talent to microwave the funk and energy of an entire performance down into a 15-minute set. Most acts can't handle it. Prince certainly was more than game. At one point, I was like, "Is he playing a freakin' Foo Fighters song?"
Under the stadium after the game, I stood by and watched as Peyton Manning greeted his mom and his brothers, Cooper and Eli. It was a warm, private exchange full of soft hugs, heartfelt handshakes and kisses on cheeks. But it was awkward and slightly stilted, too, as if Peyton and his family needed more time to fully absorb and express what had just happened.
To some extent, we all reacted the same way. I mean, no matter how many times I watch Manning work, I'm still utterly amazed at the innate ability he has to recognize presnap pressure and then deliver the ball to the hole created directly behind where the pressure just came from like a matador plunging the final, fatal, razor-sharp sword into the heart of the bull.
Down the hallway from Manning was another of the Colts' good guys, Dungy, who grew up in Jackson, Mich., the son of a high school English teacher and a college biology professor. Dungy's father, who died in 2004, had perhaps the greatest influence on him as a coach. All great ones think of themselves as teachers first. And Wilbur Dungy always reminded his son that the sign of a great teacher is someone who brings out the best in every one of his students, someone who can do it without tricking them or bullying them or wanting credit for their achievements. "I think this does send a message to owners and other people around the league," Dungy said. "People said, 'Oh, he's too nice, he doesn't have a mean streak, he doesn't yell, and you just can't win this way in this league.' But I think that will be our [legacy] -- that you can win in this league, win a Super Bowl, and do it in a certain way with respect and class and dignity."
After this Super Bowl ... I don't know how to describe it. For once, the universe seemed to be in perfect balance, a place where ego and talent were as they should be -- inversely related. This was a Super Bowl for every self-effacing, decent, talented guy in every office, team or group who spends his time and energy perfecting his craft with dignity and honor while silently hoping that character, talent and results will eventually trump the politicking, bullying and bravado that seem to allow everyone around him to rapidly fail upward.
Yep, after watching Manning and Dungy and the rest of the Colts celebrate for almost an hour, it was clear that this Super Bowl had left an indelible mark -- on much more than just my scapula.
SB XLII: New York Giants 17, New England 14 in Arizona
The BSBE (best Super Bowl, evah) started out with a surreal, gumbo-like mixture of sports, celebrity, excess and Americana -- and then it just kept getting better.
On Thursday night in Phoenix, I attended an Audi party at some mansion on the outskirts of town, where I made smores over a live fire while standing just a few feet away from David Spade and Joey Fatone.
The next day, my interview on the Pottsville Maroons and the Cardinals Curse ran on HBO Sports, and afterward, I spoke to Roger Goodell for a few minutes before his annual state-of-the-NFL presser. Instead of talking business, though, we mostly chatted about our kids and his connection to my hometown of Davidson.
That night, at about 10:30, I was standing near the stage at the ESPN party, waiting for Ludacris to take the stage, when I overheard the most (what the kids call) "baller" thing, ever.
PR person No. 1: "When was Ludacris supposed to take the stage?"
PR Person No. 2: "10 o'clock."
PR Person No. 1: "Where is he? He's supposed to be on, like, now."
PR Person No. 2: "He'll be here soon; his manager just called and said his jet just landed."
On Saturday night, the Playboy party was held in what felt like a giant 4H barn. Seriously, it was the first time I had ever used a valet wearing a tuxedo to park my car in a dirt lot. Forced to keep my jacket on because of the cold, I discovered that the upper pockets allowed me to store -- and drink from without using my hands -- a beverage. I proudly explained this discovery to a colleague, who then leaned over and yelled back to me, "I think that's McLovin in the DJ booth!"
And then, best of all, on Sunday night I was treated to not just the best Super Bowl, but maybe the best football game I've ever seen. I had covered the perfect Patriots during the postseason and knew they were looking flat, old and ripe for the picking. (Which is why I predicted a Giants win -- you can look it up.) I'll never forget the look on Brady's face after the Giants' defensive line had battered and bullied him for four quarters. And the final sequence in that game remains equally vivid.
Pats corner Asante Samuel dropping a potential game-saving pick, Eli Manning somehow spinning out of a sack just milliseconds before the refs blew the play dead, David Tyree securing the ball with his brain even with Rodney Harrison's elbow on his throat, and then, with the Patriots so mentally defeated after that miracle catch, Plaxico Burress' game-winning TD seeming almost like a formality.
There are times when covering the NFL from the inside can be like working in a hot dog factory. You know, once you've seen how they're made, you permanently lose your appetite for hot dogs.
Sometimes it's the same with the NFL. But not on this night. I remember that after the Tyree catch, I spontaneously jumped out of my press box seat, and yelled out in amazement and enthusiasm, like a kid. And then I went and ate, like, three hot dogs.
So you can say what you want about the hype, the money and the misplaced priorities of Super Bowl week (it's all true), but if the game can still create that kind of a response in us, well, the NFL must be doing something right.
SB XLIII: Pittsburgh 27, Arizona 23 in Tampa Bay
So, I'm at the ESPN party, doing my patented Darnell Dockett sack-dance groove to a pretty brutal Michael Jackson remix by DJ Samantha Ronson, when I bump into some old guy wearing a ratty black knit cap. It's MC Hammer. Of course it is. Right on cue, the person next to me shouts, "Please, Hammer, don't hurt him."
Kinda lame, right? I know. But with the economy in the tank and the weather unseasonably cold, the buildup to the game was a lot like bumping into Hammer -- not quite as thrilling as you might think.
But the game?
Oh, you can't touch this.
Sure, Santonio Holmes' game-winning, last-second tiptoe touchdown catch might have been the most exciting play (especially after he had dropped a game-winner the play before). But for my money, James Harrison's 100-yard return right before the half actually created a 14-point swing and was every bit as gutsy, clutch and athletic.
A few months after this game, I sat down with Steelers DB Deshea Townsend, who agreed that Harrison's runback is the singular play our grandkids are going to be watching in 25 years.
"I went from the lowest of the low to the highest you can get in sports in about one second on this play," Townsend told me. "We were in zero coverage, which means no help, so you know the ball is coming out hot, right away. The Cardinals lined up in a stacked formation with Larry Fitzgerald on the inside and Anquan Boldin on the outside, and when they crossed, I got picked. So I'm chasing and pushing through and trying to see what's happening, and in my mind, I'm thinking my guy is wide open and that I just gave up a huge touchdown in the Super Bowl.
"James Harrison was supposed to be blitzing," Townsend continued. "If he had rushed on that play, that area is wide open, and boom, it's a touchdown. But he told me later he just felt like he couldn't get to Kurt Warner, so he dropped back instead, and Warner threw the ball right to him. When he caught it and we made eye contact, I was like, 'Give it to me, give it to me.' I'm a DB; we all do that after every interception. But his eyes were saying, 'Hell no.'
"And then, at the end of the runback, a linebacker came flying in to make a block and his leg hit me in the chest, like a karate kick. Everything is going crazy. You're mind is racing. The noise is unreal. I watched the rest of the play from the ground, thinking, 'Keep going, don't stop, make the end zone.' He made it. Now we're a part of history.
"What I like the most about that play is, it's not just one of the greatest plays in Super Bowl history. It's also a pure example of Steelers football."
SB XLIV: Indianapolis vs. New Orleans in Miami
As I pack my rain galoshes and head to Miami, I can only wonder just what the NFL has in store for the Flem File's 14th birthday.
Will Mardi Gras start a week early this year? Will Drew Brees complete his journey to sainthood? Or will it be Gregg Williams? Who will cost his team by being more uptight: Payton or Peyton? Will Tim Tebow try to heal Dwight Freeney's ankle? Will my theory -- that the bigger the game, the more finesse yields to physical -- be proved correct? Probably, but here's the twist: Maybe, just like in SB XLI, that physical team will be the Colts.
Now that the Flem File is turning 14, will its voice start cracking in Miami and will it lock itself in its hotel room and start listening to Vampire Weekend?
Will labor unrest in the NFL officially begin in Miami? Will the next Eugene Robinson please step forward? Will my Playboy pals be back? Will there be manure? Will there be an ice storm? Vomit? Butt cleavage from Prince? The KISS Army? Smores? Ludacris? 100-yard interception returns? Overtime?
Who knows.
Will I finally figure out an answer for Chad, after 14 years of Super Bowl Flem Files, as to what the heck I'm doing with this column?
Probably not.
But it sure is fun trying, isn't it?
David Fleming is a senior writer for ESPN The Magazine and the author of the memoir "Noah's Rainbow" and "Breaker Boys: The NFL's Greatest Team and the Stolen 1925 Championship." His work also will be featured in "The Best American Sports Writing 2009" anthology. The Flem File appears every Wednesday during the NFL season with updates on Mondays and Fridays.