Commentary
The most interesting man in the NFL
Originally Published:
September 9, 2010
By
David Fleming
| Page 2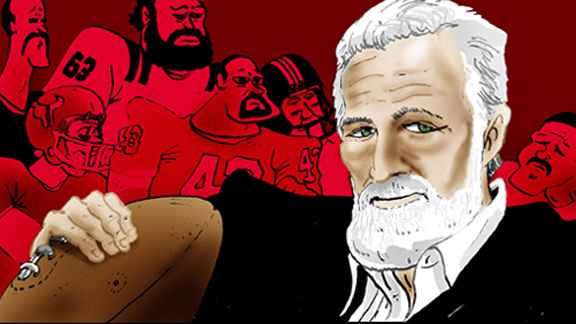 Kurt Snibbe for ESPN.comThe winners in the NFL usually have the most interesting men in the league in their corner.
It took me several months, but now I finally realize who Texans wideout Andre Johnson reminds me of.
Late last season while working on a cover story for The Magazine I hung out with Johnson and some teammates as they enjoyed a nice steak dinner on the second-floor balcony of Del Frisco's in Houston. About halfway through dinner a clueless fan stumbled up and, standing directly across from Johnson, asked the table if T.O. played for the team.
At the time, T.O. had, like, 25 catches and a reality show with almost as many viewers. Meanwhile Johnson was on his way to becoming just the second wideout in NFL history to put together back-to-back seasons of 1,500 receiving yards. He's not just the best pass catcher in the game, he might just be the best player in the league (and a main reason I think the Texans are this year's Saints).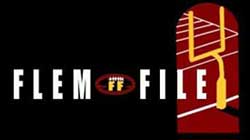 My point is, Johnson would have had every right to go all diva on the doofus who had just interrupted his surf-n-turf.
Instead he did something even cooler: nothing.
Johnson just smiled, shook his head a little, ignored the guy and went back to his meal and the company of his teammates.
The epitome of cool.
It wasn't an act. You have to know Johnson a little to understand he really doesn't care about that kind of stuff.
He really is the NFL's version of the Most Interesting Man in the World.
All that was missing was the scraggly gray beard, some Dos Equis and a voiceover line like, oh, "grizzly bears actually rehearse what to do if they ever startle Andre Johnson while walking in the woods." Approaching the beginning of our 16th season together in the Flem File I found myself sick of NFL predictions, computer game simulations, statistical formulas, rankings, debates and playoff picks. Instead, I kept coming back to the same theory: Teams that win in the NFL are loaded with one thing -- bad asses like Johnson.
Not the highest-paid players or the most talkative or the guys with the most commercials or Pro Bowls. But the quiet, mean, scary types, ya know? The silent, dignified, dominant players. The guys who would play football for free and we'd pay top dollar to watch them do it. Not the pretty boy quarterbacks or receiva divas or players who take themselves so seriously but the kinds of players coaches are talking about when they say, "I wish I had a roster full of guys just like him." Jim Brown? He's a bad ass. Ever meet Jack Ham? He was a BA. Johnny Unitas. Yeah, he was one too.
It's about guys who make other strong, tough, nasty football players succumb to their will. Yet they seem so disinterested in the cheap, silly fame that goes along with their job that they come off almost a little weird in the age of Twitter and Facebook oversharing. These men don't wear Crocs. They have no idea what a Kardashian is. And they have a hard time hearing people over the constant hum of their own awesomeness.
Some are obvious. Some are not.
But they all are The Most Interesting Men in the NFL.
• B.J. Raji: The Packers DT might be the only 340-pound player I'd describe as "explosive." He also makes onions cry.
• James Farrior: The quiet, steady foundation of the Steelers' defense is such a BA no one dares make fun of his nickname: Potsie. Not even me. It's also nice to see that players in Pittsburgh did the right thing and ignored Ben Roethlisberger and voted Potsie a team captain. Oh, and he can smell when bees are afraid.
• DeMarcus Ware: When he appears on the giant screen inside the Cowboys' stadium after sacks (he's had at least 10 in the last four seasons), it comes with the warning: Actual size.
• Vince Wilfork: He not only anchors the Pats' defensive line with his nasty, dominant, take-no-prisoners style, I'm pretty sure he also invented the phrase: "That's what she said ... "
• Jahri Evans: Equipment people for the Saints use the PB guard's dirty uniforms as air fresheners in the locker room.
• Nick Mangold: Jets Pro Bowler and highest-paid center in the league. In the future when people sneeze we will all say "NickMangold!" instead of "ga' blessyou."
• Adrian Wilson: The Cards' human-missile safety often receives a written permission slip from a receiver who'd like to run a route across the middle.
• James Harrison: Steelers BA linebacker and Super Bowl hero. During his interception return against the Cardinals, faster, smaller teammates who tried to get him to pitch the ball to them tell me Harrison just shot them one fierce look and they instantly backed away.
• Ozzie Newsome: Every time I've tried to do a story on the Ravens' GM he turns me down telling me to focus on the team, not him. OK, but his performance in the draft was actual inspiration for the Wizard of Oz.
• Jairus Byrd: Had nine picks as a rookie with the Bills and often wins in tic-tac-toe with just two turns.
• Frank Gore: School buses, funerals and trains all stop for the 49ers BA back.
• Steve Smith: Panthers wideout plays football like Allen Iverson played hoops -- like a street fight on every down, angry, all out, one-on-one, body on the line, best man walks away. Then he goes home and coaches his kids' pee wee soccer team. That's BA.
• DeMeco Ryans: Has quietly been the foundation of the Texans' defense for the last five years and capable of eating three pretzel M&Ms -- and then stopping.
• Bob Sanders: Colts safety and former DPOY has snot bubbled more receivers, quarterbacks and running backs than anyone else in the NFL last seven years. And he's paid for it, missing most of the last two seasons with injuries. Just when he was hitting the big time I sat down with Sanders in Indy and he told me about how his father took him to his job at a blast furnace in Erie, Pa., so that he'd understand what his future held if he didn't do well in school and on the field. I'd say he got the message. At the time I asked him if he was gonna slow down or change his game just a little in order to stay healthy. Just like you'd expect from any true BA, he looked me in the eye and said no, hell no.
• London Fletcher: The Redskins' underappreciated tackling machine has dominated every game I've ever watched him play, and he has never once left an anonymous comment on an Internet message board.
• Howard "Red" Hickey: The 49ers coach who, in 1960, re-introduced the shotgun formation to the NFL. His own coaches laughed at him when he drew up the formations. Then the 49ers used it to beat the defending world champ Colts. No one's laughing now. Hickey passed away in 2006 at 89 and didn't get to experience the NFL in 2009 when, for the first time in history, more passes (55.7 percent) were thrown out of the shotgun than from under center. It's an increase of almost 24 percent since 2006 and a sure sign that the Madden generation has finally done away with Three Yards and a Cloud of Dust and replaced it with Five Wides and a Vapor Trail. That, and the guy's name was Red Hickey -- how BA is that?
• Steve Hutchinson: The Vikes' all-world guard and the real reason behind both Adrian Peterson's emergence and Brett Favre's resurgence. At U2 concerts Bono takes his glasses off in order to make eye contact with Hutch.
• Ndamukong Suh: In Cameroon, the Lions rookie's name means "House of Spears." Really. I'm not making that up. And did you catch that segment on Sports Science where he hit a dummy with 3,200 pounds of force? Yikes. This summer after watching Suh manhandle the Lions' offensive line in practice I rode with him to his first autograph signing gig in Detroit. The memorabilia store sent a limo for him but it was so ostentatious and cheesy when he saw it I thought Suh was gonna refuse to get in. The driver comes over and says, "You like it?" And the BA Suh, without missing a beat, goes, "You didn't have anything bigger?"
• Chris Johnson: Titans RB wants his BA combo of dreads and a tat tux to go for 2,500 yards rushing this season. Also: he understood every second of the movie "Inception."
• Jim Washburn: Titans' defensive line coach, after 34 years of dues paying (he's completed the Bermuda triangle of bad coaching acronyms: JUCO, WLAF and the AFL) is finally getting the credit he deserves for molding both the outrageous Albert Haynesworth and the understated Kyle Vanden Bosch -- two of the most different but dominant defensive linemen of the era. Oh, and on a recent fishing trip he caught -- and released -- the Loch Ness Monster.
• Kyle Vanden Bosch: Now a Lions DE. One of his teammates told me I could watch film of the Lions' defense for five minutes or five hours and I'd see Vanden Bosch in the final frame on every play. And, holy crap, the guy was 100 percent right. At the McDonald's drive thru window instead of telling him to "drive around" the staff grabs his food and runs out to him.
• Gregg Williams: Saints coordinator whose wild, fun, aggressive attack-style defense flummoxed even the unflappable Peyton Manning in the Super Bowl. He has never actually slept at a Holiday Inn but still receives all the super-human benefits.
• Kassim Osgood: Jags special teamer and former undrafted rookie free agent has 1.7 million Facebook friends but no actual account.
• Ovie Mughelli: The Falcons fullback has never -- not once -- left a phone charger behind in a hotel room.
• James Laurinaitis: Linebacker who became just the second rookie to lead the Rams in tackles in franchise history. James and I had a long chat during the preseason and, well, just read this and tell me how he's not a BA and a big part of the turnaround in St. Louis:
"The best thing about being a middle linebacker is that you're in a position to be a part of every single play. That's what I love. I think it goes back to my father coaching me in elementary school teaching me to never give up on a play. Along the way you're always thinking about what kind of linebacker do you want to be, if you ever make it? I want to be wherever the ball is -- no matter it takes. That's how I play. The first time I took the field in the NFL I was thinking, 'I'm a starting middle linebacker in the same league as guys like Ray Lewis and Derrick Brooks.' I'm now a part of that select few. I do think about how, all the way back in fourth grade when I first put on the pads and how this was a goal. My friends' parents would ask, 'What do you want to be when you grow up?' And I'd say, 'I want to be a pro football player.' And they'd look at me like, oh that's nice. That kind of stuff flashes back through your mind, real quick, as a rookie. And then, you get hit by a 300-pound offensive lineman and you realize, oh, yeah, I guess I got a job to do now.'"
And when he got done talking, Tom Morello of Rage Against the Machine said, "Wow, that kid is cool and talented."
• Haloti Ngata: I don't need to tell you that all the wild stuff the Ravens like to do on defense begins up front with this 345-pound tackle doing the dirty work in the trenches. He's also the only person alive who can intimidate you while drinking from a juice box.
• Richard Seymour: In The Mag's recent NFL Confidential survey, the Raiders DE was rated as the last guy anyone would want to run into during a bench-clearing brawl. During thunderstorms he has also been known to strike lightning.
OK, like I said, this is only a partial list.
The rest of this list is up to you, fine Flem Filers.
Send me your nominations but make sure to include a line suitable for The Most Interesting Man in the NFL.
They'll be awesome and I'll run them next week.
Thanks my peeps.
Good to be back, Flem.
Editor's note: Looking for Flem's top five, his music riffs and weekly reader e-mail whylo (who helped you log on?) awards? Check 'em out on Facebook and Twitter at @daveflemingespn.
David Fleming is a senior writer for ESPN The Magazine and columnist for ESPN.com. While covering the NFL for the last 16 years at Sports Illustrated and ESPN he has written more than 30 cover stories, two books, ("Noah's Rainbow" and "Breaker Boys") and his work has been anthologized in The Best American Sports Writing.