Commentary
Ready, aim ... and hit the panic button
Originally Published:
September 16, 2010
By
David Fleming
| Page 2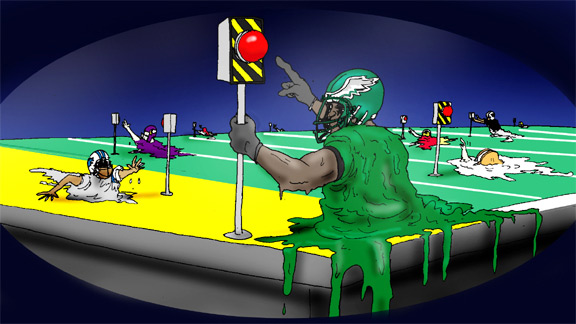 Kurt Snibbe for ESPN.comSound the alarm! There are only 15 games left!
Today is my favorite Thursday of the NFL season.
Today is the day when coaches, players, fans, cheerleaders and media alike take a long, hard, candid look at how things went during Week 1 before calmly turning to the person next to them in line at the grocery store and screaming, "For the love of Goodell, am I the only one around here who realizes there are now JUST 15 GAMES LEFT IN THE SEASON?"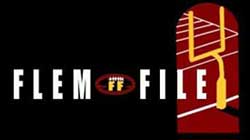 If you ask me, total panic before Week 2 is one of the grand traditions of the NFL.
Today is a special time when everyone's either undefeated or winless, when Houston back Arian Foster is still on track to gain 3,696 yards rushing and you can just sense the bandwagons forming all over Kansas City for the Chiefs' inevitable sojourn to Dallas for the Super Bowl.
So for at least the third year in a row it's time to get those Week 2 panic buttons ready, people. I mention the tradition for two reasons: (1) relentless self-aggrandizement, of course; and (2) the fact that the Flem File's panic button idea is so good it now seems to have many sly imitators.
But you and I both know this is the only place that will tell you which teams need to IGNORE the panic button, READY it, HIT it or JUMP UP AND DOWN on it.
NEW YORK JETS: Here's my impression of how Rex Ryan would explain his state of panic heading into Week 2 against the Pats: "How am I supposed to bleeping manage bleeping expectations after running my bleeping mouth all over H-B-bleeping-O now that that bleeping bleeper Beli-bleep is coming to town and our bleeping third-down offense couldn't bleep a bleep in a bleep storm which means we have to bleeping rely on our bleeping defense even though bleeping Kris Jenkins couldn't stay bleeping healthy long enough to bleep a bleep with a lollipop. Get me the bleeping panic button because I'm gonna JUMP UP AND DOWN all over that mother-bleeping bleeper."
OAKLAND: As in every other Week 2 during the past seven seasons, the Raiders need to JUMP UP AND DOWN on the panic button. Alas, no one can find it, since Al "I Replaced My Scouting Department With a Magic 8 Ball" Davis spray-painted it silver and black and made it into a nice "Commitment to Excellence" paperweight for his desk.
MINNIE: The Vikes only need to READY the panic button because I believe I've finally unraveled the mystery of Brett Favre's appeal. It's like the man himself: never as bad as we think, or as good.
DALLAS: It would be so easy to jump all over the Cowboys right now after that mistake-filled debacle in Week 1. But if DeMarcus Ware's neck is OK then I gotta go with Wade Phillips on this one when he said "one game isn't a trend." If anything, the fluke loss will probably help wake up this team. So my advice is to IGNORE the panic button in Big D.
BUFFALO: First play of the season, Trent Edwards drops back to pass and gets turned into road pizza by a blitzing 'backer. Things went downhill from there. Listen, late in the fourth, with the game on the line, if your best offensive weapon is a safety, it's time to HIT the panic button and get out your snow pants, 'cause Green Bay's up next and it's gonna be a long winter.
CAROLINA: At the goal line, with the game on the line, after QB Matt Moore passed up two open receivers in order to throw a floater off his back foot that wound up two feet behind his intended target in the end zone, my massive Twitter following was privy to this update: "Matt Delhommoore." Moore will rebound, mainly because it would be hard to do worse than two picks in the end zone and a passer rating that could turn the mountains blue on a can of Coors Light. Now, with Moore still wobbly and rookie Jimmy Clausen likely to face the undefeated Bucs at home, I'd say it's time to READY that panic button in Carolina. But first, top it with some slaw.
DETROIT: I've been inside the Lions' locker room during the Matt Millen era when the infectious stank of losing funked up that place so bad it was palpable. So besides that anemic run game (20 yards?), I worry that the heartbreaking loss to the Bears will linger in Motown while the Lions face three playoff teams in a row. So I'd READY that panic button in Detroit, but whatever you do don't give it to Kyle Vanden Bosch; that dude hits everything.
(And as a side note about Calvin's Catch, can I please say this: Stop pushing your glasses back up your nose and telling us in that condescending way that the call was correct. Seriously? Duh. The real issue is that this is now a passing league in which a main part of the very definition of catching a ball is completely and utterly illogical. I understand the "going to the ground" rule. I understand that it's stupid, yeah. The instant a player catches the ball in the end zone and puts both feet down, or otherwise properly possesses it, by the NFL's very definition, as well as the laws of physics, a touchdown has now occurred, which means anything that happens afterward should be irrelevant. If not, then to be consistent I think field goals that go through the uprights, bounce off a cheerleader's head and reverse back over the crossbar should be called "no good.")
CINCINNATI: There's a fundamental flaw in this team that has nothing to do with the design of T.O.'s cleats. Did you see it in New England? It happened at 31-3. Yep, as soon the game was out of reach and all the pressure gone with it, the Bengals roared to life. It's a serious pattern with this group. When the games don't mean anything, like down the stretch in 2007 and 2008, the Bengals are unstoppable. But apply the slightest bit of pressure, like in the playoffs last year, or in 2005, or during their late regular-season collapse in 2006, and the team wilts. With Baltimore coming to town I say READY the panic button on the Ohio River, because the next clutch win for the Bengals under Marvin Lewis will be their first.
CHICAGO: I've been hard on the Bears and especially Jay Cutler so I need to start off by acknowledging his 372 yards passing, his 108.3 passer rating and, especially, what looked like a great last-second switch to a mismatch on Matt Forte on the game-winning TD throw. Forte finished with 201 total yards and the Bears' defense held the Lions to 20 yards rushing. So I'm willing to ignore the turnovers and the penalties and the odd, indignant attitude after a lucky win over Detroit and say the Bears should IGNORE the panic button. For a week, at least.
CLEVELAND: What did you expect? My stat sheet says the Browns are 1-11 in openers since their return to the NFL. But I'm kinda still waiting for that to actually happen. The return, I mean. My guess is that in the first two weeks of the season the perpetually rebuilding Browns will be leapfrogged by both the lowly Bucs and the Chiefs -- and then things will get ugly. I hope Kellen Winslow planted that flag on top of Cleveland's panic button; it would save them the trouble of having to JUMP UP AND DOWN on it themselves.
PHILLY: I've got 12 great reasons why Mike Vick is the reason the Eagles can IGNORE the panic button. But you'll have to wait for my Insider list Friday to learn what they are.
INDY: Bob Sanders out, again. Another Manning Brother Bowl and all the awesome commercials that go with it. Is now a bad time to remind Colts fans that since 1990, of the 160 teams that started the season 0-2 only 22 have made the playoffs, including a grand total of none from last year? The Colts are to the NFL what the mountains are to people who live in Denver: No matter how grand and majestic they are, sooner or later you begin to take them for granted. The Indy panic button is probably in mothballs somewhere but I think it's time to dust it off and HIT it.
ATLANTA: I've got four reasons the Falcons can IGNORE the panic button. Matt Ryan, Tony Gonzalez, Michael Turner and Roddy White.
DENVER: If the Broncos can't finish some drives against the Seahawks they could fall to 0-2 before facing a month of playoff teams. I'd ask Touchdown Tebus to HIT the panic button but, ya know, if it's more than a yard away (his rushing average in Week 1) he probably won't reach it.
SAN DIEGO: Because they play in the AFC West, for the past four years the Chargers have been able to take off the first month of the season and still win the division. So they should be less worried about starting 0-2 and more concerned with what Jags DE Aaron Kampman (nine tackles, six QB pressure, 1.5 sacks in Week 1) is gonna do to Philip Rivers. San Diego needs to READY that panic button. Hey, maybe Marcus McNeill and Vincent Jackson can do it. They aren't busy.
SAN FRANCISCO: It pains me to say this. But Mike Singletary continues to be great at all the things that don't really matter in the NFL -- speechifying, old-school presence and super bad player introductions -- and, well, kinda lousy at what's really important, like communication, game planning, strategy, play-calling, in-game adjustments and managing his staff. If the Seahawks rang up 31 points on his team, what will Drew Brees do? A hundred? The 49ers wanted Alex Smith to HIT the panic button a week ago but he never got the message from the offensive coordinator.
Editor's note: Looking for Flem's top five, his music riffs and weekly reader e-mail WHYLO (who helped you log on?) awards? Check 'em out on Facebook and Twitter at @daveflemingespn.
David Fleming is a senior writer for ESPN The Magazine and columnist for ESPN.com. While covering the NFL for the past 16 years at Sports Illustrated and ESPN he has written more than 30 cover stories, two books, ("Noah's Rainbow" and "Breaker Boys") and his work has been anthologized in The Best American Sports Writing.