Commentary
49ers' Jed-eye knight sees all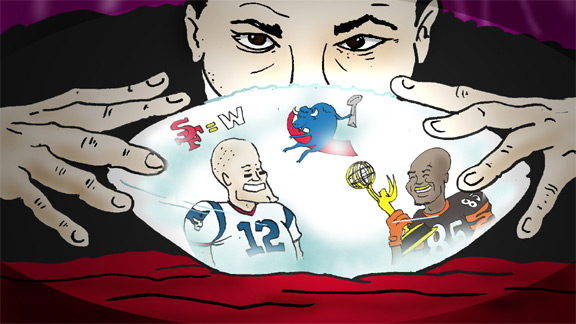 Kurt Snibbe/ESPN.comJed York's magic eye sees all! And as far as he knows ... is never wrong.
Is there a better representative for this bizarre, backward and wonderfully messed-up NFL season than kooky 49ers president Jed York?
The 1-3 Dallas Cowboys have rendered Jerry Jones speechless. The Lions just scored 44 points, and the Carolina Kitties are 0-for-the season. Max Hall -- whom I thought was a guy from "Ice Road Truckers" -- just beat Drew Brees. The Chiefs are 3-1 and the Vikes are 1-3. Michael Vick has a passer rating of 108.8. Carson Palmer? 78.3.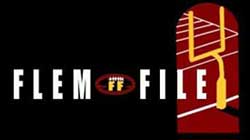 Then, to top it all off, along comes the 49ers' goofy CEO texting ESPN with a prediction that his 0-5 team -- the one ranked 31st in scoring and 31st in rushing -- will make NFL history by qualifying for the playoffs. Not the 2012 or the 2013 playoffs, mind you; the NFL playoffs that start in exactly three months.
Yes, I know York predicted that his team would make the playoffs last year. And according to his bio he backs up such bold declarations with a long list of qualifications starting with (1) his lifelong love of the 49ers, (2) his prestigious high school baseball career and (3) the fact that his godfather is Eddie DeBartolo.
But let's forget for the moment that a 7-9 record might just win the anemic NFC West and focus instead on tapping into the raw, awesome predictive powers of the 49ers' Jed-i knight.
Because if York feels comfortable guaranteeing a postseason spot for a winless, hopeless team with no coach, no QB and no direction, you have to wonder what other bizarro prophecies might be rattling around in that melon of his.
Well, that's where I come in.
So here are my (completely made-up) list of Jed York's other perfectly ridiculous NFL predictions.
Let's start with York on the Buffalo Bills: "Owner Ralph Wilson says the team's turnaround will take three more years. I disagree. In fact, I have assigned a full-time scout to live and work in Buffalo because I'm certain that's who we'll be playing in the Super Bowl."
On Shawne Merriman: "I feel very strongly that he will enjoy a long, very successful career in San Diego and then join the team's hall of fame."
T.O.chocinco: "You don't really need to have special psychic powers like mine to give a one-word prediction for this new show: Emmy."
Julius Peppers: "People want to know if he will continue to be a quote 'great free-agent pickup' end quote, but, frankly, that sounds like a made-up term to me and my front-office staff."
Atlanta: "By the end of the season I think this team's flashiness and trickery will really come back to haunt them."
Brett Favre: "This is a stretch, but I stand by my powers -- Brett will blow a big game with a costly pick late in the fourth quarter and then, for some strange reason, he will return to using a rotary phone."
Giants: "I just can't help but think how great this team would be if they had a new stadium to play in."
Cleveland Browns: "Seriously, who's gonna stop this team?"
Indianapolis: "I think the Colts will show all the so-called experts that giving up 142 yards rushing per game is really not a big deal at all."
Tom Brady: "Just to prove to Randy Moss that he is his own man, Tom will shave his head just before the playoffs, and it won't be related in any way to the fact that Justin Bieber was sporting the exact same cut at the MTV Awards."
Wade Phillips: "He will remain as the Cowboys coach because his owner gave him a vote of confidence, much like the one we gave to Jimmy Raye."
Washington safety LaRon Landry: "Honestly, his only hope would be to back off the line of scrimmage, stop being so physical and disruptive and play more as a deep cover guy."
Green Bay: "With the loss of tight end Jermichael Finley, QB Aaron Rodgers and LB Clay Matthews, the Packers will continue to prove that injuries play no significant role in the NFL and, therefore, clear the way for a jump straight to a 20-game season."
Chargers special-teams coach Steve Crosby: "I think he's doing a bang-up job, and if he ever becomes available he'll be on the 49ers' staff within 24 hours."
Mike Singletary: "I predict he will stop wasting his time with schemes and play calling and focus entirely on coming up with more super successful motivational ploys, like de-pantsing himself in the locker room and screaming at his quarterback during a game just to gauge how he'll react."
Pittsburgh: "Fans in that city will keep football in perspective and make Ben Roethlisberger earn their love and respect instead of just instantly showering him with support upon his return."
New York Jets: "Will experience much success thanks to their new finesse schemes and soft-spoken, low-key attitude."
Carolina: "I predict the Panthers, in an attempt to get younger and less experienced, will sign several quality kids off a local junior high squad."
Ray Rice: "I know he gained 133 yards and two TDs against the Broncos but I really don't see him doing that well against a team like the Patriots, and especially not under the pressure of a playoff game or something."
Texans: "Frankly, I don't see Houston's pass defense being that big of a problem at all."
Seattle: "My sense is the Seahawks will struggle a bit, off and on, until Week 14."
David Fleming: "His Tao of Poo story story was OK, I guess, but you'd never hear someone like Howard Stern talk about it on the air or anything like that."
Editor's note: Looking for Flem's top five, his music riffs and weekly reader e-mail WHYLO (who helped you log on?) awards? Check 'em out on Facebook and Twitter at @daveflemingespn.
David Fleming is a senior writer for ESPN The Magazine and a columnist for ESPN.com. While covering the NFL for the past 16 years at Sports Illustrated and ESPN, he has written more than 30 cover stories and two books ("Noah's Rainbow" and "Breaker Boys"), and his work has been anthologized in "The Best American Sports Writing."