Commentary
Capturing the soul of America
Here's a rather insightful Q&A with my friend and colleague Chad Millman on his latest book: "The Ones Who Hit the Hardest: The Steelers, The Cowboys, The '70s and the Fight For America's Soul".
[+] Enlarge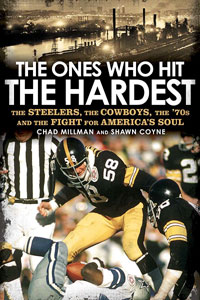 Gotham Books America's Team and the Steel Curtain represented more than life on the gridiron.
Flem: Well, there are books about sports and then there are sports books. This is a sports book. By that I mean the national appeal of this work is that it's as much about Pittsburgh, the city, the gut wrenching decline of the steel industry and the pathos of America in the 1970s as it is about football. What kind of stuff did you guys uncover that will just stop us dead in our tracks? Are there eerie similarities to today's economy?
Chad: The sheer volume of people who were out of work at the time was astounding. Steel mills, which for so long had been the engine that drove the American economy, were shutting down at such rapid rates, which meant hundreds of thousands of men who assumed that would be all they did their entire lives had to rethink their life's plan. What was also interesting was how the relationship between Dallas and Pittsburgh, the rivalry, extended beyond football. When oil was first discovered in Texas it was the industrialists from Pittsburgh who imported it out and made a lot of the money off of it. But in the '70s, one of the last mills was bought by a guy from Dallas.
Flem: Maybe all that stuff is why the Cowboys are so easy to hate? What do you think?
Chad: They do things big and without apology. Back then they were the first team to really grasp the importance of running a team like a business, not like a family hobby. They built a new stadium away from their down-market, downtown fan base and charged PSLs because they wanted to attract a high-end crowd. They were the first to use computer databases when scouting rookies. They were smart and streamlined and, in a lot of ways, soulless compared to a lot of other teams from that era. Even though that's not the case anymore, the feelings have been passed down from generation to generation.
Flem: "Soulless" is a phrase I normally reserve for Jon Bon Jovi, but, OK. With the disconnect between today's athletes and their "hometowns" it's almost hard to fathom the way Chuck Noll used the plight of the steelworkers to motivate his players -- but he did and it really worked. How did he make that hit home with his players? Would that work today?
Chad: I can't say if it would work today. But it worked for Noll because he universally drafted good guys. Even today, so many of those players still live in Pittsburgh because they felt as much a part of he city as any steelworker who was born and raised there. Also, Noll was well-rounded, it was never just about football with him. This was a guy who conducted the Pittsburgh Symphony Orchestra, knew how to fly, studied wine and roses. When he cut guys he said to them, "It's time for you to do your life's work." He knew football was just a temporary stop in their lives and made them understand that, too.
Flem: You and I have been friends since we shared an office at Sports Illustrated during the mid-1990s. I say that not as full disclosure for the readers but to express my bitterness for you collaborating on this book with Shawn Coyne -- and not me. Anyway, how did you and your new best friend come up with the compelling device of rotating chapters between football and the collapse of the steel industry?
Chad: It never would have worked between us, Dave. You know that. You can't type, which annoys me, and you steal my ideas without crediting me, which is rude. And yeah, I'm talking about the 1996 Super Bowl when I pointed out the "no guns allowed" sign at the gates of Sun Devil Stadium and then got in a fight in the hallway outside the locker room with a cameraman, just so you could write about it and then end your silly FlemFile with the line, "Thank God there were no guns allowed."
Flem: That cameraman was, like, 82, by the way. But he was a spry 82, I'll give you that. But hey, at least you don't hold a grudge for very long.
Chad: As for the structure, it happened pretty organically. Shawn is from Pittsburgh and his family has a history working in the union so he worked on that part of the book. And we wanted to make sure we didn't go too long with stretches of just football because then it would start to feel dry. We both liked the book "The Bronx is Burning" and thought it was well structured, so we tried to copy that for an outline.
Flem: Even for die-hard Steelers fans there is a ton of new material in this book. Do you have a favorite new nugget that you uncovered?
Chad: Franco Harris telling me that he begged his agent to write a letter to the Steelers asking him not to draft him. He had heard that fans threw snowballs at players and he didn't want to play there. I also loved hearing Dan Radakovich, an old Penn State coach who was the Steelers' D-line coach in 1971. He is one of the guys who pushed Noll to draft Franco because he had worked with him at Penn State. Noll was against it. But finally relented. When he first spoke to the mellow, soft-spoken Franco after the draft Noll hung up the phone, looked at Radakovich and said, "I think I just drafted a dead head."
Flem: Awesome.
Chad: I also loved the stories about Art Rooney and how committed he was to his players. During the 1974 strike when players were picketing outside training camp on a really hot day, Rooney pulled up in his car and handed them a six-pack of beer.
Flem: Yeah, but have you ever tasted Iron City? I'm kidding, I'm kidding, I love it. So, Terry Bradshaw was an amazing QB yet he never seems to get the credit he deserves for his role in this dynasty -- why is that?
Chad: Because for the first two Super Bowls he was seen as the equivalent of a game manager, which he was in the best sense of the word. He called his own plays and knew the best assets on his offense were Franco Harris and his offensive line. He pulled out his cannon of an arm when the team needed it most, but once he understood the NFL and what Noll's vision was, he didn't feel the need to show off.
Those teams in 1974 and 1975 belonged to Joe Greene and Franco Harris. It wasn't until the rules for the passing game relaxed after the Steelers beat the Cowboys in the 1975 Super Bowl -- and Dallas GM Tex Schramm was [ticked off] his team was manhandled -- that Noll began to revise his philosophy and Bradshaw got to show how brilliant he was as a QB. In that 1978 season, the Steelers' third Super Bowl win, he had his best offensive year.
Flem: You're upcoming book with BaBa Booey is your seventh, I believe, in what is an impressive catalog. You've done gambling, pick-up hoops, MMA, terrorism, the NFL -- is there a book or a character or a moment from this collection of work that is especially close to your heart, and why?
Chad: The guys in "The Odds," the gambling book, for sure. I keep in touch with them, Joe Lupo, Bob Scucci, Alan Boston, so that's one reason. But also because they were so open about their lives at the time and gave me carte blanche to write what I saw and interpret it in whichever way I felt was true, even if they didn't like the way it was perceived.
Flem: Thanks a bunch and, hey, watch out for those mean octogenarian photogs.
Editor's note: Looking for Flem's top five, his music riffs and weekly reader e-mail WHYLO (who helped you log on?) awards? Check 'em out on Facebook and Twitter at @daveflemingespn.
David Fleming is a senior writer for ESPN The Magazine and a columnist for ESPN.com. While covering the NFL for the past 16 years at Sports Illustrated and ESPN, he has written more than 30 cover stories and two books ("Noah's Rainbow" and "Breaker Boys"), and his work has been anthologized in "The Best American Sports Writing."