Commentary
Exclusive! Matt Cassel's appendix
Originally Published:
December 16, 2010
By
David Fleming
| Page 2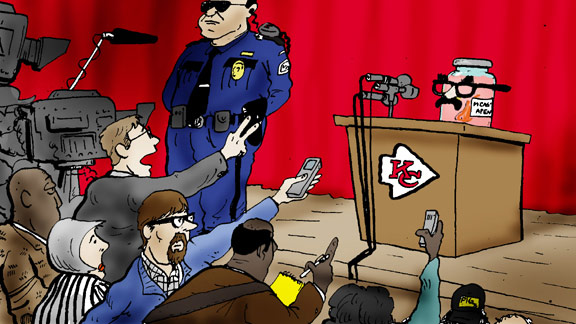 Kurt Snibbe/ESPN.com"Thank you for coming here today ... I'd just like to set the record straight."
He showed up about 15 minutes late surrounded by two bodyguards, a stylist/manager/girlfriend and a guy I'm pretty sure was Spencer Pratt. He wore a Poison T-shirt and thick, black, designer shades, which he kept on the entire time. A blessing in disguise, really, because he was red-faced and grotesquely swollen in places and, frankly, smelled like formaldehyde. This was the scoop of a lifetime, but I could tell the interview was not going to be pleasant: Besides the horrific odor, Matt Cassel's appendix was definitely not in a good mood -- irritated and infected and on the verge of becoming fully inflamed.
He was also constantly spinning around to gaze at the exit and then back at his bodyguards, paranoid, I think, that after messing up Kansas City's first real shot at a division title in seven years, angry Chiefs fans were out to get him.
He was right, of course, but I didn't say a word.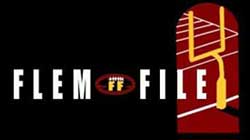 Flem: Nice shirt; you a big Poison fan?
Cassel's appendix: Not really. I'm more of a Rage Against the Machine-type guy. It's more a tribute to Bret Michaels' appendix -- yanked out in April, poor bastard.
Flem: It's been a bad stretch for you guys lately. Michaels, then Glenn Beck, Jordin Sparks, Harry Houdini, I mean, the list goes on and on.
Appendix: I GET IT, OK, fine, right now in Kansas City we're not exactly the most popular organ ...
Flem: Organ, hmph ...
Appendix: What's that?
Flem: ... vestigial organ, maybe, at best.
Appendix: Please don't use the V-word, I find it offensive.
Flem: I'm sorry. I didn't mean to sound so hostile. It's just, ya know, my appendix almost burst when I was in first grade, and I spent Christmas in the hospital and so my brother got the Lee Majors Six Million Dollar Man action figure instead of me. And, well, I'm still pretty bitter about it.
Appendix: I guess that explains why Matt won't take my calls.
Flem: Give it time. He did come back to practice. I heard he worked in some noncontact drills, handed the ball off and threw a few deep passes downfield without any pain or discomfort.
Appendix: I'm happy for him, I really am, but nothing ever prepares you for how quickly they forget about you and move on. You'd think we'd be used to it now. Evolution left us behind a million years ago. Now, shoot, we're like offensive linemen and refs, no one talks about us or says our name unless something goes horribly wrong.
Flem: You gotta admit, your timing was pretty horrendous. The Chiefs were 8-4, heading to San Diego, ready to pretty much shut the door on the Chargers with a win. And after a brutal 2009, Matt Cassel was getting some MVP consideration after throwing for 2,009 yards, 19 touchdowns and one pick in his past eight games. And then -- bam -- you burst onto the scene.
Appendix: Ah, appendix puns. Hi-larious. I didn't really think you could sink any lower than your story on poop -- but I was wrong. Let me save you some trouble: I get it, I'm as useful as an NFL strike. I'm as useful as the roof of the Metrodome. I'm as useful as Albert Haynesworth, the Bengals, Tim Tebow and the NFC West combined! A week ago, Matt and I were worth $63 million, and now I'm surgical waste!
Flem: Calm down. Try to relax, just let your body go limp and lifeless: like the Bears did against the Patriots.
Appendix: I just get so sick of hearing about "heart" and "guts" and "brains" all the time in football -- just once I want to hear Mel Kiper say, "You'll never have to worry about that kid's appendix, it's like a tiny little chili pepper made out of gold."
Flem: It could be worse.
Appendix: I know, I should just be grateful I'm not Sal Alosi's knee. What a loser.
Flem: Well, I mean, let's look at the facts: You did force Matt out of the game, correct? So, because of you, in comes 0-for-the-NFL Brodie Croyle, who throws for 40 yards. The Chiefs go 0-for-11 on third downs, gain 67 yards of total offense and suffer one of the -- if not the -- worst defeats (31-0) in the long, illustrious history of the franchise.
Appendix: I sure know how to make friends, huh?
Flem: Why don't you insult Arthur Bryant's while you're at it, too?
Appendix: Oh, sure, don't blame Croyle or the Chiefs for not having a backup quarterback, or Jamaal Charles, even -- blame the small, narrow, fingerlike projection that serves no biological purpose while hanging down at the lower-right side of Matt Cassel's large intestine.
Flem: A-hem ...
Appendix: (Sniff-sniff.) Used to. I meant "used to." The small, narrow, fingerlike projection that used to serve no biological purpose while hanging down at the lower-right side of Matt Cassel's large intestine.
Flem: Well, I don't think you or anybody else really understood just how much Cassel's absence was going to affect the Chiefs' top-ranked running game. But it's Cassel's feel downfield (he and Dwayne Bowe have hooked up on 14 pass plays of 20 yards or more) that prevents defenses from loading the box with an extra run-stuffing safety. On top of that, Cassel has done a magnificent job of reading defenses and audibling at the line of scrimmage -- often to run plays that have accounted for a big chunk of Charles' 1,177 rushing yards.
Appendix: OK, but why are people so angry at me? It could be a good thing. Kurt Warner had his appendix out, so did Ben Roethlisberger; they turned out OK.
Flem: Uh, Ben threw zero touchdowns and seven picks in his first three games after his surgery.
Appendix: Gulp.
Flem: And I was disturbed by the performance of the Chiefs' offensive line on Sunday. It gave up four sacks and by the end of the game had to use a backup lineman posing as a tight end to try to stop the Chargers' pass rush. Matt's a tough guy. He survived the Northridge, Calif., earthquake as a kid and the sudden death of his father in 2008, but he's a different quarterback when he's getting hit.
Appendix: Aren't they all.
Flem: Yeah, but last year Cassel got sacked 42 times, and the Chiefs ended up losing 12 games. The Chiefs can't go back to that, not 10 days after the guy had his guts sliced out.
Appendix: I think I need more security.
Flem: Maybe. Thanks to you, the Chiefs are now clinging to a one-game lead with three to play.
Appendix: Wait, that's not so bad.
Flem: Not until you realize the Chargers get to play the 49ers, Bengals and Broncos.
Appendix: San Diego's preseason schedule was more challenging than that.
Flem: I know. The Chiefs, on the other hand, have to play St. Louis, Tennessee and Oakland, and they need to win out to control their own destiny.
Appendix: Good Lord, what about the tie breaker?
Flem: Should both teams end up 10-6, I'm pretty sure San Diego wins the division and gets the home game.
Appendix: Ugh. I haven't felt this sick since I heard they were going to take me out using laparoscopy.
Flem: Oh, I thought it was the least evasive of the techniques. Did it go bad? Was it painful?
Appendix: No. No. The surgery was easy, piece of cake. Snip-snip, tug and I was outta there. But laparoscopy means they used a video feed.
Flem: Oh.
Appendix: So you know it's only a matter of time before I end up all over YouTube.
Flem: Man, if that leaks out, you could still be playing well into January.
Appendix: Hey, at least someone from the Chiefs will be.
Editor's note: Looking for Flem's top five, his music riffs and weekly reader e-mail WHYLO (who helped you log on?) awards? Check 'em out on Facebook and Twitter at @daveflemingespn.
David Fleming is a senior writer for ESPN The Magazine and a columnist for ESPN.com. While covering the NFL for the past 16 years at Sports Illustrated and ESPN, he has written more than 30 cover stories and two books ("Noah's Rainbow" and "Breaker Boys"), and his work has been anthologized in "The Best American Sports Writing."