Commentary
Flem File: Super Bowl XLV experience
Originally Published:
February 10, 2011
By
David Fleming
| Page 2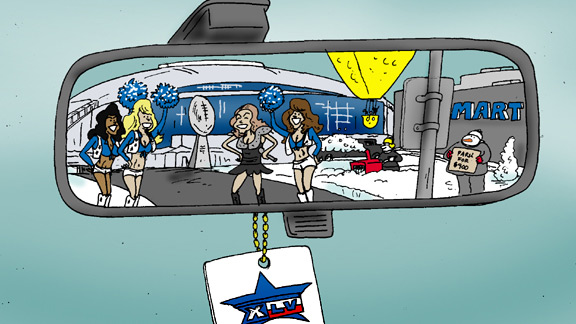 Kurt Snibbe Good, bad and ugly were on full display before the Flem File put the Super Bowl in its rear-view mirror.
My first 15 minutes at Super Bowl XLV ...
I am standing on a corner in Arlington, Texas.
The weather is perfect, crisp and sunny. Invigorating.
To the south, a beautiful brick baseball park built new to look old.
To the north, Girl Scouts hawking Lemon Chalet Cremes share a patch of cement with a predictable loud-speaker preacher who "loves football" but would also "love to see you in heaven." Silly carnival barker, I'm already there.
Not only that, I have an all-access pass and they're serving tequila.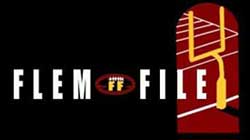 To the east, a twisting, gargantuan, metal roller coaster painted awful orange and blue.
It's Super Bowl Sunday, and I am in the epicenter of America, bouncing down a tributary of humanity full of green hard hats made of cheese and turbans swirled in black and gold, where the final compass point to the west features what has to be the biggest, most crass, crowded and blatantly brilliant shrine to consumerism in the entire world today: a Walmart.
How fitting.
Right next door, of course, is the slightly less opulent football stadium that looks like the architectural equivalent of a bloated, metallic space bug, which costs $1.3 billion and, apparently, isn't quite done.
At a security gate, a hand-held computer reads my credential and a picture of me from 10 years ago appears on the tiny screen. This creeps me out, not just because of my bad haircut, but I swear the security person gives me a look like, "I know what you wrote about the new OT rule and the Steelers, and you'll be receiving a nice, hefty fine for wearing dirty socks to the Super Bowl."
Eventually, the metal gate opens up and, for the first time all week, I get a glimpse of it: an actual bag of rock salt.
Behind me in the security line is NFLPA chief DeMaurice Smith. He appears much shorter in person but with better hair. Roger Goodell, I've noticed, is the opposite.
For a moment I consider solving the labor issues for him: Owners want players to take an 18 percent cut to help pay for all the debt incurred from stadium construction (even though most of it is paid for by taxpayers)? OK, give them 10 percent, give them a rookie cap and give them 18 real games. But tell them you want the offseason programs cut by 60 percent, you want to add 15 players to rosters (seven on the active/eight on the practice squad) and you want the gold standard of medical care for all current and former players, no exceptions.
Done. When's minicamp?
Instead, I am searched. Twice.
I am scanned. Again.
After making it through security, standing next to Jerry's billion dollar ice-belching space beetle, I am about to comment how it's doesn't seem like we're in Texas anymore when a colleague and friend plops down on the ground to change from running shoes into a pair of badass, black leather cowboy boots with brushed-gold ankle chains.
"Oh my god, what are you doing?" asks the stupid guy from Detroit to the smart, fashionable woman from Texas.
"They're Donna Karan," comes the curt reply, the only one needed, really.
Later, she will get a hug from Jessie Jackson.
We flash our passes and waltz into a pregame tailgate inside a tent that could fit over Fort Worth. Instantly, we are in some other parallel dimension of NFL tailgating where cement has been replaced by carpet, beer has been replaced by mimosas and bratwurst has been replaced by brie. Someone says it feels like a polo match, not the Super Bowl. And I get the sickening feeling that this is what the NFL really is at its core. Not the guys in the parking lot wearing hats made out of Iron City empties, who took out a second mortgage on their houses to come to the Super Bowl only to realize they're seats don't actually, you know, exist.
I am concerned, and then Bob Kraft and Christian Slater walk by and Maroon 5 is on the stage in front of me singing "Sunday Morning."
It's 4:15 p.m.
The lead singer is rocking some extremely skinny jeans.
They're kinda in right now.
No. They're. Not.
It's horrible in here, and I don't ever want to leave.
But I must and I do so just in time to be flanked by Alec Baldwin (and one of his brothers) on one side and a row of Dallas Cowboys cheerleaders galloping by in formation on the other.
I tell my friend to take a picture of Baldwin. She shoots the wrong one. Even better.
Behind me, over a fence, is the Walmart sign.
I enter the stadium and decide to use the bathroom.
It is like the tailgate, only bigger, cleaner and brighter. It smells like wild flowers and money. They spent a billion on this bathroom and $300 million on the rest of the stadium. It's so shiny and pristine that people giggle and high-five when they walk in, including a Steelers fan who yells, "Ain't no troughs in Jerry's World, man!"
No there ain't.
Eventually I have to leave -- but I don't want to -- and I walk onto the concourse, a place filled with adults full of the kind of wonder and joy you normally only see on the faces of children on Christmas morning and in line at Disney World. I'm serious. It's all hugs and fist pumps and "we-made-its" and "once-in-a-lifetimes."
I meet a woman in a pink Packers hat and a homemade Green Bay jersey. (Are those tassels on the shoulder?) I know she's legit because she's holding a drink in each hand.
She asks me what I'm doing.
Just watching. Taking it all in.
Yes, I've been to 15 of these -- or, maybe, 16 -- and this is the greatest walk-in I've ever experienced, I tell her.
By far.
I don't ask, but the Packers lady tells me her "once-in-a-lifetime" tale anyway.
I should have asked.
She's from Chicago. Her husband is from Milwaukee. I know he's legit, too, because he has what is either the best or the worst mustache I have ever seen.
Do you play Angry Birds? Know the 'stache on the king green pig?
Like that.
(I think the sounds are the funniest part of that game, by the way.)
Anyway, this couple met during school at Wisconsin in the 1970s. Before they got married, he gave her a prenup that said she had to relinquish her support of the Bears and become a Packers fan. They live in Tampa, Fla., now. Got tickets from a friend of a friend who works for the Bucs. Brought their two sons along for the game.
They spent a fortune to be here and witness this game together in person. That's awesome, I say, enjoy the game. I mean it.
Kickoff is in less than an hour.
Where are your seats?
Somewhere in the 400s, they say.
Gulp. Did they make it?
I hope so.
I really do.
My last 15 minutes at Super Bowl XLV ...
Follow the red tape on the ground down to the postgame interview area, I am told.
On my way down, I think about the Steelers decision not to press the Packers receivers. It seems as if that one decision -- to back off, give a cushion and react rather than attack -- was so counter-intuitive to Pittsburgh's usual swarming, rabid defense that it mentally short-circuited the entire team.
There's Troy Polamalu.
He's a great player, a gutsy guy and a credit to the game.
But tonight, tonight, the Packers turned him into Texas toast.
If he had better hands, Jordy Nelson would be a household name right now.
More Super Bowls have been determined by drops than catches, I think.
Just ask Jackie Smith and Asante Samuel.
Taboo from the Black Eyed Peas has good hands. As they were lifting him up 100 feet into the giant TV screen, he was texting with his free hand.
The halftime stage was supposed to read "LOVE" but a lighting malfunction made it look like "LOIE" or "LAE."
Seems about right.
What about Green Day for next year's game?
Assuming there is one.
Moments before the fumble by Rashard Mendenhall, Packers linebacker coach (and former Steelers player) Kevin Greene was frantically mimicking a lumberjack chopping down a tree to signal to his outside linebackers to crash and collapse the outside edge.
Which they did rather nicely.
Before that fumble, Ben Roethlisberger sat by himself on the Steelers' bench. When he caught Hines Ward's attention, the Steelers' QB just gave a quick, certain thumbs up. His body language was so definite and convincing it made me think, "This game's over; the Steelers are gonna win."
I was wrong.
But at least now Ben has time to do all that "reflecting."
After the game, Mike McCarthy described how Charles Woodson tried to speak to the team at halftime but was too emotional to even speak.
That message was actually stronger than anything he could have said, though.
It's a good lesson.
McCarthy also said he got his first indication that this season would be special for the Pack all the way back on the Monday after the loss to the Cardinals in OT during last year's playoffs.
Really?
In their exit interviews that day, the players were disappointed but excited to get started on the next season.
That means, for one team (outside of Cincinnati), the wheels are already in motion to win the next Super Bowl.
Assuming there is one.
McCarthy left his podium and, after ducking behind a row of blue curtains, began walking back to the Packers locker room. After 10 steps or so, he was stopped, for a moment, by a tiny, hunched-over, gray-haired figure in a black suit.
It was Steelers owner Dan Rooney.
He had left his own team and had waded through the painful scene of the Packers celebration to do what's right and congratulate McCarthy in person, one Pittsburgher to another.
The ice storm?
The seat fiasco?
The dueling fits of excess and condescension that have come to define the $8 billion NFL?
This scene -- a momentary, quiet gesture of all that is good and right with football and sports -- is what I will remember the most.
Or, at least I'll try.
It is actually kind of hard to have a moment with "Glee" blasting from every TV screen inside the stadium.
Trying to escape the noise, I make my way back up the rabbit hole and out of Jerry's World.
But first, I am forced to move against the wall so that Fergie and her massive entourage can exit the building. I watch in amazement as she congratulates Packers linebacker A.J. Hawk while her security team aggressively removed a TV crew from her path.
Apparently, when she's not volunteering to bore a record 111 million people to tears and sully what was left of Slash's pride, Fergie is a very private person.
I continue up a massive stadium ramp, encased in cement, where highlights from the game blasted from speakers create a torturously loud and confusing Super Bowl echo chamber.
Maybe, I think, the speakers aren't even on and this is just a side effect to the festivities, like the way my ears rang after seeing Kid Rock and Rev Run on Friday night in Fort Worth.
Outside the stadium they are paying $20 bucks for ticket stubs.
"I wouldn't give it to you for $1,000," yells a Packers fan.
Nearby, on a crowded pedestrian bridge, the crowd sings "Bear down, Chicago Bears."
I swear.
I vow not to think of this as the end of football but, more so, the beginning of hockey season.
But first, before exiting the stadium, I go back to my bathroom.
What I think will be a triumphant return leaves me aghast.
It is an atrocity.
The floor is flooded, dirty and full of empties and cigarette butts. The lights flicker. The trash bins overflow. There is what looks like a soiled diaper in one corner, pinkish vomit covers another. The room smells like feet and worse. The towels are gone. Water from a urinal full of empties and garbage trickles onto the floor.
A few hours ago, this place was a pristine palace, a gastrointestinal symbol of hope.
Now it looks like something out of "Slumdog Millionaire."
It has been Super Bowl-ized, Texas style.
Just like the rest of us.
Editor's note: Looking for Flem's top five, his music riffs and weekly reader e-mail WHYLO (who helped you log on?) awards? Check 'em out on Facebook and on Twitter at @daveflemingespn.
David Fleming is a senior writer for ESPN The Magazine and a columnist for ESPN.com. While covering the NFL for the past 16 years at Sports Illustrated and ESPN, he has written more than 30 cover stories and two books ("Noah's Rainbow" and "Breaker Boys"), and his work has been anthologized in "The Best American Sports Writing."