Lance Armstrong was suffering big time. He had collapsed into a hotel bathtub loaded with ice cubes. The tough facade, maintained for the crowds and cameras, had been stripped away. After 26.2 miles of punishment from New York City pavement, his legs screamed in pain. This was agony he never felt on the bike.
Those same legs dominated the planet's supreme sporting test seven times and made it seem pretty easy.
I'll never forget Lance strolling into the small, elegant bar in the Hotel du Crillon, fresh off the post-race podium on the Champs-Elysees in 2003. Just minutes earlier, he had finished his most demanding and frightening Tour de France. In three tumultuous weeks, he had fended off constant attacks from rivals, swerved down a steep grassy slope in the Alps to avoid a crash, and been slammed to the pavement after hooking his handlebar on a spectator's souvenir.
And there he was in the bar, still in his cycling shorts and yellow jersey, settling into a red velvet chair to chat, downing a beer while his three kids climbed into his lap. The only evidence of the huge strain was the relief in his smile. But that's how it always went: race like hell for three weeks, crush the competition, then party into the Parisian night.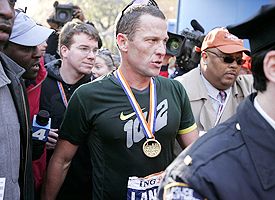 Stephen Chernin/Getty Images
Lance Armstrong, like Jim Valvano before him, embodies the spirit of determination.
So the e-mails after last November's New York City Marathon were surprising. "Dude, it was pure hell!" ... "The hardest thing ever."
Of course, Lance never let on that his preparation for the marathon included not a single run longer than 13 miles. Saddled by the busiest "post-retirement" schedule imaginable, he basically mailed in his training. He somehow broke three hours. But he paid for it. The day after, he jetted to Phoenix but he couldn't walk. A hotel luggage cart was needed to roll him back to his room following a speech.
Another e-mail summed up his first marathon experience: "Never, ever again." But this November, he will return, running the five boroughs again. What about the hellish agony? The shin splints? The humbling luggage cart episode? All forgotten. Champions have short memories.
"I've gotta do it," he explained. "It raises so much money." Without cycling, Lance needs new podiums to keep pushing The Cause. Plus, he loves the energetic New York crowds that kept pushing him last year. This November, he won't underestimate the marathon.
That's Lance: attacking a new challenge and attacking the cancer crisis with the same bottomless energy he has used against all obstacles.
It is fitting that Lance is being honored in New York on Wednesday night by the V Foundation. A few years before Lance was diagnosed, it was Jim Valvano who showed us courage. Jimmy V used all the energy he had to live the fullest possible life. Right to the end.
It was a life filled with heart and humor.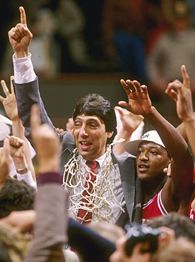 GettyImages
Jim Valvano still provides a source of inspiration for cancer victims.
Quick story: In 1985, Valvano brought his NC State team to Colorado for the NCAA regionals. I was a student reporter, assigned to get post-practice quotes, but I overslept and arrived as the Wolfpack players were heading off the court to their team bus. I hurried over to Valvano and nervously explained my plight.
"Overslept!" he said with mock outrage, and broke into that great laugh of his. Then he gladly made time for a college slacker. I got a one-on-one interview as we walked out of the arena. I never forgot Jim's graciousness.
Six years later, I had the huge pleasure of working alongside him in ESPN's studio. He was amazingly natural on TV, a star who didn't need this second career but loved talking hoops. He treated every single crew member with respect and good humor.
I also won't forget the last night I worked with Jim. In the winter of 1993, tumors were ravaging him, causing so much pain he could barely move. Viewers never knew it. His wisdom and wit remained untouched. Even with his voice hoarse from exhaustion, he powered on and did his job. At the end of the night, a car was brought right up to the studio door and Jim bundled himself up for the bitter cold. We helped him to the passenger's seat for the short ride back to his hotel.
That was a couple months before he summoned the courage to ignore the agony and take the stage for his landmark ESPYS speech. What followed were those familiar words that have had a powerful, lasting impact on millions, including Lance, who watched the speech again the other day.
Jim's refusal to let cancer touch his mind, his heart or his soul has become a manifesto for cancer survivors. He was ahead of his time. In '93, not many men had yet battled the disease so publicly, all the while urging us to enjoy life's simplest pleasures with each day we are given.
It's a lesson Lance learned, and he has gone on to teach millions more.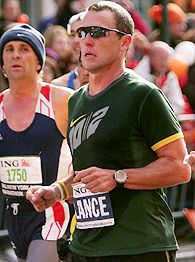 Chris McGrath/Getty Images
Armstrong powered through last year's New York City Marathon in less than three hours, despite not going farther than 13 miles in any of his training runs.
When I first met him in 1987, shooting a feature for the ESPN show "Scholastic Sports America," Lance had much to learn. He was a promising teen triathlete scraping to earn enough prize money to keep his old car running. In Texas, triathletes were not the school studs.
Five years later, he was unrolling blueprints for a bachelor mini-mansion on Lake Austin. By then, it was fast bikes, fast cars, and ..., well, you get it.
Then, suddenly, he was laying there in a hospital gown, gaunt and scarred and given little chance to live. And less than three years later, on an unforgettable sunny July day in 1999, he was leading a column of U.S. Postal riders into Paris as champion of the Tour de France. I still get goosebumps remembering it. The Tour wins piled up, and the entourage grew, and the celebrations became fancier.
Then, suddenly, Lance's reign was over.
And there he was a few days later at a celebratory four-hour retirement lunch at Bono's Cote d'Azur villa, being urged by the activist superstar to quickly parlay his good name into a political career. Bono was persuasive.
But Lance is choosing his own path. He knows cancer strikes on both sides of the aisle. It is not red or blue. It must unite, not divide us. Lance's power to inspire is clearly nonpartisan. He's just beginning to use it to make cancer funding a political issue. An issue that can no longer be ignored if candidates are held accountable by the millions of voters the disease has touched. Elections are often tipped by issues that directly effect far fewer Americans than cancer does.
Between now and November 2008, Lance will become increasingly active. He will attempt to make candidates state their cancer policy, their plan for stopping this nation's second biggest killer. Each will be expected to make a pledge and keep it.
I just wish Jimmy V could be there shoulder to shoulder with him. I have imagined them sitting around, telling tales and plotting against cancer -- motivating and mobilizing, recruiting others to the fight.
Lance's foundation turns 10 years old this spring. When he was roughing out plans for it, I took him to the V Foundation's annual golf event in North Carolina. His golf game was a little ragged (it still is), but he left there inspired. In a decade, the Lance Amrstrong Foundation has raised more than $181 million, more than 83 percent of it going directly to fund cancer programs.
Amidst all the high-level strategizing, Lance still makes time for the small gestures, too. He sends countless messages of hope, delivered in personal e-mails and letters to cancer sufferers.
Lance's annual "Ride for the Roses" event is remarkable. Two years ago, I met a father who was struggling to raise money for a pilgrimage to Austin so his stricken son could spend a few precious minutes with Lance. The boy's story was heartbreaking, but his spirit strong. What he knew of Lance's story he had been told by his dad. But then, this visit was more for the father's benefit. And it was worth the struggle. Being around Lance, and other survivors, this man gained strength that he could take back home for his family's long fight ahead. He looked at Lance and felt hope. He left believing his son's future could still include big dreams. In Lance, he saw what is possible when modern medicine meets timeless courage.
All of us who've had cancer strike a loved one understand. To embody hope and strength is Lance's greatest gift to us. And true to Jimmy V's words, he will never give up.