Commentary
NFL Power Rankings: Locked out edition
Originally Published:
June 16, 2011
By
DJ Gallo
| Page 2
NFL owners and players are still negotiating, but it seems they are no closer to a deal. Football fans are starved for actual football. And in lieu of that, getting all bent out of shape by completely arbitrary power rankings is acceptable.
Here are my power rankings of all 32 NFL teams based off of their offseason performance.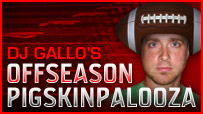 32. New York Jets: The Jets are reportedly among seven teams -- along with the Dolphins, Bills, Chiefs, Lions, Buccaneers and Cardinals -- who have cut salaries or placed employees on furlough due to the lockout. Classy stuff considering not even a single preseason game has been lost yet and the lockout is the choice of the NFL owners. Frankly, I expect more from such historically successful NFL franchises as the Jets, Bills, Chiefs, Dolphins, Lions, Buccaneers and Cardinals.
31. Miami Dolphins: The Super Bowl can be considered part of Miami's offseason. The Super Bowl included Fergie's … singing. Fergie is a part-owner of the Dolphins. We could find out the whole lockout is her doing and that fact still wouldn't be worse than her halftime performance.
30. Arizona Cardinals: Despite having John Skelton and Derek Anderson on the roster, the Cardinals did not draft a quarterback. I get the distinct feeling that they don't take this s--- serious.
29. Tampa Bay Buccaneers: Head coach Raheem Morris says he has been talking to his players "all the time." That's against the lockout rules! RULE BREAKER! The Buccaneers are lucky no one pays attention to them or they could get in big trouble.
28. Detroit Lions: Matthew Stafford has been throwing in offseason workouts. This is terrible news for the Lions. During this extended layoff, he should be put in a box, covered in packing peanuts and kept in the attic by the china for safekeeping. Only bad things can happen when he's doing stuff.
27. Kansas City Chiefs: Two Chiefs players, along with some porn stars, were just used to promote the opening of a new club in Miami. The NFL is looking into the promotion for possible trademark infringement, as the players were pictured in their NFL uniforms. They're also just curious what in the world made a nightclub in Miami think using Chiefs would get people in the door. Good luck on that investigation, NFL; the club probably went out of business already.
26. Buffalo Bills: The Bills are the final one of the seven NFL teams who have cut employees due to the lockout. But in a way that's good news. Those people no longer have the humiliation of telling their friends and family that they're employed by the Buffalo Bills.
25. Tennessee Titans: I don't want this column to be dated before it's even published. So I won't say how many times Kenny Britt has been arrested this offseason. Just Google "Kenny Britt" and count for yourself. And then check again. Because there's a decent chance he got arrested one more time while you were Googling him.
24. Washington Redskins: If I have to even explain ranking them this far back, I don't know why you're reading a football column in the first place. If anything, I should have to explain why they're not last.

23. New England Patriots: The Red Sox, Celtics and Bruins have all now won a championship more recently than the Patriots. They are the failures of Boston sports. Oh, come on now. Don't cry.

22. Denver Broncos: Tim Tebow has released his book "Through My Eyes." The backup quarterback writing a book could cause some jealousy in the locker room, especially considering Kyle Orton has yet to have a publisher bite on his memoir, "Through My Beer Goggles."

21. Cincinnati Bengals: Carson Palmer is still refusing to play for the Bengals ever again. A football team can't get much better news than that. But considering all the other problems the Bengals have, getting rid of Palmer provides only about a half-second of joy.

20. Minnesota Vikings: Brett Favre said this week that he can throw a football "as well as ever." He also said he is retired for good. The threat is still very real. Set the alert level to "Elevated" and turn off your cell phone.

19. Pittsburgh Steelers: Their star receiver won a dance competition and their quarterback just went to a water park with his friends while wearing fluorescent yellow sunglasses. That would be a good offseason for my nieces, not so much for a football team.

18. Atlanta Falcons: Not to talk too much about, you know, actual football stuff in this column, but did you see Atlanta's draft? Wow. There's a reason some teams never win a Super Bowl. (We now rejoin this tangentially football-related column, which is already in progress.)

17. Indianapolis Colts: Indianapolis has been named as the permanent site of the Big Ten title game. So even if there is no NFL season, at least the football fans of Indianapolis will still be treated with football known for falling apart at the end of the season.

16. Seattle Seahawks: Have you seen the show "The Killing" on AMC? It is set in Seattle and it rains constantly on the show. Downpour rain. Almost every scene. It's completely ridiculous and can't be good for the national perception of Seattle. It's like the Seahawks of televised weather systems.

15. Jacksonville Jaguars: The Jaguars are still seen as the most likely NFL team to move to Los Angeles. But chin up, Jaguars fan(s)! They'll be back. NFL teams never stay in Los Angeles for long. They last about as long as BCS titles there.

14. St. Louis Rams: The Rams are also one of the teams in the mix for Los Angeles. But I don't see that happening. "The Los Angeles Rams" sounds absurd.

13. New Orleans Saints: Drew Brees is one of the most visible players in the lockout negotiations. That's evidence of how far the organization has come. Back during the 1987 strike, the sides only came together after agreeing that Saints players were not worth being paid more than the hourly minimum wage.

12. Baltimore Ravens: When and if the lockout ends, Ray Lewis will deserve as much credit as anyone. While DeMaurice Smith has negotiated behind closed doors, Lewis reminded owners that they might get mugged if the season is cancelled.

11. San Diego Chargers: Team owner Alex Spanos is no longer looking to sell a stake of the Chargers because the Bush tax cuts were extended. So, in my opinion, the signature accomplishment of the George W. Bush presidency may very well be preventing Fergie from gaining greater control of the NFL.

10. Dallas Cowboys: Tony Romo got married and put his gift registry online. And Dez Bryant spent a lot of time getting in trouble at the mall. Not wildly exciting stuff, but the Cowboys are more than doing their share to keep our economy afloat.

9. Chicago Bears: They're not the Cubs or White Sox. There's little more they could do to get in the good graces of Chicagoans even if they tried.

8. Houston Texans: With the threat of there being no NFL season, so far no one has bothered to predict that the Texans will be this year's "breakout team!" If there's been one positive of the lockout, it might be that -- unlike every other year -- no media members have set themselves up for humiliation by predicting Texans success.

7. Carolina Panthers: They haven't lost any games all offseason. It could be worse.

6. San Francisco 49ers: This offseason they hired Jim Harbaugh, the hot, must-have college coach. Those guys always have success. If not in the NFL, then at their next college job.

5. Green Bay Packers: The Packers are getting a special allowance from the league to have the coaches and players meet for their ring ceremony. Sounds to me like the whole "winning the Super Bowl thing" was just part of a devious plan to have an excuse to practice during the lockout.

4. Oakland Raiders: Similar to the teams up top, the Raiders reportedly are feeling the financial pinch of the lockout. However, they didn't lay anyone off. Instead, they are requiring their staff to sell tickets. Nothing wrong with that. In fact, I think they should have their players do that, too.

(Knock, knock)

Hello?

Hi, I'm Robert Gallery. Want to buy some Raiders tickets?

No.

What if I pick you up and throw you out into the street?

Sold!

3. New York Giants: The Giants are no longer associated in any official capacity with Tiki Barber. You can't have a much better offseason than that.

2. Philadelphia Eagles: Michael Vick didn't win the "Madden" cover vote. Great news for the Eagles.

1. Cleveland Browns: Peyton Hillis did win the cover vote. But LeBron lost the NBA Finals, so that will totally take the sting away from Hillis' inevitable spontaneous combustion.

DJ Gallo is the founder of SportsPickle.com. His first book, "The View from the Upper Deck," is available from only the finest bargain-book retailers. His next book project will be released soon. You can follow him on Twitter at @DJGalloESPN.