Commentary
2011 offseason scandal power rankings
Originally Published:
June 30, 2011
By
DJ Gallo
| Page 2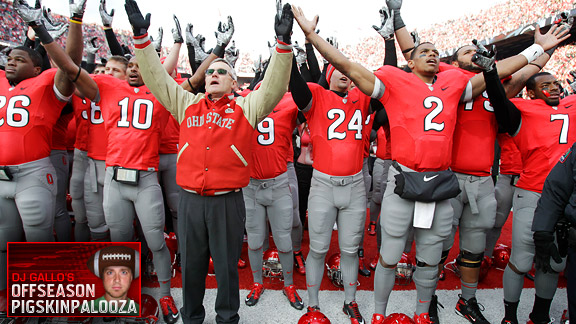 AP Images"OK, raise your hand if you've committed a major NCAA infraction."
The college football offseason is mercifully starting to wind down. We're only a month away from the start of fall practices. But let's not forget the memorable run of off-field news we've had since the Auburn-Oregon title game ended.
Let's honor those accomplishments with a look at the 2011 College Football Offseason Scandal Power Rankings. Did your favorite team do enough to make this prestigious list? Take a look!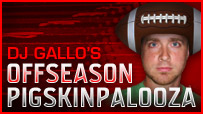 1. Ohio State -- Tattoos, cars, lies, half-truths, memorabilia, suspensions and a resignation. And I think I'm missing a lot more. It's been an impressively scandalous offseason for the Ohio State University. The 2010-11 Buckeyes are the 1971 Nebraska Cornhuskers of off-field corruption. Congratulations?
How they could have improved their ranking: N/A. But at this point, no one would be surprised if we find out Terrelle Pryor has a tattoo on his back like this that depicts the time Jim Tressel handed him the keys to his first Maybach.
2. USC -- USC didn't get into any new trouble this offseason, but it showed the strength of its program's scandalized past. First an appeal of NCAA sanctions was denied. Then came the big blow: the Trojans' 2004 BCS title got stripped. As scandals go, it's like they brought in a great recruiting class a few years ago and have just been coasting off that talent since.
How they could have improved their ranking: Most years, having a national title taken from you would be more than enough to get the No. 1 spot in the College Football Offseason Scandal Power Rankings. There's really not much more the Trojans could have done. They just have to tip their caps to the Ohio State on the Buckeyes' historic offseason and realize that sometimes you just run up against a better/worse program.
3. Oregon -- Not long after reaching its first national championship game, the Ducks' program was quickly thrown into question due to a partnership with shady recruiter Willie Lyles. Then in June, star cornerback/punt returner Cliff Harris was ticketed going 118 mph with a suspended license in a car that was rented and paid for by a university employee.
How they could have improved their ranking: If Willie Lyles was shipping recruits from Texas to Oregon via gratis, speeding sports cars.
4. Auburn -- Like the 2010 BCS standings with Auburn, Oregon and TCU, the 2011 College Football Offseason Scandal Power Rankings have a pretty significant drop-off after the first three teams. While some might point to the Cam Newton cloud that hung over the Tigers all season, that was a decidedly 2010 in-season story. Cecil Newton's cash-for-Cam program is as 2010 as Icing Bros. The Tigers grab the fourth spot because they had four players arrested for robbery in March. And also because, yeah, the Cam Newton thing. Forget what I wrote earlier about it being 2010. That cloud isn't going away for a long time.

How they could have improved their ranking: If the person who was robbed was Cam Newton. And if the take was $200,000 in cash.

5. West Virginia -- Certain programs aren't measured by championships or even wins. All that matters is that you beat your biggest rival. It's like that with Ohio State-Michigan. Same with Auburn-Alabama. And so, too, West Virginia-Pitt.
The Panthers probably thought they had locked in a spot ahead of the Mountaineers in the Scandal Rankings by hiring a head coach in Mike Haywood who was subsequently charged with a felony over a domestic incident, causing Pitt to fire him two weeks after hiring him (and touting his character in the introductory press conference). But, NO! Back came the Mountaineers! What a rivalry!
First came stories of head coach-in-waiting Dana Holgorsen getting thrown out of every drinking establishment in The Mountain State. Then acting head coach Bill Stewart was attempting to plant negative stories about Holgorsen in hopes he could hang onto his job permanently. And then Stewart was forced out, giving the job to the guy who we now know has only been thrown out of some of the drinking establishments in The Mountain State.
Good try, Pitt. But in a historic rivalry, you need to finish your opponent.
How they could have improved their ranking: By forcing Stewart and Holgorsen out in order to give the head coach job to Mike Haywood.
6. North Carolina -- This month the NCAA notified North Carolina of numerous "potential major violations." And because all college football scandals must have some car element to them, there's this -- eight UNC football players accumulated 317 parking tickets. Now that is impressive.
How they could have improved their ranking: By linking any of this to the North Carolina basketball program so people would actually notice something happened.
7. Pitt -- See the above.
How they could have improved their ranking: By originally hiring Holgorsen, which many Pitt fans wanted the program to do. No, really. They did. Just imagine if the timing had worked: Haywood followed by Holgorsen. Wow. Pitt might have given Ohio State a run for its (memorabilia sales-earned) money.
8. Alabama -- One of the most sad, bizarre and yet not remotely surprising stories of the offseason has been the Auburn Tree Poisoner story. You know all about it: Alabama fan Harvey Updyke poisons the trees on Toomer's Corner, brags about his deed on Paul Finebaum's radio show, gets tracked down, gets arrested, gets charged and gets attacked at a convenience store after a court appearance, etc.
Of course, it's hard to pin any of the blame for this crime on the Alabama football program. And I'm not doing that, nor should anyone else. However, the famed tree poisoner named his children "Crimson" and "Bear." I'm sorry, Alabama, but when your football program inspires someone to harm children, you have to take some of the blame.
How they could have improved their ranking: If Alabama built a Harvey Updyke statue right alongside the horrifying new Nick Saban statue.
9. Clemson -- In early June, Tigers recruit Mike Bellamy posted a picture on Facebook of himself posing with a huge wad of $100 bills. Hmm. Peculiar. He later claimed it was a joke. But most high school students don't have access to piles of $100 bills, even for joking purposes. And this came three years after Clemson recruit Kenneth Page put a photo on MySpace -- remember that (I mean MySpace, not the photo)? -- of himself holding a stack of cash. So either Clemson is paying its top recruits or it is recruiting players who have had wildly successful paper routes and/or lemonade stand businesses.
How they could have improved their ranking: By having recruits tweet pictures of themselves holding cash. Come on, Facebook? If you want something to go viral, Twitter is the way. Someone better check out Friendster to see if Clemson recruits are putting incriminating photos on there.
10. Place Holder -- Yes, the college football season is not far off. But we've still got two months before games start. I'm fully confident a new program can come along and crack this list.
How they could have improved their ranking: Model themselves after the Ohio State in every possible way.
DJ Gallo is the founder of SportsPickle.com. His first book, "The View from the Upper Deck," is available from only the finest bargain-book retailers. His next book project will be released soon. You can follow him on Twitter at @DJGalloESPN.