Commentary
The horror of academic scandals
Originally Published:
July 7, 2011
By
DJ Gallo
| Page 2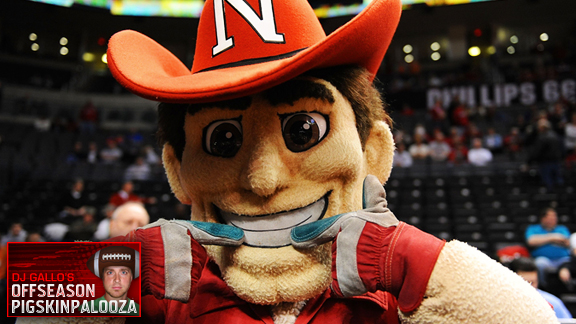 Getty ImagesHerbie Husker is having the last laugh on his Big 10 opponents ... because he just aced his LSAT.
Another week, another huge cheating scandal in college football.
This time it's the Nebraska Cornhuskers. Set to begin play in the Big Ten, it seems they decided they had to cheat to keep up with the likes of Ohio State.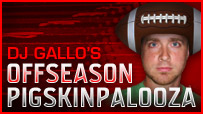 So what did they do? Buy cars for their players? No. Have tutors write papers and take tests? Nope. Give their players lucrative, no-show jobs? Wrong again.
Here's what the Cornhuskers did, by their own admission: "Starting last November, NU found that a total of 238 student-athletes over a four-year span were allowed to use scholarship money to purchase 'recommended' textbooks when only 'required' are covered."
I'll give you a minute to pull yourself up off the floor. Ready? OK, if you'll recall, before you passed out from shock and horror, you learned that Nebraska had allowed its athletes to use scholarship money to buy class textbooks that were "recommended" by their professors. That's an NCAA violation! SCANDALOUS!
Nebraska has placed itself on a two-year probation and imposed a fine of $28,000 on its athletic department. Now its fate rests in the hands of the NCAA. "Whether they feel we have done enough, we don't know," said athletic director Tom Osborne.
Ha! Good try, Tom. But there's nothing you can do to take back the in-depth education many of those 238 athletes received via access to additional educational texts. The deed is done, sir. Pandora's box has been opened and what came out is smart people. I don't know how you sleep at night.
But what's truly troubling is not just the education Nebraska gave its student-athletes -- although that is very upsetting indeed -- but the repercussions that Nebraska's actions could have throughout big-time college sports.
Before the Nebraska story broke, all previous scandals were to benefit the "athlete" part of "student-athlete." What if other programs went the Nebraska route and started cheating in order to produce better students? I don't think we'd like what we see.
• It was revealed today that several Ohio State players have been trading game-used memorabilia for lab equipment. Others received tutoring. One Ohio State player reportedly traded his jersey for a large tattoo, which is said to be of the periodic table of elements.
• According to local officials, Terrelle Pryor has racked up numerous late fees from local libraries during his three years in Columbus. "I just love books so much, it's hard for me to return them, even though I usually read them cover to cover within the first 24 hours I take them out," said the quarterback.
• Questions have also been raised about cars that Pryor and other Ohio State athletes have been spotted driving around campus. Designed and manufactured from scratch in their advanced mechanical engineering class, it is not known if the vehicles are street legal.
• Ohio State announced today that five of its best players will miss the first five games of the 2011 college football season. "They're all enrolled in a very difficult class and we want to make sure their priorities are in the right place and that they start the semester off strong," said Ohio State athletic director Gene Smith. "This decision will definitely hurt us on the field. But I know our fans care more that these players get a good education."
• Former Ohio State running back Maurice Clarett said today that former head coach Jim Tressel was aware of what was going on in his program. "If you let him know you needed something, he'd make sure a booster hooked you up with the textbook, no matter the price or current availability," said Clarett.
• Oregon admitted today that it had a relationship with a scout who delivered them the players with the best grades from the top private high schools in Texas.
• USC has learned its 2004 national title will be stripped after it was revealed that star running back Reggie Bush took a course load beyond the maximum limit allowed by the NCAA for student-athletes. However, it's not all bad news for Bush, as he announced his engagement to the supremely brilliant, yet admittedly homely, Nobel winner Karen Kardashian. Kardashian gained notoriety a few years ago when she released a tape detailing the mating habits of deep-sea mollusks.
• Rev. Cecil Newton, father of former Auburn quarterback Cam Newton, said again today that he does not regret his actions while trying to find his son a school. "I know schools have set tuitions, but I was willing to pay as much as $200,000 a year to get Cam into the best educational institution in America if I had to," said Rev. Newton.
• It was discovered today that several schools have had sports "tutors" -- very athletic students -- take physical tests in order to get high school athletes with great SAT scores onto their teams. One high school athlete, who had a perfect SAT score but could run only a 5.9 40-yard-dash with a 17-inch vertical jump, had a sports tutor take the Presidential Fitness Test for him.
See? It would be terrible. In this offseason of college football scandals, Nebraska's nerdy scandal must be punished the harshest.
If the Huskers get off easy, other schools could follow their lead, and soon we'll have football fields covered with smart people with only marginal athletic ability. Yuck. No one wants that.
Given the choice, sports fans will watch great athletes with no business being in an academic institution over nerdball any day. And you know it.
Death penalty for Nebraska! Save college football!
DJ Gallo is the founder of SportsPickle.com. His first book, "The View from the Upper Deck," is available from only the finest bargain-book retailers. His next book project will be released soon. You can follow him on Twitter at @DJGalloESPN.