By D.J. Gallo
Special to Page 2
June has come and gone, and every sports fan knows what that means. That's right -- the Red Sox are eliminated in the A.L. East. But it also means the year is halfway complete, and those 2004 preview articles you read back in January are six months old.
And old is not good. Old is Martina Navratilova. New is Maria Sharapova.
So here's a new preview of 2004, or what's left of it -- including all of the events you need to circle on your calendar, and a handy preview of each. May it both inform you and cause you to break into shrieks of pleasure matched in intensity only by Sharapova's on-court grunts.
July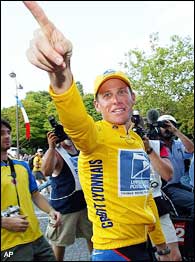 Lance and Sheryl will always have Paris.
Tour de France
As far as the American public is concerned, there are only two possible outcomes at the Tour de France: 1. Lance Armstrong will win, or 2. he'll lose. But there is more to it than that. For example, if Armstrong wins, we can expect his girlfriend, Sheryl Crow, to release a new album with songs such as "Everyday is a Winding Road With Multiple Switchbacks at Nearly 35-Degree Inclines" and "All I Wanna Do is Have Some Fun and Go On a Six-Hour, 130-Mile Training Ride."
If he loses? Crow's first blues album. But either way, we all lose because there will be a new Sheryl Crow album.
Wimbledon Finals
When Andy Roddick wins, he'll give a much-needed shot in the arm to U.S. men's tennis, as well as extend the trucker-hat fad for another month or two. (A nation of fans unconcerned with the state of U.S. men's tennis will unite in prayer this weekend, asking the Supreme Being for a Roddick loss and delivery from the fad.) On the women's side, Jennifer Capriati's failure to make the finals foiled her opportunity to change forever how we relate her name to the word "grass."
MLB All-Star Game
Last year, the American League won to secure homefield advantage in the World Series, something that was invaluable to the Yankees on the way to their 27th world champi -- oh, wait --no they didn't! HA-HA-HA-HA-HA-HA-HA-HA-HA-HA-HA-HA-HA -- pause for breath -- HA-HA-HA-HA-HA-HA-HA-HA-HA-HA-HA-HA-HA -- pause for dramatic effect -- HA-HA.
British Open Golf
Tiger Woods will decide to leave his fiancÚ at home for the British since he has yet to win a major in her company. But those of you who watch golf simply for the frequent shots of Ms. Nordegren need not despair -- Phil Mickelson's shapely, buxom form will be there to ogle.
NFL Training Camps
Most noteworthy will be the New York Giants camp. The players can expect a difficult go of it under new coach Tom Coughlin. And Coughlin can expect a few calls from Eli Manning's daddy, requesting that he not be so tough on his fragile little boy.
Baseball Hall of Fame Inductions
As always, Pete Rose will set up shop in Cooperstown and take deserved attention away from the inductees. Look for MLB to end the Rose issue for good by announcing that his lifetime ban from the game will stand -- not because of his gambling, but because a Hall of Fame bust of Pete's hair would be too hideous for public display.
Mike Tyson's First Comeback Fight
If reports are true that Mike Tyson has been living like a homeless person, he is likely quite hungry. So his opponent will wear ear guards and leave his children at home ... in case Tyson wants to eat them, as well.
August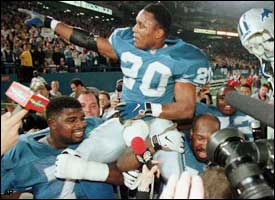 Barry Sanders racked up 15,269 career rushing yards.
Pro Football Hall of Fame Inductions
Barry Sanders, John Elway, Carl Eller, and Bob Brown make up the '04 induction class. Elway will be introduced by his daughter, who will credit Terrell Davis for her father's two Super Bowl titles. Sanders will be presented by Matt Millen, who will make numerous pathetic pleas in his speech begging Sanders to return to the Lions. Eller is to have his name called by Bubba Smith, who hasn't been seen in public since "Police Academy 6: City Under Siege" debuted in 1989. And Brown will be introduced by his wife, Whitney Houston.
Summer Olympics
The threat of terrorism is the biggest issue heading into the Summer Games. In an effort to prevent an attack, Athens '04 officials will restrict ticket holders who are known Al-Qaeda members to upper-deck seating at all events to keep them as far from the action as possible. Also, shortly before the Games begin, the International Olympic Committee will announce a new drug policy that subjects all terrorists to steroid testing.
PGA Championship
The last three PGA Championships have been won by middle-of-the-road players whose abilities were lightly regarded on Tour: Shawn Micheel, Rich Beem and David Toms. That trend will continue when Tiger Woods wins at Whistling Straits.
Little League World Series
Little League officials always stress that all of the teams that reach Williamsport are champions. So, like the University of Texas baseball team, LLWS qualifiers won't need an actual trophy to know they are champions.
College Football Season Begins
The season begins on the 28th with the Black Coaches Association Classic, which pits Southern Cal versus Virginia Tech. The match-up will determine once and for all who is the greatest black coach in college football -- Pete Carroll or Frank Beamer.
Kobe Bryant Trial Begins
The prosecution will concentrate on jury selection to stack the jury with Sacramento Kings and San Antonio Spurs fans. As a result, Kobe won't be back on the court for four years to life.
September
NFL Regular Season Begins
The NFL season will begin with a rematch of last year's AFC Championship game -- Colts vs. Patriots. The early line will be +/- 5 for Peyton Manning interceptions. Smart money will be on the plus. And if Eli starts for the Giants, the smarter money will go plus-12 on total Manning family interceptions in Week One.
U.S. Open Tennis Finals
As Halle Berry is about to hit movie screens in a catsuit, Serena Williams will seek to match her by reprising her 2002 Open outfit. With luck, Anna Kournikova or one of the other Russian tennis babes will decide to get in on the competition, too. And then maybe they'll all start fighting or something and they'll have to be hosed down with a special hose that only dispenses whipped cream and somebody will catch it on all film. You know, or whatever. Just a thought. It wouldn't have to be exactly like that, I guess.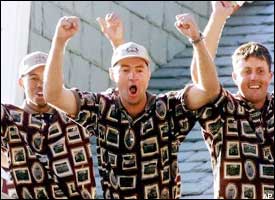 Hey, the U.S. hasn't won since they tossed those shirts.
Ryder Cup Golf
The last time the Ryder Cup was held on American soil, U.S. team members angered their opponents with an excessive celebration on the 17th green. But looking back, the biggest embarrassment for the Americans was not the way they stomped all over Jose Maria Olazabal's line, but rather those horrid shirts they wore. The team will redeem itself this year by looking beyond the clearance rack at J.C. Penney when it shops for its polos.
October
MLB Playoffs and World Series
The World Series will finish up just days before the Presidential Election on Nov. 2, so the game broadcasts will be deluged with campaign messages during commercial breaks. Bush's ads will stress that Kerry's policy views over the years have waffled more than a Tim Wakefield knuckleball. Kerry's spots will highlight the fact that Bush has accumulated a deficit so large it's exceeded only by the Yankees' payroll.
Derek Jeter will have the opportunity to reprise his role as the modern 'Mr. October.' Which is important to him, since his play this year has pretty much ensured he'll never be referred to as 'Mr. April' or 'Mr. May.'
The chic pick at the beginning of the year -- a Cubs-Red Sox World Series -- will have faded for good by late August. Guess that shows what chics know about sports. (And what I know about spelling.)
NHL Regular Season Begins
The NHL's labor strife will result in a delay of the season's start, setting off two ripple effects: 1) Mario Lemieux will strike against Pittsburgh ownership, namely Mario Lemieux; and 2) the world's octopus fishing industry will be crippled by the loss of sales to Red Wings fans.
NBA Regular Season Begins
The talk leading up to the NBA's tip-off will not center on where Shaq is playing, but on whether the new season will start before or after the league's fans perform a mass exorcism to rid themselves of the Black Eyed Peas' "Let's Get It Started" ear worm. By the time the new season tips off, we will know who signed Kobe: the Lakers, the Clippers, the Spurs or the team with the No. 1 draft pick in the Colorado Prison Basketball League.
Breeders' Cup
Promoters will stage an intensive ad campaign leading up to the races to counter the public misconception that the Breeders' Cup determines which NBA player can sire the most illegitimate children. In fact, it is the annual world thoroughbred championships. (Although it might not be a bad idea to wager a few bucks on Shawn Kemp.)
November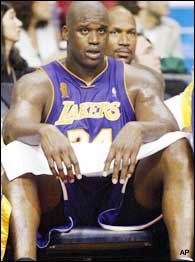 Where will Shaq be come next season?
New York Marathon
The top four finishers and 10 of the first 15 at last year's race were Kenyan. The top American? Seventeenth. Maybe if we Americans weren't all so obese this wouldn't happen. That's right -- you there at the computer, reading this on your lunch break while you devour a microwaved burrito with extra beef and cheese. Stop being such a fatty and go out and win a marathon. Kenya is laughing at us thanks to you, chunky.
College Basketball Regular Season Begins
An interesting fact about the upcoming college season: With more than a dozen teenagers selected in the 2004 NBA Draft, the NBA now has a lower average age than that of NCAA basketball.
Ford 400
The final race in NASCAR's "Chase for the Nextel Cup." Because gas prices have continued to stay up, the race will be reduced to 40 laps and drivers will be behind the wheels of gas-electric hybrids. Speeds won't get above 75 mph, but at least fuel costs will be kept under control.
December
Heisman Trophy Award Winner Announced
The greatest thing about the Heisman is that the winners become part of a tight-knit club, a community. For example, past winners Eric Crouch, Rashaan Salaam and Gino Torretta return to the Downtown Athletic Club five days a week to work as janitors. Before this year's ceremony, Jason White will announce that he'll do the same once the Sooners' bowl game is over.
College Football Bowl Games Begin
By late December, the BCS system will have proven again to be an absolute failure. But since college football officials will refuse to scrap the computer system completely, they will compromise by handing over control of the BCS to Stephen Hawking. He's some kind of genius, half-man, half-cyborg anyway, right? It will be the best of both worlds.
D.J. Gallo is a regular contributor to ESPN the Magazine, as well as the founder and sole writer of the award-winning sports satire site SportsPickle.com.