By DJ Gallo
Special to Page 2
Every year when NFL training camps open, it seems, there are more questions than answers. But not this year. This year, Page 2 already has the answers.
What, you expected something less from us?
So here we go: Page 2's NFL training camp preview.
How Will Ricky Williams' Retirement Affect the Dolphins?
Dave Wannstedt will announce during the first day of camp that he is most disappointed in Williams' decision -- not because of its negative effect on the Dolphins, but because he had Williams in a fantasy football keeper league. However, the Dolphins will lure Williams back to the team before camp ends by signing former Cowboys offensive lineman Nate Newton and promising Williams a major discount on Newton's finest merchandise.
How Will the Eagles' New Additions -- Terrell Owens and Jevon Kearse -- Blend With the Team?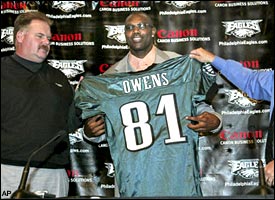 Terrell Owens may regret signing with Philly after all.
Owens and Kearse will be angered to learn from their new teammates that the famed peep-hole into the locker room where the Eagles' cheerleaders dress was in the now-demolished Veterans Stadium, not in Lincoln Financial Field where they will play this year. Kearse will demand that his contract be nullified, although he will back down when the team promises him an autographed copy of the cheerleaders' 2005 lingerie calendar.
Donovan McNabb and Owens will worry the Philly faithful by getting off to a terrible start in camp. Eventually, though, they will realize that their problems -- as well as the inefficiency that has plagued the Eagles' passing attack over the past several years -- are due to the intense gravitational pull from Andy Reid's girth, which has been sending McNabb's passes off-line. The team, then, will balance the force of Reid's gravity by placing Rush Limbaugh on the opposite sideline.
Can Ray Lewis Avoid the Madden Jinx?
In past years, Michael Vick, Marshall Faulk, Daunte Culpepper and Eddie George have all suffered under the weight of the Madden cover jinx. Ray-Ray will be the latest casualty, going down for the season with a torn ACL during the first week of training camp. In a cruel twist of fate, Lewis won't be injured on the field, but rather in front of his bathroom mirror as he practices his newest -- and most feminine --pre-game dance routine yet.
And in a development not necessarily related to the Madden jinx, the four remaining Ravens who have not been charged with a felony at any point in their careers will be indicted on separate charges by the end of the second week of camp. The charges range from attempted manslaughter and recording a game without the express written consent of the NFL, to cocaine trafficking and living in Baltimore without publicly acknowledging Cal Ripken Jr. as the Messiah (a grievous violation of local law).
Can Peyton Manning Rebound from His Disastrous Performance in Last Year's AFC Championship Game?
No. Peyton's season will get off to a horrendous start. Colts officials will place him in a mental institution after they discover that he spends 11 hours each day watching tape of himself watching tape. When psychiatrists learn that Manning, who has a $99 million contract, inexplicably pays only $5.50 for his haircuts at an Indianapolis barbershop named Dorky McShavely's, they will insist that he stay at the clinic for intense counseling for 60 days -- well into the first month of the regular season.
How Will the Giants Fare With Tom Coughlin at the Helm?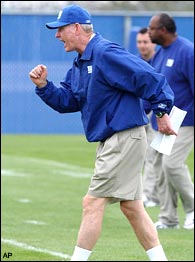 The Giants should beware of Tom the Tyrant.
The Giants' training camp will be shut down by Red Cross inspectors and the U.S. Army during the first week, when photos are leaked that show several assistant coaches giving the 'thumbs-up' sign in front of a tangled heap of clearly-exhausted and undernourished offensive linemen at the 50-yard line. To avoid the dreaded visit from 'The Turk,' Jesse Palmer will try to win favor with Coughlin by presenting the coach with a single red rose before each day's practice. Instead, Palmer will receive the brunt of Coughlin's special brand of torture -- 300 push-ups, 100 ladder sprints and having to bathe Ron Dayne at the end of each day's practice.
Once Coughlin's regime is replaced by an interim coaching staff, camp will return to normal for the Giants. Eli Manning's daddy will bring him a sandwich and his jello in a Smurfs lunchbox each day, and demand that Eli's teammates stop giving him wedgies. Kurt Warner will continue to struggle; and, for the first time, blame God for his failings. Warner's wife will leave him to dedicate all of her time to calling New York's many sports talk radio shows.
Will Kellen Winslow Jr. Make an Impact with the Browns?
No. Before training camp ends, Winslow Jr. will follow his heart and enlist in the Marines.
Are the Patriots Set to Repeat?
With New England's biggest hole filled by the acquisition of running back Corey Dillon, the answer is "yes." Other than that, there are only three questions left to be answered in Patriots camp: 1) Will Bill Belichick insist on wearing a hooded sweatshirt even during the stifling August heat?; 2) Will Ty Law be able to feed his starving family?; and 3) Will anyone find nude photos of Tom Brady's girlfriend, Bridget Moynahan, in his locker and post them on the Internet?
The answers are: 1) Yes; 2) Only if he gets paid; and 3) Here's hoping.
Are the Packers a Playoff Team?
Yes. The Packers will address their most glaring weakness -- stopping teams on fourth-and-26 -- by spending two hours of practice each day defending against those pesky fourth-and-20-or-more situations. The practice will have paid off by camp's end when Green Bay's top defensive unit is stopping its practice-squad offense an amazing 29 percent of the time in such situations.
Will Joe Gibbs Struggle in His Return to the Game?
Yes. Gibbs will have great difficulty in adapting to the changes the game has seen since he last coached, including the radio system that now connects the quarterback to the coach and the development of the forward pass.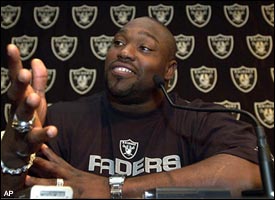 Can't wait to see Sapp in those silver pants.
Are the Raiders Back or Are They Still Not Worth Watching?
The only reason to watch the Raiders is to see if Warren Sapp's massive quantity of butt sweat is as visible in his silver Raiders uniform pants as it was in his pewter Tampa Bay pants. And that's not enough of a reason to watch.
Will Arizona's Influx of Young Talent Excite its Fan Base?
Most definitely. Thanks to the presence of Larry Fitzgerald, Anquan Boldin and Josh McCown -- in addition to the arrival of Dennis Green -- the Cardinals will sell eight season ticket packages before Week 1, a franchise record.
Will Fred Taylor Be Able to Stay Injury-Free Again This Year?
Probab ... actually, no. While I was typing that I got word that he pulled his groin while trying on a pair of jeans at the mall. He'll be out until late September.
What About All of the New Faces in Dallas?
The Cowboys will lose Drew Henson on July 30, the first day of camp, when the New York Yankees buy back his rights. (The Yankees will then trade him to the Arizona Diamondbacks for Randy Johnson.)
Eddie George's downward spiral will continue, as he fails to average 3.0 yards per carry even in training camp drills where there are no defenders. Due to George's struggles and the blandness of the Cowboys' offense as a whole, Bill Parcells will fire offensive coordinator Maurice Carthon and replace him with a Japanese World War II veteran.
Keyshawn Johnson will also make his presence felt during the first week of camp when he loudly demands to the press that he not have to share the ball in the Dallas offense with Wayne Chrebet.
D.J. Gallo is a regular contributor to ESPN The Magazine, as well as the founder and sole writer of the award-winning sports satire site SportsPickle.com.