By DJ Gallo
Special to Page 2
Indiana men's basketball coach Kelvin Sampson was punished by the NCAA last week for placing -- along with his staff -- 577 impermissible cell phone calls to recruits while at Oklahoma. Because of that, Sampson is not allowed to make off-campus visits or call recruits for an entire year.
Beth A. Keiser/AP Photo
The newest weapon in a coach's recruiting arsenal.
But that doesn't mean Sampson is prohibited from contacting recruits. Thanks to a loophole in the NCAA's recruiting guidelines, coaches can text message prospects as much as they want.
Now, the days when I was being heavily recruited by every major college program for sports ranging from basketball and football to water polo and lacrosse came just before text messaging really took off. So I have no firsthand knowledge of what it might be like to receive a text message from Mike Krzyzewski or Joe Paterno.
I can only imagine …
Mike Krzyzewski: "[profanity deleted] [profanity deleted] [profanity deleted] [profanity deleted] i want u armed with not just a jump shot or a dribble. [profanity deleted] [profanity deleted] [profanity deleted] i want u armed 4 [profanity deleted] life."
Sidney Lowe: "if unc and duke don't want u, u should consider nc state. Please?"
Bruce Weber: "I prefer txting 2 talking on the phone. This way recruits don't have to get creeped out by my weird voice. LOL."
Bruce Pearl: "Do me a favor and save all of your txt msgs from Illinois in case I can use them somehow to get Illinois suspended by the NCAA for recruiting violations."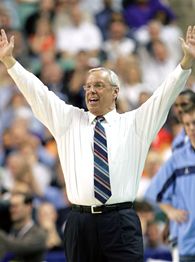 Gerry Broome/AP Photo
"Yes! Another one's followin' me to Carolina!"
Roy Williams: "i hear u have verbally committed to Kansas?! I hope that's not true. Just go back on your word and tell them ur leaving for UNC … just like me! ROTFL"
Thad Matta: "U will be a great replacement for Greg Oden when he leaves after his freshman year."
Rick Pitino: "Larry Bird isn't going to walk through my door. Kevin McHale is not walking through my door and Robert Parish is not walking through my door. U R walking through my door! Please come to Louisville!"
Steve Alford: "U might B 2 young 2 remember this, but I actually used 2 B a very highly-regarded young coaching prospect. No, really!"
Jay Wright: "I just caught a reflection of myself in my cell phone screen and -- damn! -- I'm looking handsome 2day."
Larry Eustachy: "Do U like 2 party?!"
Jim Calhoun: "I see U on tape and U look like just the kind of player I'd love to scream at and cuss out for even the littlest things. And then in 2 or 3 yrs you'll grow to hate me so much you'll jump to the NBA. So come to UConn and fulfill your NBA dream!"
Bobby Knight: "i hate these [profanity deleted] cell phones. [profanity deleted] roaming charges. And [profanity deleted] txt msging, too. I'm not doing this [profanity deleted]. Come 2 texas tech or don't. I don't give a [profanity deleted]."
And, of course, football coaches text message recruits just as much as their basketball brethren:
Charlie Weis: "I really like cake. do u like cake?"
Bobby Bowden: "Don't worry bout that arrest. You'll always be welcome at FSU. We know it wasn't your fault -- at least, assuming you can still run a 4.3 40, that is."
Larry Coker: "The 7th Flo' Crew has a space for u! Come to Miami and get muddied by the whole dang crew!"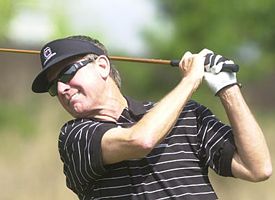 Mary Ann Chastain/AP Photo
Texting is a great way for Spurrier to keep up with people on the golf course.
Steve Spurrier: "OMG -- you should see this 5 iron I just hit. Totally nutted it. I could really help yer swing if u come here."
Jeff Tedford: "I can make u in2 an nfl qb! A terrible nfl qb, but that's better than not making it at all, right?"
Jim Tressel: "U R the playmaker we need at Ohio St! Someone with your skills I would definitely get the ball to 3 or 4 Xs a game!"
Lloyd Carr: "Did u know that Tom Brady played at Michigan? Of course, it took Charlie Weis to make him great, but … how do you clear txt on these things? Please txt me back and let me know. Oh, and please don't go 2 Notre Dame."
Ralph Friedgen: "It's hard for me 2 txt msg. My sausage fingers hit 2 or 3 buttons at a time."
Chuck Amato: "I coached Mario Williams -- the #1 overall pick in the nfl draft! Sure, the Texans were morons 2 pick him and he's nowhere near as good as R. Bush, but I still coached him! Just think -- U could b the next ill-advised #1 pick!"
George O'Leary: "I am the right coach 4U. Not only have I won 15 Super Bowls and 25 ncaa titles, but I was a 2-term president and also cured polio in the minutes after I became the 1st man 2 walk on the moon. C. Fla is the best program in the country. I wouldn't have willingly left Notre Dame 4 here if it wasn't!"
Bill Callahan: "Bet U haven't gotten a txt msg from Oklahoma yet, huh? Those rednecks don't know how 2 txt! LOL."
Joe Paterno: "What the heck is a text message?"
DJ Gallo is a regular contributor to ESPN The Magazine as well as the founder and sole writer of the award-winning sports satire site SportsPickle.com. He also contributes headlines to The Onion.