By DJ Gallo
Page 2
With just two weeks left in the regular season, 24 teams have either clinched a spot in the postseason or are still in contention for the playoffs. Yet I see only eight teams with a legitimate shot at winning the Super Bowl -- and each has a serious problem that could get in its way.
Let's take a look: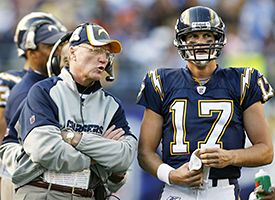 Aggie Skirball/WireImage.com
Marty breaks the news to Philip about how the rest of the season is going to go.
1. San Diego Chargers: Inexperience at quarterback
Philip Rivers has been fairly solid all season, but it's hard to make a team with a first-year starter at quarterback a prohibitive Super Bowl favorite. Sunday night's performance proved that, as Rivers went just 8-for-23 for 97 yards with two interceptions against an average Kansas City defense. But Chargers fans shouldn't worry too much. I'm sure that come playoff time Marty Schottenheimer will take the ball completely out of Rivers' hands with an inspired game plan full of draws and dive plays.
2. Chicago Bears: Inconsistency at quarterback
Let's just say I'm pretty sure that Muhsin Muhammad is the only person in the entire country who has given Rex Grossman a Pro Bowl vote via cell phone or any other means.
3. New England Patriots: Injuries
The Patriots need to get healthy if they are going to have a shot at the Super Bowl. Ben Watson, Vince Wilfork, Rodney Harrison and Laurence Maroney all missed Sunday's game due to injury. And then there's the most serious Patriots injury of all: Tom Brady's severely broken heart. The NFL fines defensive players for the slightest little hit on a quarterback, yet the league has yet to come down on Bridget Moynahan for delivering a brutal blow to the chest of its biggest star? For shame, NFL. For shame. (Wait, what's that? You say Tom Terrific and Ms. Moynahan split amicably? Perhaps. But I see pain in those eyes. I see vulnerability. And that combination makes him even more handsome -- if that's even possible.)
4. Cincinnati Bengals: Defense
Cincinnati's defense has been better in recent weeks, but there still is plenty of room for improvement. What they need to do is toughen up and make sure no one gets behind them. Those are also good rules of thumb for the Bengals when they go to prison.
5. Dallas Cowboys: Pass defense
The Cowboys can't win the Super Bowl if they don't shore up their pass defense. Lucky for them, I have a way they can do it. But it's a rather out-of-the-box idea: Sign Carmelo Anthony to play cornerback. He is a great athlete and, as Saturday night's Nuggets-Knicks brawl proved, Anthony could play tight and bump a wide receiver at the line of scrimmage, but then still sprint backwards remarkably fast to get back in coverage. Plus, he'd be a good locker-room companion for Terrell Owens because he hates snitching.
6. Indianapolis Colts: Run defense
The Colts can't stop anyone on the ground. That has been established. But that fact could actually work in their favor come playoff time. Opposing teams will try to eat up clock by running the ball against the Colts to keep Peyton Manning off the field. But it's almost impossible to run the ball against Indianapolis without scoring in 90 seconds or less. Advantage: Colts.
7. Baltimore Ravens: Quarterback situation
Baltimore clinched a playoff spot Sunday, but the Ravens were reminded that they are just a play away from handing over their Super Bowl hopes to Kyle Boller. Starting quarterback Steve McNair was knocked out in the first quarter on a bizarre play in which a Browns player stepped on McNair's hand, leaving a bloody gash. The whole thing was made even more bizarre when Ray Lewis fled the stadium in a speeding limousine and then ditched his uniform.
8. New Orleans Saints: Inexperience
The Saints have as much talent as anyone, but I suspect their youth and inexperience could -- to use an old cliché that has nothing to do with Hollis Thomas -- cause them to fade down the stretch like a fat asthmatic who is no longer on steroids.
---
Headlines …
Vince Young fails to deliver any late-game heroics versus Jaguars
Terrell Owens spits out extra pills onto DeAngelo Hall
Jim Mora: "I was just kidding with my game plan for the Cowboys"
Bears fans call for Brian Griese to start at defensive back
Things I thought I thought while spitting on a Starbucks barista for messing up my order …
1. I would just like to say that I can't believe we're all talking about Terrell Owens again. And, oddly enough, I am choosing to express that sentiment by talking about him. Strange, huh?
2. The next few days will tell us if Joey Porter learned anything last week over the whole Kellen Winslow/homosexual slur incident. This Sunday he spent an entire day around the Carolina Panthers' cheerleaders and, unfortunately, I won't be surprised if it comes out that he had a few choice words for them. Hopefully, though, he just referred to them as "bicurious" or simply "beautiful, wonderful lesbians" and avoided any slurs.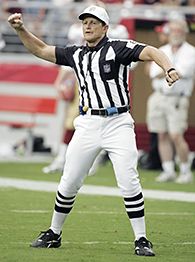 Mike Moore/WireImage.com
Here at Page 2, we like to run photos of Ed Hochuli every chance we get.
3. Ed Hochuli was in Green Bay on Sunday to referee Brett Favre's game in which he set the NFL record for career completions. Hochuli? Favre? Lambeau Field? An NFL record? I don't know, I think that's way too much testosterone in one place. In fact, those are some dangerously high levels. Don't be surprised if we soon find out that every woman in attendance was impregnated simply by being there. Probably some men, too. And nine months from now they'll all deliver a huge bicep covered in stubble.
4. Sunday night's Chargers-Chiefs game turned in the second quarter, when San Diego had a punt blocked deep in its own end but managed to get a first down out of it after a Chiefs player touched the ball. Somewhere I bet Oakland's offensive coordinator was watching and became extremely excited over the prospect of being able to go three-and-out in your own end, have a punt blocked and then somehow get a first down out of it. This could be the basis of Oakland's offense for the next few years. (This is assuming, of course, that the Raiders actually have an offensive coordinator. I kind of suspect that they don't.)
5. Not that any player roots against another player, but I bet Trent Dilfer has really enjoyed watching Brad Johnson play this season, because now when people talk about teams with awful quarterbacks having Super Bowl aspirations, they'll say: "Heck, if Trent Dilfer and Brad Johnson won Super Bowls, then this guy can." Johnson has always been on the cusp of making that sentence, but I think this year's performance puts him in there for good. And I'm sure Dilfer is happy to have the company.
6. The new Subway commercials with Michael Strahan and Jared are bizarre. The two yell "More meat!" and "Less fat!" back and forth at each other and then break into disturbingly sincere giggles. I'd like to see earlier takes of the commercial, though, from before the two developed their chemistry. I bet in the first run-through Jared yelled "Less fat!" and Strahan yelled back: "Say that to my face! Look a man in the eye before you disparage his sub. Come on. You have something to say about the nutritional value of your sandwich, then step up and say it to me like a man."
7. I don't want to tell someone how they should parent, but it's time Archie Manning gets Jeremy Shockey removed from the Giants before young Eli gets killed. Every time Eli does something stupid you can see a rage build up inside Blondy McTattoo. One of these days he's going to snap, and it's going to be all over for the littlest Manning. So Archie needs to act now. Or, barring Shockey's removal from the Giants, Archie needs to make the NFL adopt an in-the-area rule like baseball has for the second base bag in turning double plays. Just think how much more accurate Eli would be if all he had to do was put the ball within three feet of his receiver for it to count as a completion. That would put his completion percentage way up near 61 or 62 percent.
8. Finally, I would like to make an offer to the Cincinnati Bengals. I read over the weekend that a sports columnist for the Fort Worth Star-Telegram bailed Quincy Carter out of jail after the former NFL quarterback was arrested for marijuana possession. That compelled me to offer to bail out any Bengals player who becomes the 10th Cincinnati player arrested this year. The team is currently stuck at eight arrests (not including the 40 or so Chris Henry got all by himself) with less than two weeks left in the year, and I think all sports fans are rooting for the Bengals to ensure their place in history with a nice double-digit haul. So that's why I want to do my part. Ten arrests by a single team is something we'd all tell our grandchildren about one day, and I would be honored if I could contribute in some way. I have only one requirement for my bail offer, however: The arrest cannot be for anything that risks the lives of any innocent parties. So DUIs are out. (Sorry, I know those are your specialty.) But there are plenty of other things you can do to get arrested. For instance, maybe one of you can force a turnover Monday night via armed robbery or something. Who knows. You're the experts on getting arrested, not me. So be creative. But get cracking, because time is short. I'll be waiting by the phone.
DJ Gallo is the founder and sole writer of the award-winning sports satire site SportsPickle.com. He is also a regular contributor to ESPN the Magazine and has written for The Onion and Cracked. His first book – "SportsPickle Presents: The View from the Upper Deck" – will be in stores soon.