THE ELUSIVE GYROBALL
Is Daisuke Matsuzaka's ballyhooed pitch real or imagined? Patrick Hruby searches the corners of the globe for the answer. E-Ticket
Sometimes I wish I was a real reporter. I wish I had sources. And credibility. I even wish I had a wide array of colored polo shirts that would conceal food stains.
Unfortunately, I have none of that -- which means that instead of spending February in sunny Florida covering Matsuzaka-mania, I'm stuck at home in the snow some 1,000 miles away.
I do think I could do it, though. I do believe I could give Daisuke Matsuzaka some additional -- and much-needed -- attention by filing an in-depth report on what a typical spring training day is like for the Japanese superstar.
And this is probably how it would look: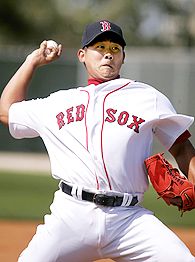 AP Photo/Steven Senne
That ball's about to burst into flames, you know.
10:05 a.m.
I'm so excited. I am here in Red Sox camp and I'm about to see Daisuke Matsuzaka --
the
Daisuke Matsuzaka, the man (god?) who is very likely the greatest pitcher ever -- throw. It's just long toss, but … whoa! And there it went! I can't even describe it. As he released the ball there was a huge, blinding flash of light and intense heat. The grass around him even caught fire. Obviously he throws the ball so fast it actually explodes out of his hand. Amazing. Oh … wait a minute. Never mind. I just realized that flash was due to the 75,000 Japanese photographers gathered around Matsuzaka simultaneously taking his picture.
10:25 a.m.
It is amazing to see the amount of attention that Matsuzaka receives. On a team full of big-name players, he's the only thing going this spring training. Take Jonathan Papelbon, for example. Last year he was a phenom and the biggest story on the team, but this year his switch from the bullpen to the rotation has been reduced to a secondary news item. Or take new Red Sox acquisition J.D. Drew. He's been laying prone in the outfield grass, moaning and wailing for the last 48 hours with some sort of pulled or torn muscle or tendon or ligament or something. But people are just stepping over him on their way to see Matsuzaka.
10:40 a.m.
There has been a lot of talk about Matsuzaka and his rumored "gyroball." Well, I just saw it while Daisuke was throwing his sideline session, and the pitch is as magical as advertised. It darts and dives in and out of the strike zone. Completely unhittable. The only downside is that the league probably won't let Matsuzaka throw it because the gyroball only works when the ball is smeared with tzatziki or some other kind of thick, yogurt-based dressing. So that's a problem -- but perhaps also a blessing in disguise for the Red Sox, because keeping Daisuke away from thick, yogurt-based sauces might help him curtail his recent weight gain.
10:44 a.m.
Speaking of his weight gain, some people in the Red Sox organization are concerned that Matsuzaka showed up looking out of shape even though they gave him a huge contract. And others believe Daisuke's midsection is swelling due to an infection caused by his soul rotting away inside of him -- a decomposition that began, of course, when he signed with Scott Boras.
11:25 a.m.
Another problem with Matsuzaka being out of shape is that his durability was a concern even without the weight gain, as starters in Japan pitch every six or seven days instead of every five. That's why the Red Sox are putting their high-priced import on an intense workout regimen. Instead of doing 10 sets of jumping jacks and two minutes of light jogging every day during spring training like the other pitchers on staff, Matsuzaka is required to do 12 sets of jumping jacks and three minutes of light jogging. That's right -- three minutes of light jogging and he's only allowed a five-minute break in the middle. It's a brutal workout, but it will be worth it later on.
12:08 p.m.
Matsuzaka just said something in passing to Curt Schilling in Japanese, and Schilling pretended he understood him. I think Schilling is struggling to admit that Japanese is perhaps the one thing in the world he is not an expert on.
12:12 p.m.
To his credit, though, Schilling is going out of his way to help Matsuzaka learn English. He has even given his new teammate flash cards with such helpful American phrases as "I hate tax and spend liberals" and "We're fighting them over there so we don't have to fight them here."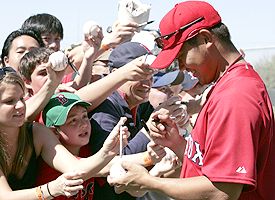 AP Photo/Brita Meng Outzen
You only get an autograph if you can spell his name correctly.
12:58 p.m.
The team is breaking for lunch now. Matsuzaka shotgunned an Asahi beer and then headed out of the locker room to hit up a rib joint with Schilling, David Ortiz and Kevin Youkilis. This is bad. But at least the Red Sox will be able to make money from the sale of authentic Matsuzaka jerseys every time he goes up another size.
1:40 p.m.
Most casual fans don't know this, but Matsuzaka isn't the only Japanese rookie on the Red Sox. The team acquired a player by the name of Hideki Okajima this offseason, too. And from watching him just throw batting practice, he's a solid pitcher. But the level of buzz Matsuzaka is generating dwarfs Okajima. And it's no mystery why. Matsuzaka is a 26-year-old starter with big strikeout numbers, while Okajima is a 31-year-old middle reliever. Plus, the Red Sox shelled out $51 million just to talk to Matsuzaka, while getting a conversation with Okajima only cost them a $50 Dunkin' Donuts gift card redeemable at any Boston area location through the end of May.
1:35 p.m.
Even though Matsuzaka is already a huge superstar making tons of money, his teammates are treating him like any other rookie. For instance, Jason Varitek is having Matsuzaka tote his equipment around. And Ortiz just played a good prank, instructing Matsuzaka to go into the locker room to fetch his glove. After 30 minutes of looking, Ortiz finally let Matsuzaka in on the joke and told him he doesn't have a glove because he only hits and therefore isn't a real baseball player.
2:19 p.m.
Matsuzaka is holding a short press conference with his interpreter. The backdrop behind them is covered with the logo of Funai. The Japanese electronics manufacturer is paying Boston big money this year to have its logo splashed all over the team's media room so they can get greater exposure in the U.S. and Japan. The Red Sox almost got a huge sponsorship fee out of the company, but then Funai realized they would also have their logo up during Manny Ramirez interviews and immediately cut their offer in half.
2:24 p.m.
By the way, I have nothing of note to report from the press conference. It's really hard to follow those things. The Red Sox thankfully provide an interpreter for Matsuzaka, but they also need to provide an interpreter for when Boston media members ask questions. Japanese is no easier for me to understand than a sentence in "English" that is missing 20 R's.
2:55 p.m.
Matsuzaka is doing some more light throwing, and while he is impressive to watch, I think I'm going to call it a day and head out of here a little early. All of the flashing cameras are starting to get to me and I'm worried I might have retina damage. But mostly I'm leaving because I'm a little weirded out by the amount of media and fans stalking Matsuzaka. An inordinate amount of those trying to get close to him are wearing sweatpants and no underwear. Creepy.
By the way, it's great that Manny Ramirez has arrived. He's really going to enjoy all of the bright, flashing lights and shiny camera equipment.
DJ Gallo is the founder and sole writer of the award-winning sports satire site SportsPickle.com. He is also a regular contributor to ESPN the Magazine and the new Cracked magazine, and has written for The Onion. His first book -- "SportsPickle Presents: The View from the Upper Deck" -- will be in stores in May.