Page 2's 2007 MLB calendar

July 1: The sale price of the Chicago Cubs skyrockets as current Cubs players made rich by the team vastly overpaying them enter into a bidding war for ownership rights to the franchise.
PAGE 2'S MLB CALENDAR
Want to know what's going to happen every day of this baseball season? We have all the answers.
July 2: The Mariners publicly announce that Ichiro Suzuki is available in a trade, but general manager Bill Bavasi is rebuffed in his request that any team who wishes to acquire Ichiro first give Seattle a posting fee of $51 million.
July 3: The Brewers ask Prince Fielder to please stop trying to eat the sausages during the Miller Park Sausage Race.
July 4: The Chicago White Sox put on a fireworks show for the home fans to celebrate Independence Day, using explosives donated to the team by Chicago Bears lineman Tank Johnson.
July 5: Having exhausted every possible headline pun to bash Alex Rodriguez and Carl Pavano, the New York tabloids put their sports sections on hiatus until Eli Manning shows up at Giants training camp.
July 6: Braves slugger Andruw Jones continues to give maximum effort in his contract year by nearly getting to a full jog after hitting a ground ball out against the Padres.
July 7: Forced to put at least one Kansas City Royals player on the American League roster for the All-Star Game, the league selects Mike Sweeney but tells him the game is in Tampa Bay, hoping he won't show up for the festivities in San Francisco.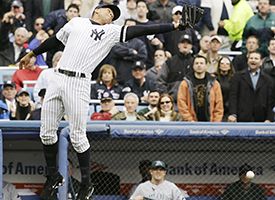 AP Photo/Kathy Willens
A-Rod got off to a great start in the field on Monday.
July 8:
Super-agent Scott Boras tells his clients he unfortunately cannot attend the All-Star Game in San Francisco because being close to all of the stadium's famous garlic fries could be fatal to him.
July 9: All-Star sluggers put on the most exciting Home Run Derby ever at San Francisco's AT&T Park, as they seriously injure more than three dozen rafters in McCovey Cove with their deluge of home run balls.
July 10: After the National League beats the American League 5-4 in the All-Star Game, Alex Rodriguez invites all the players over to his hotel room for a sleepover. Only Brian Giles shows up, however, and he is completely naked.
July 11: The league apologizes to the Kansas City Royals for forgetting to invite any of their players to the All-Star Game.
July 12: Yankees star prospect Philip Hughes is injured in a freak accident when former Yankees prospect Brien Taylor hits him head-on while traveling on the New Jersey Turnpike.
July 13: Barry Bonds' personal trainer, Greg Anderson, is sent back to jail for refusing a judge's order to shave off his ridiculous soul patch.
July 14: With two outs, a runner on second and first base open, with Derrek Lee up to bat, Roger Clemens holds a press conference to announce he is considering issuing an intentional walk.
July 15: Red Sox pitcher Daisuke Matsuzaka is placed on the 15-day disabled list with shoulder tightness, causing 10,000 Japanese photographers to get laid off from their jobs.
July 16: Hoping a new blend might toughen his hands even more, before a game against the Padres, Mets outfielder Moises Alou asks Padres pitcher Greg Maddux to urinate on his hands. Maddux happily obliges.
July 17: After more than a year of investigation, George Mitchell finally publishes his report on steroids in baseball. The report reads in its entirety: "Just read 'Game Of Shadows.' I've got nothing."
July 18: David Ortiz comes through in the clutch again by pushing Manny Ramirez away a moment before Ramirez tries to lick the clubhouse stove.
July 19: As rumors continue to swirl that Boston's Daisuke Matsuzaka is going to unveil his mysterious "gyroball," the Texas Rangers organization is thrown into a frenzy over a report that a Rangers minor leaguer can throw both a magic curving ball -- called a "curveball" -- and a fastball over 85 mph. The team says this is the first such player they have had since Nolan Ryan.
July 20: Indians catcher Victor Martinez meets with his struggling pitching staff to urge them to pitch aggressively, reminding them that it's OK to give up extra-base hits since his weak throwing arm will allow anyone on first base to steal their way to second or third anyway.
July 21: With Ben Sheets healthy and the team in first place in the National League Central, the Brewers trade Sheets to the Yankees, figuring his stock will never be higher and they can get some good prospects in return to start a rebuilding program.
July 22: Billionaire Dodgers minor league reliever Matt White purchases the Dodgers and makes himself the team's No. 1 starter and cleanup hitter.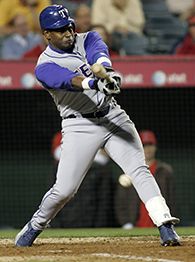 AP Photo/Francis Specker
Sosa might want to try vitamins ... or something.
July 23:
Struggling Red Sox pitcher Josh Beckett tells his teammates that if they can just do their part and get him to Game 7 of the World Series, he will make it through an entire appearance without giving up more than four runs.
July 24: With the dog days of summer setting in, Sammy Sosa tells his Rangers teammates he oddly feels a lot more tired at this point in the season than he can remember feeling in the past.
July 25: Pirates general manager David Littlefield tells reporters he practices his own form of Moneyball, in which the team's payroll cannot exceed the amount of cash he can fit inside a ceramic baseball bank he keeps on his desk.
July 26: Barry Bonds hits his record-breaking 756th career home run at home against the Braves, with Hank Aaron in attendance. Aaron meets Bonds at home plate, hugs him, and then drops him with a knee to the crotch.
July 27: Before their home game against the Marlins, the Giants honor Bonds' accomplishment by giving him a $1,000 gift certificate to BALCO, a copy of "Game of Shadows" signed by the authors, and a card from all of his past teammates saying they will never speak to a grand jury about him.
July 28: Mark Prior returns to the mound for the Cubs and pitches a no-hitter through seven innings, but then is injured when manager Lou Piniella accidentally hits him with a base while arguing balls and strikes.
July 29: Cal Ripken Jr. and Tony Gwynn are inducted into the Hall of Fame, but Gwynn steals the show by tearfully calling his family his foundation, moments before the stage collapses under his weight.
July 30: All but mathematically eliminated from playoff contention, the Nationals decide to just play every game for the rest of the season completely drunk.
July 31: With just hours remaining before the trade deadline, Nationals general manager Jim Bowden decides it would be best for the team if he trades Alfonso Soriano for prospects.
DJ Gallo is the founder and sole writer of the sports satire site SportsPickle.com. He is also a regular contributor to ESPN The Magazine and has written for The Onion and Cracked. His first book -- "SportsPickle Presents: The View from the Upper Deck" -- will be in stores in May. Preorder is available here.