Page 2's 2007 MLB predictions

June 1: St. Louis Cardinals slugger Albert Pujols opens a package from his mother in the clubhouse, pulling out a birthday card and a T-shirt that says: "Lordy, Lordy, Look Who's 40," but quickly buries the T-shirt in his locker before anyone can see it.
PAGE 2'S MLB CALENDAR
Want to know what's going to happen every day of this baseball season? We have all the answers.
June 2: With reports surfacing that Roger Clemens is finally about to make up his mind, the Marlins hurriedly offer him the league minimum salary prorated over the remainder of the season. The offer is turned down.
June 3: Roger Clemens signs with the Houston Astros for $20 million, including a contract provision granting his request that all games he pitches in must be played in the backyard of his suburban home.
June 4: The Tampa Bay Devil Rays set a franchise low for attendance in the finale of a four-game set against the Royals, with just one fan -- the fan whose loyalty Devil Rays president Matthew Silverman won on eBay during the offseason -- in attendance. And the Royals' broadcast shows that lone fan is hopelessly weeping while chained to his seat with his eyes peeled open "Clockwork Orange" style.
June 5: Curt Schilling rips the Red Sox in a post on his blog for refusing to give him a press pass for entry into Boston's locker room because he is a blogger.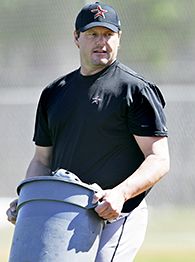 AP Photo/David J. Phillip
The Rocket will have to clean up his backyard field to get it ready for major league action.
June 6:
Looking for a bigger advantage to help their moribund pitching staff, the Rockies get rid of their humidor and begin using soft-core cloth baseballs stored at the bottom of their hot tub.
June 7: Giants lefty Barry Zito makes yet another unapproved adjustment to his delivery and gives up 13 runs to the Diamondbacks in one-third of an inning while throwing right-handed.
June 8: The Pittsburgh Pirates excitedly begin a three-game interleague series in New York against the Yankees and spend most of the opening game on their cell phones asking friends and relatives to turn on the TV so they can see that they actually are real major league players.
June 9: Looking to address the decreasing number of young black players in baseball, commissioner Bud Selig shows how much marketing savvy he has by releasing a rap album called "The Great Sport Of Baseball Is Really Quite Dope, Yo" under the name MC Selig.
June 10: With Randy Johnson's ERA hovering near 6.00 and his strikeout total way down, the Diamondbacks accuse the Yankees of trading them a different Randy Johnson than the one they turned over to New York two years ago.
June 11: Tired of getting embarrassed by him, the St. Louis Cardinals batting-practice pitcher begins pitching around Albert Pujols before each game.
June 12: Cubs fans begin lining up outside Wrigley Field hours before the gates open for a game against the Mariners in the hope of being one of the first 10,000 inside the stadium who will receive a free signed Kerry Wood MRI printout.
June 13: Reds pitcher Bronson Arroyo collaborates with Reds fan Nick Lachey to record an album unofficially called "The Worst Album Ever."
June 14: The Nationals make it home safely from their three-game series in Baltimore despite having their bus' brake line cut by Orioles owner Peter Angelos.
June 15: The Los Angeles Angels take a one-hour trip from Anaheim to their hometown of Los Angeles to play the Dodgers.
June 16: Roger Clemens pitches his first game of the season and then promptly announces a four-day retirement to end when his spot in the rotation comes up again.
June 17: To pass the time and amuse himself during a delay due to a brief rain shower during a start against the Cubs, Padres pitcher Greg Maddux urinates on home plate umpire Jeff Kellogg.
June 18: After losing their fifth consecutive game for the sixth time already this season, the Royals hold their sixth players-only meeting, hoping this one will do the trick.
June 19: Tired of being excluded from all the players-only meetings, the Royals' coaches hold a meeting in manager Buddy Bell's office, but keep the door open to the locker room and loudly talk about how they wish they could manage players who were actually good at baseball.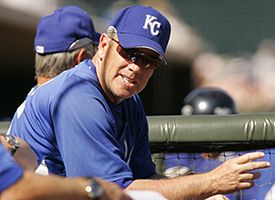 AP Photo/Tony Gutierrez
Buddy Bell sends his players messages even when talking to his coaches.
June 20:
Former Phillies catcher Darren Daulton is finally placed in a mental-health facility after he tells friends the Phillies are the team to beat this year.
June 21: The Giants dangle young third baseman Pedro Feliz in the hope of landing a veteran leadoff hitter but are rebuffed when opposing general managers remind them that the 32-year-old Feliz is only young on the Giants.
June 22: Tony La Russa passes out during the eighth inning of a tight game against the Phillies, thereby allowing his left-handed reliever to stay in the game and pitch to two right-handed batters. Upon learning what he allowed to happen upon waking up, La Russa vows to never drink again.
June 23: Thanks to the continued mentoring of veteran Kenny Rogers, Tigers manager Jim Leyland announces that all of his young starters are now cheating asses.
June 24: Red Sox players play a prank on David Ortiz, telling him Terry Francona has penciled him into the lineup at first base and that he has to go buy a glove and learn how to field and catch before the 1:05 p.m. first pitch.
June 25: New Giants manager Bruce Bochy criticizes teams who don't pitch to Barry Bonds. "Take San Diego's old manager," Bochy says. "That guy was a total coward. He never pitched to Bonds."
June 26: Orioles manager Sam Perlozzo gets in a heated argument with pitching coach Leo Mazzone in the Baltimore dugout, telling him that if he's not going to make the team's pitchers any better, the least he can do is stop with the freakin' rocking.
June 27: The Colorado Rockies become atheists after seeing that all their prayers have done absolutely nothing to help get them out of last place.
June 28: Tigers manager Jim Leyland puts out his cigarette on Sean Casey's eye, just to see if his good-natured first baseman is capable of anger, but Casey merely smiles and tells his manager he is glad he could be of service to him before heading off to get medical attention.
June 29: White Sox manager Ozzie Guillen releases his first book: "Ozzie Guillen's Spanish-To-English-Sailor Dictionary."
June 30: Standout Nationals third baseman Ryan Zimmerman fields his first ground ball of the year against the Pirates, marking the first time all season Washington's pitchers didn't have a pitch hit for a home run or at least to the warning track.
DJ Gallo is the founder and sole writer of the sports satire site SportsPickle.com. He is also a regular contributor to ESPN The Magazine and has written for The Onion and Cracked. His first book -- "SportsPickle Presents: The View from the Upper Deck" -- will be in stores in May. Preorder is available here.