The Masters teed off Thursday morning at 8 a.m. But live television coverage doesn't begin until 4 p.m ET.
What will you hear once you flip on the TV this afternoon? Well, I can tell you. I can't tell you who will be the leader, of course, but I can tell you all the terms, phrases and story lines that will be drummed into your head over the next four days.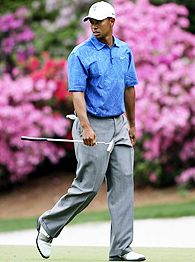 AP Photo/Amy Sancetta
Tiger Woods is very familiar with Amen Corner.
What follows is a list of 18 such things. They are in no particular order, other than the one I put them in after hours of deliberation. Oh, and why 18? Because there are 18 holes on a golf course. Get it? Man, that is truly inspired. I don't know how I come up with this stuff sometimes.
1. "A tradition unlike any other, the Masters on CBS"
Isn't every tradition a tradition unlike any other? It's a bit presumptuous to pretend the Masters is so superior to anything else done on a regular basis. I love the Masters, but I'm tired of hearing Jim Nantz say this all the time. At least he could change it up a bit, like: "The Masters on CBS, a golf tradition." Or maybe even: "A tradition unlike any other, me sitting behind this desk broadcasting the Masters, while the whole time you are completely unaware that I'm not wearing any pants."
2. "Amen Corner"
This is the term given to the difficult stretch of holes at the far corner of the course -- Nos. 11, 12 and 13 -- that tend to make or break a round. Make it through those holes at even par and consider yourself lucky. Make it through those holes under par and people say a prayer for you because you've clearly sold your soul to Mephistopheles. (And I don't mean Satan, of course. I mean Andy Mephistopheles, the renowned swing coach.)
3. "The green jacket"
No other piece of apparel in sports is treasured as much as the green jacket. Well, except maybe for the jockstrap. A lot of people really treasure the protection provided by the jockstrap.
4. "No European has won the Masters in this century."
Spain's Jose Maria Olazabal was the last European to win it, in 1999. And it's unlikely that drought will end this year. Some people are picking Sweden's Henrik Stenson as a dark-horse candidate, but he didn't even make the cut last year. If anyone will do it, I think it will be Sergio Garcia. I think he has something inside him that the others don't. Oh, wait, no. Sorry. That was just phlegm that was inside him. And he just spit it into the cup.
5. "The champions dinner"
You'll hear plenty of talk about what defending champ Phil Mickelson served past Masters winners on Tuesday night at the exclusive champions dinner: fried chicken, baby back ribs, beef brisket, smoked sausage and ice cream. And with a spread like that, you'll probably also hear that John Daly has made a renewed commitment to golf. I doubt you'll hear Fuzzy Zoeller's name mentioned in relation to the dinner, though. He'll probably be given a pass on his bigoted comments from a few years ago. You remember -- when he said, "Tell him not to serve maple syrup or Labatts or whatever it is they eat up there" after Canadian Mike Weir won in 2003? The guy is a jerk.
6. "The Masters starts on the back nine on Sunday."
I guarantee you'll hear this one. But it's a complete myth. The Masters starts Thursday morning on the front nine. Make sure you are aware of this, golfers. If you show up on Sunday afternoon, it will be too late. You'll have been disqualified. Repeat: ARRIVE AT THE COURSE BEFORE SUNDAY AFTERNOON.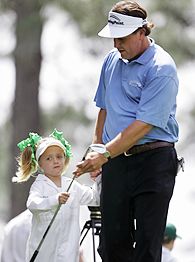 AP Photo/Morry Gash
One category Phil leads Tiger in? Number of children.
7. "Tiger and Phil have won five of the past six Masters and six of the past eight majors."
While this is true, it's also a bit misleading. It gives the impression that there is a real rivalry between Tiger Woods and Phil Mickelson. There isn't. Mickelson even admitted as much this week, saying he can't be compared to Woods. Of course, we'd all love to see an intense rivalry develop between the two -- if only for the chance of seeing their wives get in a catfight along some fairway. (And maybe it would be raining, too. Yeah, yeah -- it would be raining and they'd get all muddy. And then …) Whoops.
8. "You have to be long off the tee to win at Augusta."
This is another myth. Winning at Augusta is more about the short game than crushing the ball off the tee. The only place length might come into play is on the second shot, where you'll need to hit the ball really far to reach the green if you didn't knock it 300-plus yards off the tee. Sort of a Catch-22 I guess.
9. "You have to keep the ball below the hole to win at Augusta."
Hitting approach shots past the holes at Augusta leaves tricky downhill putts. Whereas leaving the ball short of the hole lets players putt aggressively. Personally, I think the player who wins this week will bypass all of this positioning rigmarole and just hit his approach shots right in the cup. I mean, why worry about going long or short when there is another option? It seems like golfers make things harder than they need to be sometimes.
10. "Billy Payne, the new chairman of Augusta National"
The infamous Hootie Johnson stepped aside after last year's tournament, handing over control of Augusta National to Billy Payne. Who is Billy Payne? I'm not exactly sure. But I believe that's him on the right in this picture. You'd think a staid organization like Augusta National Golf Club would make him cut his hair. Shows there's hope for those old coots after all.
11. "The winner of the par-3 tournament has never gone on to win the Masters."
Every year since 1960 there has been a par-3 tournament played at Augusta on the Wednesday before the real tournament starts. This year's par-3 winner was Mark O'Meara. And some people would say that's a bad omen for him, as no par-3 tournament winner has ever gone on to win the Masters in the same week. But isn't it true then that no Masters winner has ever won the par-3 tournament in the same week? Why is that not just as dubious? And who says winning the Masters is so much more prestigious than winning the par-3 tournament? I mean, who other than everyone? See, you can't give me a single name.
12. "Brett Quigley is a proud new father."
Brett Quigley, set to play in his first Masters, left Augusta on Tuesday when his wife went into labor and gave birth to the couple's first child: Lillian Sage Augusta Quigley. (Thankfully she wasn't born two weeks from now. Lillian Sage TPC Louisiana Avondale Quigley would be a terrible name.) But Quigley is back now and ready to play. I just hope Jim Nantz avoids any "Quigley Down Under" puns about the conception or delivery.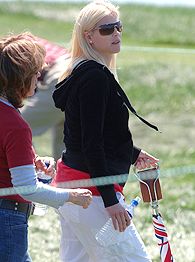 AP Photo/Phelan M. Ebenhack
A pregnant Elin will probably get plenty of camera time this weekend.
13. "Tiger's wife is expecting a baby in July."
Listen carefully, though, and you'll notice no one says for sure that Tiger is the father. I'm 99.9 percent positive he is, of course. But look at his wife -- she's beautiful, and she has a modeling background. Until a DNA test is conducted, no one can know for sure that Tom Brady isn't the real father.
14. "Gary Player is playing in his 50th Masters."
Play on, Player. (I guarantee you bizarro-world Jim Nantz is totally using that pun this week.)
15. "Check out the outfit on Johan Edfors."
Trust me on this. Johan Edfors of Sweden will get some attention for his outfits. In fact, I bet even fellow Swede Jesper Parnevik would tell him his clothes are weird. "Johan, come on. You're going a little overboard with your outfits. Now, if you'll kindly reach down and pick up my ball for me, I'll be on my way. I'd get it myself, of course, but my pants are so tight it's impossible to bend over. Great. Thank you. Enjoy your round, freak."
16. Piano music
The piano music played during the tournament broadcast is as synonymous with the Masters as Rae's Creek and the green jacket. And while I know the Masters is all about tradition, maybe it's time to update the song a little bit for the younger generation. You know, maybe add in a bit of cello, or perhaps a solemn oboe. The kids would think it's totally rad.
17. "Girls have cooties."
OK, so you may not hear that phrase exactly. But a lot of the Augusta National members on-site this week will be thinking it, as the club still doesn't allow female members, four years after Martha Burk's (poorly attended) protest. And while Phil Mickelson's presence used to mean that there was at least one golfer with bosoms on Augusta's hallowed 18, his offseason weight loss means that's no longer the case. What a shame.
18. "The azaleas are beautiful."
For an all-male golf club, Augusta National sure does have a lot of flowers. Hmm. Wait a minute. A bunch of guys who love pretty flowers and want to spend all of their free time around men, not women. I might be on to something here. I better get this over to the news desk. Enjoy the Masters.
DJ Gallo is the founder and sole writer of the sports satire site SportsPickle.com. He is also a regular contributor to ESPN The Magazine and has written for The Onion and Cracked. His first book -- "SportsPickle Presents: The View from the Upper Deck" -- will be in stores in May. Preorder is available here.