The Stanley Cup playoffs begin tonight. (Hi, Canada!)
I love the NHL postseason. But many American sports fans do not. So as a public service to the many casual fans or non-fans out there, I've put together some stories you might be interested in and could compel you to pay attention to this year's playoffs.
Serious hockey fans, beware -- this is written at an elementary level. There is very little insight into the game (which is normally sooooo my specialty), just very basic story lines written in simple language that non-fans can easily comprehend.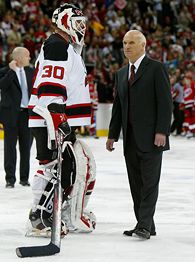 Bruce Bennett/Getty Images
Lou Lamoriello might not be above putting himself in net in lieu of Martin Brodeur.
I have written 16 such items, because there are 16 teams in the playoffs. Can you say "16," everyone? No, "six-teen." Sound it out. Six-teen. Sixteen.
Good. Let's begin.
1. GM on the hot seat: Lou Lamoriello; coach on the hot seat: Lou Lamoriello

New Jersey Devils general manager Lou Lamoriello fired head coach Claude Julien with three games left in the season and installed himself on the bench, even though the Devils were 47-24-8 and in line to win the Atlantic Division. Needless to say, if the No. 2 seed Devils fail to win the Stanley Cup or at least reach the conference finals, Lamoriello will have a lot of explaining to do. And if the Devils are eliminated, look for Lamoriello to get in a heated argument with himself for failing to pick up a scorer at the trade deadline.
2. Wade Dubielewicz also deserves a 15-year contract

Islanders franchise goaltender Rick DiPietro, he of the 15-year contract, has been on the shelf since late last month with post-concussion syndrome. That left the net to AHL journeyman Wade Dubielewicz, who played superbly down the stretch as the Islanders grabbed the last seed in the East. But if Dubielewicz struggles against the top-seeded Sabres, the Islanders don't have too many other options. In fact, their best option might be to go to general manager Garth Snow. Hmm … that gives Lamoriello an idea. Watch your back, Martin Brodeur.
3. "Don Cherry" is Canadian for "Don Imus"
Combative CBC hockey broadcaster Don Cherry will be joining NBC's in-studio crew throughout the Stanley Cup playoffs. Expect him to offend some people. And know going in that Cherry is not a big fan of Europeans, French-Canadians or visors. In fact, the only people he detests more than non-English-speaking visor-wearers are those who would dare suggest that this outfit is not stylish.
4. A is for "Avery" and also for "A-hole"

Ever since on-ice irritant Sean Avery came to the Rangers from the Kings in a trade two months ago, the Rangers have been tougher. They have also been tougher to like because Avery is unlikable. About the only thing he has going for him is that he dates Elisha Cuthbert. Beyond that, there isn't much. Opponents say he plays dirty. He has been accused of making a racial slur against Georges Laraque. And he has made disparaging remarks about French-Canadians. Oh, and he plays without a visor. In short, he's a real Don Cherry guy. But the no-visor thing is definitely a check in the positive category for him besides Cuthbert. It makes it easier for opponents to punch him in the face.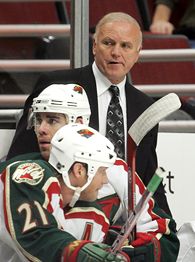 Jonathan Daniel/Getty Images
Can Jacques Lemaire find a way to use two goalies at one?
5. Minnesota's wild goaltending situation (Minnesota … Wild … get it?!)
Niklas Backstrom led the league with a 1.97 goals-against average, but he has no playoff experience. Manny Fernandez has playoff experience, but has been relegated to the bench due to Backstrom's stellar play. Don't be surprised to see Wild head coach Jacques Lemaire go quickly to his nephew, Fernandez, if Backstrom struggles against the potent Anaheim attack. And if Minnesota somehow upsets the No. 2 seed Ducks, it will be because the crafty Lemaire found a way to get both of his goaltenders in net at once without anyone noticing.
6. Daddy, why is that man standing on his head?

Every year at least one playoff team advances a round or two past where it deserves by riding otherworldly play from its goaltender. This year's best candidate to stand on his head is Vancouver's Roberto Luongo. In his seventh year in the league, Luongo was a breakout star this year for the Canucks, putting up 47 wins and a .921 save percentage. Plus, casual fans will be impressed to know that Luongo does a hilarious impression of Sacha Baron Cohen's Jean Girard character from "Talladega Nights." Although I don't think it's on purpose. He just happens to look like Cohen and speak French.
7. Daddy, why are they punching that man in the head?

Just as every year one playoff team advances solely on the play of its goaltender, it seems every year one playoff team loses because of its goaltender, too. And that goaltender often seems to be Marty Turco. Dallas' netminder always plays well in the regular season, but he has won only two of his past 10 playoff games to go along with his .892 career postseason save percentage. I don't think it's fair to criticize him, though. I appreciate that he takes it upon himself to make playoff hockey more fan-friendly by single-handedly increasing scoring. It might be bad for the Stars, but it's good for the league as a whole, and history will reward him for that.
8. Playoff fever returns to Atlanta, although that may just be heat and humidity

When the Atlanta Thrashers take the ice Thursday night to open their series against the Rangers, it will be the first NHL playoff game in Atlanta since 1980, when the Flames played there. Hopefully this will help the NHL move past a sad era in its history in which it moved franchises from historical hockey towns like Atlanta to unknown towns up north in the Canadian wilderness. But I don't think it can ever be equal until we yank the teams out of Toronto and Montreal and put them in hockey towns like Charleston, S.C., and Albuquerque, N.M.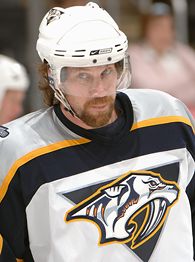 Noah Graham/Getty Images
One way or another, Peter Forsberg is bound to spark a playoff run by the Predators.
9. Peter Forsberg's MRI shows he is a champion
Peter Forsberg was Nashville's huge predeadline acquisition, and he's healthy and ready to help the Predators make a run at the Cup. Forsberg is such a presence it's hard to envision a way he won't at least get Nashville to the second or third round. Either he will lead them there with his stellar two-way play or -- more likely -- he will motivate his teammates to win for their fallen leader after he dislocates or breaks something during his first shift of the playoffs.
10. It's funny -- some say Pittsburgh is still very much in the 1980s

Pittsburgh's roster full of young talent has many hockey experts comparing the team to the Edmonton Oilers dynasty of the 1980s. And it's easy to see the similarities. Sidney Crosby is Wayne Gretzky. Evgeni Malkin is Mark Messier. Ryan Whitney is Kevin Lowe. Heck, even Pittsburgh's Mellon Arena is replete with all the luxuries 1984 provided.
11. The Senators should submit to the will of the people

Ottawa plays Pittsburgh in the first round, and you can bet the league office -- and most casual hockey fans -- will be rooting for Crosby, Malkin and the rest of the young, exciting Penguins to advance. The league can use the ratings Crosby would provide. Of course, if they lose, it's not a tragedy; we're only talking about the loss of maybe 100,000 viewers that would be watching merely for Crosby's star power -- a mere blip in the Nielsen ratings. That would still leave the NHL playoffs with … let me do some quick math here … 1,834 viewers in the United States. (Go Penguins.)
12. Chris Chelios has playoff beards older than you

Detroit Red Wings defenseman Chris Chelios is 45 years old and set for his 22nd playoff appearance, which will set a new league record. And sorry, I have nothing snarky to add about Chelios. I was taught to respect my elders. Although I'm sure I could easily write something nasty about Chelios and not have to worry about him reading it on the Internet. People his age tend to have almost no knowledge of how to navigate its many twists and turns.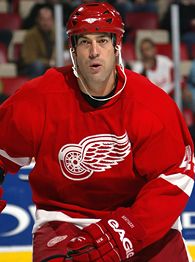 Dave Sandford/Getty Images
We think Todd Bertuzzi will make his impact felt in his first postseason with the Red Wings.
13. Your best bet for goonery
Chris Simon is forced to sit at home for the playoffs, and Tie Domi is retired and getting in confrontations at peewee hockey games. That means the best bet the NHL has for some sort of cheap shot that would result in mainstream media coverage -- Woo-hoo! Any publicity is good publicity! -- is Detroit's Todd Bertuzzi. But it will be tough for Bertuzzi. At least in the first round against Calgary. The Flames are speedy and Bertuzzi will have to strike at their tender necks quickly and accurately if he is to inflict any significant damage and get the NHL some time on network news.
14. Duck! You're about to get punched

Anaheim will throw down with anyone at any time. The Ducks led the NHL with 71 fighting majors this season. The next closest team had 51. Obviously they are badass. I assume they must hang out with those Orange County motorcycle guys instead of the wusses from "Laguna Beach."
15. I would let Christie Brinkley edit me all night long

Throughout the Stanley Cup playoffs, NHL.com is hosting hockey blogs written by celebrity fans including David Boreanaz from "Bones," the bassist for Nickelback and singer Amy Grant. And get this -- all of the celebrity blogs are moderated by Christie Brinkley. That's right, Christie Brinkley. Now, I don't mean to be rude, but I can't imagine anything less compelling than reading what those quasi-celebrities have to say about hockey. Yes, except maybe reading what I have to say about hockey. Touche.
16. What?! Yeah!

OK. Never mind. I take back what I said about the NHL celebrity blog idea. I see now that rapper Lil' Jon is also among the bloggers and I most definitely am interested to read what he has to say about the Stanley Cup playoffs. In fact, I think every player in the league should listen to what he has to say, especially goaltenders. Goalie play is integral to playoff success, and Lil' Jon has long advocated sound goaltending fundamentals: "Get low. Get low. Get low, get low, get low."
DJ Gallo is the founder and sole writer of the sports satire site SportsPickle.com. He is also a regular contributor to ESPN The Magazine and has written for The Onion and Cracked. His first book -- "SportsPickle Presents: The View from the Upper Deck" -- will be in stores in May. Preorder is available here.