We're just one day away from the NFL draft, and it seems no one else is going to give the thing any coverage, so I guess I'll have to do it.
So don't bother waiting for Chris Berman to announce the first-round picks Saturday. Just read below now and find out for yourself.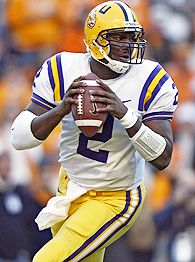 AP Photo/Wade Payne
Here's hoping JaMarcus likes losing.
1. Oakland Raiders: JaMarcus Russell, QB, LSU
Russell shot from under the radar to the odds-on No. 1 overall pick when he torched the Notre Dame defense in the Sugar Bowl. Some believe Russell is overhyped because of that one dominant game. But the Raiders hope that performance was just a sign of things to come. And they are really, really, really hoping their AFC West rivals draft nothing but Notre Dame defensive players.
2. Detroit Lions: Calvin Johnson, WR, Georgia Tech
There is pressure on the Lions to draft anyone other than Johnson, considering the team's recent -- and much-maligned -- history of taking receivers in the first round. But Johnson will be the pick, as he is the best player available. And picking the best player available is a new draft approach for the Lions, who for many years have either drafted for need or, most often, with the peculiar strategy of taking the worst player available.
3. Cleveland Browns: Brady Quinn, QB, Notre Dame
Although the Browns drafted Charlie Frye just two years ago as their quarterback of the future, Quinn is seen as a slight upgrade over Frye and will be the pick here. Expect the Browns to continue this draft strategy of making small improvements at the quarterback position every two years, culminating in their having a slightly above-average NFL quarterback in the year 2027.
4. Tampa Bay Buccaneers: Gaines Adams, DE, Clemson
Jon Gruden hoped Calvin Johnson would still be available here. He won't be. This will cause Gruden to furrow his brow in anger and disappointment. He eventually will come to the realization that he doesn't have a good quarterback to throw the ball to Johnson anyway, meaning Adams is the better fit for his team. Gruden's brow will then begin the gradual process of unfurrowing.
5. Arizona Cardinals: Joe Thomas, OT, Wisconsin
Yippee! The Cardinals have an offensive lineman! Now they only need four more and Edgerrin James' yards-per-carry average will break the magical 1.0 barrier.
6. Washington Redskins: Amobi Okoye, DT, Louisville
Being that Okoye is just 19 years old, someone probably should tell him that Joe Gibbs is actually a highly regarded coach so he gives the old man the proper respect. Because I think Okoye is too young to remember way back when Gibbs actually knew what he was doing.
7. Minnesota Vikings: LaRon Landry, S, LSU
Adrian Peterson is tempting here for the Vikings, but they already have Chester Taylor at running back, whereas Landry will provide instant help in their secondary. He should easily be able to fill the shoes of departed defensive back Fred Smoot. But hopefully he won't fill anything else like Smoot.
8. Atlanta Falcons: Adrian Peterson, RB, Oklahoma
Peterson has huge potential, but is beat-up and prone to injury. I guess in that way he's a lot like his new quarterback's dogs.
9. Miami Dolphins: Leon Hall, CB, Michigan
Hall brings some much-needed youth to an aging yet solid Dolphins defense. And though making the transition from college corner to NFL corner is difficult, he should gain confidence early in training camp thanks to playing against Miami's quarterbacks.
10. Houston Texans: Levi Brown, OT, Penn State
When the big, powerful offensive tackle's name is announced as the Texans' pick, expect his mother to break into tears of joy. And also know that somewhere David Carr will be crying, too.
11. San Francisco 49ers: Adam Carriker, DE, Nebraska
The 49ers have eight draft picks in the first four rounds, so they could easily trade up. Or they could trade down and stockpile even more picks. To be honest, I have no idea what they're going to do. All the other teams, though? I'm 100 percent sure on them. I am a draft expert, after all. You don't think we just guess, do you? That's absurd.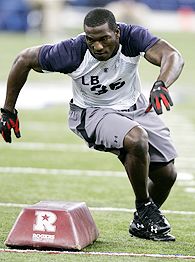 AP Photo/Michael Conroy
Yeah, he looks a little bigger than Gary Coleman.
12. Buffalo Bills: Patrick Willis, MLB, Mississippi
Here's how the meeting between Willis and Marv Levy will go after Willis' name is called:
Levy: "Whatchu talkin' 'bout Willis?"
Willis: "Oh, yeah. Ha-ha. I've heard that one a lot in my life, as you can imagine."
Levy: "No, seriously -- what are you talking about? I'm very old, and I can't hear what you're saying."
13. St. Louis Rams: Alan Branch, DT, Michigan
Branch has slipped on many draft boards because of concerns he has stress fractures in his legs. And I'm sure hearing that has only stressed him out more.
14. Carolina Panthers: Greg Olsen, TE, Miami
Teamed with Steve Smith and Keyshawn Johnson, Olsen will give Carolina's offense a lot more diversity. Their huddle will look almost like a Benetton ad.
15. Pittsburgh Steelers: Lawrence Timmons, OLB, Florida State
The Steelers need help at outside linebacker with Joey Porter gone to the Dolphins. But can Timmons fill Porter's void? Can he get to the quarterback like Porter? Can he provide the same emotion as Porter? Can he be as big an a-hole as Porter? Only time will tell.
16. Green Bay Packers: Marshawn Lynch, RB, California
Lynch and Aaron Rodgers will one day give the Packers a Cal-dominated backfield. Assuming Brett Favre is eventually taken into the woods and put down.
17. Jacksonville Jaguars: Jamaal Anderson, DE, Arkansas
Anderson isn't a sexy pick, but he fills a need. Luckily for him, the Jaguars don't have the kind of fans who will boo a draft pick. In fact, I don't think they have any fans at all.
18. Cincinnati Bengals: Darrelle Revis, CB, Pittsburgh
Revis is a lockdown corner and has amazing speed -- the kind of speed that would allow him to easily outrun the police and spare the Bengals another embarrassing arrest. That's the main reason Cincinnati is so high on him.
19. Tennessee Titans: Robert Meachem, WR, Tennessee
Meachem gets to go from Knoxville all the way to Nashville. Dreams do come true.
20. New York Giants: Joe Staley, OT, Central Michigan
Tom Coughlin was hoping to bring in a draft class of all mutes so they couldn't talk bad about him to the media, but there are no NFL-quality mutes available this year. So the Giants will just take the best speaking player available here.
21. Denver Broncos: Jarvis Moss, DE/OLB, Florida
Moss could provide Denver with a much-needed boost to its moribund pass rush. But he won't. That's because Mike Shanahan will let his ego get the best of him and will start 6-foot-6, 250-pound Moss at tailback, hoping to prove that absolutely anyone can rush for 1,000 yards in his offense.
22. Dallas Cowboys: Dwayne Bowe, WR, LSU
Terrell Owens and Terry Glenn are both in their mid-30s, and Dallas needs to bring some youth to the wide receiver position. Bowe is fast and sure-handed, and he'll be able to swoop in and catch many of the balls that bounce off Owens' brick hands before they hit the ground.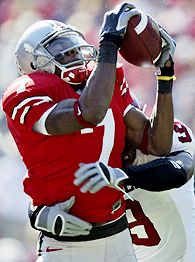 AP Photo/Jay Laprete
Ted Ginn Jr. can run, that's for sure.
23. Kansas City Chiefs: Ted Ginn Jr., WR, Ohio State
With Dante Hall traded away, the Chiefs desperately need someone to run around wildly in circles.
24. New England Patriots: Reggie Nelson, S, Florida
Tom Brady wants him on the Patriots because he heard Nelson has an extensive baby-sitting background. He also fills a need for New England in the secondary, but Nelson's baby-sitting skills supersede anything football related.
25. New York Jets: Aaron Ross, CB, Texas
The Jets don't want or even need Ross, but the NFL draft is all about concealing your hand, and this pick by Eric Mangini will really flummox his rivals.
26. Philadelphia Eagles: Brandon Meriweather, S, Miami
The good news for Meriweather is that he gets to play for a consistent winner. The bad news is that Eagles rookies are responsible for cleaning Donovan McNabb's vomit bucket.
27. New Orleans Saints: Paul Posluszny, LB, Penn State
Posluszny is not only a good player but also a good person. No doubt he would play an active role in rebuilding New Orleans. For example, his head could be used as a cinderblock.
28. New England Patriots: Undisclosed
In a coup for Belichick, he will keep New England's second draft pick a secret from the rest of the league. He will disclose only that the selected player suffered an injury upon getting drafted and will be listed as "questionable" from Week 1 through the remainder of his career.
29. Baltimore Ravens: Justin Blalock, G, Texas
Blalock is a need pick for the Ravens because they plan to use an 11-man offensive line this year, hoping to get Steve McNair through another year without a major injury.
30. San Diego Chargers: Dwayne Jarrett, WR, USC
Jarrett's 40 time is slow, but he has an upside San Diego will be happy to take a chance on. And, heck -- if he doesn't pan out, no harm no foul. The Chargers have managed fine without any threatening wide receivers for 20 years.
31. Chicago Bears: Jon Beason, LB, Miami
Beason gives Chicago some insurance if Lance Briggs doesn't suit up for the Bears this season. Although with Beason being from Miami, he probably has a healthy enough ego to hold out, too.
32. Indianapolis Colts: Justin Harrell, DT, Tennessee
When you are the defending Super Bowl champs and have the last pick in the first round, you don't draft for need; you draft the best player available and hope he adds depth. That's the strategy the Colts will employ here. Although it will have a slight tweak, as Tony Dungy will make sure his team drafts the best straight player available.
DJ Gallo is the founder and sole writer of the sports satire site SportsPickle.com. He is also a regular contributor to ESPN The Magazine and has written for The Onion and Cracked. His first book -- "SportsPickle Presents: The View from the Upper Deck" -- will be in stores in May. Preorder is available here.