Training camps are coming to a close throughout the NFL. Like any good reporter, I kept detailed camp notes with such interesting tidbits as: "The players say two-a-days are tough in the summer heat."
What follows are some of my notes from all 32 NFL camps.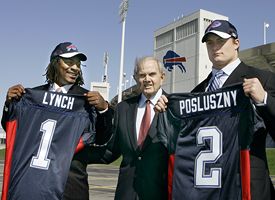 AP Photo/David Duprey
Marshawn Lynch is getting good advice, and Paul Posluszny feels right at home in Bills camp.
AFC East
Buffalo Bills:
Rookie linebacker Paul Posluszny says he feels at home with the Bills because general manager Marv Levy's smell reminds him of Joe Paterno … For the 16th camp in a row, all blocking sleds were dressed in Scott Norwood jerseys … Hall of Fame running back Thurman Thomas visited Bills camp this week and gave rookie Marshawn Lynch some valuable advice on how to have success in the NFL: "If you ever make it to the Super Bowl, try to remember to bring your helmet."
Miami Dolphins: The first week of camp was spent convincing new head coach Cam Cameron that his playbook consisting of 450 pages of the words "Give the ball to LaDainian Tomlinson" would not work well for the Dolphins … New linebacker Joey Porter demanded an additional six lockers be made available for his abs … Trent Green has begun to grasp the offense but is still drooling a lot.
New England Patriots: Tedy Bruschi fired up his teammates on the first day of camp by taking out Chuck Norris with one hand … Several Patriots appear surprised at how much Randy Moss' skills have diminished. Especially Reche Caldwell … Tom Brady's recognition as Esquire's "Best Dressed Man in the World" is expected to make baby goats the hot fashion accessory this fall.
New York Jets: Between two-a-days, head coach Eric Mangini completed his cure for cancer and solved the world's energy problems by successfully developing cold fusion … New running back Thomas Jones says it's nice to play for a quarterback who's not so focused on New Year's Eve … After first-round draft pick Darrelle Revis ended his holdout, he received a text message from Jets legend Joe Namath that read: "I want 2 kiss u."
AFC North
Baltimore Ravens: Tensions developed in camp between head coach Brian Billick and his offensive playcaller, whom Billick called "a smug, unlikable #$@&" … God's Linebacker has lost a step and could leave God's Defense vulnerable to quick-strike offenses.
Cincinnati Bengals: Cincinnati's defensive line will be harder to penetrate this season as all of them are shackled together … Carson Palmer wowed teammates on the first day of camp by suppressing his gag reflex long enough to swallow an end-zone pylon whole … The Bengals have cut down on their off-field transgressions by robbing officials, staff members and fans while still on the field.
Cleveland Browns It took three hours to take Cleveland's team photo in order to get one shot in which Brady Quinn wasn't doing anything that would get him made fun of all over the Internet … Head coach Romeo Crennel says he plans to flip a coin again later this season to decide whether to accept his firing or simply submit his resignation.
Pittsburgh Steelers: Kicker Jeff Reed has been unable to convince coaches that he would kick a lot better if he was shirtless and had a few drinks in him … Sources say quarterback Ben Roethlisberger has not been run over by a New Yorker in a Chrysler in more than a year … New head coach Mike Tomlin has punished players who show up late to meetings or practices by making them share a laundry basket with running back Najeh Davenport.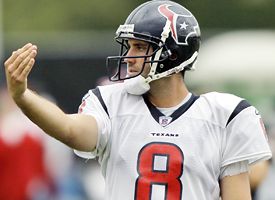 AP Photo/David J. Phillip
Matt Schaub's plan didn't work in Atlanta, and he'll pay the price behind Houston's O-line.
AFC South
Houston Texans:
New quarterback Matt Schaub says he regrets that his plan to rat out Michael Vick to the feds in order to take over the starting job in Atlanta did not pan out in time … Head coach Gary Kubiak kept the atmosphere at camp light by closing each practice with players sharing their best Houston Texans jokes … David Carr was sacked only five times during Texans' training camp.
Indianapolis Colts: Peyton Manning missed a day of camp to film an eBay commercial in which he attempts to sell his brother Eli to another family … Tight end Dallas Clark was disappointed to see this year's "Madden NFL 08" commercials show him getting decapitated.
Jacksonville Jaguars: The Jaguars practiced without pads Thursday, except for running back Fred Taylor, who was dressed in medieval battle armor and then placed inside a protective bubble filled with styrofoam packing peanuts … Unfortunately, the bubble rolled into Byron Leftwich and broke his leg … Taylor accidentally inhaled one of the packing peanuts and was unable to be resuscitated … Most fans at Jaguars camp said they would much rather be at a Florida Gators practice.
Tennessee Titans: Defensive end Kyle Vanden Bosch celebrated his Dutch heritage by wearing wooden cleats on the first day of camp. He missed the following week with severe blisters and splintering … LenDale White took camp very seriously, even going as far as having two-a-days on breakfast, lunch and dinner and three-a-days on dessert … Vince Young just punched his agent for talking him into the Madden cover.
AFC West
Denver Broncos: Coaches say new Broncos running back Travis Henry has all the tools necessary to thrive in Denver's system. He has legs. And also arms, a torso and a head. The only thing Henry needs to work on are ethical issues over his blockers taking out the knees of his would-be tacklers … Head coach Mike Shanahan has completed his preseason regimen of chemical injections to get his skin to a glowing Broncos Orange … According to numerous media reports, Jay Cutler is the greatest quarterback of all-time.
Kansas City Chiefs: The Chiefs were featured on HBO's "Hard Knocks" series this preseason, which provided viewers with a behind-the-scenes look at how Kansas City will go about underutilizing Tony Gonzalez this year … If Brodie Croyle or Damon Huard doesn't work out at quarterback, the Chiefs are said to be interested in signing Joe Montana … Larry Johnson's new contract pays him a $25,000 bonus every time he feels disrespected and is expected to earn him $75 billion over the life of the deal.
Oakland Raiders: Owner Al Davis is said to be so excited about this season that he purchased a new gold chain for his lady glasses … Doctors have diagnosed new head coach Lane Kiffin's mystery ailment as a very severe case of regret … New quarterback Daunte Culpepper was disappointed to arrive in Oakland only to discover Randy Moss had already left.
San Diego Chargers: Shawne Merriman put an end to his "Lights Out" dance because he felt that sort of display was only fitting under a flashy coach like Marty Schottenheimer … New head coach Norv Turner says conservative play calling will not work in the playoffs if the Chargers somehow make the playoffs with Norv Turner as their head coach.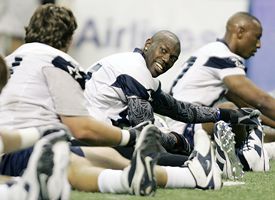 AP Photo/Eric Gay
You cannot throw on Terrell Owens. So don't even try.
NFC East
Dallas Cowboys:
Players say they enjoy training camp more under Wade Phillips than Bill Parcells, because Phillips is more laid back, but mainly because he doesn't wear skin-tight, polyester baseball shorts every day … Terrell Owens has led all players at camp in the number of passes defensed … Tony Romo says his turn-ons are country singers, immobile starting quarterbacks and kicking tees.
New York Giants: Tom Coughlin says the Giants have yet to find a replacement for Tiki Barber, but thinks the team has several players who could undermine his authority just as well … The Giants are using the $14,288 they are fining Michael Strahan each day to create Coughlin's severance package … Giants coaches say they are encouraged that Eli Manning is now wearing Pampers Cruisers, designed for the active baby.
Philadelphia Eagles: Donovan McNabb says he is as healthy as ever and can now even projectile vomit … Kick returner Jeremy Bloom is also 100 percent healthy but has looked slow running back kicks because of his skis.
Washington Redskins: Coaches say new linebacker London Fletcher-Baker reminds them a lot of former Bills linebacker London Fletcher, only older and slower … Joe Gibbs plans to start Mark Brunell at quarterback in Week 1 … Players who have finished reading Al Saunders' 700-page playbook were shocked to discover that Harry Potter dies at the end.
NFC North
Chicago Bears: On the first day of camp, Lovie Smith became the first black coach to open a training camp after losing the Super Bowl … Quarterback Rex Grossman is the top-rated fantasy quarterback in Chicago Bears-only leagues … Rookie tight end and Miami Hurricanes product Greg Olsen was excited to discover his dorm room at training camp was on the 7th Flo'.
Detroit Lions: Head coach Rod Marinelli built team unity by handing out "Fire Millen" T-shirts on the first day of camp … Wide receiver Roy Williams says that if the score means nothing again this year, the Lions will go 16-0 … Marinelli says the Lions purposely average only two or three yards a carry to pull the defense up to the line of scrimmage so they can then throw long.
Green Bay Packers: Brett Favre and his receivers spent much of camp working on timing patterns in which Favre heaves the ball wildly down the field and his receivers try to pull it out of the air just before the defense intercepts it … The Packers took one day off during camp to attend the retirement party of longtime backup Aaron Rodgers … Linebacker A.J. Hawk claims he is not wearing a scary mask designed to sicken and intimidate opponents.
Minnesota Vikings: Rookie running back Adrian Peterson has impressed in his first camp, and coaches say he might also be the team's best quarterback … Head coach Brad Childress left camp for a day to compete in a Gerald McRaney look-alike contest and took home first prize by beating Gerald McRaney … Quarterback Tarvaris Jackson will wear actual Viking horns on his helmet this season in hopes of making opposing defenses think twice about sacking him on every play.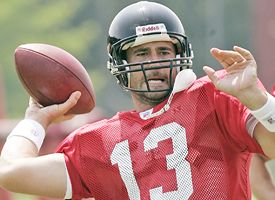 AP Photo/John Bazemore
Joey Harrington and company can begin extending their middle fingers.
NFC South
Atlanta Falcons:
Players on the Falcons admit they expect Joey Harrington to be charged by authorities later this season with Falcon killing … The Falcons do not expect to sign Morten Andersen this year, as they do not expect to ever cross the 50-yard line … With Michael Vick not at camp, other players took turns flipping off fans in hopes of keeping some normalcy around the team.
Carolina Panthers: Rookie receiver Dwayne Jarrett had to cut short his 40 at the NFL scouting combine in order to report to training camp on time … New backup quarterback David Carr was made to feel at home on the first day of camp when the entire defense jumped on top of him … The dance team held training camp at a bathroom stall near Panthers camp.
New Orleans Saints: The Saints worked hard on a new ball-control, clock-eating offense, consisting mainly of one play in which Reggie Bush runs around and around in circles for two minutes, ultimately gaining just a single yard … Quarterback Drew Brees kept camp light by repeatedly telling "My Mama" jokes … Fullback Mike Karney was loudly cheered on at camp from the stands by Lobster Boy, The Bearded Lady and a juggling midget on a unicycle.
Tampa Bay Buccaneers: Ronde Barber says he is disappointed that his brother refuses to tell him where exactly in the world Matt Lauer is … Teammates have begun calling Cadillac Williams "Yugo," "Hyundai" or "1976 AMC Pacer" … Jon Gruden says the Buccaneers are planning to sign Jeff George, Vinny Testaverde and Vince Evans.
NFC West
Arizona Cardinals: New head coach Ken Whisenhunt has done away with the three-man offensive line the Cardinals used last year … Matt Leinart says that with all the new plays he has had to learn, he has no room left in his brain to remember his son's name … Punter Scott Player is expected to take a quarter of the snaps on offense this season.
San Francisco 49ers: Head coach Mike Nolan will wear a suit at games this season, but roamed the sidelines at training camp in nothing but a smoking jacket and slippers … The NFL rejected San Francisco's request to let Alex Smith play with a mini football … Tight end Vernon Davis can fly short distances.
St. Louis Rams: Sources tell me that quarterback Marc Bulger is the godfather of a West Virginia alumni crime syndicate and that Pacman Jones and Chris Henry are merely low-level foot soldiers … Not a single player on the Rams has any idea who Scott Linehan is, either … Running back Steven Jackson says that for months he has been getting issues of several handgun magazines that were mistakenly mailed to him instead of Stephen Jackson of the Golden State Warriors.
Seattle Seahawks: Outside of rookie cornerback Josh Wilson, Mike Holmgren's jowls showed the most growth at camp … No one on the team said he misses Jerramy Stevens … Coaches say Shaun Alexander is back to 100 percent and can run out of bounds as quickly as ever.
DJ Gallo is the founder and sole writer of the sports satire site SportsPickle.com. He is also a regular contributor to ESPN The Magazine and has written for The Onion and Cracked. His first book -- "SportsPickle Presents: The View from the Upper Deck" is on sale now.