Tale of the Tape: Carr vs. Weis vs. Spears
Who's having the worst of it right now -- Michigan football coach Lloyd Carr, Notre Dame football coach Charlie Weis, or former pop sensation Britney Spears? Tough call … and a good excuse for this tale of the tape.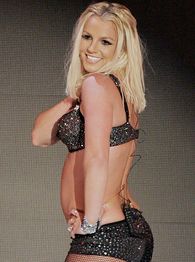 AP Photo/Mark J. Terrill
We miss the old Britney ... don't you?
MOST DISAPPOINTING LOSS
Carr: Appalachian State
Weis: Gastric bypass lawsuit
Spears: Once misplaced her kids for a week
MOST OFTEN COMPARED TO
Carr: Jim Tressel
Weis: Ty Willingham
Spears: Paris Hilton, if Paris was skankier and less talented
BIGGEST PROBLEM
Carr: Team speed
Weis: Rushing offense
Spears: When lip-synching, track shuts off unexpectedly
BEST DEFENSE
Carr: Prevent
Weis: Prevent
Spears: Prozac
BEST VOICE
Carr: Yelling at defense
Weis: Cursing out officials
Spears: Not applicable
PREFERRED HAIRSTYLE
Carr: Hat hair
Weis: Flattop
Spears: Buzz cut
DREAMBOAT QUARTERBACK LINKED TO
Carr: Tom Brady
Weis: Brady Quinn
Spears: Matt Leinart
UNDERWEAR
Carr: Briefs
Weis: Dear God, we hope so
Spears: None
ROLE MODEL
Carr: Bo Schembechler
Weis: Bill Parcells
Spears: Madonna
CURRENTLY MENTORING
Carr: Ryan Mallett
Weis: Jimmy Clausen
Spears: The majority of preteen girls in the country, unfortunately
NEXT PLACE YOU'LL SEE THEM ON TV
Carr: Big Ten Network
Weis: NBC
Spears: Spice

2007 RECORD
Carr: 0-2
Weis: 0-2
Spears: Tin
NEXT OPPONENT
Carr: Notre Dame
Weis: Michigan
Spears: Someone on "Celebrity Fit Club"
NEXT JOB
Carr: Network analyst
Weis: Ty Willingham's offensive coordinator
Spears: Jamie Lynn Spears' cautionary tale
Who's the winner … er, loser? Well, isn't it obvious? Gimme more Britney!
DJ Gallo is the founder and sole writer of the sports satire site SportsPickle.com. He is also a regular contributor to ESPN The Magazine and has written for The Onion and Cracked. His first book – "SportsPickle Presents: The View from the Upper Deck" – is on sale now.