Why did the NFL decide to schedule other games on the same day as this year's Super Bowl: Patriots vs. Cowboys? I have no idea. Doesn't make any sense.
Anyway, I was given the less-than-enjoyable task of watching these meaningless games and reporting back to you on them (as though you care).
But because my attention was focused mostly on The Greatest, Most Important Game Ever Played, you're getting only brief recaps of the others. Then I will tell you what players were deserving of Honorary New England Patriot designation -- players who had days good enough that they could possibly (possibly!) one day make the practice squad of the New England Patriots (The Greatest Team Ever!). And lastly, I rated each game on a scale of 1 to 5, to tell you how deserving it was to be played on the same day as the holiest of holy days: Patriots vs. Cowboys, Oct. 14, 2007.
PACKERS 17, REDSKINS 14
Brief Game Recap: Were you rooting for America, or America's capital? If it's the latter, you are unhappy today.
Honorary New England Patriot: Charles Woodson. Woodson's 57-yard fumble return in the third quarter put the Packers ahead for good. Do you think Peyton Manning could have returned that fumble for a touchdown? Not a chance. Clearly Woodson is the superior player, and he deserved the 1997 Heisman. (Remember: Being a true Patriot means irrationally hating Peyton Manning.)
Final Rating: 1.5 traffic cops on Randy Moss' car out of 5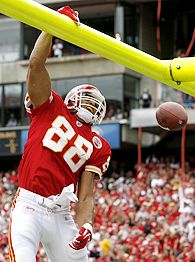 AP Photo/Ed Zurga
The dunk over the goalpost never gets old, does it?
CHIEFS 27, BENGALS 20
Brief Game Recap:
The Bengals used their bye week to focus on getting to the ball carrier. Next year's bye week agenda? Learning to tackle the ball carrier after you get to him. Yeah!
Honorary New England Patriot: Tony Gonzalez. The Kansas City tight end set the career mark for touchdowns at his position with his 63rd and 64th TD catches. Who knows how many more he'd have if he played his entire career with a top-notch quarterback? If he had played with Tom Brady, for example, Gonzalez would probably have 75 -- per season! Brady is just that good! Plus, Gonzalez would never have to watch crappy Bridget Moynahan movies during team flights.
Final Rating: 2 Bridget Moynahan-free Patriots in-flight movies out of 5
VIKINGS 34, BEARS 31
Brief Game Recap: The lead changed hands seven times. Chicago's run defense was exposed. Minnesota's passing offense was exposed, too. Lots of nudity.
Honorary New England Patriot: Adrian Peterson. The Vikings' rookie running back set Minnesota's single-game rushing record by posting 224 yards on the ground against the Bears. Peterson then further proved he is superior to backfield mate Chester Taylor by needing just one punch to knock out Vikings defensive end Erasmus James.
Final Rating: 4.5 Rodney Harrison HGH shipments out of 5
BROWNS 41, DOLPHINS 31
Brief Game Recap: The Dolphins still are without a win after getting shredded by Cleveland's offense. "It is humbling," says Joey Porter. The world will consequently implode.
Honorary New England Patriot: Kellen Winslow. He caught five balls for 90 yards -- compared to Joey Porter's four tackles and no sacks -- definitively winning the trash-talk battle after saying earlier in the week that Porter "needs a hug." So, for his outstanding play on the field -- and appreciation of good hugs -- Winslow is this game's honorary New England Patriot.
Final Rating: 4 adorable baby goats out of 5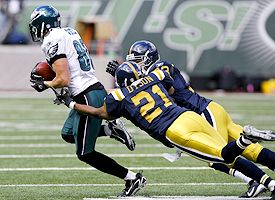 AP Photo/Kathy Willens
Kevin Curtis ... Wes Welker ... it doesn't really matter.
EAGLES 16, JETS 9
Brief Game Recap:
The Eagles outlasted the Jets, who were clad in navy-and-gold throwback uniforms of their previous incarnation, the New York Titans. I don't remember the Titans, but apparently they were just as lousy as the Jets.
Honorary New England Patriot: Wes Welker. The Eagles receiver caught five balls for 121 yards, including a 75-yard first-quarter touchdown that put Philadelphia up to stay. Oh, wait. I'm sorry. It was Kevin Curtis who did this. Wes Welker is on the Patriots. Apologies. White receivers all look the same to me.
Final Rating: 1 Wade Wilson bicep out of 5
BUCCANEERS 13, TITANS 10
Brief Game Recap: Jeff Garcia led the Bucs on a fabulous last-minute drive, setting up Matt Bryant for a game-winning field goal. The Titans fell to 0-2 on the day.
Honorary New England Patriot: EA Sports. Congratulations! It took nearly six weeks and five full games, but your latest Madden cover boy, Vince Young, finally succumbed to the Madden jinx and was injured. You are really great at what you do, EA. I do have one complaint, though -- your video game is not realistic enough. For example, when I play a game as the New England Patriots, I don't know what defensive plays my opponent is running. "If it's in the game, it's in the game" my eye.
Final Rating: 2 Vladimir Putin rings out of 5
JAGUARS 37, TEXANS 17
Brief Game Recap: When a team runs the ball 9-point-something yards a carry in this league, it's going to kick somebody's tail. Or, as Houston head coach Gary Kubiak put it: "When you run the ball for 9-point-something yards a carry in this league, you're kicking somebody's tail."
Honorary New England Patriot: Maurice Jones-Drew. Jones-Drew used his speed to rush for 125 yards and two touchdowns on 12 carries. In fact, I haven't seen that kind of speed since the NFL brushed SpyGate under the carpet.
Final Rating: 2.5 destroyed spy tapes out of 5
RAVENS 22, RAMS 3
Brief Game Recap: The Rams stink.
Honorary New England Patriot: Gus Frerotte. Frerotte threw five interceptions and lost a fumble. But maybe if he bangs his forehead into a wall hard enough, he might think he plays for the New England Patriots.
Final Rating: 1.5 Bill Belichick cougars out of 5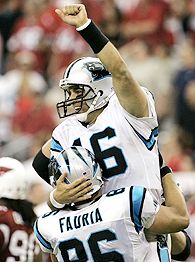 AP Photo/Ross D. Franklin
Is that really Vinny? C'mon, seriously?
PANTHERS 25, CARDINALS 10
Brief Game Recap:
Vinny Testaverde proved that a young whippersnapper like Kurt Warner has nothing on him. Warner, 36, was forced out of the game with an injury -- helping Testaverde, 43, lead Carolina past the Cards.
Honorary New England Patriot: Vinny Testaverde. He spent just two months under the tutelage of Bill Belichick and Tom Brady last year, and look how great he has become! Last season in New England, half -- HALF! -- of his completions went for touchdowns (2-for-3 for 29 yards and 1 TD). And now, free to spread his wings and fly, he is undefeated as a starter in Carolina. I bet New England backup Matt Cassel is the second-greatest quarterback of all time.
Final Rating: 3 reasons for Terrell Owens to live out of 5
CHARGERS 28, RAIDERS 14
Brief Game Recap: The Raiders fell out of first place in the AFC West with the loss to the Chargers. (No, seriously -- the Raiders were in first place. I kept the newspaper standings and everything, just to show people.)
Honorary New England Patriot: LaDainian Tomlinson. Tomlinson's four rushing touchdowns tied his career high. Guess who also had a career high on Sunday? A certain Mr. Tom Brady. With five -- count 'em, five! -- passing touchdowns. Five touchdowns is a whopping 25 percent more than four touchdowns. Four touchdowns is pathetic. You know, I'm actually sickened by the level of football played outside of New England.
Final Rating: 3 Romosexuals out of 5
SAINTS 28, SEAHAWKS 17
Brief Game Recap: The Saints posted their first win of the season, while Seattle coach Mike Holmgren failed to deliver on his promise to fix Seattle's running game. Ah, but he did fix New Orleans' running game.
Honorary New England Patriot: Reggie Bush. As with Tom Brady, announcing crews seem unable to go more than one minute without effusively praising him. At least Brady has accomplished a lot on the pro level. Bush, not so much. It's almost like these people are on his payroll. Or at least on the payroll of his USC-era marketing consultant.
Final Rating: 2 botched Jerry Jones plastic surgeries out of 5
DJ Gallo is the founder and sole writer of the sports satire site SportsPickle.com. He is also a regular contributor to ESPN The Magazine and has written for The Onion and Cracked. His first book – "SportsPickle Presents: The View from the Upper Deck" – is on sale now.