We are just hours away from the first pitch of the World Series. But don't wait until then to find out what's going to happen when I have all the answers here for the biggest questions in the 2007 Fall Classic.
Which team has the best pitching?

On paper, it's definitely the Red Sox. But championships are not won on paper. Josh Beckett, Curt Schilling, Daisuke Matsuzaka and Jonathan Papelbon are all big names that jump out off the page. But the Rockies' Jeff Francis, Manny Corpas and Co. have had the best ERA in baseball over the second half of the season (3.86) and in the playoffs (2.08). And I read those two statistics online, and not on paper, so I am comfortable saying Colorado has the best pitching. Now, if I print that Internet article out onto paper … well, then, all bets are off.
Which team has the best defense?

This is an easy one. It's the Rockies. Colorado set a major league record this season for fielding percentage (.989). These guys gobble up grounders like I gobble up bowl after bowl of Rocky Mountain oysters. De-licious! (Come on, don't tell me you don't like a nice, deep-fried testicle now and then. Although I prefer my testicles tartare.)
The Rockies will especially have the advantage in this series because Boston will be forced to play David Ortiz at first base in Denver. Perhaps you are aware of this already, but other than in two games in the 2004 World Series, David Ortiz has not worn a glove since attending a Michael Jackson concert in Santo Domingo in 1987. True story.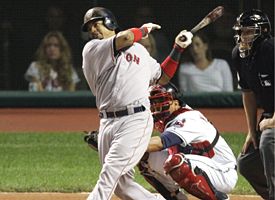 AP Photo/Amy Sancetta
Manny enters the World Series on an incredible streak: He hit .409 in the ALCS and hasn't cut his hair since 2006.
Which team has the best hitting?

No offense to Matt Holliday, Troy Tulowitzki and Todd Helton, but it's the Red Sox. There are few, if any, holes in Boston's lineup, which is led by two legitimate superstars in David Ortiz and Manny Ramirez. Plus, my friends from Boston who watch this team every day tell me the Red Sox lineup is "wicked awesome" and "fa--in' great." They say more things, but after five seconds of hearing a Boston accent, my brain automatically shuts off my auditory nerve as a means of self-preservation.
What manager has the advantage?

There's no denying that managing in a National League stadium places more of a demand on a manager. But Terry Francona has managed in the senior circuit before. Plus, he already has a World Series ring. On the other hand, I've never heard a single negative word about Clint Hurdle. Sure, this may be because the Rockies did not make a single national sports publication for the first time until about 10 or 11 days ago. For all I know, Hurdle has a long and proud history of killing hoboes. After all, there are a lot of railroads out West and a man needs to blow off steam somehow. But barring that, I'm going to call this a draw.
Who will be the World Series goat?

I hate to predict that someone will play poorly, but I'm going to go with Boston second baseman Dustin Pedroia. His play is due to tail off after how well he finished the Cleveland series. Plus -- and you can look this up -- at 65 pounds and 30 inches tall, Pedroia is the exact same size as your average domesticated goat. He even has a sparse yet adorable goat beard already grown in.
Will the Rockies be intimidated by Fenway Park?

Not at all. The Rockies won an interleague series earlier this season in Fenway Park. They even beat Josh Beckett, ending his streak of nine consecutive victories. So they shouldn't be wowed by the historic venue. But I could see them getting a little rattled -- no, physically ill -- if they look into the stands and see 35,000 Ben Affleck, Jimmy Fallon and Dane Cook look-alikes staring back at them -- half with pink Red Sox hats and breasts. That would sicken anyone.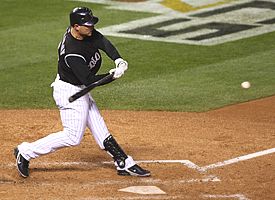 Jed Jacobsohn/Getty Images
Doesn't America love an underdog? Yes, especially when they're playing the Red Sox.
Will the TV ratings be good?

Yes. The Red Sox have a huge following across the country. Throw in an underdog in the Rockies, and the numbers should be strong. I would expect ratings to be especially strong for the three games in Colorado. That is, as long as Fox promotes the games as a chance to see Eric Gagne pitch in thin air. (Could we see the first-ever upper deck bunt?) Plus, you supply the brain of Manny Ramirez with lower levels of oxygen, and I think we're in for an entertaining time.
How many Octobers are there?

I hear there is only one. However, if the World Series goes seven games and extends into November, we will be opening a Pandora's Box of uncertainty. For how many Novembers are there? One? Two? A dozen? More? And while there is only one October, how many Rocktobers are there? One, also? And what follows Rocktober? November? Or is it a special month call Novdenver? And how many of those are there? This uncertainty fills me with great anxiety.
Will the Rockies be affected by their nine-day layoff?

What? No! They shouldn't be. Nine days? You gotta be kidding me. That's nothing. My Uncle Tommy got laid off for six months down at the docks and I never heard a peep out of him. He just used that time to drink bee-ah and watch the Sawx. And the Yankees suck. (Now try to read that back to yourself aloud. Do you want to punch yourself in the face?)
I have a lot of deer meat out in my car. But I need someone to carry it upstairs for me. What player should I ask?

Great question. Important question. Venison transport issues are too often overlooked in the World Series. Anyway, you should definitely ask Colorado infielder Clint Barmes to carry your meat upstairs. He will protect your meat at all costs. He will even risk bodily harm to make sure your meat doesn't hit the ground. Plus, he's not on Colorado's World Series roster, so he's available to carry your meat at any hour of day. So again, for all your meat-carrying needs, contact Clint Barmes. In Denver it's 303-MEAT-MAN or nationally: 1-888-VENI-BOY.
Who does God want to win?

As we all know, it's not who plays the best that wins sports titles, it's who The Creator picks to win in between helping poor people and sending messages to nonbelievers via hurricanes and wildfires. But who that will be in this year's World Series is far from clear. On the one hand -- God's right hand, to be exact -- you have Curt Schilling. Normally that would be enough to wrap it up. But on the other hand, we have the Colorado Rockies, who are so religious they will go into Boston tonight wondering WWJD and WWJDH. (That's Who Would Jesus DH, by the way. My guess is Ryan Spilborghs.) Anyway, this one is too close to call. In fact, there's really only one way I can see it ending. Seventh game … bottom of the ninth … score tied … bases loaded with two outs … count full and … BOOM! … rapture.
DJ Gallo is the founder and sole writer of the sports satire site SportsPickle.com. He is also a regular contributor to ESPN The Magazine and has written for The Onion and Cracked. His first book – "SportsPickle Presents: The View from the Upper Deck" – is on sale now.