Notre Dame head coach Charlie Weis said Sunday that he plans to discuss his 2-9 team's many shortcomings after the season with his old colleagues on the undefeated New England Patriots.
Here is what each member of New England's 14-man staff will tell him.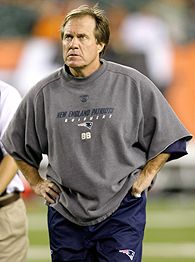 Scott Boehm/Getty Images
"Put the pedal to the metal … and don't look back."
Bill Belichick, head coach:
"Never let up on the gas. Remember your 33-3 loss to Georgia Tech? You had a shot at the end of the game to make that 33-6."
Nick Caserio, wide receivers: "I don't know what to tell you. Just replace all of your crappy receivers with really good receivers. It sure has made my job a lot easier."
Joel Collier, secondary: "In a pinch, use a respected veteran receiver as a defensive back. And then pull his scholarship at the end of the season and use it on someone younger."
Don Davis, assistant strength and conditioning: "After every play when your linemen are lying on their backs, make them do 10 sit-ups."
Ivan Fears, running backs: "OK, it says here that your team is averaging 2.0 yards per carry. Is there any chance that your backs are accidentally running backward when they take the ball instead of forward toward the line? No? Then I'm going to have to go back to the drawing board."
Pepper Johnson, defensive line: "I'm not giving you any advice until you stop biting me. My name is 'Pepper.' I do not taste like pepper."
Pete Mangurian, tight ends: "Oh, I'm not in charge of those kinds of tight ends. Sorry. I'm on staff to help Bill spot women with nice butts in the crowd so he can meet up with them later."
Josh McDaniels, offensive coordinator/quarterbacks: "Maybe consider being an actual legitimate offensive genius -- you know, like me -- and not a fraud. Just an idea."
Harold Nash, assistant strength and conditioning: "Attach 5-pound weights to all of Jimmy Clausen's hair spray bottles."
Matt Patricia, linebackers: "We play a 3-4 defense. I don't think that would work for you. The only thing that would help you is maybe a 3-14 defense. But that presents its own problems."
Dean Pees, defensive coordinator: "Have at least one coach on staff with a ridiculously comical last name. It keeps the players laughing and lightens the mood when things get tough."
Dante Scarnecchia, assistant head coach/offensive line: "Your linemen are big and talented. You just have to convince them that winning football games is more fun than allowing Jimmy Clausen to get flattened play after play. Good luck with that."
Brad Seely, special teams: "Never punt or kick field goals. Only do kickoffs and extra points. Pretty simple, really. It's not rocket science. But for some reason we're the only ones doing this."
Mike Woicik, strength and conditioning: "Umm, I can't tell you my tip on the record. But ask Rodney Harrison. He'll tell you."
DJ Gallo is the founder and sole writer of the sports satire site SportsPickle.com. He is also a regular contributor to ESPN The Magazine and has written for The Onion and Cracked. His first book – "SportsPickle Presents: The View from the Upper Deck" – is on sale now.