BOSTON -- They tried to kill me here.
I traveled to this fabled city intent on wading deep into its sports culture, vowing not to be swayed by any preconceived notions of Boston or its fans. I would not be biased. I would be fair. I would observe and then report my findings back to you: good, bad or mixed.
I held up my end of the bargain. I spent nine hours in the car on Friday, driving to this supposed sports mecca, hitting heavy rain and snow along the way. I was excited to see the Celtics play on Friday night and the Patriots on Sunday. I was excited to visit Fenway Park and The Fours and Cask 'N' Flagon. I wanted to love Boston.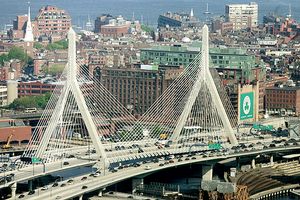 AP Photo/Steven Senne
This shot of the Boston skyline was not taken by a surveilance satellite. We think.
But they tried to kill me.
Sunday morning, my third day in town, I hailed a cab to go see Tom Brady at a petting zoo (more on that later). I was not wearing any Patriots, Red Sox or Celtics clothing. I got into a cab driven by a man I would soon find out was not a fan of Boston sports.
Then they tried to kill us.
We moved down Boylston Street. Three lanes merged to two. A duck boat tour bus sped up along side us … and then it turned into us and tore into the right side of the cab.
I saw my life flash before my eyes, as though someone had filmed it all with a spy camera. If the duck boat had been traveling 70 mph instead of 7 mph, and if it had hit us square instead of lightly glancing along the right side of the cab, I could be dead right now.
That's right. They tried to kill me in Boston. And if you go there and don't step in line immediately as a Boston sports fan, they'll try to kill you, too.
Obviously, this attempt on my life colored my entire visit to Boston. I could not help but find it a vile, loathsome place. Here is just a sampling of what I hated.
Bill Belichick impersonators

Boston is choked with them. I could glance out my hotel window over Copley Square and at any time see two or three Belichick impersonators. Look, I realize Belichick is some kind of hero here, but does there need to be a Belichick impersonator on seemingly every other block? If there were less look-alikes working and competing against one another for the same market, maybe all these people wouldn't be begging me for a dollar or some loose change every time I walk by.
The accent

Look, Boston -- if I go to New York and buy a ticket for the Rockettes at Radio City Music Hall, I expect to see some scantily clad women kicking their legs in the air. And if I go to Boston, I expect to hear a bunch of people dropping their Rs, telling me everything is "wicked awesome," and capping every conversation with "how you like them apples?" But you failed me, Boston. Most of the locals I interacted with in my three days in town didn't have that stereotypical Boston accent that is both annoying and amusing at the same time. The guy selling programs at the Garden? No accent. My bartender at The Fours? No accent. My cab drivers? Accents, but not Boston accents. Failing to live up to stereotypes is false advertising, Boston. And there are laws against misleading advertising in this country. Breaking the law is definitely not wicked awesome.
Overwhelming kindness

Three days in Boston, and not a single cab driver, hotel staffer, server or bartender was rude to me in any way. That seems nice and welcoming on the surface, sure. But could it be that they act that way in hopes of keeping you in town longer … simply to rub your face in the success of Boston's teams? I think so.
And many times, their ulterior motives were far more apparent. In a cab on Saturday to go to the New England Sports Museum at TD Banknorth Garden, I tell the driver I'm in from out of town and attending the Patriots-Steelers game the next day.
"Should be a great game," he says warmly.
"I don't know," I say. "The Steelers haven't been playing well lately. And their best defensive player is hurt and probably isn't going to play. That's why that Anthony Smith guy is in there."
"No, it's going to be very, very close," he says, sounding confident. "The Patriots haven't been playing well either. Pittsburgh is a good team. It's going to be close. Trust me. It will be close."
Fast-forward some 30 hours later and I'm sitting in traffic on Route 1 after the Patriots finish off the Steelers 34-13 -- easily covering the spread by more than 10 points. "It's going to be very, very close," Mr. Friendly, Humble Cab Driver? Oh, really? You're sure of that? Well, I think you said all that just to make me put money on the game and lose a small fortune. And to think I was generous enough to tip you 35 cents on an $11.65 fare.
Judging looks

I should be clear. Not everyone in Boston came off as ridiculously nice. I could feel many people judging me from afar.
Let me explain. It was cold in Boston over the weekend. So I dressed for the weather. I wore a coat that looks like this. In short, a lady jacket. Well, no -- that's not a good description. It was manlier than that. It was a lady parka. Not shiny and billowing like Daisuke Matsuzaka's, but it most definitely has fur around the hood.
Because I was in a lady parka, I could sense people sneering at me -- the dismissive girls who walked past me in City Hall Plaza, the quiet Dunkin' Donuts cashier. Yes, here in Boston, where I assumed the lady-parka would be accepted, thanks to the popularity of Mr. Matsuzaka.
But, no, I was wrong. Apparently, one can only get away with wearing a lady parka in this town if he charges $51 million for dinner and puts up a 4.40 ERA. What a place.
Teams that run up the score

Forget New England's 34-13 win over the Steelers on Sunday. Anthony Smith was more guilty of running up the score than the Patriots. I want to focus on Friday night at TD Banknorth Garden: Celtics vs. Raptors.
Boston was in control the entire game on the way to a 112-84 victory, but it was how the Celtics closed out the game that revealed the team's true character -- or lack thereof. Up 96-60 with eight minutes remaining, Brian Scalabrine fired away and hit from long distance to make it 99-60. Boston's best player (based on the amount of cheers he receives, I can only assume that's what Scalabrine is) going deep on a beaten team late in the fourth quarter? How very Brady-to-Moss.
The rest of the game was even worse. Did the Celtics just try to run clock on each possession? Did they cross half court, let the shot clock run and then kneel down as they should have? No, not at all. Cheered on by people all around me in the crowd yelling "Run it up!" and "Let's win by 50!" They tried to score every time they got the ball for the remainder of the game. That's called running up the score, people. And it's despicable.
Boston goats will ignore you, unless …

Late Saturday night, I learned that there was a petting zoo featuring ponies, sheep, rabbits and goats set up outside Macy's in the Downtown Crossing area of Boston. Hoping to spot Tom Brady there getting in a pregame goat-cuddling, I set out for the petting zoo first thing Sunday morning. Unfortunately, Brady was nowhere to be found and the petting zoo organizers said he was not expected. Undeterred, I decided to get in a good goat-cuddling of my own.
But the goat wanted nothing to do with me. He ignored me. What to do? Then I remembered. I had a Tom Brady bear doll with me in a pocket of my lady parka. I removed it and held it out to the goat. Suddenly, it raised its head and approached -- instinctively drawn to anything relating to the world's pre-eminent goat-lover. It was a tender moment of interspecies bonding. And what came next (not pictured) leads me to believe that in a few months we could see the world's first goat-bear hybrid.
Gillette Stadium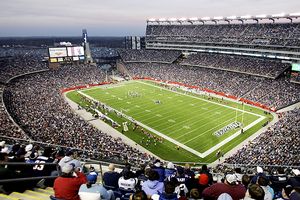 AP Photo/ Robert E. Klein
The Patriots haven't lost at Gillette Stadium in more than a year.
Gillette Stadium is not the shrine Fenway Park is, but there is still much to see and experience there. For example, every seat is filled -- and has been for every Patriots game since the stadium opened in 2002. And whenever Tom Brady throws a pass that goes incomplete, you can hear voices from all 68,000 of those seats cry out for pass interference. It seems to be some sort of requirement for keeping a seat license.
As the Patriots pulled away from the Steelers in the second half, the cries of pass interference died down (mostly because Anthony Smith was so far away from Randy Moss as he streaked through the secondary that even the most biased fans couldn't complain). It was then that a group of Patriots fans in my section took up a chant of: "Pitts-burgh Pi-rates!" Clap-clap-clap-clap-clap. "Pitts-burgh Pi-rates!" What was a cruel attempt to further humiliate Pittsburgh fans backfired, however. Many in Steelers garb appeared flattered that New Englanders even knew Pittsburgh had a baseball team.
Outside of Gillette Stadium is pregame paradise. Local businesses up and down Route 1 open up their lots to tailgaters -- for upwards of $40 -- and smoke from cookouts fills the sky. Only this Sunday that smoke rose up to a sky that had a plane circling the stadium pulling a banner that read:
"Barry Bonds: 756*
Bill Belichick: 3 Super Bowl wins*"
By the time kickoff rolled around the plane was gone. My only guess is that Eric Mangini had to fly back to New Jersey in time for the kickoff of the Jets-Browns game.
Sports radio

Hoping to immerse myself in the forefront of modern thought and reason while in Boston, I eschewed Harvard and MIT and instead took in a dose of local sports talk radio. Great move by me. In a 10-minute listening, I learned that Phil Simms and Peter King hate the Patriots, that the Steelers won't make the playoffs and that Pittsburgh coach Mike Tomlin is a cocky, trash-talker while Bill Belichick exudes class.
Needless to say, I was floored by this counterintuitive look at the world. Wait, no … I don't mean counterintuitive. I mean a different word. Is there a word that means the opposite of intelligent. Is there a word for that? I don't know. My brain is kind of useless right now. Too much Boston sports talk radio.
Fenway Park

My Fenway Park tour was informative. And entertaining. And it was led by a wonderful older gentleman who was full of stories. It seemed to be the exception that proved the rule of the rest of my trip. The only problem was half the stadium was closed to touring because of "offseason renovations." Oh, really? Good try on the cover story. What are you hiding, Fenway Park? My guess is it's the storage area where you keep Curt Schilling's fake blood packs.
They don't know your name

I went to Cheers. Not the real one. The one in Quincy Market, directed there by a portly woman at an info booth that was helpful enough … until I saw as I walked away that her pants were down far enough that I could see her cheeks. I see how it is, Boston. I see how you treat visitors to your city. You moon them. Anyway … I patiently sat at the bar and waited for the bartender to address me. After a while it became clear: He did not know my name. He even had to check my ID. Pathetic. (Oh, and $9.95 for clam chowder? Surely you jest. No way Cliff could afford that on a mailman's salary.)
Racism and bigotry

Let's be honest. Boston has a reputation in this area. I didn't go looking for it. It simply showed itself.
Example No. 1: I tour the Sports Museum of New England. There is a display for Willie O'Ree, the first black player in NHL history. Do you see any "subtle" messages above his exhibit?
Example No. 2: Another exhibit at the Sports Museum. This one for John Thomas, a great Boston College high jumper. But no matter the success he had in track and field, the people of Boston see Thomas as nothing but a garbage man.
(To be fair, they also hate French Canadians.)
Final Example: I get coffee at a Starbucks across from my hotel on Saturday night. It's not until I get back to my room that I discover that instead of the quarter I was owed in change, I was given a five-cent Spanish coin, which is approximately the same size. Was it the cashier's racism that compelled him to rip me off? Probably not. He was white and I am white. More likely the cashier is just another Bostonian bigoted towards men in lady parkas.
Self-guided tours

Despite a $6 admittance fee, the Sports Museum of New England, located inside TD Banknorth Garden, provides no guided tour. So unless you are already knowledgeable of New England sports, you have to provide your own commentary.
For example, this display shows the fortunes of the Boston Bruins organization since Bobby Orr scored his most famous goal. Whereas this shows how the Bruins finish most of their games.
Here you see a shot of Bill Walton that is just HORRIBLE. Here is a video on a loop of Drew Bledsoe scrambling. And here is a mural Rodney Harrison will likely be added to one day, which will accurately depict his giant, HGH-grown head.
And, of course, there was plenty of Tom Brady love at the museum. Fittingly, a locker containing a game-used jersey also showed his true love in life (back-left). There was even a special room for Brady baby mamas to give birth in.
Children

We've all heard that the children are our future. It's a positive, hopeful mantra. What we never think about is that they are our future for good and bad. In Boston it's for the bad. These little spawnlings know nothing but constant winning. They have no perspective on what life is like as a normal fan. These shrill, obnoxious little beings were everywhere at the Celtics and Patriots games, hooting and hollering in the bathroom about how the Celtics are the greatest NBA team ever, loudly proclaiming in the popcorn line at Gillette Stadium that anyone who think the Patriots cheat is just jealous. Basically, take that kid from ESPN's Sunday morning NFL show and multiply him by a million or so. And if they are obnoxious now, just imagine how they'll be if Boston teams continue to win. Or, perhaps worse, how insufferably whiny they'll be if Boston teams start to lose. Either way the rest of us are doomed.
Lack of perspective

I struck up a conversation with a fan at the Celtics game who mentioned his drive into town while waiting in line for food.
"You're not from Boston?" I asked.
"No, I'm from [some suburb-sounding place like Newchesterfallsbury]."
"Oh. You're a Celtics fan, though?"
"Yep."
"Red Sox and Patriots, too?"
"Yep."
"So you're kind of a front-runner then, huh?"
"What?"
"Well, Red Sox, Patriots, Celtics … and you're not from Boston."
No response. Glare.
I think I made my point.
DJ Gallo is the founder and sole writer of the sports satire site SportsPickle.com. He is also a regular contributor to ESPN The Magazine and has written for The Onion and Cracked. His first book – "SportsPickle Presents: The View from the Upper Deck" – is on sale now.