Pardon me if this column seems to lack any flow or direction. I was quite distracted Sunday while watching all of the NFL action.
I've moved into a new neighborhood and the local kids keep telling me that every year around this time all the homes are invaded by some fat, costumed freak. Apparently he's been doing it for years. Well, not anymore. Not in my house at least.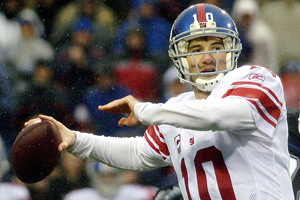 AP Photo/Don Heupel
If you look closely, you can see Eli trying to grow some facial hair.
I spent most of the day barricading all of my doors, but I hear he likes to enter through the chimney. So I'm keeping a huge fire going in my fireplace. And underneath the fire? A bear trap. If somehow he still manages to get in, I've left out some milk and cookies. (Supposedly this lardo has quite the appetite.) But I've laced them with rat poison.
Then I moved on to the socks. The rumor is this guy likes to put things inside children's socks. Well, if he does that at my place, he's in for a surprise. One sock I left out is full of vipers. The other? Another bear trap (a smaller one that I use to trap baby bears).
So I feel like I'm ready. I just wish the realtor had mentioned this about the neighborhood before I moved in. Anyway, here are …
12 Things I Think I Thought While Preparing To Kill Santa Claus
PATRIOTS VS. AFC EAST
With back-to-back wins over the Jets and Dolphins, the 15-0 Patriots have completed their "brutal" slate of divisional games for the season. In going 6-0 against the Bills, Jets and Dolphins, the Patriots won by a combined score of 229-76 (or approximately 38-12 per game). How much better are they than their AFC brethren? Could they beat a team composed of "All-Stars" from the Bills, Jets and Dolphins? Check out the roster of AFC East (sans Pats) All-Stars composed by the folks at Scouts Inc. and
then vote who would win
: the Patriots or the JetBillPhins? QB -- Chad Pennington, Jets: 88.9 career QB rating
RB -- Marshawn Lynch, Bills: 1,010 yards, 7 TDs as a rookie
RB -- Ronnie Brown, Dolphins: ran for 1,008 yards in 2006
WR -- Laveranues Coles, Jets: three 1,000-yard receiving seasons in career
WR -- Lee Evans, Bills: 29 TDs in four seasons
TE -- Chris Baker, Jets: 41 catches in '07
LT -- D'Brickashaw Ferguson, Jets: 4th overall selection in 2006 draft
LG -- Derrick Dockery, Bills: third-highest paid at his position in NFL
C -- Nick Mangold, Jets: 29th overall pick in 2006
RG -- Vernon Carey, Dolphins: 19th pick in 2004 draft
RT --Jason Peters, Bills: Pro Bowl starter LDE -- Aaron Schobel, Bills: 14 sacks in 2006
LDT -- Larry Tripplett, Bills
RDT -- Dewayne Robertson, Jets: 14.5 career sacks
RDE -- Jason Taylor, Dolphins: 2006 NFL Defensive Player of the Year
SLB -- Paul Posluszny, Bills: two-time AP All-American at Penn State
MLB -- Zach Thomas, Dolphins: seven-time Pro Bowler
WLB -- Jonathan Vilma, Jets: tallied 100-plus tackles each of first three seasons
CB -- Darrelle Revis, Jets: 14th pick in 2007
SS -- Kerry Rhodes, Jets: 5 picks in '07
FS -- Donte Whitner, Bills: eighth overall pick in 2006 draft
CB -- Jabari Greer, Bills: 14 passes defensed this season K -- Rian Lindell, Bills: 21 of 24 FGs this season
P -- Brian Moorman, Bills: 43.1 career average
KR -- Leon Washington, Jets: gaining 28.2 yards per return
PR -- Roscoe Parrish, Bills: gaining 17.7 per return Coach -- Dick Jauron, Bills: 50-66 career record
1. Good for Eli Manning. He is starting to get it. Sunday he sported a scruffy beard -- just like big-time quarterbacks such as Brett Favre and Tom Brady -- and his Giants won. Of course, Eli is not Favre or Brady, so his beard was patchy and mostly peach fuzz. But I'm sure his ability to grow any facial hair at all inspired his team. I know it surprised me, at least. So keep an eye out for his next Citizen watch commercial: "Unstoppable … the onset of Eli Manning's puberty is."
2. Congratulations to the Patriots for becoming the first NFL team to start a season 15-0. That's a strong start to a season. If they can keep it up, they'll no doubt end the regular season with a pretty impressive record.
3. I wasn't surprised to see Warren Sapp get thrown out of the Raiders-Jaguars game after getting called for three consecutive unsportsmanlike conduct penalties. Sapp has always been quite unsportsmanlike. Take his physique, for example. Most sportsmen have some sort of muscle tone or at least an abdominal muscle or two. Not Sapp. He has a very unsportsmanlike physique.
4. Poor coaching by the Saints' Sean Payton and his defensive assistants. Letting the Eagles go right up and down the field, hoping they would then take a knee on the 1-yard line, was probably not the best game plan.
5. My fantasy Start 'Em/Sit 'Em for Week 16. Start 'Em: Kurt Warner, Anquan Boldin, Clinton Portis. Sit 'Em: Willie Parker, Willis McGahee, Fran Tarkenton. You're welcome. I rule at Monday morning fantasy football.
6. I hope no one else wasted time watching Tom Brady's much-hyped interview on "60 Minutes." It was just a rebroadcast of an interview that originally aired on Nov. 6, 2005. All the show did was update it with a clip each of Randy Moss and Gisele Bundchen. The biggest anachronism was this quote from Brady's father: "He never wins a game 42-10 so we can just sit back, relax and have a drink." Uh-oh. Has anyone checked on Tom Sr., lately? A four-month drinking binge like that for a man in his 60s is quite serious.
7. It is great to see Martin Gramatica back in the NFL, jumping around wildly to celebrate doing what he is paid to do. Somewhere Sunday as Martin's 55-yard kick sailed through the uprights, Bill Gramatica also leaped into the air, but was quickly pulled back to earth when the cord on the drive-through headset became taut.
8. I'm not sure if Brodie Croyle will pan out as an NFL quarterback, but at 6-foot-2, 206 pounds, he might have a future in the league as a hard-hitting safety. Did you see that hit he made after he threw an interception? He knocked the guy right out of the game even though he hardly made contact with anyone. Yes, it was himself he knocked out of the game by whiffing on the guy with the ball and crashing to the field. But if the Chiefs can channel that self-destruction outward, they may have something.
9. You better hurry. The Jacksonville bandwagon is filling up. And not only are the Jaguars playing great, but their bandwagon is nicer than everyone else's, too. It's not just a wagon. In Jacksonville, they have an entire mobile home.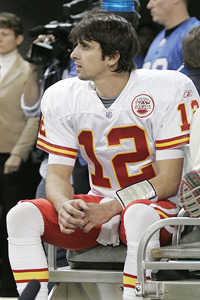 AP Photo/Duane Burleson
Brodie Croyle tries to figure out if that was him attempting to make that tackle.
10. Tom Brady better watch out. Not only does Peyton Manning have the Colts playing well, but Manning is making a run at him on style, too. Manning appeared at the postgame media conference wearing a suit jacket with … a pocket square. Oh, snap! A pocket square! He's ripping off Brady's signature look! See here; here; here; here; and here. And that's just the tip of the iceberg. There are a ton of pictures online with Brady wearing a pocket square. I just don't think Manning can give Brady any serious competition in the pocket square arena. He needs to go a different direction and wear something stylish that would also get under his rival's skin. Perhaps any of these fine products, for example.
11. I'm sick of these NFC quarterbacks who put women ahead of football. Last week it was Tony Romo getting distracted by Jessica Simpson, and now this week Brett Favre played terribly against the Bears with this Deanna Favre lady watching. These guys need to remember that women have no place in football. As Favre's Wrangler commercial shows, only other men and dogs should watch football. Which reminds me, Favre needs to go back to that no-look pass of his. Seven interceptions in his last four games tells me he's staring down receivers again.
12. One phrase I got tired of hearing Sunday: "They control their own destiny." Really? I think not. No one controls their own destiny. For example, Vince Young and the Titans now supposedly control their own destiny. Right. Vince Young can't even control his own passes. I think controlling something as vast and intangible as destiny is a bit out of his reach at this point in his career, no?
DJ Gallo is the founder and sole writer of the sports satire site SportsPickle.com. He is also a regular contributor to ESPN The Magazine and has written for The Onion and Cracked. His first book – "SportsPickle Presents: The View from the Upper Deck" – is on sale now.