The NFL combine came to a close Tuesday, and boy, was it exciting!
Because I know NFL general managers are waiting with bated breath, here are my updated rankings of the top draft prospects. You're welcome, gentlemen.
1. Darren McFadden, RB, Arkansas: McFadden silenced concerns he doesn't have breakaway speed by running a 4.33 40-yard dash. Also, by disclosing he is the father of as many as three illegitimate children by different women, McFadden showed he can talk a woman out of using a condom in a blistering sub-4.0 seconds.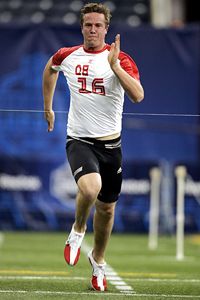 AP Photo/Michael Conroy
This is all you got to see Matt Ryan do at the combine.
2. Matt Ryan, QB, Boston College:
The top-rated quarterback showed up to the combine only to run the 40, believing he will perform better for scouts in familiar territory at Boston College's pro day on March 18. He also said that he insists on playing all of his NFL games at Boston College, so he doesn't feel out of his element.
3. Chris Long, DE, Virginia: Long was impressive across the board in drills. But he performed best in his team psychological exams, saying that he considers "Broken Arrow" and "Firestorm" among the worst films ever made.
4. Jake Long, OT, Michigan: Although Jake Long is not related to Chris Long, he also received high marks for hating "Broken Arrow" and "Firestorm."
5. Longar Longar, C, Oklahoma: Longar, 6-foot-11 and 232 pounds, did not participate in the combine because he plays center for Oklahoma's basketball team and recently broke a bone in his right leg. But teams that miss out on Chris Long and Jake Long may reach for Longar.
6. Glenn Dorsey, DT, LSU: Lingering health issues kept Dorsey from participating at the combine. But concerns that he's suffering from a massive sports hernia of his abdominal wall were dispelled by the discovery that it was just his gut hanging out.
7. Cliff, cameraman, NFL Network: Cliff shot flawless footage, kept a steady hand, stayed out of the way, and only spoke when spoken to. He also worked in special ops during the Gulf War. He likely will be drafted before the eighth pick comes up.
8. Rashard Mendenhall, RB, Illinois: Mendenhall is skyrocketing up most team's draft boards after an impressive combine in which he posted a 4.45 40. No other Big Ten player completed the 40 in less than 12 seconds.
9. Vernon Gholston, DE, Ohio State: Gholston put up 37 reps on the 225-pound bench press, tied for best at the combine. This performance allays fears he could somehow be crushed at the bottom of a post-play pileup, unable to move player bodies off himself.
10. Carl Stewart, RB, Auburn: After showing the best vertical leap at the combine (39 inches), Stewart showed he could be a great weapon for a wildly inaccurate quarterback.
11. Aqib Talib, CB, Kansas: Talib placed in the top three at cornerback in the three-cone drill, broad jump and vertical jump. He gained additional publicity when the Hillary Clinton campaign circulated a photo of him visiting Somalia.
12. Sedrick Ellis, DT, USC: The USC standout didn't have a spectacular combine, but he endeared himself to scouts by promising to get them an invite the next time Matt Leinart or Reggie Bush throws a party.
13. Brian Brohm, QB, Louisville: Brohm did nothing to raise his draft stock, but showed his maturity by apologizing to scouts for showing up a year late to the combine.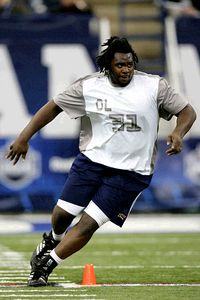 AP Photo/Michael Conroy
Jeff Otah won't be returning kicks anytime soon.
14. Jeff Otah, OT, Pittsburgh:
The 6-foot-6, 339-pound Otah turned in one of the slowest 40s at the combine, with a time of 5.56 seconds. This will probably drop him down the draft boards of teams that hoped to convert him into a kick returner.
15. Chris Johnson, RB, East Carolina: Johnson ran a 4.24 40, equaling the best electronically timed 40 in combine history. But his time also raises a question: What exactly are you running from, Chris?
16. Mario Manningham, WR, Michigan: Manningham is skinny, weighing in at 181 pounds, and also proved to be relatively slow, with a 40 time of 4.59 seconds. But he has a great personality, and I'm sure that someday he will find a team that appreciates him for who he is.
17. Dan Connor, LB, Penn State: Connor unfortunately had to leave the combine early due to illness. However, before departing, he did post a combine-best temperature of 102.6.
18. Arman Shields, WR, Richmond: Shields had combine-best times in the 20-yard shuttle (3.96 seconds) and the 60-yard shuttle (10.87 seconds). He will be a perfect fit for any team that runs a shuttle-run-based offense.
19. Joe Flacco, QB, Delaware: Flacco wowed scouts, but there are concerns because he didn't play against topflight competition in college. Look for him to be taken by a team in the NFC South or NFC West.
20. Ryan Clady, OT, Boise State: I have it on good authority that Ryan Clady scored a 4 on the Wonderlic. You read that right: a 4! It may have been a 4, or it may have been a 40 or 44. But there was definitely a 4 in it.
21. Jerome Simpson, WR, Coastal Carolina: Simpson posted a combine-best broad jump of 11 feet, 4 inches. On the downside, he is very easy to spot jumping offside.
22. Andre Caldwell, WR, Florida: Caldwell, younger brother of Redskins receiver Reche Caldwell, impressed scouts with his vision and alertness.
23. Scorpio Babers, CB, Sam Houston State: Most teams rate him only a marginal prospect, but I believe Scorpio is passionate, determined, self-confident and highly imaginative.
24. Ben Moffitt, LB, South Florida: Moffitt put up solid numbers in the measurables at the combine, although his current girlfriend performed the bench press and broad jump for him.
25. Tom Zbikowski, S, Notre Dame: Zbikowski, who's also a Golden Gloves boxer, refused to participate in the traditional combine drills. Instead, he chased a chicken and chopped wood in the snow at a remote mountain cabin.
26. Jermichael Finley, TE, Texas: Finley is 6-foot-5, 236 pounds, and is looked at as a possible tight end or wide receiver. However, he ran a slow 4.82 40, clouding his future. Is he a tight end? Is he a wide receiver? And what's with the name? Is it some kind of hybrid of Jeremiah and Michael? Jerry? Jeremy? Michelle? There are too many questions surrounding this guy.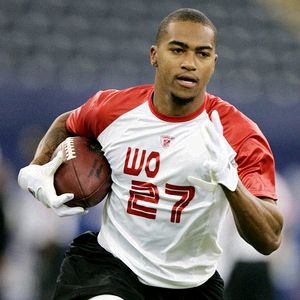 AP Photo/Michael Conroy
DeSean Jackson's speed makes NFL coaches go a little crazy.
27. DeSean Jackson, WR, California:
Jackson ran a 4.35 40, best among receivers at the combine. However, he weighed in at only 169 pounds. And that was soaking wet, because several scouts drooled all over him moments after his 4.35 40.
28. Dominique Rodgers-Cromartie, CB, Tennessee State: Rodgers-Cromartie is blazing fast (4.33 40) and is the second cousin of standout Chargers cornerback Antonio Cromartie. He also is an eighth cousin of Barack Obama and Dick Cheney.
29. De'Cody Fagg, WR, Florida State: Fagg suffered a serious knee injury at the combine while running a "tap-tap" drill that requires receivers to get both feet inbounds on sideline catches. Onlookers say Fagg may have been distracted by Brady Quinn taunting him from the stands.
30. Colt Brennan, QB, Hawaii: Brennan isn't impressive physically, but he was an accurate 18-for-18 in the combine passing drill. Brennan could be the next Tom Brady if some team is smart enough not to draft him until the sixth round.
31. DJ Gallo, WR, rec league flag football: I did not participate at the combine. In fact, I didn't even play college football. However, I do have decent size for a wide receiver at 6-foot-2, 190 pounds. And, hey, maybe a stupid team like the Lions or Raiders will come across this and see me rated as the 31st best player available, and decide to draft me, and I'll get myself a nice multimillion-dollar contract. Al Davis, my financial future depends on your growing insanity!
DJ Gallo is the founder and sole writer of the sports satire site SportsPickle.com. He is also a regular contributor to ESPN The Magazine and has written for The Onion and Cracked. His first book -- "SportsPickle Presents: The View from the Upper Deck" -- is on sale now.