Today's the day we've all been waiting for: 8.8.08 … the opening of the Reds-Astros series.
But it's also a big day in a land far away from Cincinnati, in a place called Beijing, where the Summer Olympics are set to open.
Feel like watching some of the action? Here's what to look for on each of the 17 days of the 2008 Summer Games.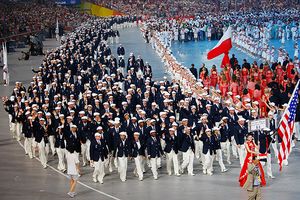 Cameron Spencer/Getty Images
Flag bearer Lopez Lomong led the U.S. team into the Bird's Nest stadium.
8.8.08
What to watch: Opening Ceremonies -- NBC, 7:30 p.m. ET
Prepare for quite a show. China has had hundreds of coal plants working for years just to create the right amount of dramatic smoke.
Who to watch: President George W. Bush
Despite the objections of some, President Bush will attend the Opening Ceremonies. The White House says he wants to pay his respects to China. But in these tough economic times, maybe he's really going in hopes of getting more free cell phone minutes.
8.9.08
What to watch: cycling, fencing, judo, shooting, weightlifting -- NBC family of networks, all day
On the first full day of competition, seven gold medals will be awarded in five different sports. The winners will get to spend the rest of the Olympics celebrating the culmination of their lifelong dreams. The losers will have to catch the first flight out so they can be at work at Home Depot the next morning.
Who to watch: Misty May-Treanor and Kerri Walsh -- NBC, 1:30 p.m. ET
The early rounds of women's beach volleyball begin and -- be advised -- every minute of the 2008 Olympics will be broadcast in high-definition. Might want to head to Best Buy for a bigger TV, perverts!
8.10.08
What to watch: men's swimming 400-meter freestyle relay final -- NBC, 7 p.m. ET
Michael Phelps continues his quest to win eight gold medals. So cheer him on. But don't go overboard. That new Fu Manchu mustache of his has me suspicious he might be planning to defect to China.
Who to watch: Jeff Zucker
If Phelps' quest happens to end early, look for the NBC president to try to compete in the diving competition with an anvil tied to his waist.
8.11.08
What to watch: men's team gymnastics final -- NBC, 8 p.m. ET
The U.S. men's team is hamstrung with both Paul and Morgan Hamm missing the Olympics due to injury. On the bright side, their teammates don't have worry anymore about getting hurt by breaking glass every time the Hamms talk.
Who to watch: Emily Cross -- check your local listings
Cross, and American and the world junior champion in women's individual foil (fencing), has a chance to win a medal in the day's finals. But it's doubtful. Although I probably wouldn't say that to her face. You know, what with her holding a sword and everything.
8.12.08
What to watch: women's soccer, Nigeria vs. Brazil -- MSNBC, 9:30 a.m. ET
Brazil's women's team is a powerhouse, but Olympic officials best be on their toes. Ronaldo claims many Brazilian "women" are not what they appear to be.
Who to watch: Michael Phelps -- NBC, 8 p.m. ET
This is Phelps' toughest day in his quest for eight golds, with the 200 fly and 4x200 freestyle relay final being held an hour apart. Which is why he should swim with a mask on to help combat the Beijing pollution and keep his lungs full of fresh air.
8.13.08
What to watch: super heavyweight boxing -- CNBC, 5 p.m. ET
Tonight the super heavyweight boxers (201 pounds ore more) will be whittled from 16 down to eight. So that's some good -- and surprising -- news: Apparently, there are at least 16 semi-competent heavyweight boxers remaining in the world. No doubt, some day soon, all 16 will simultaneously hold a heavyweight title belt.
Who to watch: Yang Wei -- NBC, 11 p.m. ET
Yang is the odds-on favorite to win the day's men's individual all-around gymnastics title. Watch for his strength, his artistry and the difficulty of his routines. Or just watch because he falls a lot.
8.14.08
What to watch: men's Greco-Roman wrestling heavyweight final -- MSNBC, 5 a.m. ET
American Dremiel Byers has a shot at gold. Team USA's only other real medal hope here hinges on whether anyone thought to clone a wrestler out of Rulon Gardner's toes.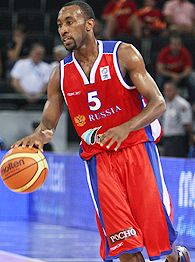 Lars Baron/Bongarts/Getty Images
Former Bucknell guard J.R. Holden helped lead Russia to the Eurobasket tournament championship last fall.
Who to watch: J.R. Holden -- MSNBC, 5 a.m. ET
J.R. Holden was born in Pittsburgh. He is black. And he is the starting point guard for the Russian national team. On this night, he will be leading his teammates against their fierce rival: Lithuania. (The preceding four sentences are true and not pulled from Will Ferrell's latest movie pitch.)
8.15.08
What to watch: Men's 100m qualifying -- NBC, 11 a.m. ET
Tyson Gay, Asafa Powell and Usain Bolt could all break the world record in the 100. Let's hope it's not tainted by being wind-aided. And on principle, let's hope none of the home runs hit in Olympic baseball or softball are wind-aided, either.
Who to watch: Nastia Liukin -- NBC, 9:30 p.m. ET
The daughter of Russian gymnastics champions but competing for the U.S., Liukin will contend on this night in what is perhaps the marquee event of the Summer Olympics: the women's individual all-around gymnastics final. The winner gets international fame and the opportunity to appear on a Wheaties box in near life-size.
8.16.08
What to watch: men's swimming 4x100 medley relay final -- NBC, 7:30 p.m. ET
Will this be Phelps' chance for his eighth gold medal of the 2008 Games? Or just an anticlimactic finish to a four- or five-gold haul? If it's the latter, I think we can agree that loser better never dare set foot on American soil again.
Who to watch: Dara Torres -- NBC, 7:30 p.m. ET
Forty-one-year-old Torres will attempt to win gold in the 50-meter freestyle. Or she just may stay home with her cats and knit and maybe watch a little "Larry King." It all depends on whether her bad hip acts up in that Beijing humidity.
8.17.08
What to watch: men's tennis singles final -- USA, 2 a.m. ET
Roger Federer versus Rafael Nadal? Oh, sorry. Punctuation error. This is men's tennis. Not a lot of mystery. That first sentence should have ended in a period.
Who to watch: Deena Kastor -- NBC, 2 a.m. ET
Four years ago, Kastor ended a 20-year U.S. medal drought in the marathon. On this day, she will try to withstand a two-hour oxygen deprivation while running the marathon in the Beijing air.
8.18.08
What to watch: Men's 110m Hurdles, round 1 -- NBC, 11 p.m. ET
Chinese hurdler Liu Xiang, who won China's first men's track Olympic gold in 2004 and is a bigger star in China than Yao Ming, begins his quest for Beijing gold. No doubt, Yao is glad his countryman picked hurdling over basketball, as Liu could probably leap over a scorer's table into the crowd even quicker than Ron Artest.
8.19.08
What to watch: women's volleyball, U.S. vs. Poland -- NBC, 4 p.m. ET
Team USA is coached by former Chinese star and national team coach Jenny Lang Ping. Traitor! Traitor! Traitor! (But the good kind.)
Who to watch: Bernard Lagat -- NBC, 9 p.m. ET
Lagat could become the first U.S. male to win a medal in the 1500 meters since 1968. Born in Kenya, Lagat is the poster child of Team USA's new track slogan: "Kenya: If you can't beat 'em, import 'em."
8.20.08
What to watch: Men's and Women's BMX Bike Seeding -- NBC, 2 a.m. ET
Take baseball and softball away from us will you, IOC? Ha-ha! The joke's on you! We'll just keep inventing quasi-sports for Americans to win. Get ready for 2012 and the debut of Olympic channel surfing.
Who to watch: Chinese divers -- Telemundo, 2 a.m. ET
Diving is one of the sports the Chinese are hoping to clean up in at the Beijing Olympics. But they could be done in by pollution here, too. I'm worried some diver is going to jump into the pool and crack his or her head on an old tire or a sunken oil tanker.
8.21.08
What to watch: men's 10km open water swimming
This is the first Olympics to feature open water swimming as an official sport. And it's about time, since swimming in open water is actually a much more natural form than competing in aquatic centers. So hopefully the whole thing will come off without a hitch.
Who to watch: Sharks!
Sharks! Sharks! Freshwater sharks! Sharks, I say! Right behind you! Swim for your lives!
8.22.08
What to watch: men's volleyball semifinals -- Telemundo, 6 p.m. ET
The U.S. men's team won gold in 1984 and 1988, but hasn't even medaled since '92. I suppose this scene only inspired a certain generation to play volleyball.
Who to watch: Bryan Clay -- NBC, 10 p.m. ET
Clay can win gold in the decathlon for Team USA. But to win he must overcome the pressure better than Dan and Dave. And if he does win, he must never, ever, ever look like this.
8.23.08
What to watch: women's basketball gold medal game -- NBC, 10 a.m. ET
Watch out, Lisa Leslie. Several countries have offered dual citizenship and drag to Rick Mahorn.
Who to watch: Thomas Finchum -- NBC, 7:30 p.m. ET
Finchum, who has grown 10 inches since the 2004 Olympic Trials, is Team USA's best medal hope in the men's 10-meter platform diving final. At 6-foot-1, it's a shame he can't shoot the 3-pointer or he could have helped Team USA elsewhere.
8.24.08
What to watch: Closing Ceremonies -- NBC, 7 p.m. ET
The Olympic closing ceremonies are always bittersweet. We relive the drama and excitement of the previous two weeks, but have to watch as that drama and excitement is depicted via interpretive dance, the trapeze and symbolic ribbon twirling. I mean, why can't we just enjoy the majesty that is interpretive dance, the trapeze and symbolic ribbon twirling without the Olympics being shoved down our throats?
Who to watch: Kobe Bryant
The men's basketball final will be held earlier in the day (NBC, 12:30 a.m. ET), and Kobe's face will tell the story. Either he will be beaming and sporting a gold medal, or he will look angry and confused as some Spaniard or Argentine player freestyle raps in his face. "Como sabe mi trasero?"
DJ Gallo is the founder and sole writer of the sports satire site SportsPickle.com. He also is a regular contributor to ESPN The Magazine and has written for The Onion and Cracked. His first book, "SportsPickle Presents: The View from the Upper Deck," is on sale now.