A week ago, I provided captions for some of the best photos from the first week of the Olympics. Today, I give you captions from the second week of the Beijing Games.
So, you see, I stayed productive throughout the entire Olympics -- unlike some people we know (coughMichaelPhelpscough).
• "You have to lay off the steroids, dude."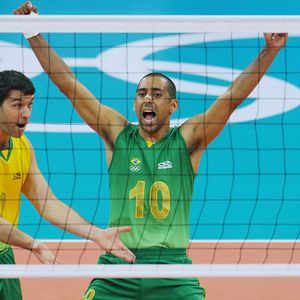 Alexander Joe/AFP/Getty Images
"I said no techno!" "Wait, that's techno? Oh snap! Oowah! Oowah! Oowah! Oowah!"
• "Oh, no. I'm getting cauliflower forehead."
• "We caught her! Now let's taunt her with a celebratory dance!"
• "You ignored a lot of blatant dives today. Great job."
• "Thanks, Briana. You still suck, though."
• "Maybe we would have won if we had worn our spikes."
• "This photo is going to come back to haunt me if I ever decide to run for president."
• "Right here! Right here! I'm open! Pass me the ball!"
• "OK. Now, before they leave the court, who can think of some Croatian stereotypes?"
• "Let your blessings shine down upon us, dear Barbaro."
• "Little help? Anyone? I threw my back out."
• "Let's sprint to the finish!"
• "No way. I just asked Kobe how mine tastes, too."
• "Topspin! Noooooo! That is my least favorite of all the spins!"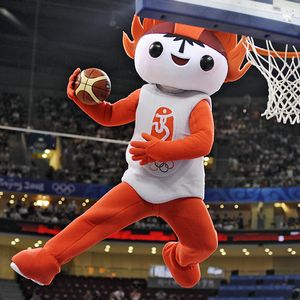 Timothy A. Clary/AFP/Getty Images
"When I said I could dunk I was kind of hoping they would put me on the team."
• "I just hope this loss hasn't devastated our homeland."
• "Wear another man's sweat-drenched shirt? Why, yes! I'd love to!"
• "I might look impenetrable on the outside. But I don't think most people realize that on the inside, there's a complex, emotional person with real hopes and dreams."
• "Mine reeks of scalp." "Mine, too."
• "Just wave. The crowd thinks you're Freddy Adu."
• "I think those orange slices were bad."
• "Yeah, that's doin' it Milwaukee style!"
• "What are you doing?! Do I have to do everything in this operation?!"
• "Now, let's welcome my longtime singing partner Hall to the stage!"
DJ Gallo is the founder and sole writer of the sports satire site SportsPickle.com. He also is a regular contributor to ESPN The Magazine and has written for The Onion and Cracked. His first book, "SportsPickle Presents: The View from the Upper Deck," is on sale now.