Chances are your fantasy football draft is this weekend.
And chances are your player evaluation has been affected by the brilliant "Fantasy Files" videos produced by the NFL.
Chris Cooley punches through drywall to catch a pass. Jason Campbell redirects one pass in midflight by hitting it with another pass. Braylon Edwards catches passes while wearing a blindfold.
It's not too late! Leagues are forming and drafting until Sep. 20, with scoring retroactive to Week 1.
Sign Up Today!
I know my opinion of Chris Chambers went up when I saw him
catch a football with two other footballs
. Now he is one of my "keeps" in my keeper league. (Congratulations, Mr. Chambers. I'm sure this news is a career highlight.)
But before you turn your draft board upside down, remember that there are wildly talented players throughout the NFL. Some of them just had their "Fantasy Files" videos left on the cutting room floor. Here is a sampling:
• Inspired by Marques Colston's video, Bengals receiver Chris Henry catches one ball with his left hand, one ball with his right, and then one ball with his hands cuffed behind his back.
• Cardinals quarterback Matt Leinart, from atop his condo, throws a tight spiral that drills a quarter barrel of beer set on the side of a hot tub, tipping it over and spilling its contents into a beer bong held by a bikinied co-ed.
• Bills running back Marshawn Lynch runs over some people and then speeds away -- only he's not in a car!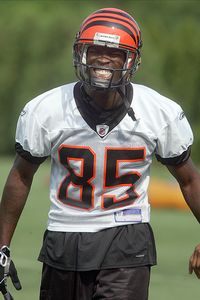 AP Photo/Tony Tribble
One thing we know about Ocho Cinco, he loves the cameras!
• Bengals receiver Chad Johnson catches passes with his toes after he is promised the feat will be televised.
• Cowboys receiver Terrell Owens runs a 2.9-second 40. There is a full-length mirror set at the finish line and he is naked.
• Giants guard Grey Ruegamer pushes down a baby lamb and castrates it with his teeth.
• Patriots lineman Nick Kaczur carries a refrigerator on his back all the way down the field while also carrying a five-pound transmitter and a wire that is strapped to his chest.
• Redskins defensive end Jason Taylor sheds blocker after blocker with the sensual mambo movement of his hips, then dips the quarterback tenderly to the ground after spinning him above his head with one arm.
• Redskins cornerback Fred Smoot tackles a bouncer right through a brick wall to get into a club he hears contains adventurous women.
• Jets quarterback Brett Favre hits the ignition switch on a tractor with a pass from 100 yards.
• Packers quarterback Aaron Rodgers throws a pass so hard it takes Brett Favre's head clean off.
• Saints running back Reggie Bush gains one yard on Texans defensive end Mario Williams.
• Falcons kicker Jason Elam kicks down a bunker, instantly killing all of the terrorists hiding inside.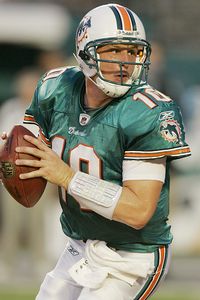 AP Photo/Alan Diaz
Chad Pennington, not exactly known for his arm strength.
• Dolphins quarterback Chad Pennington throws a ball 20 yards into a 6 mph headwind.
• Cowboys cornerback Adam Jones quickly locates a ball carrier, tackles him and strips the ball away through a blizzard of falling cash.
• Cowboys quarterback Tony Romo throws a football from Los Cabos, Mexico, all the way over the border to the United States.
• Falcons quarterback Matt Ryan throws the ball 60 yards while carrying the entire Atlanta franchise on his back.
• Dolphins linebacker Joey Porter pushes through a pile of miniature horse carcasses and tackles his ferocious pit bulls.
• Vikings quarterback Gus Frerotte headbutts a wall to the ground.
• Eagles quarterback Donovan McNabb hits a receiver in the hands from 40 yards with a plume of vomit.
• 49ers quarterback J.T. O'Sullivan shows off his accuracy by hitting Alex Smith's miniature, nearly invisible hands from 25 yards away.
• Titans quarterback Vince Young throws a football 75 yards -- sidearm!
• Patriots receiver Wes Welker does various things and tries really hard at all of them.
• Giants receiver David Tyree catches a football on top of his helmet, enabling the Giants to beat the Patriots in the Super Bowl.
(I'm drafting Tyree in the first round this year in appreciation of that feat alone.)
DJ Gallo is the founder and sole writer of the sports satire site SportsPickle.com. He also is a regular contributor to ESPN The Magazine and has written for The Onion and Cracked. His first book, "SportsPickle Presents: The View from the Upper Deck," is on sale now.