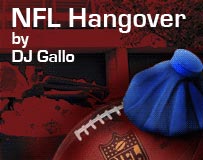 Another Sunday of NFL action has come and gone. Now comes the real excitement: fines. Here's just a partial list of the offenders the league will arbitrarily punish in the coming days.
• James Harrison: excessive aggression
• Michael Turner: use of speed with intent to embarrass
• Keith Bulluck: strength
• Robert Gallery: height
• Ray Lewis: aggressive thoughts
• Justin Tuck: general roughhousing
• Drew Brees: uniform violation, mole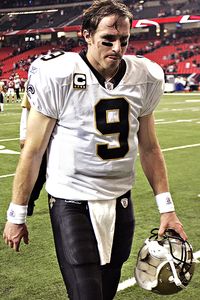 AP Photo/Dave Martin
First Drew Brees and the Saints suffer a disappointing loss in Atlanta. Now he could be facing a fine for a uniform violation.
• Adrian Peterson: joy
• The ground: intent to injure
• Brandon Marshall: social awareness
• Troy Polamalu: split ends
• Hines Ward: juking with the intent to deceive
• Julius Peppers: tomfoolery
• Joey Porter: showing of abs with intent to intimidate/titillate
• Roger Goodell: excessive fining (rescinded)
Week in photos

• "Do you mind if we literally get on your shoulders for a bit?"
• "There's Brett Favre! No, not him. The other old man."
• "I wish this Breath Right strip hadn't opened my nasal passages because he really stinks."
• "See, how I do it is I shave right when I get home from the game on Sunday. That gives me enough days of regrowth that I'm sufficiently scruffy and manly by the next game. Unless we have a Monday night game, of course, and then that changes things slightly. Now, bye weeks and Thursday night games, that's where it gets tricky because …"
• "Look, honey. It dropped the Raiders' offensive playbook on daddy's shoulder."
• "He really is much prettier than I am."
• "Yeah! Oh, and for the record, the color of my fist and wristband are not intended to make any societal statements. Not that I am in any way upset about the advancements we have made. Quite the opposite, in fact. It's just that I don't want to get fined by Roger Goodell."
Quote of the Week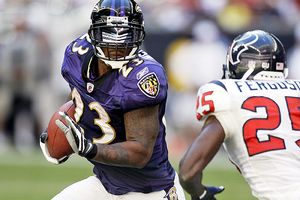 AP Photo/David J. Phillip
Ravens running back Willis McGahee punished
the Texans for stealing his precious bye week.
"They took our bye week, so we had to come out there and show 'em that they can throw obstacles at us and we'll just try to overcome them." -- Willis McGahee, RB, Ravens
Umm … what are you talking about, Willis? Who exactly took your bye week? The NFL? The Texans? God? Mother Nature? Or did they all conspire to postpone your Week 2 game at Houston with a massive hurricane? And who knows if there even was a hurricane, am I right? That was probably a hoax just to try to keep down the Ravens. And I bet all those people along the Texas coast who fled were part of it, too. They flooded their homes and then hit the road, all to throw some obstacles at the eternally hated and disrespected Ravens.
How they spent their bye week

Cincinnati: being active in the community.
Dallas: booking vacation spots for the playoff bye week (and the rest of the postseason).
Tampa Bay: having slumber parties in Jon Gruden's office.
Washington: preparing the locker room for radiation treatments upon the arrival of DeAngelo Hall.
Horrible fantasy team that crushed your team this week

Brady Quinn, QB, Browns -- 23-for-35, 239 yards, 2 TDs
BenJarvus Green-Ellis, RB, Patriots -- 26 carries, 105 yards, TD
Kevin Smith, RB, Lions -- 123 total yards, TD
Mark Bradley, WR, Chiefs -- 9 catches, 81 yards, TD
Malcom Floyd, WR, Chargers -- 4 catches, 76 yards, TD
Dustin Keller, TE, Jets -- 6 catches, 107 yards, TD
10 things I'm thinking you'd think I'd think

1. The Giants are already in playoff form. The defense is coming up with big stops. Brandon Jacobs is moving the chains. Eli Manning is picking up yards down the field when the situation allows. Even though it's not even below freezing yet, Tom Coughlin's face is already 11 shades of purple. At this rate, they'll win another title, and Coughlin will have an icicle hanging off his nose in Tampa Bay.
2. The Rams and Raiders are done, and they have been for a while. But they both have a shot at history. Why not make the move to an interim interim coach? The current interim coaches have only made each team worse, and the benefit of the interim interim coach is even if he does well, you only have to promote him up to interim coach pay. It's really a no-brainer.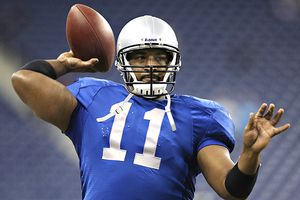 AP Photo/Paul Sancya
Daunte Culpepper has his work cut out for him in Detroit, but we love those youth league throwbacks.
3. Now I present the short play, "Daunte Culpepper Enters the Lions Huddle."
Culpepper: "OK, guys, I'll be honest -- I don't really know any of the plays yet. So just tell me a play that usually works well for you guys and we'll do that."
(silence)
Culpepper: "Anyone? Quick, the play clock is running."
(silence)
Culpepper: "Come on! Something. Kevin, first thing that comes to mind?"
Kevin Smith: "… we punt pretty well?"
Culpepper: "OK. Let's run up the middle three times and run that."
End scene.
4. Dolphins guard Justin Smiley on Miami's frequent narrow victories, including Sunday's escape against Seattle: "It stresses me out. I've got bad nerves as it is. I'm sure it was awesome for the fans, but it was nerve-racking." Then everyone slowly turned and looked at Ricky Williams.
5. I can't believe the Titans don't get more media love. They are the lone undefeated team and, more importantly, they can be described with countless football clichés. They have a great defense, and we all know "defense wins championships." They have a quarterback who has been described as both a "game manager" and a "gunslinger." The Titans aren't "flashy." They "just win." "There are no stars." "They play the right way." Come on, media! You can talk about this team without ever having a single original thought. They're time-filling gold!
6. Our financial institutions are falling apart. The EPA is a wreck. FEMA is a national joke. Now, Joe Biden is attending Eagles games? How many failed organizations can the new administration take on?
7. It's kind of fitting that the Lions "throwback" uniforms are really just the same uniforms worn by every youth football team in America that is so embarrassingly awful it can't wrangle up a single sponsor.
8. Matt Ryan and Joe Flacco have had outstanding rookie seasons. However, I heard announcers say of both of them Sunday that now we're past midseason, they are no longer rookies. In that case, they're not nearly as good. In fact, Flacco might be a massive bust.
9. At first glance, Monday night's 49ers-Cardinals matchup might not seem compelling. But in Mike Singletary we have a coach who, during a completely inconsequential home game on a beautiful Northern California fall afternoon, freaked out and dropped his pants. Now thrust Singletary into the pressure of "Monday Night Football." If that isn't marketable to a national audience, I am not an American.
10. No doubt in the past 15 days Mike Singletary had a sudden realization that after dropping his pants, kicking a player off the field and exploding in his postgame news conference -- all in his first game on the job -- he might have trouble getting his team's attention from here on out. I mean, how do you top all that? So if I may, I'd like to offer a few suggestions for the remainder of the season.
Tonight: Magic tricks. Where did that rabbit go?
Week 11: More magic tricks. Where did your pants go?
Week 12: Fire eating.
Week 13: Tire eating.
Week 14: Green screen. Whoa! A halftime speech on the moon! And now underwater! And now amidst a bloody struggle on an ancient battlefield!
Week 15: CGI. Who wouldn't listen to a pep talk from centaur Singletary?
Week 16: Ritual sacrifice. Alex Smith should help the team somehow this season.
Week 17: Make appropriate in-game adjustments and instruct your players on how they can limit their mistakes while capitalizing on their opponent's miscues. Sounds crazy, I know, but that could really catch them off guard.
DJ Gallo is the founder and sole writer of the sports satire site SportsPickle.com. He also is a regular contributor to ESPN The Magazine and has written for The Onion and Cracked. His first book, "SportsPickle Presents: The View from the Upper Deck," is on sale now.
Also See
ESPN Top Headlines