The Tennessee Titans are now 10-0. They are clearly a legitimate Super Bowl contender, yet they hail from a non-major media market. How annoying. How rude.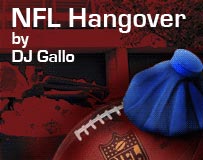 But since it appears they have no intention of going away, I suppose we should learn a few things about them. Sigh. So here are five things you should know about the Tennessee Titans.
1. Quarterback Kerry Collins is an aspiring country songwriter who has penned one song called "It's Hard Not to Be Happy When I'm Looking at You." Collins is old enough, and that song sounds lame enough, that he could be the first quarterback in NFL history to both start in a Super Bowl and perform the halftime show of the same Super Bowl.
2. Running back LenDale White is first cousins with Denver Nuggets point guard Chauncey Billups. He is also related to a basketball player on the other side of his family.
3. Standout defensive lineman Kyle Vanden Bosch wears red contact lenses during games. They are custom lenses that cut down on glare. However, they also cause glare from the sun reflecting off of the pools of tinkle below those lined up across from him.
4. Head coach Jeff Fisher has the longest tenure of any current NFL head coach, outlasting two presidential administrations, one classic mullet and several experimental facial hair stages.
5. Umm ... how about those Giants, huh?
---
Week in Photos
"Dear God, please let the economy improve, as I will be an unrestricted free agent at the end of the season."
"Thanks for all this, but I actually have to go. Coach says he needs me to play a few series at defensive back."
"So I shaved my head on a whim and what should I find but ..."
"Nice job, whatever-your-name-is! Keep it up and maybe we won't cut you!"
"We can never let anyone know the true identity of the 12th Man."
"This is awkward. We wore the same outfit."
---
Quote of the Week
"You want to go out on the street and look for me? If you bring somebody back, I'll look at him. You go out in the street and find one." -- Rod Marinelli
Okay, people. For those of you who took Terrell Owens up on his offer two weeks ago to try out at quarterback for the Cowboys, here is another offer of a possible NFL job from Lions head coach Rod Marinelli. But this is your last chance, okay? If you can't make the Lions, you can't make the NFL.
---
Stat of the Week
372 -- Consecutive PATs made by Ravens kicker Matt Stover, an NFL record. Well done, Mr. Stover, on years of making the most anticlimactic play in sports that much more anticlimactic. When you come onto the screen for a PAT, millions of people all across the country know they can take an extended trip to the bathroom without missing anything. NFL players have achieved many amazing things over the years, but you are the only one who can say you have kept the nation regular. Congratulations.
---
Book of the Week
"T.O.'s Finding Fitness: Making the Mind, Body and Spirit Connection for Total Health" by Terrell Owens.
You see, once little T learned to share he had many people more than willing to spot him on the bench. And now he is giving you 240 pages of reasons you should feel alive.
Here is a sample workout:
Driveway curls: 1 set of eight repetitions
Driveway sit-ups: 1 set of 30
Celebratory dance: 30 seconds
Dead lift one naked, aging actress: 1 set of one
Touches: max
---
Horrible Fantasy Team That Crushed Your Team This Week
Shaun Hill, QB, 49ers -- 15-for-20, 213 yards, 2 TD, 1 rushing TD
Pierre Thomas, RB, Saints -- 144 total yards, TD
J.J. Arrington, RB, Cardinals -- 61 total yards, 2 TD
Justin Gage, WR, Titans -- 4 catches, 147 yards, 2 TD
Jabar Gaffney, WR, Patriots -- 7 catches, 86 yards, TD
Ben Watson, TE, Patriots -- 8 catches, 88 yards, TD
---
10 Things I Think About Some Things I Thought
1. A tie is like kissing your sister. But I think a tie against the Bengals is far, far worse. I would say it is like kissing your wife, having several children with her, and then finding out years later that she is your long-lost sister.
2. Eagles safety Brian Dawkins was clearly distraught after the Bengals game and had this to say in the postgame press conference about how tying felt to him: "It's like in 'Talladega Night' how they say there is only first place and last place." Let this be the latest reminder to you that sports are not to be taken seriously. Sports problems are not real problems. Dawkins was visibly upset and what came to his mind was ... "Talladega Nights: The Ballad of Ricky Bobby." If in your darkest hour, you quote lines from absurd Will Ferrell comedies, you have a blessed life. I mean, it's not often a person is called to the morgue to identify a loved one and tells the medical examiner: "It's like in 'Anchorman' when he says: 'It's a formidable scent. It stings the nostrils. I'm gonna be honest with you, Brian, that smells like pure gasoline.'"
3. And now I present the short play: "Mike Singletary's Latest Halftime Speech."
(Scene: locker room)
Singletary: "Men, we're up 35-3. We're really doing a great job of executing out there. Do you understand what I'm saying? You are executing efficiently and powerfully."
All: "Yeah, coach. We understand."
Singletary: "Do you? I can't be sure. I need you to really visualize how well you are executing. I like literal examples, like when I told you two weeks ago your were getting your butts whipped, I actually took out my butt. I don't go halfway with this stuff."
All: "We remember."
Singletary: "Now I just need a volunteer here so I can illustrate execution."
(Sound of the locker room scattering in chaos).
4. Spencer Larsen of the Broncos started at linebacker, fullback and on special teams yesterday. He didn't have a catch or a carry, but he was third on the team with seven tackles. Which is kind of weird because the Broncos lost the time of possession battle to the Falcons by more than seven minutes. So you'd think Larsen would have been worn down on defense, but fresh and rested on offense from all of the time the defense was on the field.
5. Larsen is only the fourth player to start on both sides of the ball since 1990, joining the Cowboys' Deion Sanders (1990), Washington's Champ Bailey (2000) and Baltimore's Orlando Brown (2003). However, Sanders' mark has an asterisk, of course, as he played all of his games in the third person. It's not quite as tiring that way.
6. Unable to put pressure on the ball with his pinkie, Tony Romo had to teach himself a different way to throw the ball using only his thumb and three fingers. Necessity breeds evolution. Pollution : moths :: Brad Johnson and Brooks Bollinger : Tony Romo.
7. How bad is the job market? Jim Fassel reportedly wants to coach the Raiders. He sent a handwritten letter to Al Davis expressing his respect for him and his desire for the job. No one outside of the organization has seen the letter yet, but I'm sure we'll all get to see it in a year or two via the modern medium of overhead projector.
8. Very fishy ending to the Steelers-Chargers game yesterday. On the final play, trailing 11-10, San Diego was attempting laterals on a kick return. Troy Polamalu picked one off and ran it into the end zone for a touchdown and a 17-10 final score. Either way the game was over and Pittsburgh won. But after several minutes of conferring, the officials said there was a forward lateral so the points came off the board. Final score: 11-10. Two problems: replays show there was nothing even remotely close to a forward lateral; and Polamalu's touchdown (had briefly) allowed the Steelers to cover the five-point spread. Now, some are calling for the league to investigate this and reverse the score. But the damage is already done. It went in the book as the Steelers failing to cover. My legs are not going to unbreak themselves.
9. So now we know how that Troy Polamalu-LaDainian Tomlinson Nike ad ends. A lifetime of work, all that sweat and blood and hours in the weight room AND ... a sloppy, 11-10 game that ends on a disputed forward lateral by Tomlinson. Film editors never get enough credit.
10. The end of the Steelers game was just one incident. Here are the most bizarre gambling-related happenings from Week 11, from least bizarre to most bizarre:
3. Panthers run clock out in Detroit territory in final minute-plus, bypassing chance to score and cover the spread
2. Ending of the Steelers game
1. The supposed existence of people who bet on the Rams to cover
DJ Gallo is the founder and sole writer of the sports satire site SportsPickle.com. He also is a regular contributor to ESPN The Magazine and has written for The Onion and Cracked. His first book, "SportsPickle Presents: The View from the Upper Deck," is on sale now.
Also See
ESPN Top Headlines