In the spirit of giving this holiday season, I thought I'd give the intro to this week's NFL Hangover to Clement Clarke Moore (1779-1863), the author of the famous poem "'Twas the Night Before Christmas." Clement, the Hangover is all yours.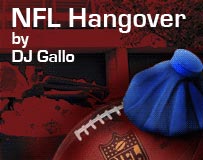 'Twas the Sunday before Christmas, when all through the NFL
Not a creature was misbehaving, not even Tatum Bell;
Wade Phillips was hung in Jerry Jones' office by his hair,
In hopes a better coach soon would be there.
The kickers were shoved all snug in their lockers,
While their underwear was pulled up over their Dockers;
And one cheerleader in a halter, and another in a Santa cap,
Had given many a fan a tingling in their lap,
When out on the field there arose such a clatter,
We expected to see sweatpants stained with blood spatter.
Away to our TVs we flew like a flash
(It's not a flat-panel because we're a bit short on cash);
The stadium lights were shining on new-fallen snow,
Reminding Matt Jones of freshly cut blow.
When, what to our wondering eyes should appear,
But a miniature quarterback, one bloody Buccaneer.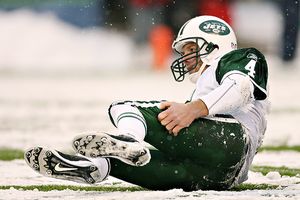 Otto Greule Jr/Getty Images
Christmas might not be very fun for Brett this year.
And a very old Favre, so lively and quick,
We could hardly wait for his next game-breaking pick.
More inconsistent than the Eagles, his passes they came,
He sighed and grimaced and called a D-back a name.
Now, Derrick Ward! Now, Jacobs! Now, Collins and Finnegan!
Elisha must throw more to Domenik Hixon!
To the top of the division! To the top of the conference!
Now clinch away! Clinch away! Clinch away all!
And the Cards did their thing when East they do fly,
Which is meet an obstacle, then cower and die.
Yes, weeks ago atop the NFC West they flew,
But that's like being atop a pile of fresh dog doo.
And then, while we were tinkling, we heard through the door
That the Broncos were choking again once more.
As we washed our hands and turned around,
The Niners beat the Rams with nary a sound.
Singletary was dressed from his head to his butt,
Meaning another week did pass without halftime smut.
So another loss was put on Haslett's back,
And it's really quite clear that he should start to pack.
Matt Ryan's eyes -- how they twinkled! His receivers -- how merry!
Pennington's cheeks were like roses, his weak arm less airy!
Next week's game at the Jets is now tied up with a bow,
But it was Kerry Collins' beard that was white as the snow;
The air of confidence circled his head like a wreath,
Reminding us of that perp walk with the cigar in his teeth;
There was Adrian Peterson, who ran at the D-line's belly,
Then he'd drop the ball to the ground (perhaps it was covered in jelly).
Holmgren was chubby and plump, his fans mourned him with howls,
And we all enjoyed a last chance to laugh at his ridiculous jowls.
And despair in Crennel's eyes and his downcast head,
Made us sure he had made his firing bed.
LenDale spoke not a word but enjoyed the winner's perk,
And stomped on a towel to confirm he's a jerk.
While putting their hands right over their eyes,
The Lions looked up and discovered stink lines rise.
Marinelli walked the sidelines, gave his team an encouraging whistle,
Too bad the Lions suck more than a 20-horsepower Bissell.
But we heard them exclaim as they walked into the night,
"Happy Christmas to all our opponents, 0-16 is in sight!"
Week in photos
"Tell Roger to cover up. Here comes the free kick."
"We ask you to protect Wade Phillips from serious harm."
"If you're just going to keep making fun of my decisions, I'm going to turn this thing off."
"Boo-hoo. Not only does my favorite team stink, but I have a bosom nose, too."
"Wait, what? What's with the '15'? I thought we were going to express our love of doughnuts and coffee."
"OK, look -- I'm going to roll out to the right and fumble, OK?"
"Ricky was right, that was some good stuff."
"You could always count on me to get you a win, Coach."
"Yes! Hot cocoa time! My mommy rules!"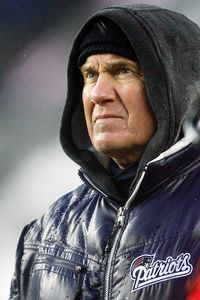 Jim Rogash/Getty Images
A smart man, and a snazzy dresser.
Quote of the week
"That's not really anything that we have any control over. We're not in the NFC."
-- Bill Belichick, on the Patriots' potentially going 11-5 yet missing the playoffs
Oh, smack! Bill Belichick is ripping the NFC! But you know, I have to trust Belichick's opinion here. The man knows him some bad football. The Patriots not only got to play four games against the NFC West this season (combined record: 20-40), but four against the AFC West, too (21-39). So he has seen a lot of awful football. Yet, despite that laughably easy schedule, he still managed to motivate his team to lose only five (or possibly six) times. Genius!
Stat of the week
36-35: With their 14-0 win over the Browns, the Bengals now have a 36-35 lead in the Battle of Ohio. But before this game I would have sworn that Cincinnati and Cleveland were tied at 0-70.
Greatest rankings to argue about for no apparent reason this week
5. Best punters of all time
4. Best defenses of all time
3. Best special-teams units of all time
2. Week 17 Power Rankings
1. Week 1 Power Rankings
Horrible fantasy team that crushed your team this week
JaMarcus Russell, QB, Raiders: 18-for-25, 236 yards, 2 TDs
Fred Jackson, RB, Bills -- 113 total yards, 1 TD
Mike Bell, RB, Saints -- 40 total yards, 1 TD
Devard Darling, WR, Chiefs -- 3 catches, 69 yards, 1 TD
Chaz Schilens, WR, Raiders -- 3 catches, 52 yards, 1 TD
Brandon Manumaleuna, TE, Chargers -- 1 catch, 11 yards, 1 TD
10 things I think you think he thinks we all think
1. It's late December, so we are well into flu season. But how do you know whether you have the regular flu or Lions flu? Answer the following questions to find out.
Do you have a high fever? If yes, you may have the flu.
Is the best quarterback in your state Dan LeFevour? If yes, you have Lions flu.
Is your nose running? If yes, you may have the flu.
Is the opposing offense running all over you? If yes, you have Lions flu.
Are you experiencing nausea and vomiting? If yes, you may have the flu.
Did it come about while watching your game film? If yes, you have Lions flu.
Do you have achy muscles? If yes, you may have the flu.
Do you not have muscles? If yes, you have Lions flu.
2. Say what you will about the Lions, but Detroit is lucky to have them. The booming paper-bag-hat industry is about the only thing keeping the city alive.
3. After another wild week of NFL action, here are how all the various playoff scenarios look. Bear with me here, it's pretty confusing. Ready? The Eagles still can clinch a wild-card spot, but only if they beat the Cowboys. But not only must they beat the Cowboys, the Bucs and Bears must lose, too. Whereas the Jets can make the playoffs if they beat the Dolphins and New England goes into Buffalo and … this is stupid. Basically, after Sunday, the good teams will be in the playoffs and the bad teams won't.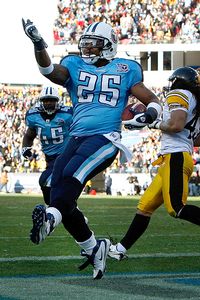 Streeter Lecka/Getty Images
If the Titans and Steelers meet again in the playoffs, there could be fireworks.
4. Relax, Steelers fans. Just relax. Yes, LenDale White, Keith Bulluck and Jevon Kearse stomped all over Terrible Towels and blew their noses into them. But do not stoop to their level. Do not desecrate the enduring image of the Tennessee Titans. (Which, if I'm not mistaken, is a framed photo of this. Or maybe it's screen-printed onto a towel of their own. I have no idea.)
5. You have to laugh, though, at people getting all bent out of shape over a towel. "Oh no, sir! Now you have stepped over the line! Spitting on my 4-year-old son in the bathroom and calling my wife a $@*%* is one thing. But stepping on my most cherished little yellow cloth? How dare you! You will pay!" But hey, for whatever reason, people cherish those towels. It's like when in college, my roommate used my bath towel one morning. It was an honest mistake -- it looked just like his. But that's not the point. The point is, even several years later, he still can't figure out who set his car on fire or what got on his toothbrush that gave him a severe bacterial infection.
6. What's odd about the Titans' display is that they must have had the towels with them on the sideline for the entire game, not knowing whether they would win or lose. It would have been a little odd had the Steelers been able to hold on to their 14-10 third-quarter lead.
"Umm, LenDale, is that a Terrible Towel you have?"
"No. Why would I have a Terrible Towel? That would make no sense."
"Agreed. That would make no sense. So then why do you have one?"
"Shut up, man! Leave me alone. I'm angry enough already that these things don't taste like Heinz mustard."
7. Dear Jane Seymour,
Regarding your jewelry design that you hope will become the "international symbol for love and hope": a) Way to keep your expectations realistic; b) please stop running your ad 100 times during every football game; and c) your design looks like a snake with giant buttocks. Just saying.
Sincerely,
DJ Gallo
8. In case you didn't see this past weekend's implosion of the RCA Dome, here it is. Notice that it gets much quieter at the 20-second mark. That is likely right after the stadium's explosion noise speakers exploded.
9. After two officials got injured last week, the NFL reportedly is considering having officials wear helmets. And then I guess one official would get the helmet with the green sticker and radio so he could get instructions from the league office.
10. I now present the short play: "Matt Cassel and Matt Leinart Meet at Midfield."
(Scene: the center of the field following New England's 47-7 victory over Arizona)
Leinart: "Hey, Matt! Great game."
Cassel: "Oh sure, uh … hey … um, I'm sorry -- do I know you?"
Leinart: "Yeah, it's Matt Leinart. You know, from USC?"
Cassel: "Oh, right. Matt Leinart. I'm sorry. Good to see you. So, what are you doing here?"
Leinart: "Well, I play for the Cardinals."
Cassel: "You do? The Arizona Cardinals? Oh, wow. I had no idea."
Leinart: "Yeah, I'm the backup right now. But I have my eyes on the top job."
Cassel: "Good for you, Matt. Good for you. Way to stay motivated. Who knows, you get the No. 1 job there, maybe one day you can move on to a better organization."
Leinart: "Yeah, that's what I'm thinking. This is just sort of a stepping stone. So hey, I was wondering if you might want to come over to my place -- I'm throwing a party with some of our old college friends."
Cassel: "Oh, gee, I don't know, Matt. I'm kind of busy with my job. I don't really do that kind of thing anymore, and I haven't seen those people in years. I probably have a game the same day anyway."
Leinart: "It's on Friday."
Cassel: "Yep. I've got a game."
Leinart: "On a Friday? Really? I thought that …"
Cassel (interrupting): "OK, old buddy. I've got to get going -- a whole bunch of media people want to talk to me. Probably some endorsement people, too. But great to see you, Matt, and maybe we can get together sometime."
Leinart: "Sure, that would be awesome! Can I get your cell phone number?"
(Cassel walks off, pretending not to hear him.)
End scene.
DJ Gallo is the founder and sole writer of the sports satire site SportsPickle.com. He also is a regular contributor to ESPN The Magazine and has written for The Onion and Cracked. His first book, "SportsPickle Presents: The View from the Upper Deck," is on sale now.