At the end of the regular season, I handicapped each playoff team's odds of winning the Super Bowl.
For example, I gave Arizona the worst odds at 50-1. And now, two weeks later, they have still not won the Super Bowl. I RULE!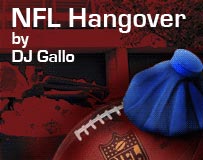 Anyway, my awesomeness aside, with only four teams remaining in the playoffs, it's time to reset the odds.
Arizona Cardinals
The Cardinals might still be the underdogs, but Larry Fitzgerald can carry them a long way. He isn't often mentioned alongside the likes of Terrell Owens, Randy Moss and other elite receivers and, well … he really shouldn't be. Because Larry Fitzgerald doesn't play wide receiver. He plays a new hybrid position that requires that you catch passes but not be an insufferable jerk at the same time. And he's very good at it.
Odds: 49-1 (You've earned my respect, Arizona!) Or 12-1
Philadelphia Eagles
With the Phillies fresh off a World Series title and the Eagles now improbably one win from the Super Bowl, Donovan McNabb says "The city of Philadelphia is buzzing." That shows how different the perspective is on the field compared to how it is in the stands. Philadelphia is not buzzing. It's well past buzzing. The fans of Philadelphia are full-on drunk. They know there is a massive hangover coming. They know they could throw up at any moment. They know they just inappropriately touched the complete stranger in front of them. They know they just spouted a string of profanity in front of a 6-year-old. They know they're eventually going to black out and wake up in the morning beside the Sixers. And who knows, they might even have to hold McNabb's hair while he vomits. But for now they'll have another drink and see what happens.
Odds: 6-1
Baltimore Ravens
Why do people keep saying "You do not want to play the Ravens"? I don't get it. Isn't it the complete opposite? I mean, sure they're a very tough team to beat, but you still want to play them. I bet if you asked the Chargers right now if they would like to play the Ravens, they would say: "We sure would! That would mean we're still in the playoffs." Or ask the Cardinals or Eagles and they'd say: "Definitely, because that would be in the Super Bowl." The only explanation is that the Ravens smell. It could be body odor, it could be halitosis; most likely it's a digestive issue. But they must smell. And bad. Because, to me, "You do not want to play the Ravens" sounds a lot like "You do not want to go in there right now." Light a match, Ravens!
Odds: 4-1
Pittsburgh Steelers
The biggest concern for Pittsburgh in the playoffs was their inconsistent offense. But against the Chargers their offensive line was outstanding, Willie Parker ran the ball with ease and Ben Roethlisberger was nearly flawless. As good as Roethlisberger has been during his career, the one thing that probably prevents him from being mentioned in the same sentence with Tom Brady and Peyton Manning is his proclivity for poor decision-making. But yesterday he made every correct read, every right throw, and was as smart and efficient as he ever has been. And this coming off a concussion. So that's good news for the Steelers, since it's clear that Roethlisberger concussed the stupid part of his brain.
Odds: 2-1
Week in Photos
• "A few more minutes of fake despair to make sure no one is coming back, and then those beers are mine."
• "Just look away. There is nothing fist-pump-worthy to see out there."
• "Whaaa? One of Pennington's passes is still in here."
• "Are you injured or hurt?" "I don't know." "Well, would you be able to do a celebratory dance for a routine tackle right now?" "No." "Whoa. Then you're definitely in bad shape."
• "Wooooo! Fumble 'n' Fumble are in the house!"
• "I am at a loss for words. I had them, but they were intercepted."
• "You're going to punch him, right?" "Oh, no doubt."
• "I wish I could take this game and hide it in my glove box."
• "We keep shooting ourselves in the foot."
• "Yes, I'd like the number for a pharmacy in the Tampa area that sells anti-vomiting medication."
• "You had the better puffy coat today."
• "I told you the answer would be 'C: is from Detroit.'"
• "You know, if you want to retire, I'm sure they could always wedge in another guy on our set."
Quote of the Week
"He is the best quarterback in the NFL. I don't think I have to say anything more than that."
-- Andy Reid, head coach, Philadelphia Eagles
Stat of the Wee- … oh, right. I should probably clarify that in the quote above, Andy Reid was speaking about Donovan McNabb, not Kevin Kolb. Weird.
Stat of the Week
7: With his interception of Eli Manning on Sunday, Eagles cornerback Asante Samuel now has seven career playoff interceptions, good for the fifth-most all-time. Impressive. And I can only assume he's even higher up on the list for most deflected passes in the postseason.
10 Things I Think I Think Under the Pressure of Playoff Thinking
1. Since Tony Romo received criticism for going on vacation with Jessica Simpson last season during the first round of the playoffs, I can only assume Eli Manning will be criticized for his bye-week activities, which, according to the New York Post, included drinks at a nightclub and a lap dance from his wife. And perhaps he deserves criticism. Manning seemed distracted against the Eagles, and was clearly so traumatized by the nightclub event that he decided to play the entire game while wearing a protective lap-dancing guard.
2. It's now clear that the loss of Plaxico Burress had a detrimental effect on the Giants, and on Eli Manning in particular. The Giants were 2-4 after the incident, and Manning completed only 55 percent of his passes, threw five interceptions to just three touchdowns and posted a dismal quarterback rating of 68.5. No wonder the Giants might bring their troubled receiver back. Without him, they just aren't very good. But with Burress, New York's offense is as explosive as:
a) sweatpants and Glocks
b) an Applebee's
c) Plaxico Burress' thigh
d) something that is explosive that is not related to a sweatpants-wearing Plaxico Burress shooting himself in the thigh while at a Manhattan nightclub, and then trying to cover it up by allegedly saying his name was Harris Smith and that it happened at an Applebee's
3. And now I present the short play: "Carolina's Postgame Locker Room."
(Scene: Carolina's locker room. Head coach John Fox addresses his defeated players.)
John Fox: "Men, gather 'round. I want you to remember this: No one player can lose a game Delhomme. Whoops. I meant 'alone.' No one player can lose a game alone. I can't believe I said 'Delhomme.' Crazy, huh? Anyway … please remember that no single player can Jake us. Whoops. I did it again. I meant 'break us.' No single player can break us. I said Jake us. Where is this stuff coming from? Weird. Okay, continuing on: Remember that we win as a team and we lose as a Jake Delhomme is a terrible quarterback. Whoops. That time I meant … umm … no, I'm actually going to go with what came out that time. It felt right."
(End scene.)
4. Fourteen years as head coach now of the Titans, and Jeff Fisher still hasn't gone all the way. It's inexcusable, really. He really is lacking his coaching chops. And by "chops," particularly of the mutton variety. Until he grows some of those, he will not have experimented with every kind of facial hair in his coaching career. And that would be a shame.
5. Last season the Patriots went 16-0 and didn't win the Super Bowl. And now this season a No. 1 seed will not win the Super Bowl for the fifth season in a row, with the two top seeds being eliminated immediately. So going undefeated is no good. And even going 13-3 like the Titans or 12-4 like the Giants is no good, either. You know, the Lions are much closer to greatness than they ever imagined.
6. Andy Reid is a fraud. He claims to be growing a playoff beard. But he is clearly trimming his beard. A true playoff beard is left to grow and grow without any attempt to scale it back. Reid is just growing a regular beard. I'll give him a playoff midsection. But playoff beard, no.
7. And now I present the short play: "Darren Sproles."
(Scene: an empty stage. Darren Sproles walks out and does something.)
(End scene.)
8. Joe Flacco's performance this season as a rookie cannot be understated. It can, however, be overstated. I mean, he is benefiting from an outstanding defense. Flacco's true performance is somewhere between dependable and outstanding. If you consider his left eyebrow Dependable and his right Outstanding, his performance falls in that dense area in between. (And for the sake of this analogy, just pretend there are two distinct eyebrows.)
9. Donovan McNabb's "phone call" on the Giants' sideline was just an example of a player having harmless fun. That's the kind of stuff fans enjoy. And isn't that what sports are all about: having fun, competing, entertaining the fans? I trust Roger Goodell will punish him severely.
10. I am excited to watch the Cardinals-Eagles game Sunday. But the Steelers-Ravens game is the marquee matchup, because of the existing rivalry between the two teams. And the war of words is already going. Here's Steelers defensive end Brett Keisel: "We have a tough, tough team coming in here." And here is Pittsburgh linebacker LaMarr Woodley: "We had their number twice during the season, but they will be a different team when they come in here." Oooh! Now that's some bulletin-board material right there. I imagine Terrell Suggs or Ray Lewis will feel mighty disrespected by the Steelers not disrespecting them.
DJ Gallo is the founder and sole writer of the sports satire site SportsPickle.com. He also is a regular contributor to ESPN The Magazine and has written for The Onion and Cracked. His first book, "SportsPickle Presents: The View from the Upper Deck," is on sale now.