The 2009 NFL combine is over. Several players proved themselves to be workout warriors. Others did not. So much for their careers as personal trainers. Perhaps they can become professional football players instead.
Let's take a look at all the combine winners and losers.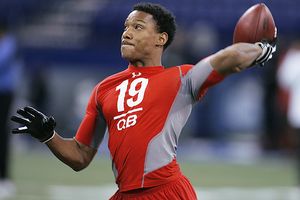 AP Photo/Darron Cummings
From 2005-07, Pat White boosted Rich Rodriguez's stock. At the combine, White boosted his own.
Pat White, QB, West Virginia: Winner
White surprised some scouts by demonstrating a strong, accurate arm and performing well in position drills. He definitely will be looked at by teams that use the popular Wildcat formation and now maybe even by some teams that use the more popular non-Wildcat formation.
Michael Crabtree, WR, Texas Tech: Loser
A stress fracture in Crabtree's left foot prevented him from running the 40-yard dash at the combine -- and he's not sure whether he will be able to run one before the draft. Now teams don't know what to make of him. If only someone had thought to make tapes of all the games he played at Texas Tech, they could have evaluated him by watching them. Oh, well.
Malcolm Jenkins, CB, Ohio State: Loser
Jenkins was unable to run a 40 in less than 4.52 seconds, possibly pushing him out of the first round and causing scouts to see him as a safety instead of a cornerback. On the bright side, Jenkins was able to change the perception of Big Ten defensive players from "plodding" to merely "slow."
Mark Sanchez, QB, USC: Winner
Sanchez performed well in all the measurables and even took part in passing drills, pleasing many scouts by throwing a very "catchable ball." Too many young quarterbacks today throw a ball coated in grease and shards of glass.
Ian Johnson, RB, Boise State: Winner
Johnson wowed scouts with surprising speed and strength and an ability to change direction in the three-cone drill, which was especially impressive considering Chris Myers tried to butt into everything he was doing.
Jason Smith, OT, Baylor: Winner
Smith was solid at the combine and now is the top-rated offensive tackle available. He had a good 40 time and put up 33 repetitions in the bench press, but he got his best reviews for not being Andre Smith.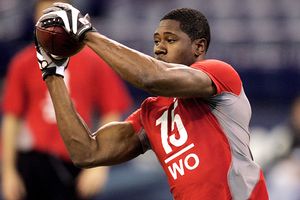 AP Photo/Michael Conroy
Darrius Heyward-Bey ran the fastest 40 despite lugging around a hyphen and several extra letters.
Darrius Heyward-Bey, WR, Maryland: Winner
Heyward-Bey likely moved into the first round by running a 4.3 in the 40, the best time of the combine. The Maryland receiver always has had speed, but the combine showed he is even faster when freed from the gravitational pull of Ralph Friedgen.
Donald Brown, RB, UConn: Winner
Brown was lightly regarded by many in the NFL despite leading the nation in rushing this past season. Then he went out and had an outstanding combine, and now he is the top-rated runner in the draft. So much for his shot to one day be regarded as the steal of the draft.
Aaron Curry, LB, Wake Forest: Winner
Curry moved into the discussion for the No. 1 overall pick by excelling in workouts and coming across as thoughtful and intelligent in interviews. But he could have hurt his stock among coaches who prefer players who are too dumb to think for themselves.
Beanie Wells, RB, Ohio State: Loser
Wells displayed average hands and appeared to lack flexibility. He also ran a relatively slow 4.59 in the 40. However, around the 30-yard mark, he did speed past fellow Buckeye Maurice Clarett, who still is in the midst of completing his run from the 2005 combine.
Derrick Williams, WR, Penn State: Loser
Williams was projected as a third receiver/kick returner-type in the NFL, but then he went out and ran two slow 40s of 4.58 and 4.67. In his defense, he did catch a flu bug over the weekend. A very slow flu bug.
Josh Freeman, QB, Kansas State: Loser
Freeman hoped to quiet his critics at the combine. He didn't succeed. But he was able to quiet many of his supporters.
Rey Maualuga, LB, USC: Loser
Maualuga ran a pedestrian 40 and then hurt his hamstring while slowing down after the finish line. He tweaked that hamstring in a relatively slow 0.08 seconds, a full three-hundredths of a second slower than Texas defensive end Brian Orakpo hurt his.
Nate Davis, QB, Ball State: Loser
Davis was fairly unimpressive across the board. He could be the next Tom Brady.
David Buehler, K, USC: Winner
With 25 reps in the bench press, Buehler bested many linemen. And his 40 time of 4.56 topped those of several highly rated linebackers. Additionally, his triple-stitch underwear waistband makes him tougher to atomic wedgie than most kickers.
Andre Smith, OT, Alabama: Winner
Smith was the possible No. 1 overall pick. Then he got suspended for Alabama's bowl game. And then he up and left halfway through the combine. So he's sliding down the draft boards … closer to the good teams and, more importantly, further from the Detroit Lions. Well done, Andre Smith. Well done.
DJ Gallo is the founder and sole writer of the sports satire site SportsPickle.com. He also is a regular contributor to ESPN The Magazine and has written for The Onion and Cracked. His first book, "SportsPickle Presents: The View from the Upper Deck," is on sale now.