NFL free agency officially began this morning at 12:01 a.m. ET
While some top players like Albert Haynesworth, DeAngelo Hall and Jeff Saturday have already been signed, there are many other unrestricted free agents worth serious looks.
Attention general managers: Here are 20 available players you should consider signing.
Jason Brown, C, Ravens
This guy knows how to win. A good offense hinges on getting the ball into the hands of your playmakers, and Brown has excelled at getting the ball to the quarterback his entire career.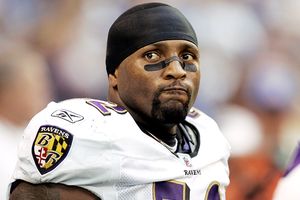 AP Photo/Tom Strattman
There is no substitute for the kind of leadership
a player such as Ray Lewis bring to the table.
Ray Lewis, LB, Ravens
Quite simply, he's the best leader in sports, alongside Derek Jeter. (I have them tied because Lewis and Jeter have led their teams to an equal number of championships this millennium.)
Heath Evans, RB, Patriots
Is Heath Evans an elite NFL running back? Not at all. But he's a big back who can give your team half of one those running back tandems with a cool nickname like "Thunder 'N' Lightning" or "Bash and Dash" or "Big Guy And … Smaller Guy." Your dumber fans eat that kind of stuff up!
Chris Canty, DE, Cowboys
The 4-3 is out. The 3-4 is in. Canty is an ideal end for the 3-4, making him the must-have acquisition this offseason for all hipster GMs.
T.J. Houshmandzadeh, WR, Bengals
Houshmandzadeh is the best wideout available. He has the hands of Larry Fitzgerald, the toughness of Hines Ward and the hair of your prettiest cheerleader.
Midnight at Jerry's house
NFL free agency began Friday morning at 12:01 a.m. Dallas Cowboys owner and general manager Jerry Jones was gracious enough to grant Page 2 exclusive access to the first 10 minutes of action from Arlington.
11:59 p.m. -- Jones' alarm clock goes off: "Howboutthemcowboys
beep-beep
howboutthemcowboys
beep-beep
howboutthemcowboys
beep-beep."
12 a.m. -- He gets out of bed, brushes his teeth and squeegees his face.
12:01 -- Jones makes his first call, to Ray Lewis. The call goes to voicemail. "Hello. I am not available right now. If you would like to leave a message on the voicemail of God's linebacker, please wait for the choir of angels."
12:02 -- Jones prank calls Wade Phillips, waking him up out of a deep sleep. "Is your refrigerator running? Probably not, because you know nothing about running or passing."
12:03 -- Before calling to offer a contract to T.J. Houshmandzadeh, Jones calls his quarterback to get his opinion on the receiver.
"Who's this?"
"It's Jessica."
"Is Tony awake?"
"No."
"What are you doing up?"
"Excuse me, I have to go. The pizza delivery guy just got here."
12:04 -- Jones makes his fourth call, to Moviefone to get upcoming showtimes for the new 3-D Jonas Brothers movie.
12:05 to 12:09 -- Jones navigates the Moviefone menus.
12:10 -- Jones places a call to Albert Haynesworth.
"Albert, how would you like to be a Dellis Cowboy?"
"You should have called five minutes ago. I just signed with the Redskins for $100 million."
"How about $100 million and a ticket to today's 10:30 a.m. showing of the Jonas Brothers 3-D movie at the AMC theatre in Mesquite?"
"No, thank you."
-- DJ Gallo
Khalif Barnes, OT, Jaguars
Barnes is a solid player. And that's quite a compliment for someone who plays for the Jaguars. Place him on a team in a major market, and his status would suddenly go from "solid" to "superstar."
Jonathan Vilma, LB, Saints
Vilma is a linebacker with great instincts, exhibited by the fact that he instinctively knew to play his best football in a contract year.
Manny Ramirez, OF, Dodgers
He probably already has offers on the table from Jerry Jones, Al Davis and Daniel Snyder. It's worth throwing your hat into the ring to drive up the price.
Jimmy Kennedy, DT, Vikings
Kennedy is one of those hulking defensive linemen who frees up linebackers to make plays. Although, in Kennedy's case, it's not because he's occupying blockers. It's because he's just not making any of the plays himself.
Ronald Bartell, CB, Rams
I know absolutely nothing about this guy. But I do know that every good team needs some no-name players who don't need to have the spotlight. So this Ronald Bartell guy is an option there.
Moran Norris, FB, Lions
The fullback position is being used less and less in the NFL, but Moran Norris is a good, smart player. Some fans are already demanding his acquisition.
Nate Washington, WR, Steelers
In four years in the NFL, Washington has two Super Bowl rings. It takes only a basic understanding of statistics to realize he's worth signing to a two- or four-year contract.
Grey Ruegamer, G, Giants
Ruegamer can play guard or center, bolstering depth along the offensive line. And if there's a loose ball to be had in a pileup, you know he's the kind of guy that will do anything to get it.
Rodney Harrison, S, Patriots
A string of injuries means he is probably no longer an every-down player, but he can still provide great value as a situational cheap-shotter.
Hunter Smith, P, Colts
Smith is a solid punter. Plus, signing him gives your team a shot at bringing in his cousin, standout Giants receiver Harris Smith.
Derrick Brooks, LB, Buccaneers
The Buccaneers are apparently being contracted. You might as well sign their best player now before he is placed into the dispersal draft.
Richie Incognito, OT, Rams
Incognito can provide depth to your offensive line at a relatively cheap price, which is perfect in this poor economy. Better yet, he still has prime advertising space available.
Bart Scott, LB, Ravens
Scott is a quality player who was overshadowed in Baltimore -- mainly because it was difficult to spot him on the field with Terrell Suggs and Ray Lewis shimmying and dancing in front of the cameras after every one of Scott's tackles.
Kyle Boller, QB, Ravens
Want to light a fire under your quarterback so he improves before next season? Tell him you signed Kyle Boller to push him in camp. There's nothing like a threat of complete and total humiliation to motivate someone.
Rex Grossman, QB, Bears
Kyle Boller AND Rex Grossman? Your current quarterback will be working so hard, you'll have to kick him out of the film room.
DJ Gallo is the founder and sole writer of the sports satire site SportsPickle.com. He also is a regular contributor to ESPN The Magazine and has written for The Onion and Cracked. His first book, "SportsPickle Presents: The View from the Upper Deck," is on sale now.
2009 FREE AGENCY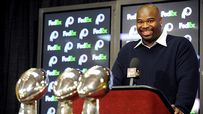 Free agency started with a bang when defensive tackle Albert Haynesworth signed a seven-year deal with Washington and the Redskins re-signed their own free agent, cornerback DeAngelo Hall.
Free-agency blog »
FA tracker »
COLUMNS/FEATURES/BLOG POSTS
FANTASY SPINS
SCOUTS INC. BREAKDOWN
SALARY CRUNCH
ESPN Top Headlines