The World Baseball Classic started Thursday. To keep you up to date, in case you were still sleeping, here are 10 Things I Learned While Watching The WBC At 4:30 A.M.
1. China's professional baseball league plays only a 21-game season. Maybe this is where Pedro Martinez can go to prove he can stay healthy for an entire season.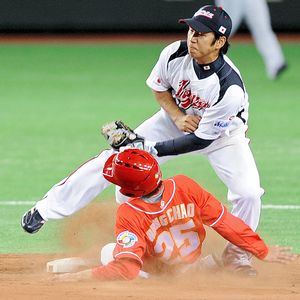 Kazuhiro Nogi/AFP/Getty Images
While you were sleeping the WBC kicked off.
2. Team China has only one player on its roster who weighs more than 200 pounds: Ray Chang. He was born in Kansas City, Mo. He is part of the Pirates' organization. And, unfortunately, he looks nothing like Rae Chong.
3. Yu Darvish, 22, will be the next pitching sensation to come out of Japan. He currently pitches for the Nippon Ham Fighters. The Ham Fighters are the rival of the Nippon Ham Eaters, Hideki Irabu's old team.
4. Many international pitchers struggle using the WBC Rawlings cowhide baseballs. They are used to throwing Mizuno horsehide balls and can't get the same break on the ball. I know how they feel. My breaking pitches suffered greatly and never recovered when I switched from wiffleball to baseball when I was 8.
5. Star Chinese catcher Wang Wei is out of this year's Classic with a knee injury after his knee bent the wrong way in a home plate collision at the Olympics. Also out of this year's Classic? Many opportunities for bad puns.
6. The Olympic baseball stadium used in Beijing last summer already has been torn down and replaced by a shopping mall. The gap now might actually be a Gap.
7. Team China outfielder Sun Lingfeng is called "Chinese Ichiro." Ichiro went hitless in five plate appearances Thursday. Ichiro now is called "Japanese Sun Lingfeng."
8. Pitchers are allowed to throw only 70 pitches in the first round of this year's Classic. Pathetic. Back when I was a kid, World Baseball Classic pitchers were real men and threw 150 pitches in the first round. You know, theoretically.
9. Thirty-seven thousand Japanese fans attended Team Japan's first practice. 127,250,000 did not.
10. China lost to Japan 18-2 in 2006. It lost 4-0 on Thursday. That is a dramatic improvement. So at least it's comforting to know that we will one day be owned by a country that enjoys and respects our national pastime.
DJ Gallo is the founder and sole writer of the sports satire site SportsPickle.com. He also is a regular contributor to ESPN The Magazine and has written for The Onion and Cracked. His first book, "SportsPickle Presents: The View from the Upper Deck," is on sale now.