You don't want to read another NCAA tournament preview, even from a noted college basketball expert such as myself.
It's time to turn things over to the fans -- the true heart of college athletics. Let's hear what famous alums of all 64 teams have to say about the tournament.
MIDWEST

No. 1 Louisville (28-5)
"Louisville is doing quite well. And to think they've done it all without receiving billions of dollars in bailout money from the federal government. I had no idea that was even possible!"
-- Robert Nardelli, CEO of Chrysler, received master's degree from Louisville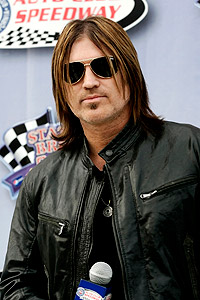 Geoff Burke/Getty Images
It would break Billy Ray's heart if Morehead State loses in the first round.
No. 16 Morehead State (20-15)
"Morehead State could cut down the nets. Anything can happen. I mean, who ever would have thought that I would cut off my mullet?"
-- Billy Ray Cyrus, attended Morehead State
No. 8 Ohio State (22-10)
"I am an Ohio State fan, but I don't know if they have what it takes to advance. In fact, I'm writing a new album full of depressing songs about Big Ten basketball."
-- Dwight Yoakam, attended Ohio State
No. 9 Siena (26-7)
"So what if a fictional character is the most famous person from Siena College? Laugh it up. But you won't be laughing when we win the fictional national championship."
-- Det. Olivia Benson, character on "Law & Order: Special Victims Unit," supposedly a graduate of Siena
No. 5 Utah (24-9)
"The Utes might not have the talent and athleticism of some teams, but they'll play their hearts out. Then they'll come and see me, get new hearts, and head right back onto the court."
-- Dr. Robert Jarvik, inventor of the artificial heart, Utah School of Medicine, '76
No. 12 Arizona (19-13)
"I love this Arizona team. Their season was a disaster, but it ended happily with a berth in the NCAA tournament. Throw in a bunch of over-the-top explosions, a contrived love story and an even schmaltzier ending and you'd have one of my movies."
-- Jerry Bruckheimer, Arizona '67
No. 4 Wake Forest (24-6)
"After years of calling the NCAA tournament, I'm excited to be able to cheer openly for the Demon Deacons. And if they don't win it all, I'll root for any school that's not an underdog from a mid-major conference."
-- Billy Packer, Wake Forest '62
No. 13 Cleveland State (25-10)
"Cleveland State might not be a basketball power. So what? At least our players don't cheat in music class like they do at Florida State."
-- Angelin Chang, Grammy-winning pianist, professor of music at Cleveland State
No. 6 West Virginia (23-11)
"Hi, Billy Mays here for Bob Huggins, the easy way to quickly fix virtually any basketball program and make it last. Ordinary coaches are a mess. With Bob Huggins, you simply cut a check, dress him in an expensive suit, grease his hair and go!"
-- Billy Mays, attended West Virginia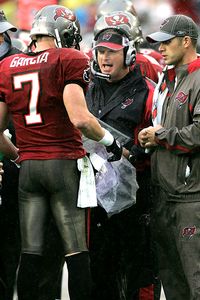 Cliff Welch/Icon SMI
Imagine how much Jon Gruden would yell if he coached basketball?
No. 11 Dayton (26-7)
"Brian Gregory has done a great job as head coach of the Flyers. But I don't think I could ever coach a basketball team. What are there -- 15 roster spots? I'd want to carry that many point guards."
-- Jon Gruden, Dayton '86
No. 3 Kansas (25-7)
"I usually focus on baseball, but I have developed a new statistic for this year's NCAA tournament called Cheer Efficiency Rating. It takes a team's cheer and then rates it according to repetition, stupidity and several other annoying factors. The higher the rating, the more the cheer makes fans of opposing teams want to jab sharp objects into their ears. And 'Rock Chalk, Jayhawk' is rated the highest."
-- Bill James, Kansas '71
No. 14 North Dakota State (26-6)
"The Bison players should use me as motivation. I am proof that someone from North Dakota State can, if not make it as a professional athlete, at least make it as a fake professional athlete."
-- Bob Backlund, pro wrestler, North Dakota State '71
No. 7 Boston College (22-11)
"I filled out two brackets this year. So I actually picked Boston College to win it all before I picked against them."
-- Sen. John Kerry, Boston College Law School '76
No. 10 USC (21-12)
"I doubt I could assemble a better team than the one Tim Floyd has. Even if I tried, I would probably just end up playing the same five actors who appear in all of my movies. Two hours later we would have countless fart, weed and nudity jokes, but not a win."
-- Judd Apatow, attended USC
No. 2 Michigan State (26-6)
"A lot of people mistake me for Matt Leinart. But I'm not. I'm far more successful than him: I was the guy on the fourth season of 'The Bachelor.' What I'm trying to say is that just because Michigan State looks like a Big Ten team, they might actually exceed your expectations."
-- Bob Guiney, Michigan State '93
No. 15 Robert Morris (24-10)
"Yes, I am perhaps the most famous alum of Robert Morris University. We haven't been around as long as Harvard or Yale. Sorry. We do have a forward on our team named Dallas Green, but to my knowledge he's not the guy who managed the Phillies to the 1980 World Series."
-- Kevin Colbert, Pittsburgh Steelers director of football operations, Robert Morris grad
WEST

No. 1 Connecticut (27-4)
"Jim Calhoun has struggled in the postseason in recent years, but he is a good coach. He deserves his salary. He should not give a dime back! Not a dime back! A contract is a contract. My plastic surgeon reminded me of that a few years ago when I asked for a refund."
-- Meg Ryan, attended UConn
No. 16 UT Chattanooga (18-16)
"Don't think UT Chattanooga has a chance to upset UConn? Hey, crazy things happen. I mean, I never thought Screech would make a porno."
-- Dennis Haskins, played Mr. Belding on "Saved by the Bell," UT Chattanooga '72
No. 8 BYU (25-7)
"I am excited about the Cougars' chances in the NCAA tournament. If they win it all, I have half a mind to go crazy and celebrate by wearing a Brooks Brothers button-down during a TV interview instead of a suit and tie. Who knows, I could even go with a sensible polo shirt?"
-- Mitt Romney, BYU '71
No. 9 Texas A&M (23-9)
"Chinemelu Elonu's length is going to give some teams some problems. At 6-10 his body is not as long as my face, but it's still long."
-- Lyle Lovett, Texas A&M '79
No. 5 Purdue (25-9)
"The Boilermakers are improving ever since they got rid of that coach with the horrible toupee. Coincidence? I think not."
-- Ted Allen, former "Queer Eye" co-host, Purdue '87
No. 12 Northern Iowa (23-10)
"Don't underestimate Northern Iowa. I think a lot of their players have the potential to be grocery-store stock boys after college. And from there, the sky's the limit."
-- Kurt Warner, Northern Iowa '94
No. 4 Washington (25-8)
"I love the Huskies. Let Coach Romar know that if he ever needs to really motivate his players for big a game, I'm available to perform a soprano saxophone solo for them before they take the court."
-- Kenny G, Washington '78
No. 13 Mississippi State (23-12)
"Mississippi State is an underdog as a No. 13 seed. But everyone loves a good underdog story. And thank God, because I've pretty much recast the same underdog story into best-seller after best-seller after best-seller."
-- John Grisham, Mississippi State '77
No. 6 Marquette (24-9)
"Marquette is one of 65 teams eligible for free money! If they win it all in the next three weeks, they can get the notoriety to open up a sports bar, earn $5,000 to appear at a card show, or even get $5 million to play in the NBA! Do it now!"
-- Matthew Lesko, Marquette alum
No. 11 Utah State (30-4)
"I would love to see the Aggies make a run. But if they get past the Sweet 16, I'll look more surprised than my esteemed colleague."
-- Sen. Harry Reid, Utah State '61
No. 3 Missouri (28-6)
"We have a good team this season, but I think we're still a few players away from being able to win it all. Luckily, in a few years Angelina will be able to supply an entire 15-man roster."
-- Brad Pitt, attended Missouri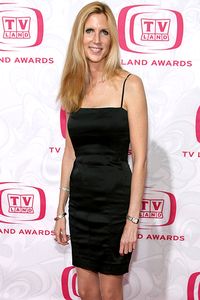 Frazer Harrison/Getty Images
This will be the first and last picture of Ann Coulter to ever appear on Page 2.
No. 14 Cornell (21-9)
"I don't care for the NCAA tournament. The BCS does it better -- two teams get a chance, that's it -- everyone else is out of luck and has to deal with it. But 65 teams, all with an equal shot at success? What is this, the Soviet Union?"
-- Ann Coulter, Cornell '84
No. 7 California (22-10)
"Twenty-two wins. Tied for third in the Pac-10. Only … a seven-seed? Getting … very … angry."
-- Bill Bixby, attended Cal
No. 10 Maryland (20-13)
"Let it be known now: Any team that beats Maryland will have all of their university's most common search terms redirected to pornography sites."
-- Sergey Brin, Google co-founder, Maryland '93
No. 2 Memphis (31-3)
"Memphis is a great team. But I'll admit they play in a terrible conference. I mean, I was surrounded by more talent than that on 'Designing Women.'"
-- Dixie Carter, Memphis '63
No. 15 Cal State Northridge (17-13)
"I have Cal State Northridge getting to the Sweet 16 in my bracket. Of course, I was high when I filled it out."
-- Cheech Marin, Cal State Northridge alum
EAST

No. 1 Pittsburgh (28-4)
"I was always a pretty laid-back guy. But if Pitt fails to make it past the Sweet 16 again this year, I'm probably going to throw a #@&*ing fit up here in heaven."
-- Fred Rogers, attended Pittsburgh's Graduate School of Child Development
No. 16 East Tennessee State (23-10)
"Pitt better not overlook Kevin Tiggs. He's got the long-range accuracy of Peyton Manning and the toughness of Tim Tebow. I love him."
-- Kenny Chesney, East Tennessee State '90
No. 8 Oklahoma State (22-11)
"I want to take this opportunity to talk about wind and natural gas power. If we lay the groundwork today, I believe our nation can be energy-independent by the time this adorable little 9-year-old boy on Oklahoma State's basketball team is old enough to drive."
-- T. Boone Pickens, Oklahoma State '51
No. 9 Tennessee (21-12)
"I hope the Volunteers play loose in the tournament. Because, as I have come to discover, it really doesn't matter how much you do or do not accomplish as a college athlete. It doesn't even matter if you achieve success off the court. No, all people will remember about you is how much you stunk in the NFL. It's not fair."
-- U.S. Rep. Heath Shuler, Tennessee '94
No. 5 Florida State (25-9)
"I want the Seminoles to know that I will be doing my part to take the pressure off them by sitting courtside in a cleavage-baring top that will draw the attention of the cameras, broadcast crew and maybe even opposing players and coaches."
-- Jenn Sterger, former Florida State cowgirl
No. 12 Wisconsin (19-12)
"What has happened to Wisconsin's offense? They have only averaged 51 points in their past three losses. If Wisconsin was Aruba and if their offense was a blonde girl, I would talk every night about how and why it went missing."
-- Greta Van Susteren, Wisconsin '79
No. 4 Xavier (25-7)
"Some people are saying Xavier doesn't have a chance. That they are going to be crushed. But I am proof that there is still a place for the inept and powerless in America."
-- U.S. Rep. John Boehner, House Minority Leader, Xavier '77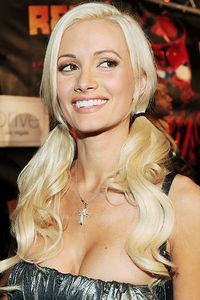 Denise Truscello/WireImage
"Does the team with the most points win?"
No. 13 Portland State (23-9)
"I like basketball. I remember one time Hef took me to a Lakers game and all of a sudden I was like: 'Hef, I don't see any baskets! It's just some netting connected to a metal circle. They should call it netting-and-metal-circle-ball.' And Kendra was like: 'Straight up, yo!' Ohmigod, it was so funny."
-- Holly Madison, Hugh Hefner's one-time girlfriend on "Girls Next Door," attended Portland State
No. 6 UCLA (25-8)
"What? Screw Siena. Go Bruins!"
-- Mariska Hargitay, plays Det. Olivia Benson on "Law & Order: SVU," attended UCLA
No. 11 VCU (24-9)
"I am a good Samaritan, but if a single opponent of VCU's gets hurt in the NCAA tournament, I won't so much as let him toot my rubber nose. I'll let him bleed out right there on the operating table. That's just how I do things come tourney time."
-- Patch Adams, VCU medical '71
No. 3 Villanova (26-7)
"For those of you who wish to obstruct Villanova, get ready to get knocked down. I'm giving them some slum love. We're going to take the message of Villanova basketball to urban-suburban hip-hop settings. The Wildcats are off the hook."
-- Michael Steele, Republican National Committee chairman, attended seminary at Villanova
No. 14 American (24-7)
"Turning 100 today is Phyllis Leymaster of Columbus, Ohio. Happy birthday, Phyllis. And dying tomorrow is American University's basketball season. RIP, American."
-- Willard Scott, American '55
No. 7 Texas (22-11)
"This season's Texas team isn't good enough to make me play bongos naked. But I could see maybe playing the triangle in my underwear."
-- Matthew McConaughey, '93
No. 10 Minnesota (22-10)
"Tubby Smith is such a great coach. I'll never forget when a mutual friend introduced me to him: 'Yanni, Tubby. Tubby, Yanni.'"
-- Yanni, has an honorary doctorate from Minnesota
No. 2 Duke (28-6)
"People always ask me: 'Dick, what was on those missing 18½ minutes of tapes? It's me telling ACC referees to turn a blind eye to stuff like this or else."
-- Richard Nixon, Duke School of Law '37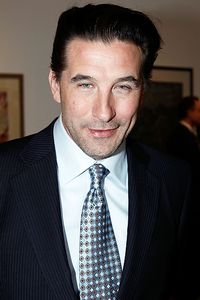 Paul Morigi/WireImage.com
"No, I'm not grinning. I always look like this!"
No. 15 Binghamton (23-8)
"My brother Alec always makes fun of Binghamton's basketball team. So when they made the tournament, I called and left him a voicemail to really let him have it -- you know: 'You thoughtless little pig' and 'You have insulted me for the last time.' Unfortunately, I think his daughter got the message."
-- Billy Baldwin, attended Binghamton
SOUTH

No. 1 North Carolina (28-4)
"When I invented Pepsi, do you think I just left the recipe sitting out so anyone could take it? No way! I took steps to defend my intellectual property. And until this team learns a thing or two about defense, they are going to be the RC Cola of basketball teams."
-- Caleb Bradham, invented Pepsi-Cola, UNC 1888
No. 16 Radford (21-11)
"Well, well, well … quite interesting, isn't it? I think I need a raise, Roy Williams, or I'm spilling all my secrets."
-- Steve Robinson, North Carolina assistant basketball coach, Radford '81
No. 8 LSU (26-7)
"Right now I'm working on a game in which the SEC is competitive in basketball. It's the most unrealistic world I've created yet."
-- Will Wright, creator of "The Sims," attended LSU
No. 9 Butler (26-5)
"I hear people saying Butler could make a run. But I don't know. I'm not drinking the Kool-Aid."
-- Jim Jones, Butler '61
No. 5 Illinois (24-9)
"I have worked with some of the greatest actors of all time. Yet I have never worked with anyone who can impersonate a duck quite as well as Bruce Weber."
-- Gene Hackman, attended Illinois
No. 12 Western Kentucky (24-8)
"We are good year after year. We've made a run before in the NCAA tournament. We won our conference. And we only get a No. 12 seed. What more can we do? I'll say it. The selection committee: They hate us."
-- He Hate Me, Western Kentucky '00
No. 4 Gonzaga (26-5)
"I don't know what Gonzaga will do in this year's tournament. But even if we lose, let's not go crying and rolling around on the court again, OK? We didn't do that back in my day. We acted like men. Men who just happened to sing and dance a lot."
-- Bing Crosby, attended Gonzaga
No. 13 Akron (23-12)
"This is the Big Dance. And I know a thing or two about dancing. It's all in the hips. I can give them all the dancing tips they could ever need. But if it's tips they need on winning a big game … I'll pass. I'm not really into sports anymore."
-- Jason Taylor, Akron '96
No. 6 Arizona State (24-9)
"I love my alma mater, but maroon and gold? That's so out of date. What James Harden and the boys need to put them over the top are uniforms in salmon rose and dark citron. Those are the colors of spring 2009."
-- Kate Spade, Arizona State '86
No. 11 Temple (22-11)
"Players today, you see, don't understand what it takes to be great at the basketball. They have their hip-hop music and their pants hanging down low and all they want is to be rich and famous. Let me tell you a story …"
-- Bill Cosby, attended Temple
No. 3 Syracuse (26-9)
"I am worried that Syracuse has nothing left. As entertaining as their Big East run was, it may have been a huge gaffe."
-- Vice President Joe Biden, Syracuse College of Law '68
No. 14 Stephen F. Austin (24-7)
"If I could tell the Lumberjacks one thing about the NCAA tournament, it would be this: 'Some dance to remember, some dance to forget.'"
-- Don Henley, attended Stephen F. Austin
No. 7 Clemson (23-8)
"If the Tigers win it all, I would love to have them appear on my show. And you know, even if they don't win it all they're welcome to appear on my show … provided they're in some stupid reality show or date a Kardashian or get in a fight at a swanky restaurant in L.A. or something like that."
-- Nancy O'Dell, co-host of "Access Hollywood," Clemson '90
No. 10 Michigan (20-13)
"You'd have to be living out in a shack in Montana to not know that John Beilein has made Michigan basketball into a power again. Opponents who don't realize that are going to receive a very unpleasant message."
-- Ted Kaczynski, earned Ph.D. from Michigan in 1967
No. 2 Oklahoma (27-5)
"Jeff Capel has done a heck of a job with the program. But I'll admit, I was always a big fan of Kelvin Sampson. He used his cell phone the way a maverick, the Bret Maverick, would have used a cell phone, had they been around back in the Old West days."
-- James Garner, received an honorary doctorate from Oklahoma in 1995
No. 15 Morgan State (23-11)
"I don't have a good feeling about this. Morgan State may feel like they are prepared -- that they are covering up their vulnerabilities, so to speak -- but I still think they will be exposed."
-- Visanthe Shiancoe, '03
DJ Gallo is the founder and sole writer of the sports satire site SportsPickle.com. He also is a regular contributor to ESPN The Magazine and has written for The Onion and Cracked. His first book, "SportsPickle Presents: The View from the Upper Deck," is on sale now.