The NCAA tournament is set to begin again. Let's take a look at the 16 teams that remain in the field.
WEST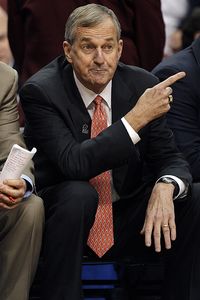 AP Photo/Carolyn Kaster
Here's Jim Calhoun telling DJ Gallo to go away, or else.
1. UConn: Many teams in the NCAA tournament have talented players who could one day go pro. But UConn might be the only team that is currently playing with professionals. That will be tough for opponents to overcome.
2. Memphis: When in doubt, pick a team from a strong conference over a weak conference. In the past four years, the Tigers' conference has sent a team to the Sweet 16 four times, the Elite Eight three times, and the national title game once. All hail the Big Memphis Conference!
3. Missouri: Head coach Mike Anderson's "Fastest 40 Minutes in Basketball" has taken the Tigers all the way to the Sweet 16. But I don't buy the "Fastest 40 Minutes in Basketball" claim. That belongs to the Big Ten. Because every time I DVR a Big Ten game, I watch the first few minutes, become nauseated, and then fast-forward to the last minute or two. It takes 10 minutes, tops.
5. Purdue: Purdue is the second-lowest seed remaining in the tournament and is viewed as a bit of an underdog. But the Boilermakers might have the advantage now, getting to play against a UConn team which has to be distracted. I'm sorry, allegedly distracted. Just covering my bases.
MIDWEST
1. Louisville: Louisville has everything in place to win it all. But anything can happen. Like the improbable. They could fall short. That's why it's good to know that 15 or 20 years from now, when Rick Pitino is off coaching a rival somewhere, he'll be able to make a buck off a soul-crushing loss. And that's all that matters.
2. Michigan State: If the Spartans reach the Final Four, Tom Izzo will keep his streak alive of taking every player who has stayed in his program for four years to at least one Final Four. Finally! A reason to get a college degree.
3. Kansas: Bill Self has done a fantastic job this season. No one expected the Jayhawks to get back to the Sweet 16. But here they are, with a very real shot at cutting down the nets. We could be headed to a North Carolina-Kansas title game in which both head coaches are wearing Kansas sweaters.
12. Arizona: The Wildcats have as much talent as any team in the nation, but they don't possess the flashy win-loss record that so often goes along with star power. That sort of unselfishness can take a team a long way come March and April.
EAST
1. Pitt: Despite all the program's success in recent seasons, Pitt has never advanced beyond the Sweet 16, and Pitt has never beaten any team in the NCAA tournament seeded higher than sixth. All that can change against Xavier. Then all people will be able to say is that Pitt has never advanced beyond the Elite Eight and has never beaten any team in the NCAA tournament seeded higher than fourth. Take THAT, critics.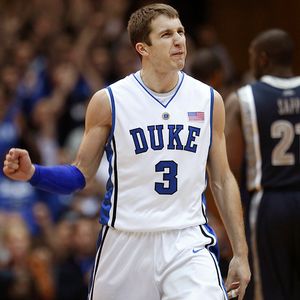 AP Photo/Gerry Broome
Better tune in Thursday night, it might be your last chance to watch Greg Paulus!
2. Duke: Some people are saying this has been Mike Krzyzewski's greatest season as a coach. I don't know. There are many people who think highly of his 1993-94 season, when the Blue Devils went 13-18.
3. Villanova: If you think the Wildcats were impressive against UCLA, you haven't seen anything yet. Head coach Jay Wright is highly motivated to take Villanova all the way to the championship game. (He has an immaculately tailored 14-piece Armani suit picked out for the title game already, and he won't let anything stop him from wearing it.)
4. Xavier: Xavier might be a definitive underdog against Pitt in the Sweet 16. But don't forget that Musketeers head coach Sean Miller is a Pitt grad. He will be plenty motivated to win. Beating your alma mater in the NCAA tournament is an ingenious way to get removed for good from your school's alumni donation direct-mail list.
SOUTH
1. North Carolina: Defense wins championships. North Carolina isn't the greatest on defense. So what? No one said defense wins every championship. It just wins championships, plural -- so more than one. Those two championships could have come years ago. You know, way back in olden times, when people had the warped point of view that life isn't supposed to be fun all the time.
2. Oklahoma: The Sooners will ride Blake and Taylor Griffin as far as the two brothers can take them. But if Oklahoma's perimeter play was a little better, the Sooners would be unstoppable. Couldn't Mr. and Mrs. Griffin have also conceived a good guard or two? I'm afraid that womb was too one-dimensional.
3. Syracuse: Eric Devendorf might not be liked by many people, but he gets the job done. You could describe him as "Devendorf on Basketball" -- I don't know a single person who liked Tim Conway's "Dorf On Golf," but it was successful enough to spawn five more films.
4. Gonzaga: The last time the Zags made it to the Sweet 16, this happened. Since no one likes to make a girl cry, expect Gonzaga's opponents to think twice about beating them.
DJ Gallo is the founder and sole writer of the sports satire site SportsPickle.com. He also is a regular contributor to ESPN The Magazine and has written for The Onion and Cracked. His first book, "SportsPickle Presents: The View from the Upper Deck," is on sale now.