The Masters begins Thursday. You might recall the Masters -- it's one of the four golf tournaments worth watching every year because you know Tiger Woods will be playing.
But here are 10 other people to tune in for this week.
10 People To Watch (Who Aren't Tiger Woods)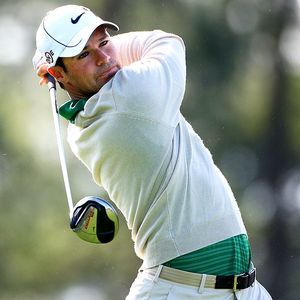 Andrew Redington/Getty Images
Trevor should have a good shot at the title if he avoids his own meal.
Trevor Immelman: The 2008 Masters winner seems primed to make a run at back-to-back green jackets. Witness his entrée selection for Tuesday night's champions dinner: a dish called babotie, which is prepared with minced meat and curry spices and then topped with an egg. A curiously prepared meat mixed with some curry and then topped with salmonella? Looks like all former Masters winners will withdraw this week with mysterious and violent stomach ailments. Well played, Immelman. Well played.
Gary Player: Player is a three-time green jacket winner. And thanks to his lifelong dedication to physical fitness, he has played in 52 consecutive Masters. But he now is 73 years old, and this year's tournament is his last. For real. "There's nothing worse than you see these boxers and athletes saying they are retiring, and they come back and they get their knees knocked in and they end up punch-drunk," he said recently. I think we all can agree that no one wants to see that happen to a great champion like Player. However ... punching in golf would be kind of awesome. Ration the punches like timeouts. Each golfer gets two per nine holes. Imagine the drama of a short putt to win the Masters when your opponent still has an uppercut in his bag. "And here's Phil Mickelson for the win ... he addresses the ball ... draws back his putter ... and -- OH! He's down! He's down! He's cut badly. Phil Mickelson is hurt."
Padraig Harrington: Few casual golf fans realize this, but if Harrington manages to win the Masters, it will be his third major in a row. Look at Harrington as the Houston Rockets of golf -- he capitalized when Woods was out like the Rockets did when Michael Jordan was gone. And don't forget that Padraig Harrington is a cousin of NFL quarterback Joey Harrington. Mark my words: If 60 to 70 quarterbacks miss the next two seasons with injuries, I think we could see back-to-back Super Bowl titles from Joey Harrington.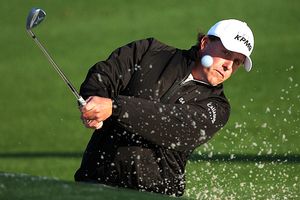 Andrew Redington/Getty Images
The last thing anyone wants to see is a super-slim Phil.
Phil Mickelson: The TV networks still try to make us believe that there is some big rivalry between Mickelson and Woods. But that simply is not the case. I mean, sure, I suppose their "rivalry" has been more competitive than the Tiger Woods-Michelle Wie battle that was supposed to play out over the next 20 years, challenging our thinking on life's greatest questions. But Mickelson simply isn't in Woods' league. And now we get the news that he has slimmed down significantly. That's disappointing. Very disappointing. Now he's without some of his best attributes.
Rory McIlroy: McIlroy is only 19 years old. That's 14 years younger than Woods. And the Northern Ireland phenom has a game that some believe will one day allow him to supplant Woods as the face of golf. That's right, this could be the face of golf. Aaaah! Aaaah! AAAAAAAAAH! OK, that probably was just a bad picture. No need to be alarmed that it could be peering out at you from your TV every Sunday afternoon for the next 30 years. Surely he is not always that frightening. Oh, OK ... here he is at a celebrity golf event. See, that wasn't so bad. And here he is working out. AAAAAAAAAAH!
Greg Norman: This is Player's final Masters. It could be Norman's final Masters, too, as he earned a spot in this year's field only with a surprising third-place finish at the 2008 British Open. Can Norman make one more final run at Augusta? I hope so. Because the sooner he's eliminated, the sooner we have to hear him talking all sexy about Chris Evert.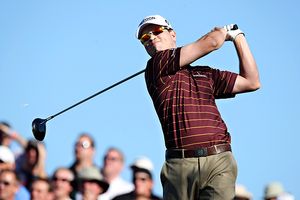 Stephen Dunn/Getty Images
Zach should probably wear a "Hello, my name is Former Masters Winner" name tag on Thursday.
Zach Johnson: Don't forget about Zach Johnson. Who's Zach Johnson, you ask? Only the guy who won the Masters two years ago! No? Doesn't ring a bell? OK, the golfer who looks like Joaquin Phoenix? Still no? OK, never mind. (And yes, I'll link the Joaquin Phoenix-David Letterman interview for you.)
Dustin Johnson: He's a good, up-and-coming player who could surprise this week. He also is perhaps the PGA's best athlete as the only player on the tour who can dunk. At least that's what I read. I think the only way to be sure is to line up all the players on the tour and watch them try to dunk. That would be quite entertaining. I'll even let them jump off the backs of their caddies. (Sorry, John Daly's caddie.)
Jim Nantz: The Final Four one weekend. The Masters the next. That's a busy schedule. So you'll forgive him if Woods wins Sunday and Nantz proclaims, "Can you Tar Heel him now? Tiger Woods is your 2009 Masters champion."
Steve Williams: The Masters is a time to celebrate life. To enjoy the earth's annual renewal. A chance to step into the warm embrace of Mother Nature. Or, you can watch Woods' caddie. What's that, little birdie? You want to chirp while Tiger is lining up a putt? I don't think you'll be chirping anymore now that you're decapitated, will you? Oh, hello, azaleas. Aren't you pretty. Unfortunately, Tiger is allergic to pollen. So drown on this gallon of Roundup! Die, azaleas! Die! Are you shining in Tiger's eyes, sun? You realize that could give him a headache, don't you? So you will stop it, NOW! Don't make me come up there!
DJ Gallo is the founder and sole writer of the sports satire site SportsPickle.com. He also is a regular contributor to ESPN The Magazine and has written for The Onion and Cracked. His first book, "SportsPickle Presents: The View from the Upper Deck," is on sale now.