Jason Giambi pulled himself out of a game Saturday night. Why? Because of exhaustion. Why was he exhausted? Because he ran out a single and had to sprint after a foul ball. (Yes. Both of them! During the same game! The humanity!)
"This is way too much running for me," Giambi said. "This is a little out of control for me. This is way too much running this early in the year."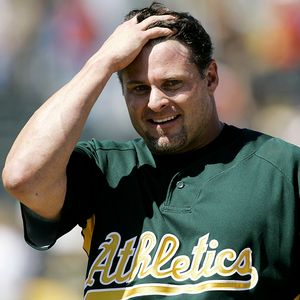 AP Photo/Jeff Chiu
Whew! This is entirely too much work.
If mid-April is too early for Giambi to run, Page 2 wondered when it is that he builds up the strength and endurance to complete the superhuman feat of running. We present:
Jason Giambi's Seven-Month Program To Get In Shape!
"You'll be able to run one time around the bases at nearly full speed by October as sure as I am sincerely sorry about vague mistakes I have made in my past! I guar-roid-tee it!"
-- Jason Giambi
Disclaimers: Do not begin a workout program, even one as easy as this, without consulting a licensed physician. For an extra boost, consult an unlicensed physician or that guy in the parking lot at Bally's with the gym bag in his trunk full of goodies. As with any workout program, injury is possible. If you feel even the slightest pull, twinge or pain, the Giambi program requires that you spend 15 days on the disabled list.
THE PROGRAM
Month 1: April: Start slow. Walk to the plate. Swing your bat three times. (If this is too advanced, no problem: Just leave the bat on your shoulder and stand there.) Now walk back to the bench and catch your breath. If your batting average drops below .200, you're doing it right.
Month 2: May: Now you're ready to test your heart and lungs. Walk to the plate like normal. But instead of swinging, wait for four balls. You might get walked. (I know, even the word sounds exhausting.) If you do, summon up all your energy and courage and walk 90 feet to first base. (Be sure to drop your bat at home plate. No one needs that extra weight for such a grueling trek.) If you're doing it correctly, your batting average should still be below .200, while your OBP should start to rise.
Month 3: June: With you cardiovascular health all the way up to walking 90 feet, now is the time to push yourself with some strength training! Work your muscles with a resistance band. (If you don't have a resistance band, use the elastic waistband from your gold thong.) Next, train with a partner. Try to lift your younger brother off the couch. Finally, take it to the next level by getting a new tattoo; the vibration of the tattoo gun's needle will stimulate your muscles on a micro-level. Possibly. Either way, tattoos are pretty @#$%ing cool.
Month 4: July: You're walking 90 feet AND you're building up your muscles. Great job! Now you're going to try to run at nearly full speed. Think you can do it? I bet you can at least once in four at-bats. So get that hit. See how it feels to run to first base. Pretty exhausting, huh? No worries. You'll get some time off for the All-Star break to rest and recuperate. Try to get another hit after the All-Star break. If you're feeling really adventurous, hit a double (a ground-rule double, preferably, so you only have to jog to second).
Month 5: August: It's the hottest month of the year. No need to overdo things here. You can drop a few pounds just by sitting on the bench for a few hours a day.
Month 6: September: We're almost there. It's time to hit a home run. Yes, it unfortunately has "run" right there in the name, but you must only jog to complete this exercise. And jog you'll want to do, considering you must make it all the way around the bases. That's right … all the way around. This means you've almost made the leap all the way to being somewhat in shape! Soon you'll be a Jason Giambi-style five-tool player: hitting, walking, jogging, running and heaving while bending over and trying to catch your breath, cursing the inventor of this torturous game.
Month 7: October: Whew! Your team missed the playoffs. So no need to get all the way in shape. Report back to your easy chair. But not before taking your first shower of the year.
Great job!
DJ Gallo is the founder and sole writer of the sports satire site SportsPickle.com. He also is a regular contributor to ESPN The Magazine and has written for The Onion and Cracked. His first book, "SportsPickle Presents: The View from the Upper Deck," is on sale now.