Commentary
The biggest stories of this NFL summer
Originally Published:
July 24, 2009
By
DJ Gallo
| Page 2
NFL training camps are set to open. Finally. Mercifully.
What are some of the biggest storylines in the league as camps begin? Well, what a coincidence you should ask! I just happened to write a column about that exact topic!
Pittsburgh's distraction(s)
Every defending Super Bowl champion has them, and I guess we now know Pittsburgh's first distraction. The thing is, Steelers kicker Jeff Reed would happily clean up the whole Ben Roethlisberger mess … IF ONLY HE COULD GET SOME @$%#&! PAPER TOWELS!
[+] Enlarge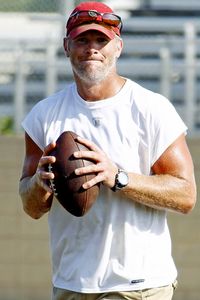 AP Photo/Rogelio V. SolisBrett, you're coming back to haunt us for one more year, aren't ya?
Brett Favre
Sigh. His Indecisiveness is hijacking another offseason. And although there's not much anyone can add at this point, here is one interesting tidbit: Vikings players including Adrian Peterson, Jared Allen and Steve Hutchinson have been calling and texting Favre trying to persuade him to come back. So let that serve as a reminder that NFL players don't get to sit at home on Sundays like you and me and watch other players. Because if those Vikings did have the opportunity to watch Favre play every Sunday last season, they probably wouldn't be … Yeah, you get my point.
Michael Vick
It's not yet known how long Vick might be suspended by the NFL, if at all. It's also not yet known which NFL teams might want to sign him. But if there are any teams out there that want a former No. 1 overall pick with a career quarterback rating in the 70s who hasn't played in two years, Vick awaits your call. And if there are any teams out there that want a former No. 1 overall pick with a career quarterback rating in the 70s who hasn't played in five years, Tim Couch awaits your call. And if there are any teams out there that want a former No. 1 overall pick with a career quarterback rating in the 80s (whoa!) who hasn't played in … an extremely long time, Jeff George awaits your call.
Tom Brady's health
All eyes will be on the NFL's golden boy. Of course, the Patriots probably won't be very open with information. So how will we know whether Brady is truly back to 100 percent? If New England lists him as "questionable."
Cincinnati Bengals
As the subject of HBO's "Hard Knocks" this year, the Bengals definitely will be in the news. Empowered by Twitter and the cameras of a pay cable station, Chad Ochocinco will make sure of that. And who knows, maybe the Bengals will even surprise this season. Carson Palmer says Chris Henry is like Randy Moss. Palmer also believes that Cincinnati will have a great season. Of course, Palmer never has struck me as being wildly self-aware.
Holdouts
Matthew Stafford and Mark Sanchez are the only NFL draft first-rounders who've signed so far. As much credence as NFL front offices give the Wonderlic test, this is where a draft pick's intelligence truly shows. Sign right away so you have to be there for all of training camp: dumb. Sign too late so you can't learn the system: also dumb. Really smart players wait a few weeks -- past two-a-days and the hottest afternoons of the summer -- and then sign with just enough time to catch up and still crack the starting unit by Week 1 of the season. This is the mark of a future NFL star. Or at least a non-dummy.
Matt Cassel
Is he for real? The stats don't lie: Cassel struggled mightily last season against good teams. So I guess it's good for him that he's in the AFC West now. I suppose he'll remain "for real" as long as he stays there.
[+] Enlarge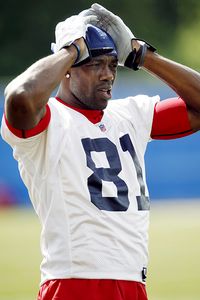 AP Photo/David DupreyIt might be warm now, but how are you going to like the snow, T.O.?
T.O.
He's now in Buffalo, and we'll hear just as much about him as ever. New York is the media capital of the world, right? (I assume they mean the whole state, not just New York City, no?)
Steve Smith's attitude
Around this time last year, he was knocking out a teammate. The Panthers don't want that to happen again. (Unless he chooses to knock out Jake Delhomme. I imagine a lot of Panthers players and fans would be down with that.)
Quarterback battles
Sanchez versus Clemens. Stafford versus Culpepper. Smith versus Hill. Quinn versus Anderson. Delhomme versus … NO ONE? Really? How is that possible? @#$*! Anyway … several quarterback battles will be decided in camp this summer. And these quarterbacks will do anything to get noticed. (OK, the tights are a bit much, Brady.)
Plaxico Burress' replacement
Eli Manning is in desperate need of a receiver to replace Burress as his go-to target. Several receivers will compete for that spot in camp. And the competition will begin at the sound of the starter's pistol that I have here in my sweatpants … AHHHH! NOOOO!
Derrick Mason's sudden retirement
If the Ravens are unable to lure Mason out of retirement, quarterback Joe Flacco could face a major step back in his second year on the job. And the problem is, no comparable free-agent replacements are available. So if Baltimore brings in a veteran receiver, I say it should just make a marketing move and re-sign this guy. Whoops. I mean this guy.
Brian Westbrook's durability
Will Westbrook be healthy enough to carry the load for the Eagles? Well, if you're asking whether he'll be uninjured all season long -- no, probably not. But as the old saying goes: Even a Brian Westbrook is healthy twice a season.
Tony Romo and Roy Williams
If the Cowboys' offense is going to do anything this year, these two need to develop a rapport that wasn't there last season. If Dallas is lucky, Romo and Williams will start producing the kind of passing yardage that former Cowboys safety Roy Williams did with opposing quarterbacks.
Detroit's resilience, or lack thereof
It won't be easy for the Lions to move past the stench of an 0-16 season. But that effort should be helped by the arrival of an entirely new coaching staff, led by head coach Jim Schwartz. And, as we all know, there is great power with the Schwartz.
Josh McDaniels
Unless he accidentally burned down Invesco Field or sideswiped John Elway, Josh McDaniels could not have gotten off to a worse start in Denver. But now it has become quite obvious what is happening. Eric Mangini goes to the Jets and destroys a division rival. Meanwhile, Romeo Crennel is decimating Bill Belichick's former employer in Cleveland. Then Mangini is dispatched to finish off the Browns, while McDaniels is sent to crush the franchise that ended New England's shot at a three-peat. Well done, Belichick. Well done.
DJ Gallo is the founder and sole writer of the sports satire site SportsPickle.com. He also is a regular contributor to ESPN The Magazine and has written for The Onion and Cracked. His first book, "SportsPickle Presents: The View from the Upper Deck," is on sale now.